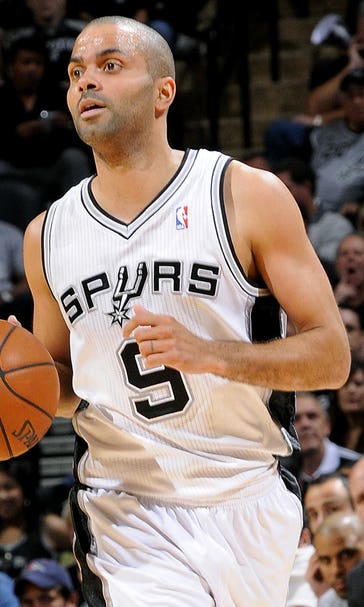 Tony Parker's status unclear heading into NBA Finals
June 1, 2014

OKLAHOMA CITY (AP) -- Tony Parker is dinged up again, and his status is unclear heading into the NBA Finals against the Miami Heat.



The San Antonio Spurs' All-Star point guard did not play in the second half or overtime of the Western Conference finals-clinching win over Oklahoma City on Saturday because of a sore left ankle. Spurs coach Gregg Popovich doesn't know what shape Parker will be in for Game 1 on Thursday in San Antonio.



"I have no idea," Popovich said Saturday night. "I don't know what the deal is."



Popovich said Parker sprained the ankle in Game 4 and aggravated it in Game 5. Popovich considered starting Manu Ginobili at point guard in Game 6 against the Thunder because Parker was having trouble during pregame. At halftime, Popovich made the decision to hold him out.



"He came to me about eight minutes on the clock (before the second half) and said he couldn't go," Popovich said. "He couldn't cut. He was limping on it. He couldn't cut sideways or forward really."



Popovich said he thought playing Parker in the second half would have hurt the team in the long term.



"I didn't want him to be a hero because he was 50 percent or less, we thought," Popovich said. "That's probably bad for the team if you think about it. It was a tough decision to try to figure out whether to play him, and if you lose the game and it affects him for Monday night, then you're going to feel like you made an unwise choice."



Parker has been plagued by injuries this year. He averaged 16.7 points and 5.7 assists while shooting 50 percent from the field during the regular season, but he missed 22 games. He strained his left hamstring in Game 5 of the Western Conference semifinals against Portland and did not return. The Spurs won that game easily to clinch the series.



Once again, his teammates bought him some rest. Had the Spurs lost Game 6, they would have faced an elimination game at home Monday against the Thunder.



"We didn't know how much Tony was hurt in his ankle," forward Boris Diaw said. "But we didn't want to go to Game 7, and we didn't know if he would be ready to play if we did or if he would be 100 percent, so we tried to get it over with tonight."



Still, the Spurs have proven all season they can win without key players, posting the NBA's best record despite a series of injuries.



"We have to continue to play basketball regardless of who is on the floor and our reserves did a great job - Cory (Joseph), Patty (Mills) - they stepped in and continued to run the offense and push the pace and playing good defense on their guards as well," guard Danny Green said.



Joseph started the second half of Game 6 against Oklahoma City and helped engineer a 37-point third quarter.



"Cory was very good," Ginobili said. "I mean, it's hard to play when you don't have many opportunities to play in close games and stuff. But he did very well in Game 3 and 4 here. He always brings the juice, aggressiveness, competitiveness. He attacks the rim well. I think he made a few key plays."



The Spurs said they excel without their stars because they are about a system, rather than individuals.



"We have been doing what we did the whole year, which is passing the ball to each other, getting some movement, getting pace and getting into a good rhythm," Diaw said. "Always trying to set up a good shot for a teammate."
---