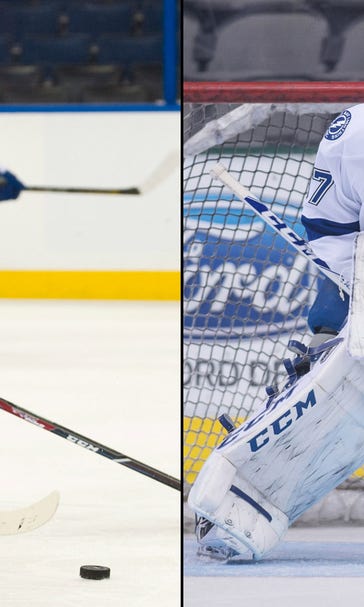 Time to strike: Lightning prospects eager for chance in rookie camp
September 11, 2014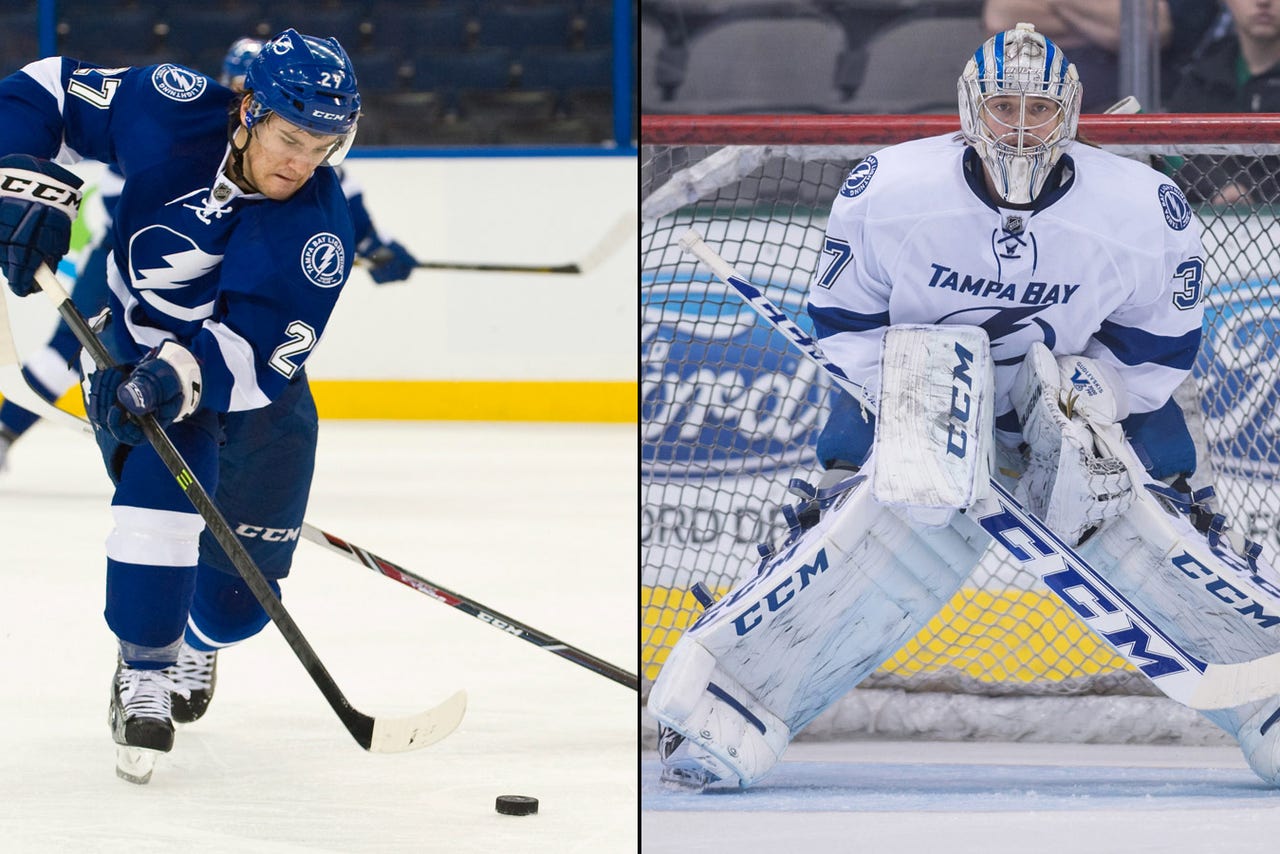 TAMPA, Fla. -- Come Sept. 18, Tampa Bay Lightning training camp will begin in full. But first, prospects will command the spotlight.
Twenty-four players reported to Tampa Bay's rookie camp Thursday at Amalie Arena in advance of the prospect tournament to be held Saturday through Tuesday at Ford Ice Center in Antioch, Tennessee. Other teams that will take part in the event include the Florida Panthers, Boston Bruins and Nashville Predators.
Headline names featured for Tampa Bay were winger Jonathan Drouin and goaltender Andrei Vasilevskiy. But other promising young talents including defenseman Anthony DeAngelo, the Lightning's most recent first-round pick, were present as well.
Vice president and general manager Steve Yzerman and Tampa Bay's coaching staff, in addition to owner Jeff Vinik, were on hand to view faces of Tampa Bay's future.
"Some of the young guys, actually, have a lot of skill," said Rob Zettler, coach of the Syracuse Crunch, the Lightning's American Hockey League affiliate.
"So it will be fun to watch these guys. I hope they're not surprised. Hopefully, they're ready, because the Bostons, Nashvilles and Floridas will bring a lot of talent to the table, too."
Here are storylines to watch throughout rookie camp.
DROUIN ATTEMPTS TO LIVE UP TO HIS PROMISE
This should be Drouin's year to show what he can do in the NHL. Many consider the highly touted winger to be elite, including NHL.com, which listed him as the league's top prospect in its Top 60 rankings released Tuesday.
Selected third overall in the 2013 draft, he had 29 goals with 108 points for the Halifax Mooseheads last season. He should be given a favorable opportunity to make the Lightning in training camp this year after coming up short in 2013.
Drouin appears to have the right amount of maturity to handle his situation. It should be fascinating to watch him develop, and he has the potential to add strong offensive depth for Tampa Bay. He's a former Mooseheads linemate with Nathan MacKinnon, the Colorado Avalanche center who won the Calder Trophy as the league's top rookie last season. Like MacKinnon, the future appears bright for Drouin.
"I think this year has been a little different for me," Drouin said. "I think I'm more confident with the puck and maybe will be able to show more in-game than I was at that point last year. There's a long way to go. ... I'm more confident and less nervous. I know what to expect."
VASILEVSKIY TRIES TO ESTABLISH HIMSELF AS A FUTURE GOALTENDER OPTION
Like Drouin, there's much to anticipate with Vasilevskiy. At 6-foot-3, 210 pounds, the native of Tyumen, Russia, represents promise as the Lightning's possible future answer at goaltender. He was selected 19th overall in the 2012 draft, and he impressed as a reserve goaltender for Russia at the world championships in May.
Vasilevskiy is projected to begin the season at Syracuse. He's expected to share starting chances with Kristers Gudlevskis, who made a name for himself earlier this year with a strong showing against Canada at the Sochi Olympics for Latvia. He also performed well for the Lightning late last season after Bishop was out due to injury.
Vasilevskiy will serve himself well if he makes a favorable impression at rookie camp. He could become a rare commodity for the Lightning: A homegrown No. 1 goaltender.
"It will be great, because it's healthy competition," Zettler said of Vasilevskiy and Gudlevskis. "I expect both guys to battle for our No. 1 job."
BEYOND DROUIN AND VASILEVSKIY, WHO ELSE WILL EMERGE?
The two big names will be the most intriguing to follow in the days ahead, but others have a chance to create a memory as well.
There's DeAngelo, taken 19th overall in the most recent draft. There's defenseman Slater Koekkoek, taken 10th overall in 2012. There are three former second-round picks: Defenseman Dylan Blujus (2012), winger Adam Erne (2013) and defenseman Dominik Masin (2014).
Overall, the roster breakdown is as follows: Four first-round picks, three second-round picks, two picks each from rounds 3-5, three sixth-round picks and two seventh-round selections. Six other players also will take part either through a free-agent signing, trade or via invites.
Six players each from the 2012 and 2014 drafts have been invited, five from the 2013 draft and one from the 2011 draft. An interesting variety of backgrounds will be present. Many figure to benefit.
"I think everybody is a good player here, so you've just got to go out and do what they brought you in for," DeAngelo said. "You don't have to change your game or do anything too special."
Added Erne: "You don't get a second first impression."
GUDLEVSKIS TRIES TO BUILD ON LAST SEASON'S MOMENTUM
Few players had as much variety on the ice as Gudlevskis last season. Aside from the Olympic memory, he had a .901 save percentage in 34 games played with Syracuse. He also made three appearances (one start) with Tampa Bay late, including 19:51 of ice time in two playoff showings in the sweep by the Montreal Canadiens.
At 22 years old, he remains an intriguing prospect. The Lightning figure to remain strong in goal as long as Ben Bishop stays healthy. With the arrival of Evgeni Nabokov, Tampa Bay has a capable complement to Bishop with their goaltender situation.
Still, Gudlevskis can show that his gains last year were no accident. He also figures to compete for plenty of starting chances at Syracuse. If he continues to perform well, his stock will rise.
KUNYK AND PAQUETTE TRY TO SHOW MORE PROGRESS
Both winger Cody Kunyk and center Cedric Paquette had brief stints with the Lightning last year, and good showings in rookie camp will serve them well. Both will try to build trust.
Kunyk played in just one game, against the Washington Capitals on April 13, and Paquette became a depth piece late, appearing in two regular-season games in April before appearing in all four contests against the Canadiens in the playoffs. Their time with the Lightning makes them standouts among those part of the rookie camp. Aside from Gudlevskis, Kunyk and Paquette are the only players here to appear with Tampa Bay last season.
The more experience both gain, the better. Late last season showed how important depth can become in a push toward the playoffs.
"I'm a rookie again," Paquette said. "And I need to improve and just try to get better here and be ready for main camp. I've got good experience now. I know what I have to go through to improve. I need to work hard and try to be ready for main camp and show what I've got."
You can follow Andrew Astleford on Twitter @aastleford or email him at aastleford@gmail.com.
---