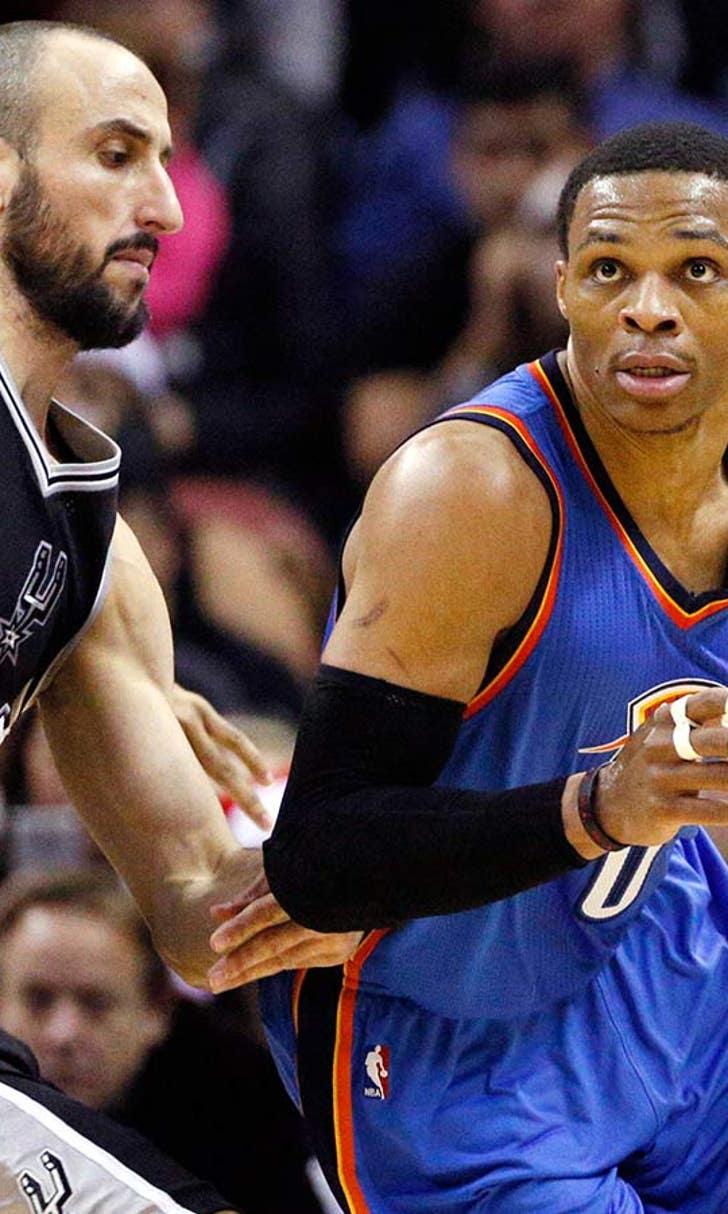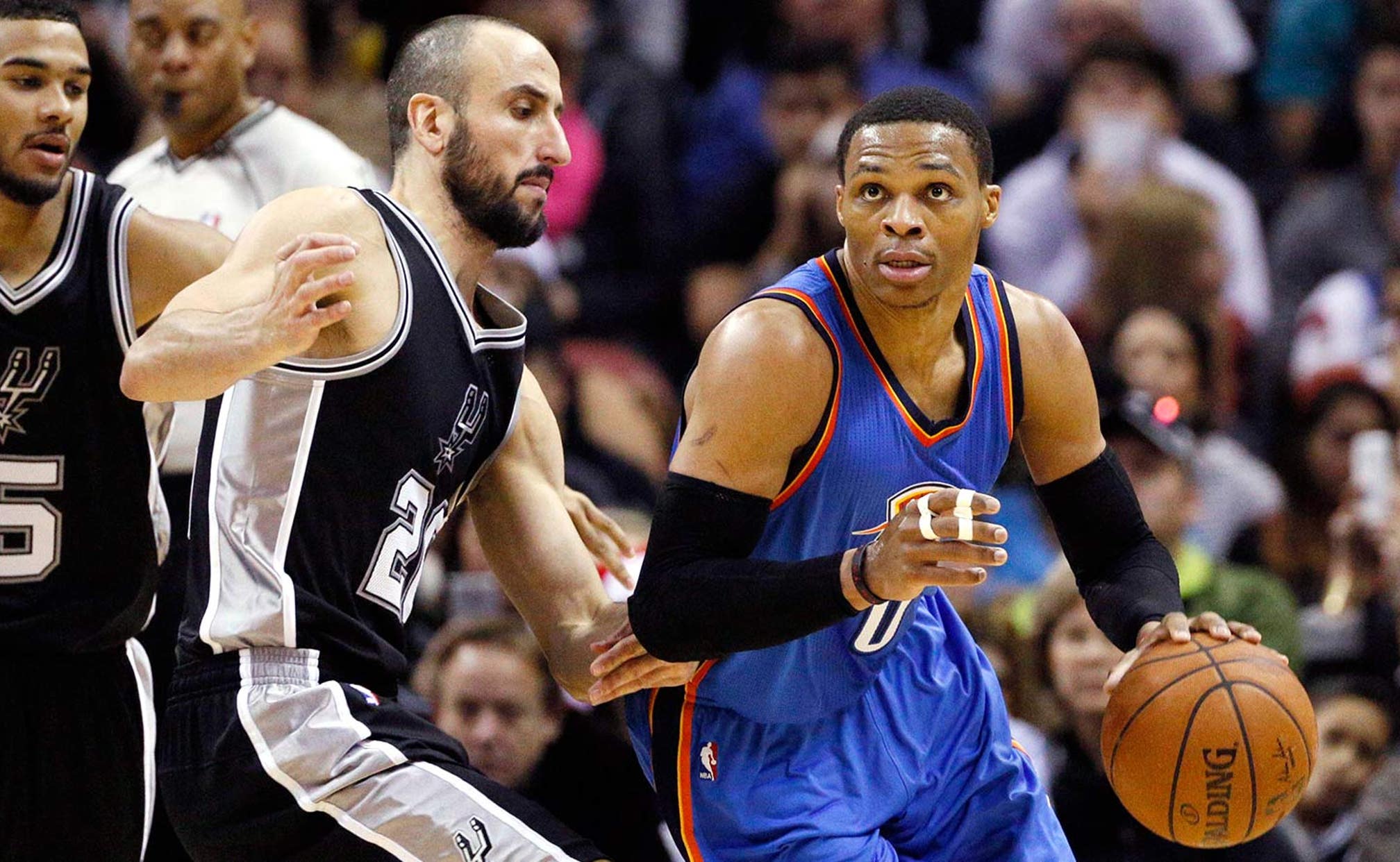 Time to panic for struggling Spurs and Thunder?
BY Jeff Caplan • January 8, 2015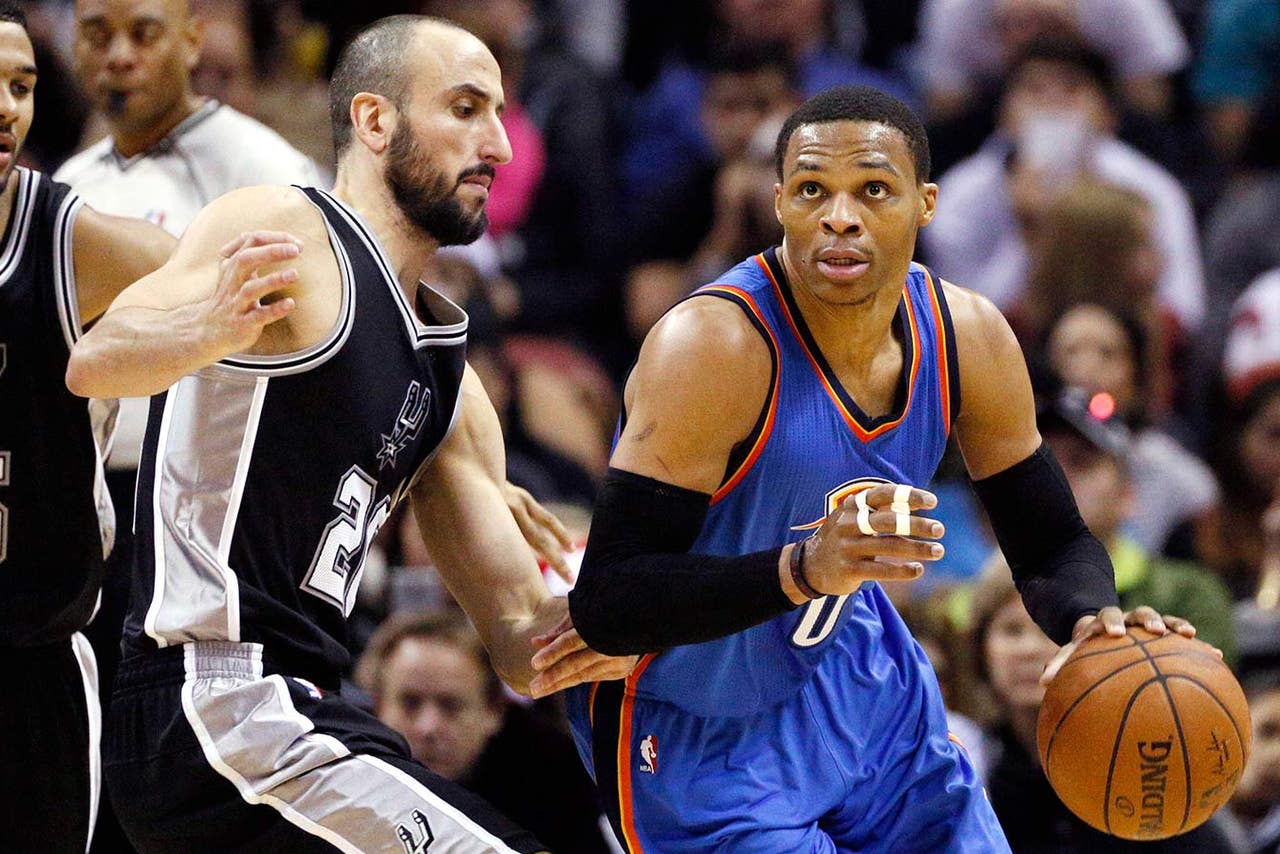 A hard freeze may be gripping most of the nation, but the two teams that battled for the Western Conference crown last season are feeling the heat.
Because as unexpected as it is for reigning league MVP Kevin Durant and reigning NBA Finals MVP Kawhi Leonard to miss 37 games (and counting for Leonard) to injury combined, is the current state of their respective teams.
After consecutive lopsided losses at Golden State on Monday and then at Sacramento on Wednesday, the Oklahoma City Thunder dropped to 17-19 and are four games behind Phoenix for the final playoff spot in the Western Conference.
The San Antonio Spurs finally emerged from a brutal, West-heavy December in which they finished up with only eight wins in 18 games and endured seven sets of back-to-backs plus five overtime games and consecutive triple-overtime losses. They are 21-15, mere percentage points from falling behind the Suns into eighth place.
The Spurs sit three full games behind the sixth-place Los Angeles Clippers, and 4.5 games out of the fourth-seed that delivers homecourt advantage in the first round of the playoffs. And they will drop to the bottom of the playoff pack Friday night if they can't beat Phoenix, winners of four in a row and eight of 10. 
"We understand the situation," point guard Tony Parker told reporters at Thursday's practice. "We know they [the Suns] are a very good team and we have to be ready."
The good news is that Parker, who has played in just six games since Nov. 30, is finally feeling good after a hamstring injury that wouldn't go away. The latest news on Leonard, the Spurs' long-armed wing defender, is that he still needs two more weeks for his injured hand to fully heal. 
With their two most important players sidelined for so long and so often against top West competition, the Spurs' vaunted offense has dropped to 12th in the league, averaging 105.0 points per 100 possessions. Last year it ranked sixth at 108.2 points per 100 possessions.
"Me personally, it's been very frustrating because I've never had an injury like that for that long, and it's been tricky," Parker said following Thursday's practice. "It's hard when you win a championship and you want to come back the next season and try to do the same thing, and so far we have had a lot of injuries. I don't want to make any excuses, but that's the reality."
Oklahoma City knows the feeling. It got off to a 3-12 start with Russell Westbrook (broken hand) and Durant (fractured foot) out of the lineup. They got things going briefly when both came back until Durant sprained his right ankle on Dec. 19 and missed another six games — bringing his total to 23, seven more than he missed in his first seven seasons combined.
The Thunder, who rank 21st in offensive efficiency and eighth in defensive efficiency, again looked to be cranking up upon Durant's second return with impressive wins over the Suns and Washington to finally reach .500 for the first time this season.
Too bad they followed it up with a couple of stinkers led by lousy outings from their two superstars. OKC lost by a combined 47 points to the West-leading Warriors and then to the struggling Kings. The Thunder shot an inexplicable 31.6 percent from the floor in the two games (59-for-187) and 24.1 percent (14-for-58) from beyond the arc.
Westbrook, so good in December, has sunk into a frustration-laced shooting slump. Coach Scott Brooks has to figure out some chemistry issues and find ways to incorporate erratic newcomer Dion Waiters into a rotation that's gained no traction all season.
"We've got to get better, we've got to get better," Brooks told reporters following the Kings loss. "We've got time."
With the season creeping toward the halfway point, there is time. But this isn't the Eastern Conference, where the 12-23 Detroit Pistons can still track down a playoff spot. This is the West, where there's no such thing as a night off, and where every loss is costly.
Four games can be a difficult margin to close. Back on Dec. 14 when Durant was back from his initial injury, the Thunder beat the Suns to close to within a half-game of eighth place. Durant's second injury caused them to slip back.
When OKC again beat the Suns on Dec. 31, it pulled back to within two games. Now the deficit has again doubled with 46 games left to play. To get to 49 wins — the number it took to get into the playoffs last season — the Thunder must go 32-14 the rest of the way.
A potential key for both the Spurs and Thunder is a schedule that turns less West-heavy. San Antonio has played 25 of 36 games against the West and OKC has played 23 of 36.
Many of the teams the Spurs and Thunder are chasing have piled up wins with the help of a more East-centric schedule. 
"You can't panic, man," Durant said.
MORE FROM FOX SPORTS SOUTHWEST: 
- Highest paid coaches in college football
- Ranking NFL quarterback salaries
- Oldest player on every NBA team
---
---