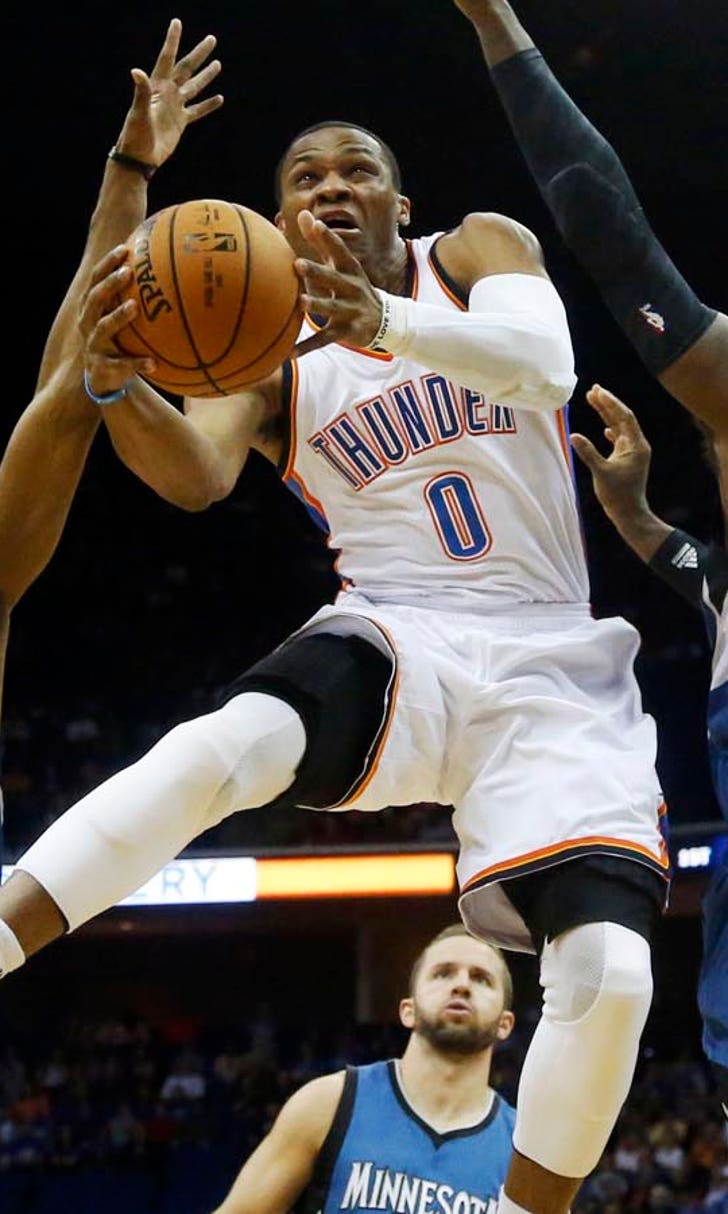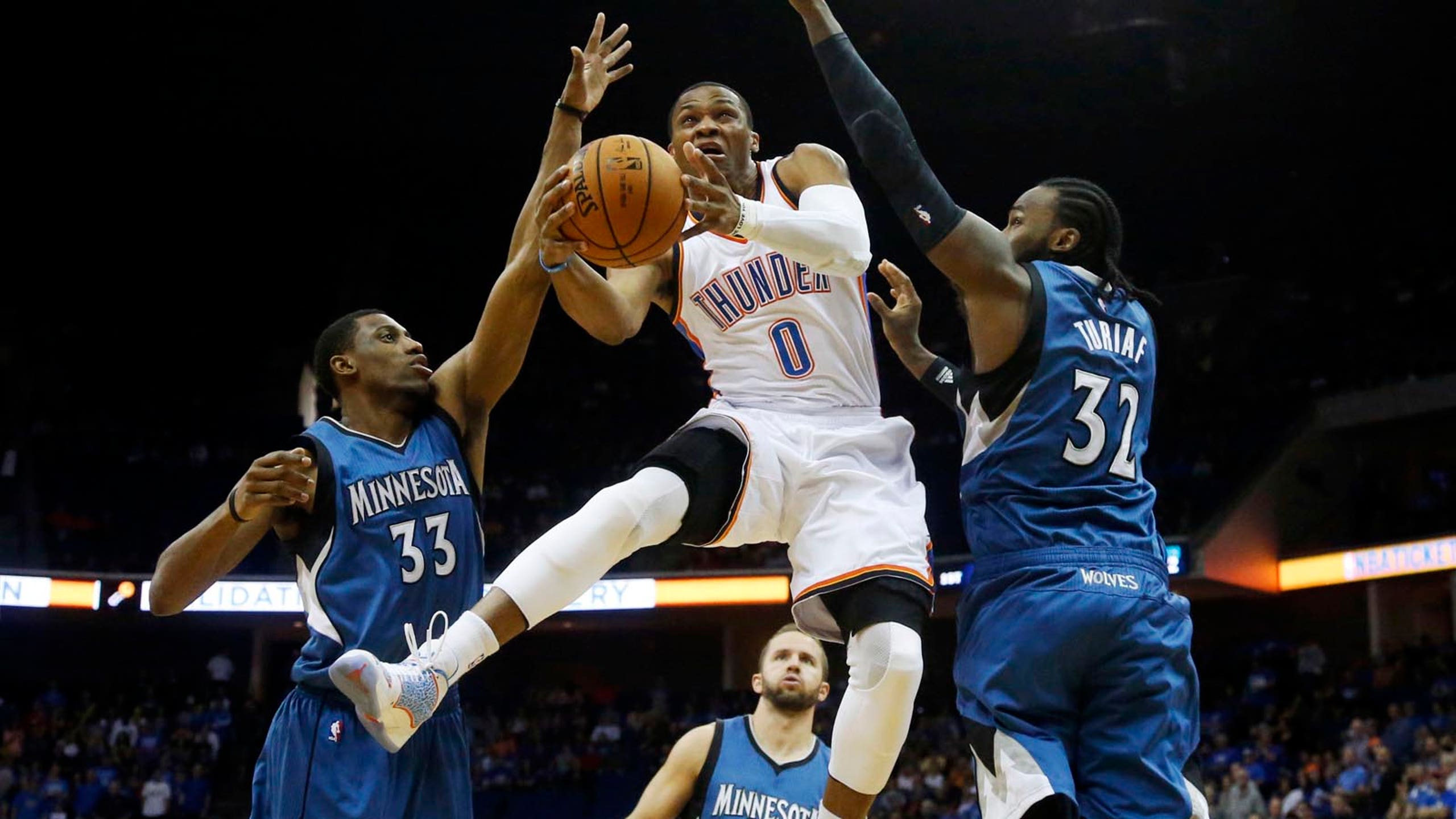 Timberwolves vs. Thunder preview
BY foxsports • December 12, 2014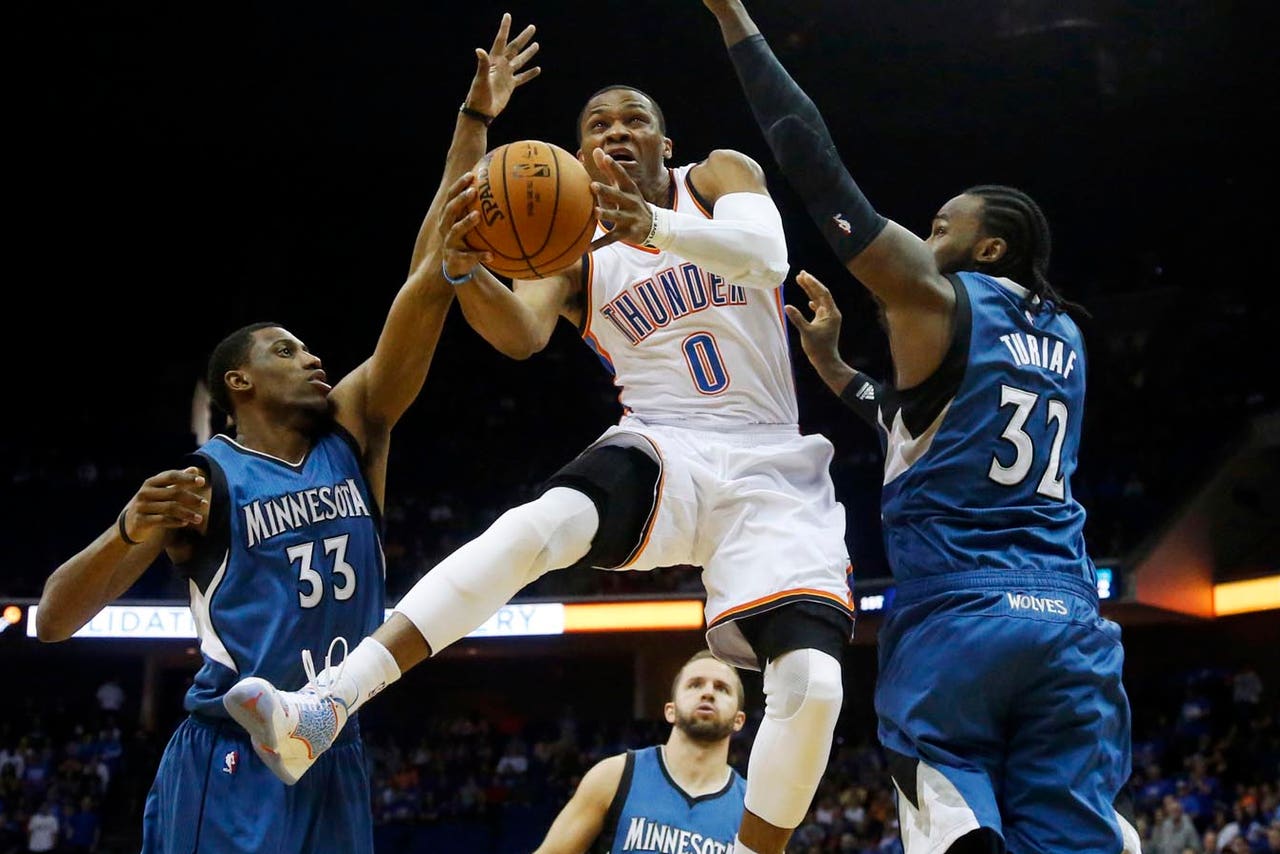 After a lengthy injury absence, Kevin Durant has not yet reached the level of offense he displayed while earning MVP honors for the first time last season.
His ability to win, however, seems as present as ever.
Durant and the Oklahoma City Thunder look to extend their best win streak of the season to five games Friday night when they visit a Minnesota Timberwolves team which has a chance to post back-to-back wins for the first time.
Following a dreadful start to the season while Durant and Russell Westbrook were hurt, Oklahoma City's quest to reestablish itself among the best in the Western Conference has gone to plan since its stars returned. With both Durant and Westbrook active, the Thunder (9-13) have gone 4-1 - losing only Durant's first game back from a broken foot.
Durant sat out the first 17 contests, while Westbrook missed 14 after suffering a broken bone in his right hand in the second game of the season.
Durant scored just 19 points Thursday, but he netted the Thunder's final eight to clinch a 103-94 win over Cleveland, which was without LeBron James due to a sore knee.
"That's what he does," Westbrook said of Durant. "I mean, he's been doing that, and that's why he's the MVP. He does that every night, and tonight, you could see he was getting his rhythm back, and he closed the game for us."
Westbrook, who had 26 points, eight assists and seven rebounds, has played exceptionally well since returning, averaging 26.0 points and 7.3 assists in six games.
Oklahoma City's defense, which has excelled all season, held the Cavaliers to 36.5 percent shooting. It marked the 16th time the Thunder have held an opponent below 100 points, and they rank among the NBA's top five with 94.4 allowed per game.
"We're growing," Durant said. "Every single game, you can see defensively, offensively, we're starting to catch a stride. We've just got to continue to do it."
Minnesota (5-16) has been trending in the opposite direction, especially on the offensive end. The Timberwolves have averaged 94.3 points over their last seven, which ranks near the bottom of the league since Nov. 30.
Despite the scoring troubles, Minnesota ended its six-game skid Wednesday with a surprising 90-82 win against a Portland club which had won 14 of 15. Andrew Wiggins came through with one of the best performances of his young career, scoring 23 points and adding 10 rebounds for his first double-double.
"The baby Wolves grew up a little bit," coach Flip Saunders said.
Following an 11-game stretch of shooting 42 percent or worse, Wiggins has gone 17 for 35 from the field in the last two games. His offensive presence has been vital as Kevin Martin continues to recover from a broken wrist.
"I feel comfortable and I know my team is always going to be there," Wiggins said. "We made plays together. It wasn't just me. Without them executing the plays, helping me get open, I wouldn't have found my shots."
The victory also marked a strong defensive performance from a typically porous unit which is one pace to set a team mark for futility with 108.8 points allowed per game.
Oklahoma City has won its last three against Minnesota and 17 of 20 dating to 2009. The Thunder have averaged 109.2 points against the Timberwolves in that span with Durant scoring 32.2 per matchup.
---