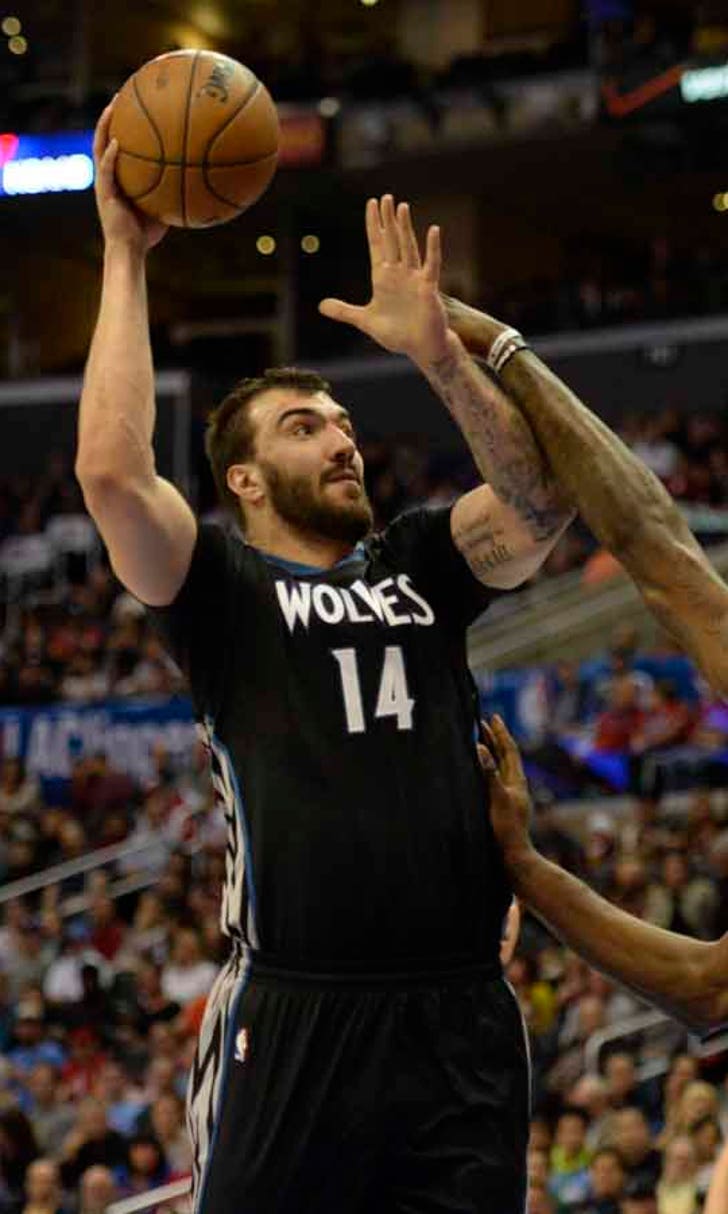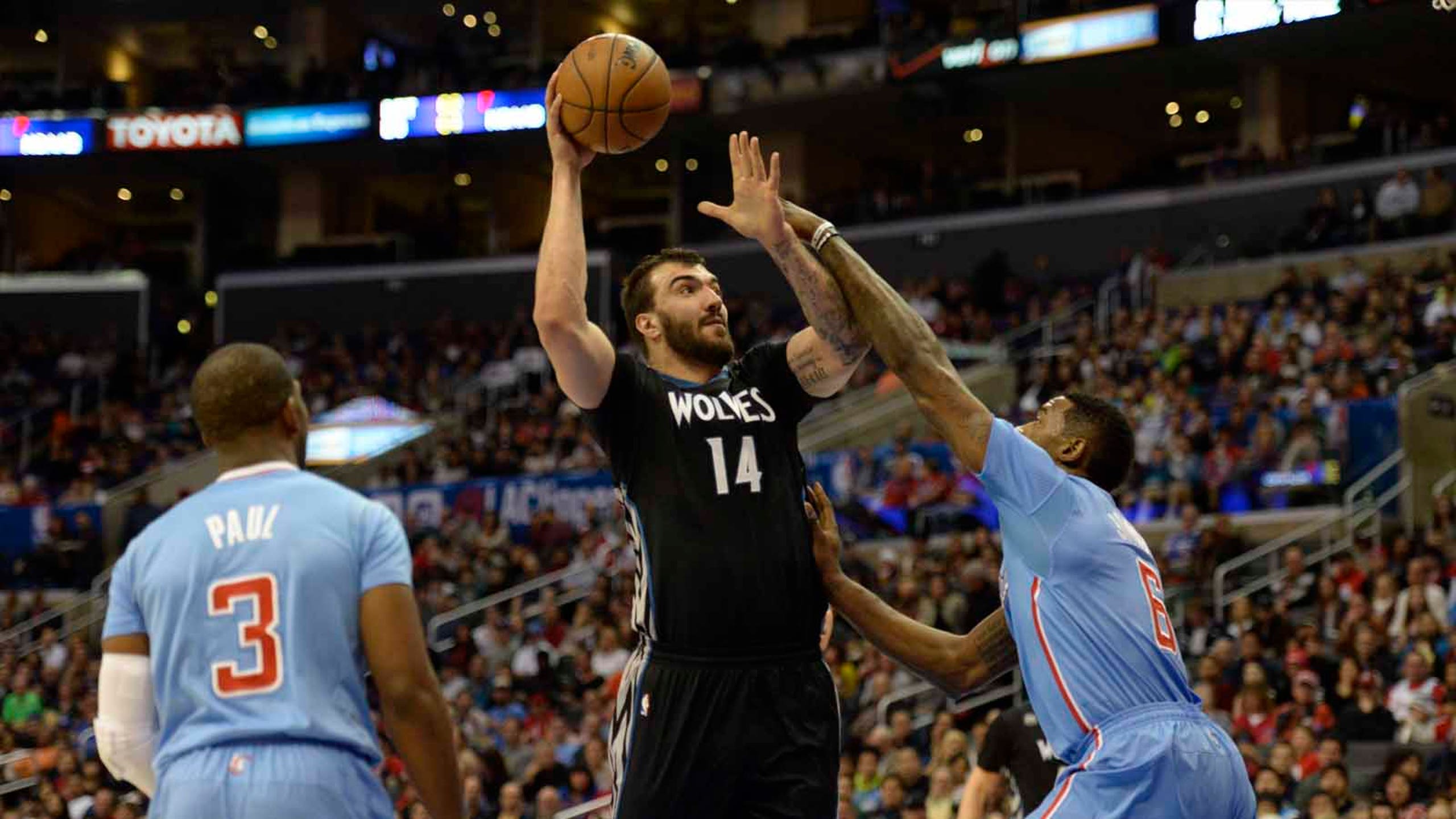 Timberwolves fight hard in gritty overtime loss to Clippers
BY foxsports • December 23, 2013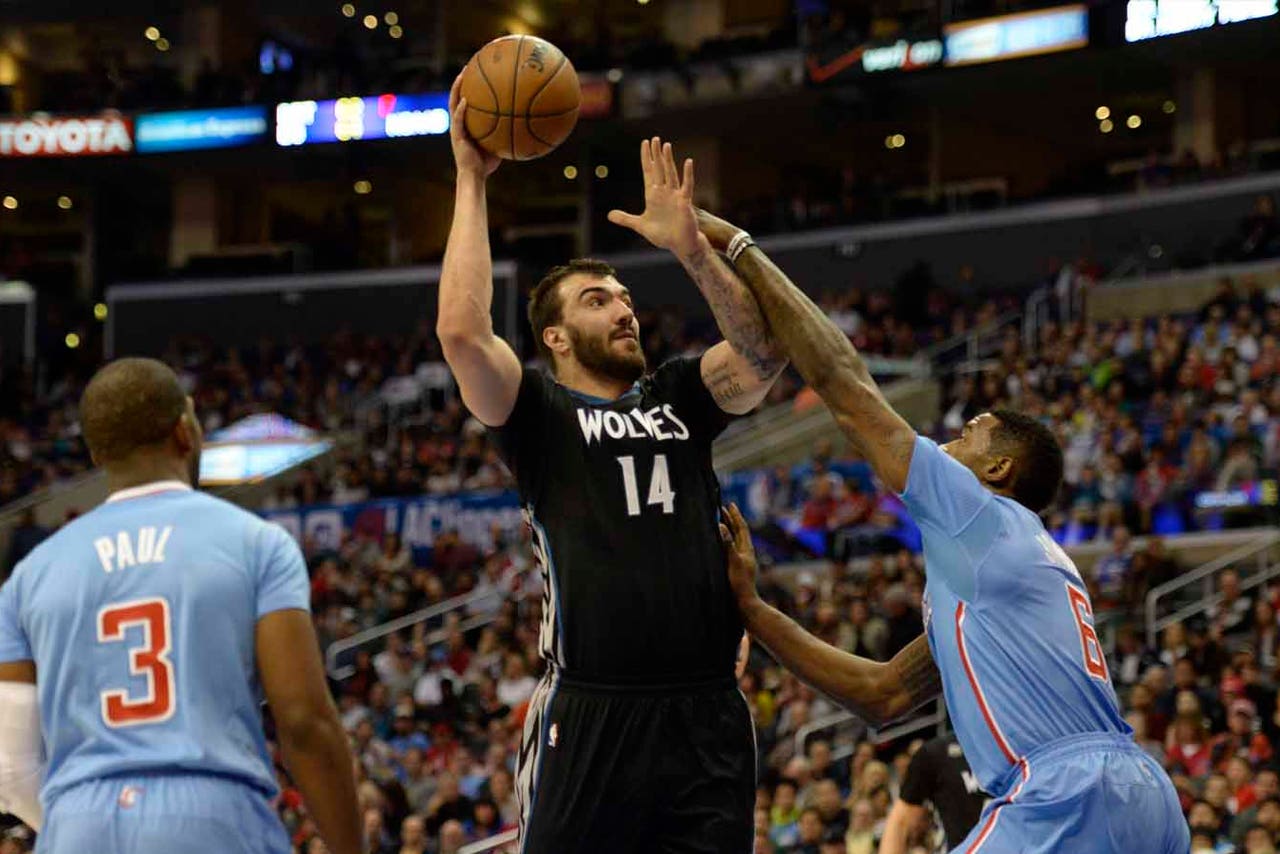 LOS ANGELES (AP) -- Jared Dudley made a go-ahead 3-pointer with 38 seconds remaining in overtime and Chris Paul added five free throws in the final 19 seconds, leading the Los Angeles Clippers to a gritty 120-116 victory over the Minnesota Timberwolves on Sunday night.
Blake Griffin had 32 points and 10 rebounds and was an uncharacteristic 10 for 11 from the free throw line before fouling out with 4:08 left in OT. The defending Pacific Division champions extended their winning streak to a season-best five games while beating the Timberwolves for the eighth straight time, their longest current streak against any opponent.
Jamal Crawford had 22 points for Los Angeles, 7-4 since losing starting forward J.J. Redick with a broken right hand and a torn ligament in his wrist but 5-0 since Crawford was moved into the starting lineup. Paul finished with 19 points and 13 assists.
Kevin Love had a season-high 45 points and tied a season best with 19 rebounds for the Timberwolves, back at Staples Center after their 104-91 loss to the Lakers on Friday night. It was Minnesota's first overtime game since beating Orlando at home on opening night.
Nikola Pekovic had a career-high 34 points and 14 boards. Kevin Martin scored 16 points after averaging 29 in the Timberwolves' other two meetings against the Clippers -- both narrow losses as well. Point guard Ricky Rubio played 38 scoreless minutes with 12 assists.
Matt Barnes, in just his second game back following an eye injury, was ejected with 56 seconds left in the third quarter after committing a flagrant 2 foul against Love on a drive to the basket with the Clippers leading 77-75. Love sank both free throws, then added a go-ahead 3-pointer after Minnesota retained possession following the flagrant foul.
Minnesota was leading 106-102 before the Clippers forced OT. Crawford made a driving layup and a dunk after Paul forced Martin into a turnover. Pekovic then missed an 11-footer and a 20-footer in the final 2 seconds of regulation.
Pekovic had a chance to redeem himself, but missed a 5-foot baseline hook shot and Paul canned two free throws at the other end to seal the victory.
Crawford ended the third quarter with a buzzer-beating 3, cutting Minnesota's lead to 85-83. Reserve Darren Collison scored the Clippers' first nine points in the fourth, and all that got them was a one-point deficit with 8:37 to play.
Griffin powered the Clippers to a 56-54 halftime lead with 20 points, offsetting 22 points by Love -- the second straight game in which Love had at least 20 in the first half.
Referee Marc Davis made a highly questionable foul call against Griffin -- his third of the game -- as Love initiated contact with him while trying a desperation, buzzer-beating shot from at least 10 feet behind the midcourt line before intermission. Love made all three free throws.
Clippers center DeAndre Jordan, who came in leading the league in field goal percentage, played just 9 1/2 minutes in the first half after picking up his third foul with 10:15 left in the second quarter.
Minnesota forward Corey Brewer, who missed all eight shots he took against the Lakers, did not attempt a field goal in his first 11 minutes on the floor. His first shot was a 3-pointer that reduced the Clippers' lead to 50-49 with 1:43 left in the half. Those were his only points of the night.
NOTES: Minnesota is 7-6 when Love gets 15 or more rebounds. In his six seasons with the Timberwolves, they are just 39-61 under those circumstances -- including a woeful 9-33 mark in 2010-11.  . . . Minnesota has lost its last 10 games that were decided by fewer than five points, including seven this season.  . . . A year ago at this time, the Clippers had won 12 straight en route to a franchise-record 17-game streak.  . . . Love has had 10 or more rebounds in 11 straight games, tying Griffin for the league's longest such streak this season.  . . . The Timberwolves (13-14) haven't been more than two games above or below .500 since beating Boston on Nov. 16 to go 7-4.  . . . The Clippers are 14-0 when scoring 104 or more points, and 6-9 when scoring fewer than that.
---