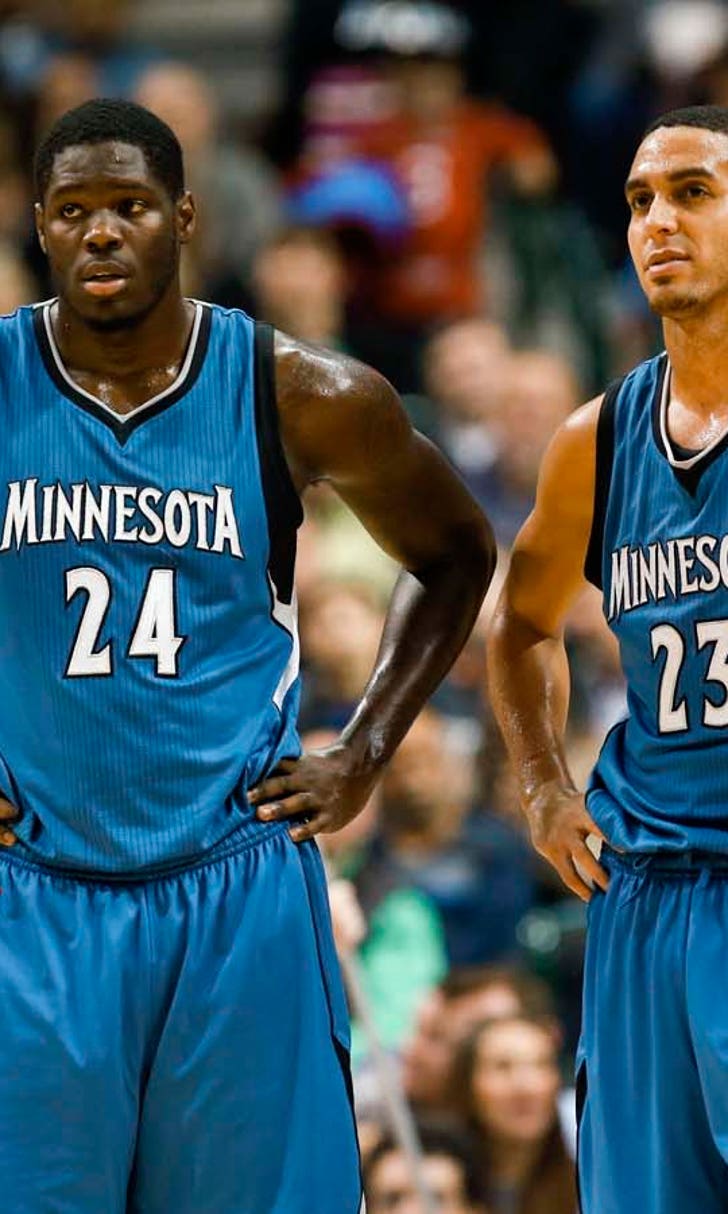 Timberwolves deep in dredges of 'rebuilding' season
BY foxsports • November 17, 2014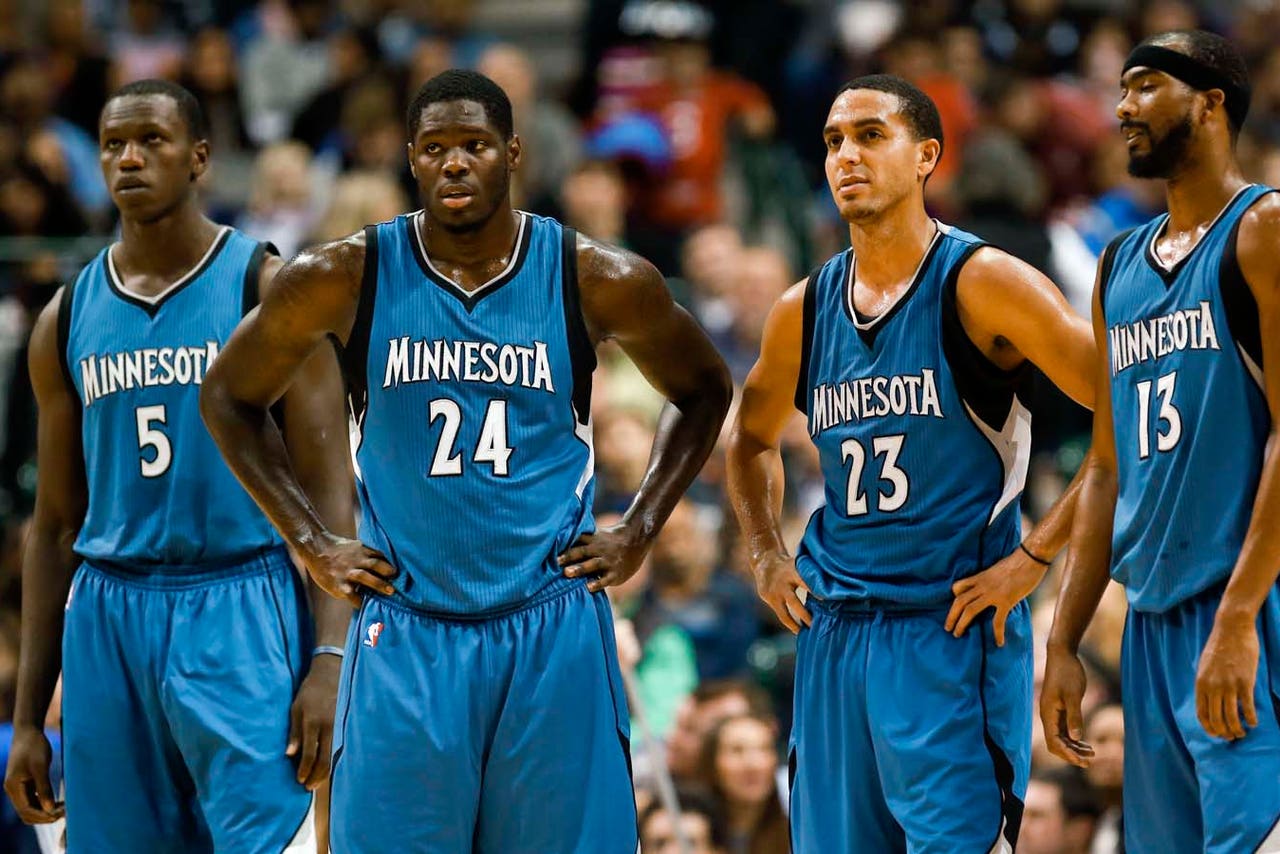 MINNEAPOLIS -- Five-thousand, one-hundred and eighty travel miles. Twelve days on the road, in the air, or both. Two lost starters. A trip to high-altitude Mexico City sandwiched between back-to-backs away from the Target Center as it played host to a slew of Garth Brooks country concerts.
Injuries, attrition and ineptitude.
"It's already hard enough when you go on a 12, 13-day road trip," Timberwolves small forward Corey Brewer said.
But losing your top player for the time being, your starting power forward dealing with the death of his mother, and a third starter re-aggravating a nagging injury?
"Those are things you can't plan for," coach and president of basketball operations Flip Saunders said.
Minnesota's dismal -- in every sense of the word -- season-long, six-game sojourn that ended Saturday doesn't necessarily alter the course of a season that was dubbed a remedial one at its outset. But it does change the scope of it, as personnel and personal setbacks combined with blowout losses have sucked a lot of the air from a campaign that began with excitement as a new era of Wolves basketball dawned.
Ricky Rubio severely sprained his ankle and is out indefinitely. Nikola Pekovic's own ankle that kept him sidelined for most of last year post-All Star break has flared up again. A pair of 19-year-olds appeared in an NBA starting lineup for the first time in nearly a decade.
And if you're Thaddeus Young or one of his family members or friends who were in Memphis over the weekend, the team's five-game losing streak pales in comparison to the death of his mother, Lula Hall, who died last week at the age of 57.
"I'm just glad we got back in one piece," Brewer said after practice Monday.
Hardly.
The Wolves used four different starting lineups during a trip that quashes any hopes they might've held to surprise observers this season. In four of the six games, they started rookie, 2014 first-round draft picks Zach LaVine and Andrew Wiggins, becoming the first NBA team to start a pair of teenagers since Atlanta in 2005.
Wiggins, this year's No. 1 overall pick and projected prodigy, has been part of the initial lineup from the outset. But Saunders' plan to bring LaVine along more gradually floundered when Rubio rolled his left ankle sideways Nov. 7 in a 112-103 overtime loss at Orlando. J.J. Barea was bought out before the season, and Saunders would rather keep Mo Williams coming off the bench to enhance his chemistry with the second unit and keep his minutes in check.
Rubio has been on crutches since the injury and is out indefinitely. The team won't have an idea how long he'll be unavailable till the swelling in his ankle subsides.
"When he gets off his crutches, we'll be able to evaluate," said Saunders, who inked Rubio to a four-year, $55 million extension shortly before the road trip. "I believe he's made pretty good progress from what everyone tells me."
LaVine has done the same thing on the court, Saunders said, but the UCLA product's lack of experience at the point is evident. In his four starts, he's shot 34.4 percent from the floor, committed 13 turnovers to 14 assists and scored in double figures just once.
"It was really unfortunate," LaVine said of Rubio's injury. "(He's) the head of our team. You never want to step in for someone that's injured, but that's the game. That stuff happens, and you've just always got to be ready."
Nor does a player wish to replace a teammate going through funeral preparations.
Young parted ways from the team after its loss to Houston in Mexico, arriving in Memphis just before his mother passed away. He missed the Wolves' two lopsided losses at New Orleans and Dallas and wasn't at practice Monday.
Saunders said he'd know more Tuesday about when Young would return to the team. According to the Memorial Park Funeral Home and Cemetery in Memphis, Hall's visitation and funeral service are scheduled for Friday.
Minnesota hosts the defending NBA champion Spurs that night.
Pekovic wasn't at practice Monday, either, but it wasn't because of the right ankle that slowed him last season and kept him out of the second half Saturday. Saunders said the Montenegrin big man was dealing with a "personal situation" and declined to elaborate.
As for the ankle, Saunders said the training staff would take another look at it when Pekovic returns. Tendonitis in his Achilles tendon cost him 28 games last year.
Gorgui Dieng, usually Pekovic's backup at the five, took Young's place in the starting lineup Friday. The next day, 2013 No. 1 overall pick Anthony Bennett made his first NBA start at power forward.
They lost to the Pelicans and Mavericks by a combined score of 270-208, including a 139-91 defeat at New Orleans -- the most lopsided losing margin in Wolves franchise history.
"We were overmatched," Brewer said.
It begins with defense, Saunders said, particularly against the pick-and-roll. Without Rubio to wreak havoc at the top of the key, Minnesota has allowed opponents to shoot 54.6 percent from the floor and 47.4 percent from 3-point range in consecutive losses to Orlando, Miami, Houston, New Orleans and Dallas.
Wolves foes are shooting 51.1 percent on the entire season, the NBA's worst mark. They finished second-to-last in that category last season.
"When you play a lot of young guys, the biggest thing is communication," Saunders said. "We have a lot of guys who are maybe strong introverts, are not very outgoing speaking-wise, and so we don't talk a lot. We're not getting our coverage as quickly. But we've played some teams that have shot the ball pretty well here the last couple, which hasn't helped at all. We've just got to get back to the basics."
Which is all this season really boils down to now. It was well-known when Minnesota traded Kevin Love and received Wiggins, Young and Bennett that 2014-15 would be focused on incremental steps in the right direction, but nowhere in that plan did a hodge-podge of on-the-fly learning and lineup juggling appear.
It's to the point where trade speculation has begun to ramp back up, including an ESPN report the Wolves are shopping Brewer.
Saunders shook his head when that report was brought up Monday. "All you guys are always trying to find something going on," he said. "Look, we knew coming into the season what we're going to be. We're not going to make a snap decision to maybe help us win four more games if it's going to hurt us in the long run."
But dealing Brewer to a contender like Cleveland -- which the ESPN story says is a primary candidate -- could help revamped Minnesota accrue further assets via the draft.
Brewer, who won a championship with Dallas in 2011, would love a shot at another one. But he's also hoping to help revitalize the club that drafted him in 2007, traded him 3 1/2 years later and signed him to a three-year, $15 million free-agent deal last summer.
"Of course I want to win," said Brewer, who estimated he'd received 30 phone calls regarding trade rumors Sunday, "but I came back to Minnesota for a reason. I love it here, and I want to stay here."
Even if it means enduring an 11th straight Timberwolves trip to the draft lottery. The team has four straight home games spread throughout the next nine days, but recovering from such a draining -- mentally and physically -- journey won't be easy.
Especially when the desired end results aren't at all tangible.
"It's pretty hard, but every time I've come to Minnesota, I feel like we rebuild," Brewer said. "Nothing new here, but we've got a bunch of good young guys. Try and develop those guys, because they've got to get better for us to be good."
Follow Phil Ervin on Twitter
---