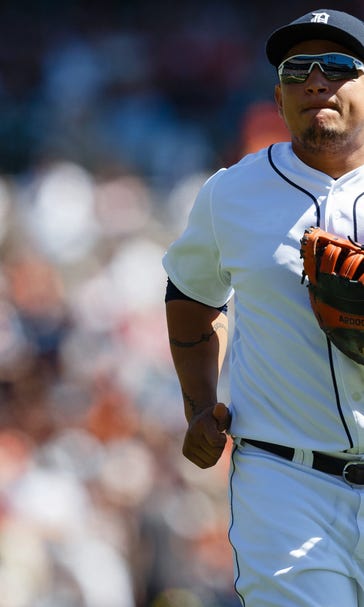 Tigers say no decision made on offseason surgery for Miguel Cabrera
September 7, 2014

DETROIT -- Everyone has watched Miguel Cabrera deal with a right ankle injury this season.
It bothers him most when he has to run the bases, much less so on defense.
ESPN's Buster Olney reported before Sunday night's game that Cabrera has bone spurs in his ankle and would need surgery during the offseason.
"As long as I've known Buster I don't know where he's getting that," Tigers manager Brad Ausmus said after the game. "We don't know if he requires surgery. We don't know if it's going to be rest or surgery will help. That'll be determined when the season is over."
The Tigers did not deny that Cabrera might have bone spurs but did say that there has been no decision made yet on whether Cabrera will need surgery. 
"That's what's causing the irritation. Not spurs, I would say it's one," Ausmus said. "That's what the general consensus is. Whether it's rest that will help the inflammation or the irritation go down in the area or whether it's something that has to be done surgically we don't know that."
Cabrera, who hit a two-run home run and an RBI single Sunday, is batting .500 (15-30) with eight runs scored, two doubles, five home runs and nine RBI in eight games in September.
When he scored on Victor Martinez's double in the seventh inning, Cabrera was bothered enough that Ausmus took him out and moved Don Kelly to first base.
"Coming in (Sunday) he said it felt better," Ausmus said. "Maybe the off-day last week and four straight days of DHing might have helped, kept him off his feet. Scoring on that double aggravated it again. We had to get him out of there. I'll wait and see how he feels (Monday) but certainly DH him (Monday) is a very good possibility."
---