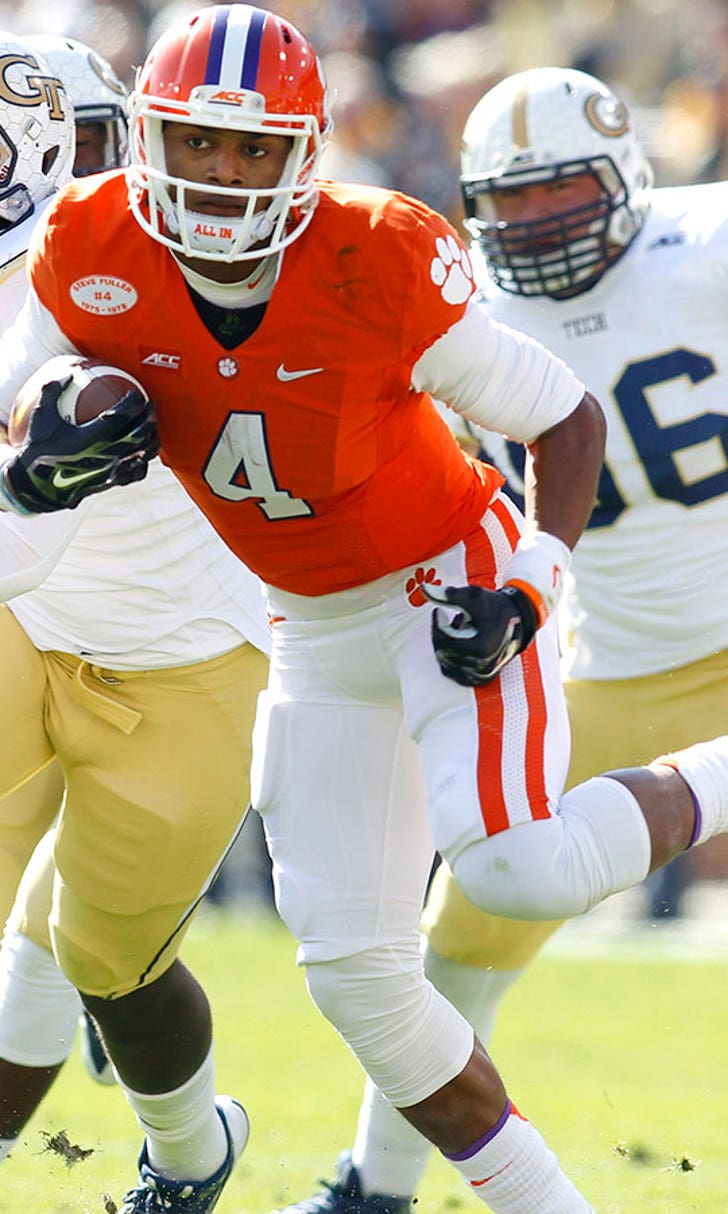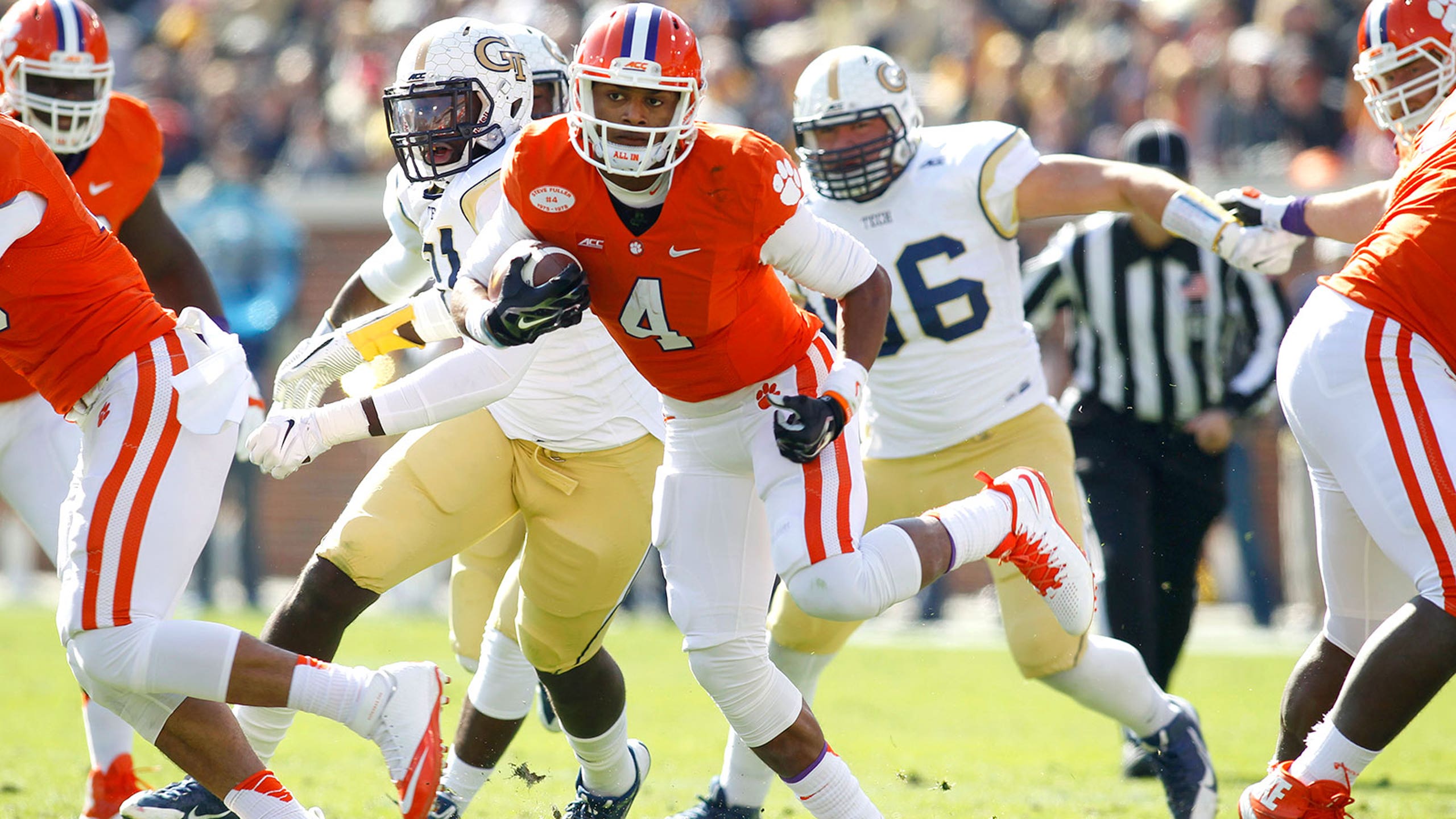 Tigers QB Watson suffers knee injury in loss to Georgia Tech
BY foxsports • November 15, 2014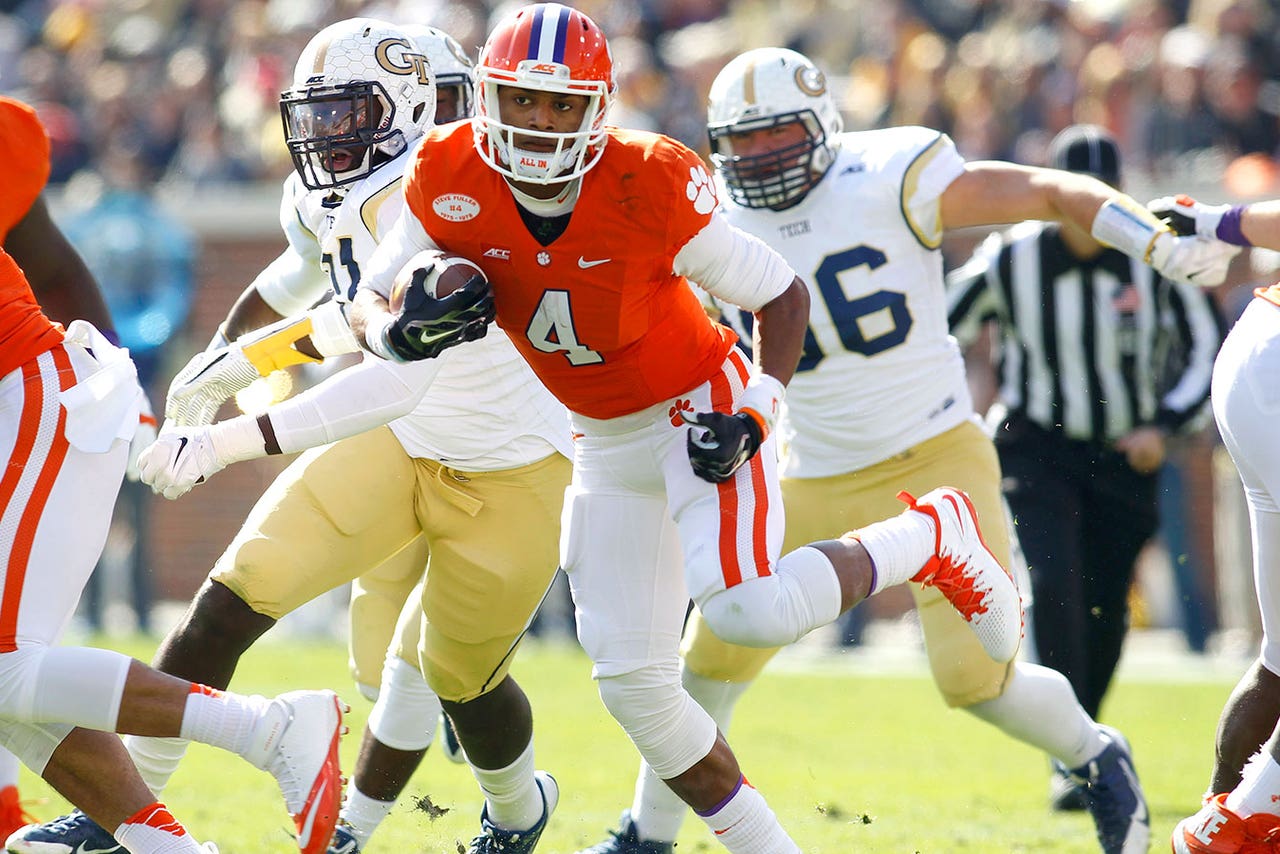 ATLANTA -- For the second time in five weeks, heralded Clemson quarterback Deshaun Watson has gone down with an injury in the first half of a game.
On Oct. 11, the dynamic freshman incurred a hand injury that kept him out for three games.
On Saturday, marking his return to the Tigers lineup, Watson left the game permanently with a knee injury, just milliseconds after scrambling for a first down deep in Georgia Tech territory.
The extent of Watson's game-ending (and perhaps season-ending) injury remains unclear at this time, but the TV replays indicate it might have happened when he planted his left foot before making contact with a Georgia Tech would-be tackler, or when Watson made contact with his own offensive linemen.
In his postgame address, Clemson head coach Dabo Swinney stopped short of detailing the extent of Watson's injury, but he wasn't necessarily upbeat about the immediate prospects, either.
"It's his knee. We've got to go and get an MRI and try to get some confirmation (on a possible ACL tear). (Watson) just planted. It's unbelievable. We've had a lot of misfortune this year, and I really loved the rhythm that we had (prior to the injury), the momentum that we had ..."
Swinney then added: "I really hate it for (Watson). He's had such great practices the last couple of weeks. He was so excited about playing. It was off to the races; he had a great start today ... it's just a shame. That's life."
On the same series, three plays later, backup quarterback Cole Stoudt, while sprinting right from the pocket, tossed an ill-advised screen pass to the left side -- which was intercepted and returned for an 85-yard touchdown by Yellow Jackets defensive back Jamal Golden.
Minus Watson, No. 19 Clemson was thoroughly outplayed in the final three quarters, eventually falling to No. 19 Tech, 28-6.

In Year 1, Watson has had a substantial, albeit brief impact on Clemson -- and college football, at large.
On the morning of Oct. 11, Watson's electric performance against North Carolina (435 total yards, 6 TDs -- Sept. 27) prompted Kirk Herbstreit of ESPN's College Gameday show to hail the Tigers QB as "face of college football, starting next year" -- a hair-raising, but also pressure-filled compliment that had a new level of importance about five hours later when Watson went down with the aforementioned injury against Louisville.
---