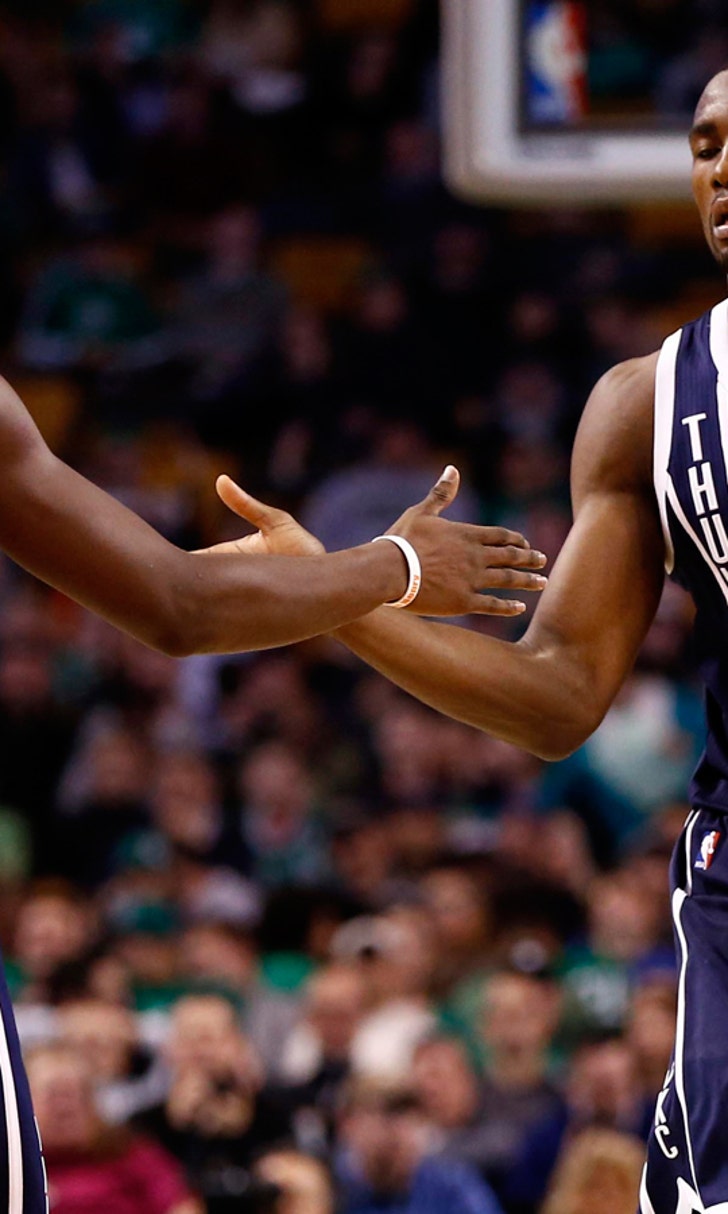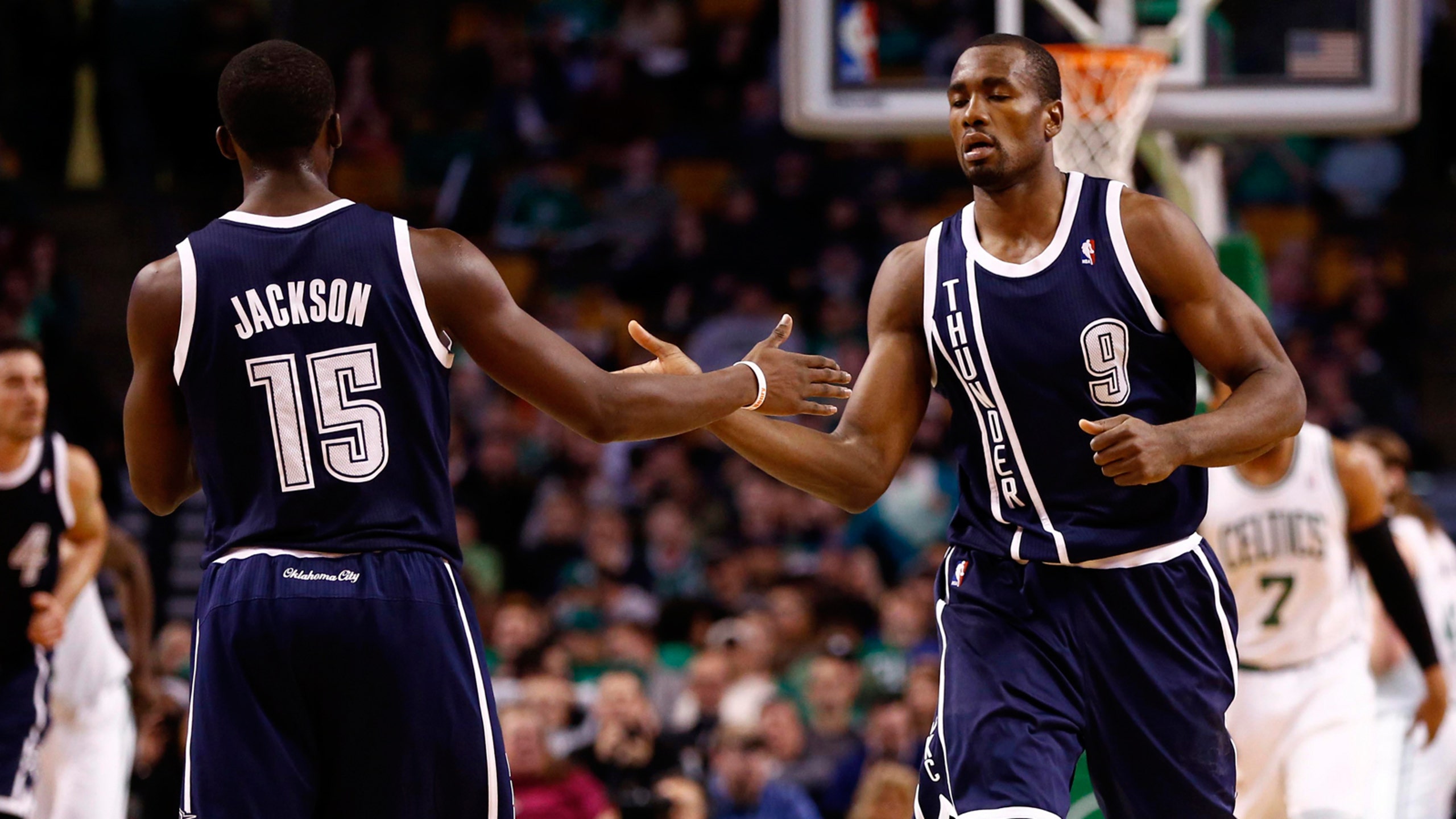 Thunder dominate without Durant, Westbrook
BY foxsports • January 24, 2014
Kevin Durant was wearing warm-ups, and it looked like he could just come in at any point.
Seemed kinda comforting actually.
But the reality of the situation was the Thunder didn't have Kevin Durant available Friday night in Boston. They didn't have Russell Westbrook either and for the first time since this team came to be, neither played. Durant was out with an injured shoulder.
And on a night where Carmelo Anthony set a Knicks scoring record with 62 points, Oklahoma City's 101-83 victory over the Celtics was pretty notable, too.
Here are three things to think about after Friday's win:
1. Kevin Durant is day-to-day
The bad news is Durant injured his shoulder during the Thunder's win against San Antonio on Wednesday, the extent of which we don't know at this time.
The good news is Durant didn't undergo any surgery and was not determined out until about an hour before game time.
Unlike the Russell Westbrook injury last year in the playoffs, where the team announced the day after he got hurt against Houston that Westbrook would have surgery, there was no such announcement with Durant.
After the game, coach Scott Brooks said of Durant, "We'll see how he feels tomorrow," leaving the door open for a quick return.
And really, the Thunder could afford to be conservative with Durant. The Celtics weren't near good enough to keep up with a very limited Thunder team and Brooks certainly knew that going in. Even if Durant wanted to play, or just partially limited, there was no reason to risk anything.
The Thunder's next game is Saturday in Philadelphia. If Durant doesn't play against the 76ers, it doesn't mean something is totally wrong. The 76ers are similar to the Celtics and OKC won't need a full squad to get by. Don't read too much into it – at this point, anyway – if Durant doesn't play.
Now if he's out Monday against Atlanta and then Wednesday at Miami, it could be time to panic.
2. Total team effort
Oklahoma City won its sixth game in a row by getting contributions from a number of players in a number of spots.
"We just tried to come together," guard Jeremy Lamb said. Lamb scored 15 points in the first half and finished with 19 points in 30 minutes off the bench.
"I knew they were going to accept the challenge," Brooks said. "Obviously we're a better team with Kevin and Russell, but that doesn't make us not a team (not to have them). Our guys were great playing unselfish basketball. It was a good team win and everybody chipped in."
Serge Ibaka led the team with 21 points. Perry Jones, who started in place of Durant, played a career-high 32 minutes and had 10 points. Reggie Jackson had 14 points and Thabo Sefolosha had 13.
No one, in the past three seasons, outside of James Harden, has provided consistent offensive production to complement Westbrook and Durant. Friday was a first chance for the Thunder to show they could do it.
It happened.
3. There was no letdown
If ever there was a spot where the Thunder could afford to take it easy, Friday would seem to be it.
OKC was coming off a win against San Antonio and a five-game run that included games against Golden State, Houston and Portland. With Durant and Westbrook out and facing a depleted and sorry Celtics team, it would have made sense for the Thunder to be sluggish.
Instead, they played inspired third quarter defense, holding the Celtics to just 13 points. Overall, Boston shot just 42.7 percent. The Thunder moved the ball on offense, had 24 assists and shot 54 percent.
"You have to play every game to the best of your abilities," Brooks said. "We have 82 big tests a year."
Well, you have to appreciate Brooks and how he wants his team to be consistent, but clearly there aren't 82 big games a year. This one Friday night in Boston was only big because of the injury issues for OKC.
It became bigger when the Thunder won and in the way they did it.
Follow Andrew Gilman on Twitter: @andrewgilmanOK
---