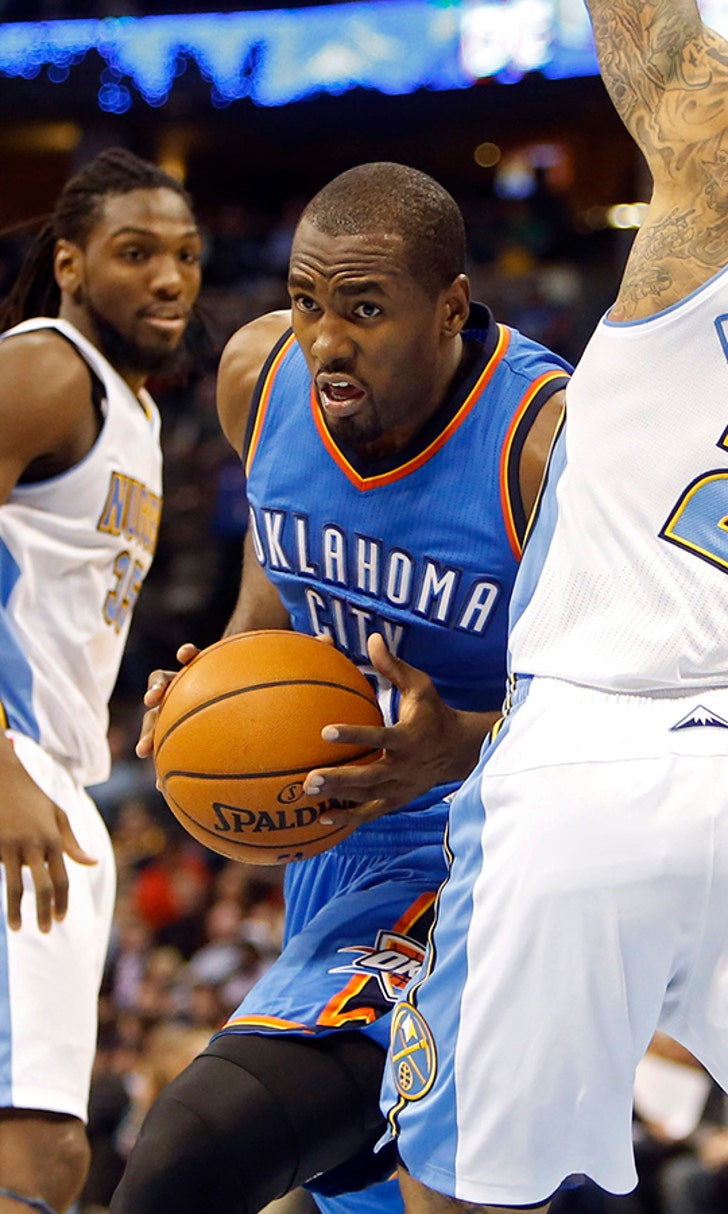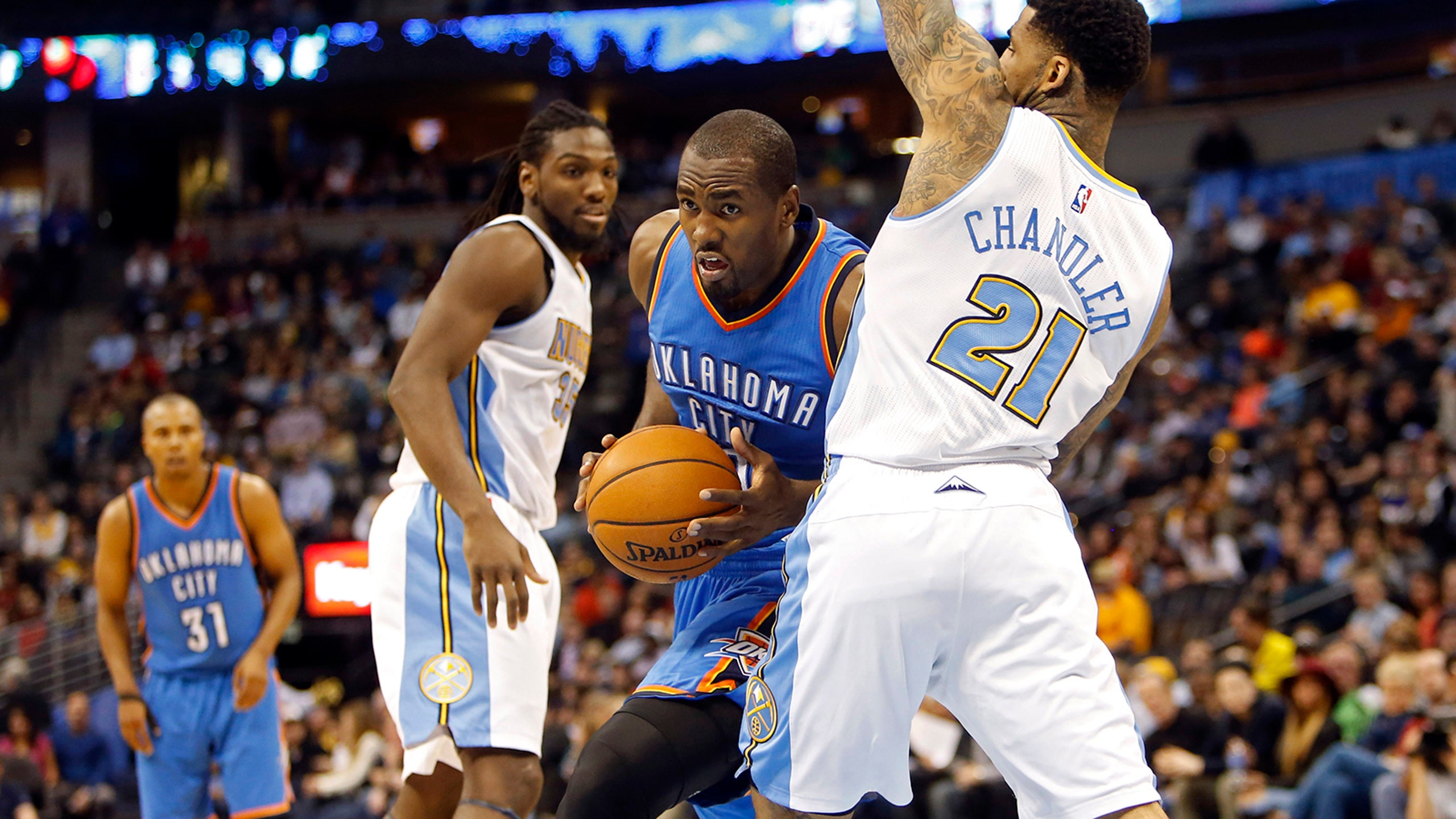 Thunder continue to flounder in loss to Denver
BY foxsports • November 20, 2014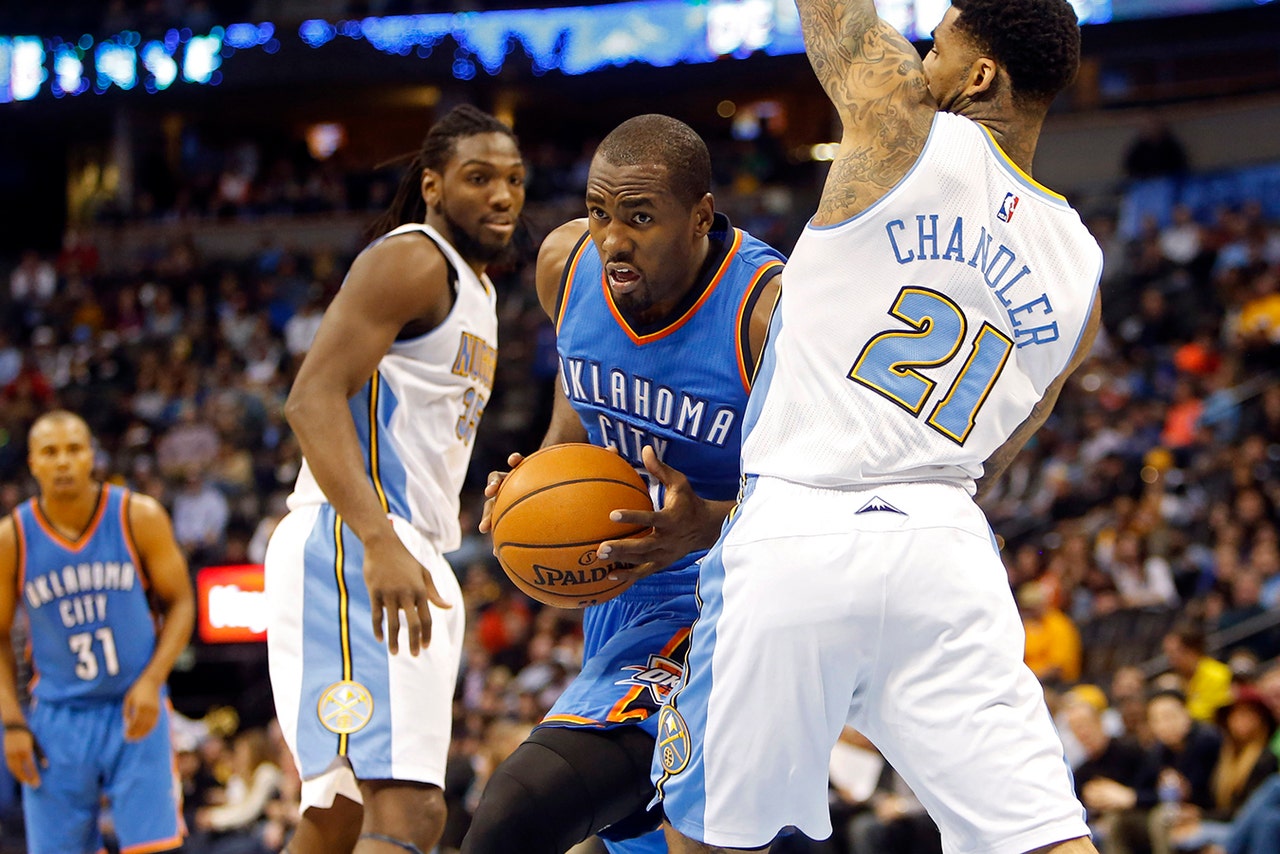 Maybe if Kevin Durant and Russell Westbrook told us when they were coming back, it would take a bit of the anxiety out of the season.
You know, just to have an idea. That would actually pacify some folks. It would be something to look forward, too, in a season where it's been hard enough to not look away.
The Thunder lost again Wednesday night to a Denver to team that came in 3-7 on the season. 
The Thunder have lost four in a row and five out of the past six, including defeats to such NBA powers as Denver, Utah, Detroit and Milwaukee.
Oklahoma City is 3-10. You need some good news. 
Read on. Here are three things that will make you feel a bit better about things. Probably.
1. There's still time
Hard to believe, but it's true. The Thunder have only played 13 games. That means there are a lot of games left. Sure, it would help to win every once in awhile, but let's say Durant and Westbrook miss another 15 games, that would leave 54 to play. 
Is it out of the question the Thunder could go 40-14 in those games? Probably not. But to just to be safe, now is the time for Thunder fans to start hoping Utah, Sacramento and Phoenix to lose a few games, too.
2. At least this team isn't the Lakers
Basically there's some hope in Oklahoma City. Can't say the same in Los Angeles.
Worst-case scenario, the Thunder struggle away the rest of the season. Probably won't go down like that, but if it did, at least they know they would have a full compliment of players coming back next October.
The Lakers have Kobe Bryant, his massive contract and a bunch of issues and no help, whatsoever.
Hard to take any joy out of a 3-10 start, but, hey, you're not the Lakers or the 76ers or the Knicks. See, things are looking up already!
3. Serge Ibaka will eventually move closer to the basket
When Durant and Westbrook return there will be less shots to go around for the rest of the team. 
Pretty sure no one will mind.
Meanwhile, the benefit will be less 3-pointers for Serge Ibaka. Sure, Ibaka has improved his outside shooting touch, but with the return of OKC's stars, Ibaka will naturally slide back down toward the basket. 
Ibaka is averaging 4.8 3-point attempts per game and is shooting 36.8 percent on 3s. That's fine when there's no one else to take them, but he'll become more valuable when Durant and Westbrook return doing what he's done over the past few years. Ibaka is averaging 15 points per game, but he's been resistant to getting into the paint.
Maybe it's because Ibaka is not wanting to tire and he's trying to conserve energy by avoiding contact in the paint as he is one of the best options left on offense for the Thunder. He took just two of his 15 shots from the paint. Ibaka only took two free throws on Wednesday against Denver, too, showing his inability to get to the basket and to settle for jumpers. Ibaka took three free throws against Utah and none against Houston, Detroit or Boston. He has six games this season with no free throw attempts. That basically means Ibaka is taking too many jumpers.
All of which will certainly change when Durant and Westbrook get back. There just won't be any room left on the perimeter for Ibaka to roam. He'll have to play inside, and that's nothing but good news.
See, now you have something to look forward to.
Follow Andrew Gilman on Twitter: @andrewgilmanOK
---