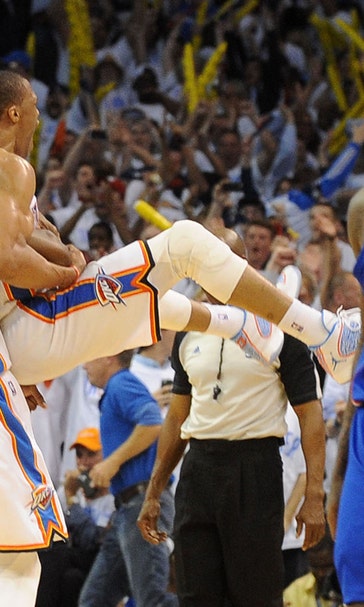 Thunder complete improbable rally despite Durant's off night
BY foxsports • May 14, 2014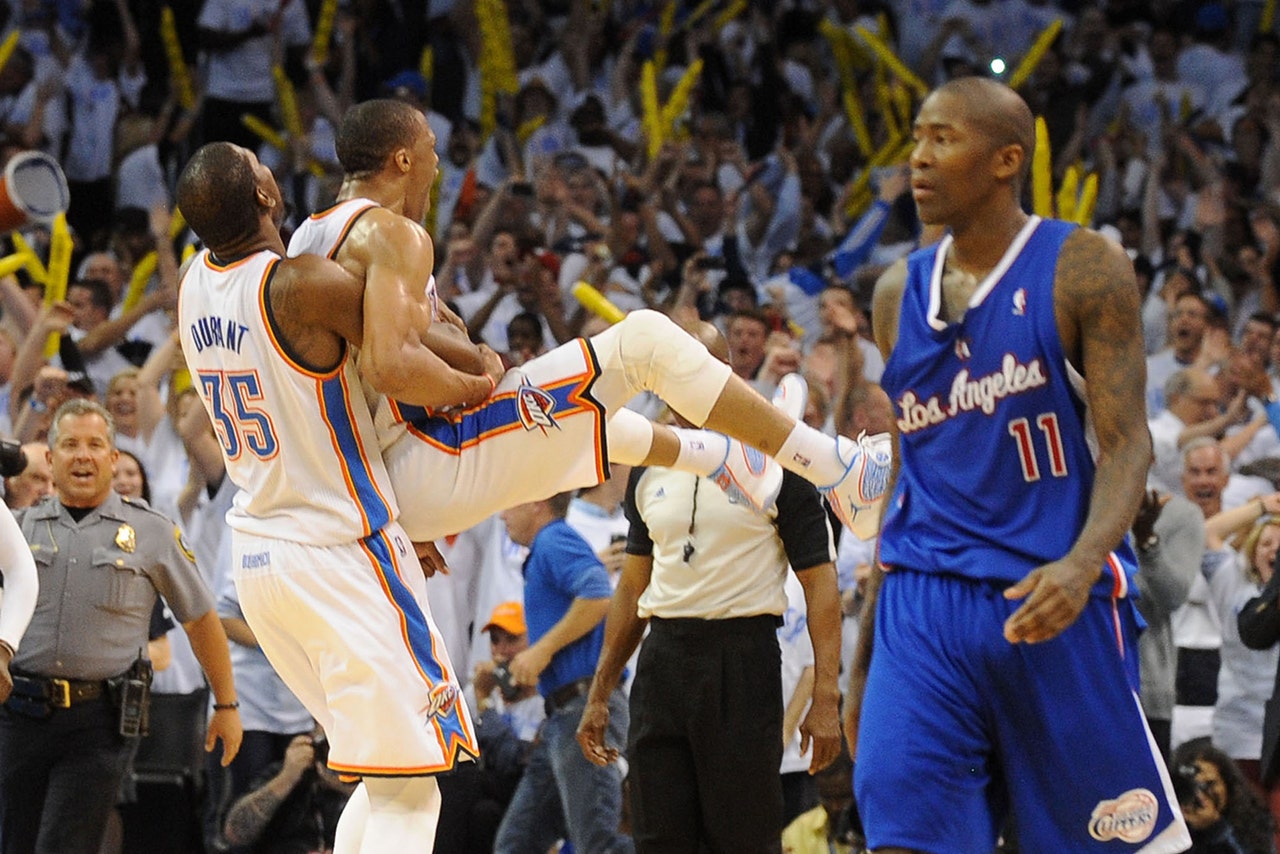 OKLAHOMA CITY - Remember that comeback the Clippers put together on Sunday?
You know, it was the one where Los Angeles made up a 22-point deficit early and then 16 in the fourth quarter.
Tuesday's was more improbable, and because of it, the Thunder saved their season.
Just two days after coming undone in a number of different meltdowns that included offense, defense and coaching, this Thunder team needed an even more wild, more improbable good fortune to turn a loss into a win Tuesday, 105-104.
How improbable? Well, the Thunder overcame Kevin Durant's 6-of-22 shooting and won.
How unlikely? Chris Paul turned the ball over twice in the final 17 seconds and committed a foul on a 3-point shot.
How ridiculous? The Thunder got the benefit of some serious doubt when a ball that looked like it was off of Reggie Jackson with 11.3 seconds to go, ended up being Thunder ball.
The Thunder are now up 3-2 with Game 6 coming up Thursday.
And how about that?
"I've never seen a game like this with us," Durant said. "It shows we keep going. We're going to fight to the end. We struggled offensively but we fought through it all."
By doing the improbable.
On Sunday, Kevin Durant scored 40 points and Russell Westbrook played well. Reggie Jackson chipped in and the Thunder were good for all except the final 7 minutes. It took Blake Griffin's monster game and a didn't-see-it-coming performance from Darren Collison to make it so. The Thunder were better than good. Certainly good enough to win, but it didn't happen.
Tuesday, the Thunder weren't good enough to win, but they did. Durant played so unlike the MVP, he was nearly unrecognizable. Then he went invisible. Durant was 3-of-17 through three quarters and didn't even attempt a shot until 3:25 was left in the game.
So there's that. And we know what happens when the Thunder don't get a good game from Durant, don't we? And there's this: Only Russell Westbrook's hero effort – going for 38 points – kept the Thunder in the game. No one else scored more than eight points, and we know what happens when OKC doesn't get any peripheral help, don't we?
Which leads us back to the improbable.
The Thunder rallied from 13 points down with 4:13 to play and lost among the whistles and the calls and the interpretation of the rule and whether the Clippers should have had the ball, was the fact Durant scored 10 points in the final 3 minutes on 3-of-5 shooting.
That was enough to get back all of a seven-point deficit in the final 49 seconds.
"Let's look at us first," Clipper coach Doc Rivers said after starting his postgame session with a heated monologue on the poor call that could have (should have?) given the Clippers the ball. "We made a lot of mistakes. They (referees) made a horrendous call. At the end of the day we created the situation."
A situation where the Clippers gifted a win to the Thunder one game after the Thunder did the same in Los Angeles.
Westbrook made three free throws with 6.4 seconds left to provide the final score and Jackson slapped the ball away from Paul, who couldn't manage to get a shot off. Paul turned it over five times in all after only committing six in the previous four games.
Improbable, yes. Unlikely, definitely.
After all, most have picked apart the Thunder, piling on because of their one-sided, offensive approach to the game. But it was the offense that let OKC down late. The Thunder were slow, didn't seem interested in passing and Durant stood motionless in the corner for a good deal of the fourth quarter. Westbrook was good for three quarters, but he went to the rim with no real exit plan or strategy for most of the final 12 minutes, going 3-for-9 with little concern for getting teammates involved.
Yet, here we are, headed back to Los Angeles with the Thunder needing just one win to move onto the Western Finals, thanks to a confluence of events that can only be described as something between crazy and curious.
"I thought we did a good job of putting ourselves in position to win in the last minute," Westbrook said. "It didn't come down to one play."
Nope, he's right about that. It came down to Durant and a comeback. A ref's call and free throws.
All of it improbable.
A game to remember. What did you think? Tell me on Twitter: @andrewgilmanOK
---