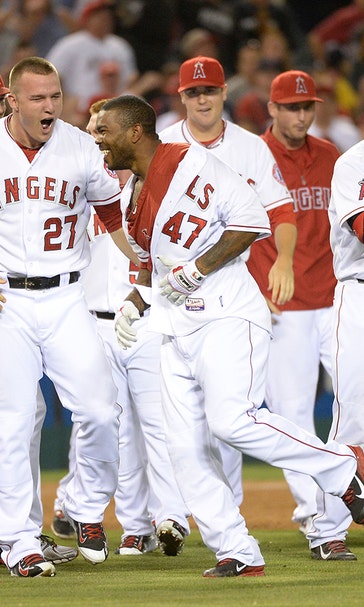 Three things to watch for: Angels' final first-half road trip
BY foxsports • July 10, 2014
The All-Star game is fast approaching and all but Mike Trout and possibly Garrett Richards will get a reprieve during the break. While always a welcome break, the Angels are on quite the run and it's clear to see that they're having fun winning.
Currently four games behind Oakland in the American League West Standings, here are three things to watch for as they head to out on the road one last time before the break and attempt to better their position.
The Angels open a four-game series on the road vs. the rival Rangers, beginning today at 4:30 p.m. on FOX Sports West.
The rotation
Matt Shoemaker was slated to open the series against the Texas Rangers but was pressed into emergency action Monday night when Jered Weaver left the game early with back spasms. Hector Santiago was slated to move back to the bullpen but with Shoemaker now unable to start, Santiago will get the nod and another opportunity to try for his first win of the season. Although he's showed promise in strong outings, his teammates have often had to bail him out. Still 0-7, Santiago makes few mistakes but the ones he made have been big (i.e. Chris Carter's grand slam last week). 
Manager Mike Scioscia said Weaver will make his next start. The comebacker from Adam Lind he fielded tightened up his back and team considered skipping him and giving him ample rest but after a bullpen session Wednesday, Weaver was deemed ready to pitch in Saturday's game.
"Let's wait and see how it lines up," Scioscia said. "If he can pitch, he'll pitch, and if he's a risk, he won't pitch. Just based on his workout this afternoon, he's definitely past that point of being a risk."
On Friday, Garrett Richards will attempt his 11th win of the season Friday and is putting a 6-0 streak on the line. Tyler Skaggs is looking for a bounce-back win in the series finale after falling in his first one since coming off the DL.
The comeback kids
Somehow, some way, there always seems to be a way. Santiago's rough starts have been made up for by a power hitting surge. If Mike Trout strikes out, Albert Pujols comes up with an extra-base hit. The Angels have come back for 26 of their 52 wins and it almost seems as if there's never a doubt in their minds that they won't be able to get out of any sort of situation.
"We've got a lot of guys going up every night to try to get the job done," said second baseman Howie Kendrick. "If they don't, we've had other guys step up... Not every guy is going to get it done but it's up to us as teammates to pick each other up."
The Halos have overcome 2-run deficits 10 times and deficits of three or more seven times. Thier 26 comeback wins currently ranks second behind Detroit (27) for most in the league.
The Oakland A's
You have to watch the competition to know what the Angels are going up against.
Right now, the A's just can't seem to stop winning. Oakland has won six-straight and bolstered its rotation in a big way with the trade of the year last week. Heading down the first half stretch, they're still the clear favorites to win the series against their slumping neighbors across the Bay but then they head up to Seattle for the final three games.
The Mariners, also still in the AL West hunt at eight games behind, pushed back Felix Hernandez's next start to just so their ace could face the A's in the series-opener. It doesn't end with Hernandez -- the Mariners have their big guns set to face the Athletics in hopes of stopping the hottest team in baseball and gaining some ground. 
It's a series worth keeping an eye on as it could determine whether the Angels return from the break in a position to battle only one team or two.
---