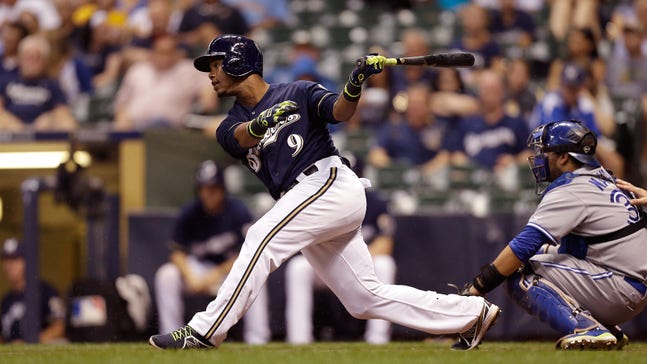 Three reasons to watch the Milwaukee Brewers in 2015
Updated
Mar. 4, 2020 4:19 p.m. ET

First thing ... yes, the Brewers did finish in third place last year! Ahead of the Cincinnati Reds! Ahead of the Chicago Cubs, everyone'€™s new darling! OK, so it wasn'€™t a particularly strong third place, as the Brewers finished 82-80 and were outscored by a few runs. Still, third place! You finish in third place with a winning record, and there's plenty of room for optimism, no?
Well, maybe no. FanGraphs just published their 2015 projections and the Brewers are in fourth place, just two games ahead of the last-place Reds. Sure, it'€™s a gentleman's fourth place, but only a really good dog could get excited about fourth place. So I can hardly expect a discerning soul like you to get excited about the 2015 Brewers.
As a unit, anyway. Individually, though? There are plenty of reasons!
1. Jean Segura'€™s future
In 2012, Segura was the centerpiece in the trade that sent Zack Greinke to the Angels. Which looked great in 2013, when Segura batted .294 and got an at-bat in the All-Star Game. Which looked awful in 2014, when Segura batted .246 with only five home runs, and might not have been the best shortstop in Wisconsin.*
* See, there was this kid in the Oshkosh Little League, and he ...
So which Jean Segura is the real Jean Segura? Unsurprisingly, the €"computer"€ projections suggest that Segura will be worse than he was in 2013, but better than he was in 2014. Not interesting! But maybe dead reasonable, as Segura'€™s peripheral numbers --€" his batted balls, especially --€" were little-changed from 2013 to '€™14. His batting average on balls in play dropped badly, and only about half as many of his flyballs became home runs.
So, yes, maybe this is just Jean Segura: a solid regular, but hardly the young star the Brewers thought they were getting. But he'€™ll turn 25 this month, and his third full season in the majors might tell us a lot.
2. Mike Fiers and Jimmy Nelson
The Brewers'€™ top three starters? Kyle Lohse, Matt Garza and Wily Peralta? We already know quite a lot about them, and what we know is that none is likely to do anything exciting, or even interesting. They'€™re all just ... fine, you know? And there'€™s nothing wrong with having three fine starting pitchers. But without any great ones, the Brewers need another fine starter or two. And with Yovani Gallardo and Marco Estrada gone, Fiers and Nelson are the Brewers'€™ best bets for additional fine-ness.
And believe it or not, they're not terrible bets.
Fiers turns 30 this summer, and while he's probably missed his chance at real stardom and definitely was just a 22nd-round draft pick just six years ago, he'€™s also got a damn-fine 4-to-1 strikeout-to-walk ratio in 35 major-league starts. You certainly wouldn'€™t predict he'€™ll be the Brewers' best starter this season ... but if he is, you shouldn'€™t be shocked.
Same goes for Nelson. He went 2-9 last season with a 4.93 ERA. But he also pitched exceptionally well in Triple-A Nashville, and also with Double-A Huntsville the year before. More to the point, he seems to have been exceptionally unlucky during his rookie campaign, and the BREAKOUT CANDIDATE tag seems justified.
So if everybody's healthy --€" and, yes, that's always the biggest if in pro sports --€" the Brewers probably won'€™t have a Cy Young candidate but could enjoy one of the deeper rotations in the league. Which might be enough to get them into third place again, at least.
3. Ryan Braun
OK, so Ryan Braun doesn'€™t really seem too interesting any more. But who can look away from a good trainwreck!? Which this is beginning to look like. After missing most of the 2013 season with various problems, Braun returned in 2014 and played in 135 games. He just didn'€™t play well, posting the worst numbers of his career. By a lot. Is the great-hitting Ryan Braun gone forever? I'€™ll be watching. And thinking about the $105 million the Brewers owe Braun after 2015. Oh, those long-term contract extensions ...
Milwaukee Brewers
2014 record: 82-80
Playoffs: N/A
Projected 2015 record: 79-83*
Key additions: 1B Adam Lind, RP Neal Cotts
Key subtractions: SP Yovani Gallardo, SP Marco Estrada, 2B Rickie Weeks, RP Zach Duke, RP Tom Gorzelanny
*Projected records courtesy of FanGraphs
---