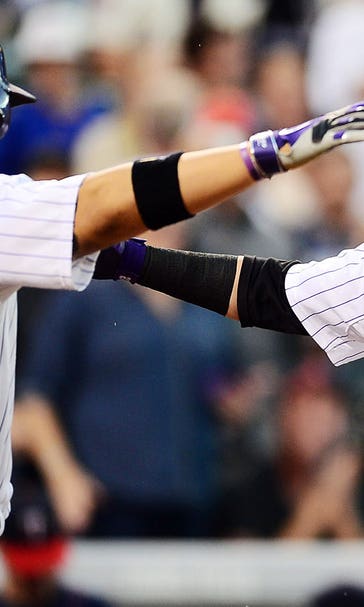 Three reasons to watch the Colorado Rockies in 2015
February 26, 2015

Okay, so nobody's talking about the Colorado Rockies this winter. I mean, nobody. Sure, the Diamondbacks aren't likely to contend this season, either. But at least the Diamondbacks have a Hall of Famer running their front office and a new general manager who says weird things. The Rockies, though? They look almost exactly the same as the team that lost 96 games last season. So why would we watch them, at all?
Because no matter how many games they lose this year, interesting things will be happening. You just gotta know where to look. For example...
1. LaTroy Hawkins is still pitching ... and this is a glorious thing. Hawkins has already logged 20 seasons in the major leagues (or parts thereof), and somehow returns for his 21st as the Rockies' closer, again. I wrote about Hawkins last summer, and among the more amazing things: He doesn't seem to have lost anything off his fastball in 20 years, and still routinely throws 93 miles an hour.
Last season, Hawkins was the third-oldest player in the majors. But with Jason Giambi and Raul Ibañez calling it quits – Giambi officially, Ibañez not quite yet – that makes Hawkins No. 1, six months older than fellow fastballer Bartolo Colon.
When Hawkins first takes the mound this year in a regular-season game, it will mark his 1,001st appearance in the majors. If you miss that one, don't worry; there figure to be plenty more, with Hawkins slated to earn another 20-some saves. Just make sure you tune in at least once or twice. Because Hawkins just announced that 2015 will be his last go-around.
2. Remembering what might have been.
If you ever needed proof that there's no such thing as a sure thing, there was Troy Tulowitzki in 2014. At the All-Star break, the Rockies' shortstop was batting .345 with 21 homers, and if there'd been a First Half Most Valuable Player trophy, he might have won it unanimously.
Tulowitzki played just twice after the break, missing the rest of the season with a torn labrum in his left hip. He's now missed 222 games in the last three seasons, and one can't help wondering how many more games he'll miss during the life of his remaining six-year, $118 million contract.
So should you watch to see when Tulowitzki suffers yet another season-killing injury? No. That would be morbid. You should watch to see one of the more talented shortstops in major-league history while you still can. Because the way things have been going, Tulowitzki's next great season or month or week or game just might be his last. And we don't want to miss it.
3. Nolan Arenado's next step (?)
Maybe Tulowitzki will make it all the way back, and maybe he won't. Fortunately, Tulo's not the only Rocky with MVP-level talent. As a 22-year-old rookie in 2013, third baseman Nolan Arenado became the first rookie third baseman in National League history to win a Gold Glove. What's more, he probably deserved it.
There was just one problem: Arenado didn't hit, ranking 19th in wOBA among 21 qualifying major-league third basemen.
In 2014, though? Arenado earned another Gold Glove, and this time he actually hit, too. Arenado's .359 wOBA ranked fourth among third basemen ... or would have, except he, like Tulowitzki, didn't make it through the season. First Arenado missed all of June with a broken finger, then skipped the last two weeks of the season with a chest bruise and pneumonia. So it might reasonably be said that we're still waiting for Arenado's first great season.
Is 2015 when Arenado fields like 2013, hits like 2014, and stays healthy like he always had before? That's impossible to say. But if the answer's yes, I don't want to miss it.
Colorado Rockies
2014 record: 66-96
Playoffs: N/A
Projected 2015 record: 77-85
Key additions: INF Daniel Descalso, SP Kyle Kendrick, RP John Axford
Key Subtractions: OF/1B Michael Cuddyer, SP Brett Anderson, INF Josh Rutledge
---
---