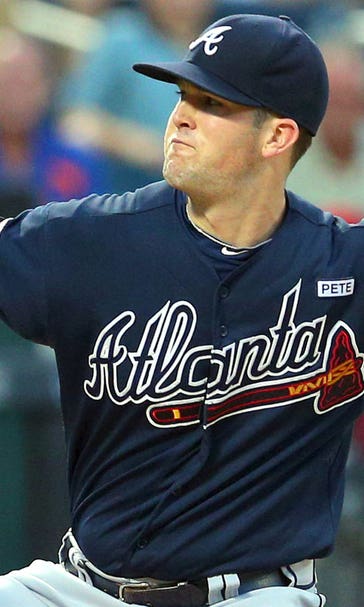 Three Cuts: Wood's road dominance halted in Braves' loss to Mets
BY foxsports • June 12, 2015
Here are a few detailed takes from the Braves' 5-3 loss to the New York Mets on Friday, a frustrating road defeat for Atlanta ... even though it never owned the lead:
Atlanta had everything set up for a big inning in the 7th (trailing by two). The top of the order headed for the plate ... and starting pitcher Bartolo Colon being displaced by a Mets bullpen that can be shaky, at times.
The odds of success were bolstered right away, with Jace Peterson (single) and Cameron Maybin (walk) reaching base with zero outs. Throw in a walk to slugger Freddie Freeman ... and suddenly, two runs seemed like a good baseline goal for the Braves (2 for 12 with runners in scoring position).
But things turned for the worse, once Nick Markakis -- a clean-up hitter still searching for his first homer with Atlanta -- grounded into an easy double play (scoring Peterson). Juan Uribe then killed the rally with a harmless grounder to the pitcher.
Speaking of which, the Braves produced inning-ending groundouts to the pitcher in three consecutive innings -- the 5th, 6th and 7th. And their final three frames were eradicated by double plays.
That's kind of cool ... in a morbid way.
The Braves (29-32, 3rd in the NL East) loaded the bases three times on Friday; and during those crucial periods, Markakis hit into an inning-ending groundout (fifth inning), a rally-diminishing double play (7th) and a game-ending double play (9th).
All told, Markakis went 0 for 5 for the night, dropping his seasonal batting average from .305 to .298.
Friday marked the eighth road outing for Wood this season -- a high number for early June.
It also represented the halting of Wood's superb streak of 14 consecutive road starts with three or fewer runs allowed -- factoring in the southpaw's final six outings from last season.
During that prolific stretch, spanning 14 starts and 87 innings, Wood had a scintillating 2.28 ERA -- essentially All-Star form when pitching away from Turner Field.
As for Friday, Wood was hardly wretched against the Mets (33-29, 1st in the NL East), allowing four earned runs and six hits over 6 1/3 innings. But those decent numbers don't necessarily account for the two biggest black marks from the outing:
a) Wood gave up homers to Wilmer Flores (solo shot) and John Mayberry Jr. (two-run blast). Why is that significant? Well, of Wood's 47 career starts in the majors, it marked the first time he surrendered multiple homers in the same game.
b) Wood committed a brutal error in the 6th, attempting to pick off Mayberry at second base. That gaffe enabled Mayberry and Dilson Herrera to move up 90 feet on the base paths.
One batter later, an RBI groundout pushed Mayberry home, upping the Mets' lead to 4-2.
The above statement reeks of hyperbole, since Atlanta only has 19 total games at Citi Field (New York) and Nationals Park (Washington D.C.) this season -- and none for July and August.
But rest assured, these road tilts against the division's premier clubs will eventually mean everything -- even in a watered-down division.
For the year, the Braves are now 0-7 when traveling to New York and Washington. By any rationalization ... that just can't happen.
---