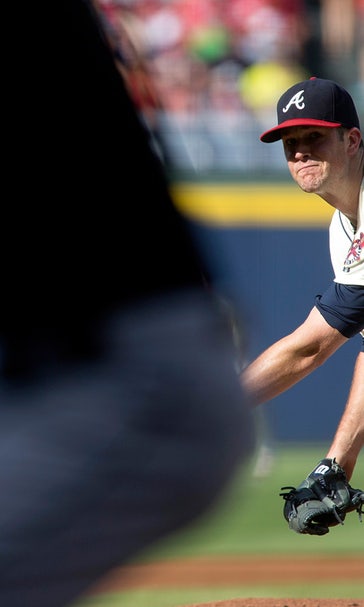 Three Cuts: Wood's gem paces Braves series win over Marlins
August 31, 2014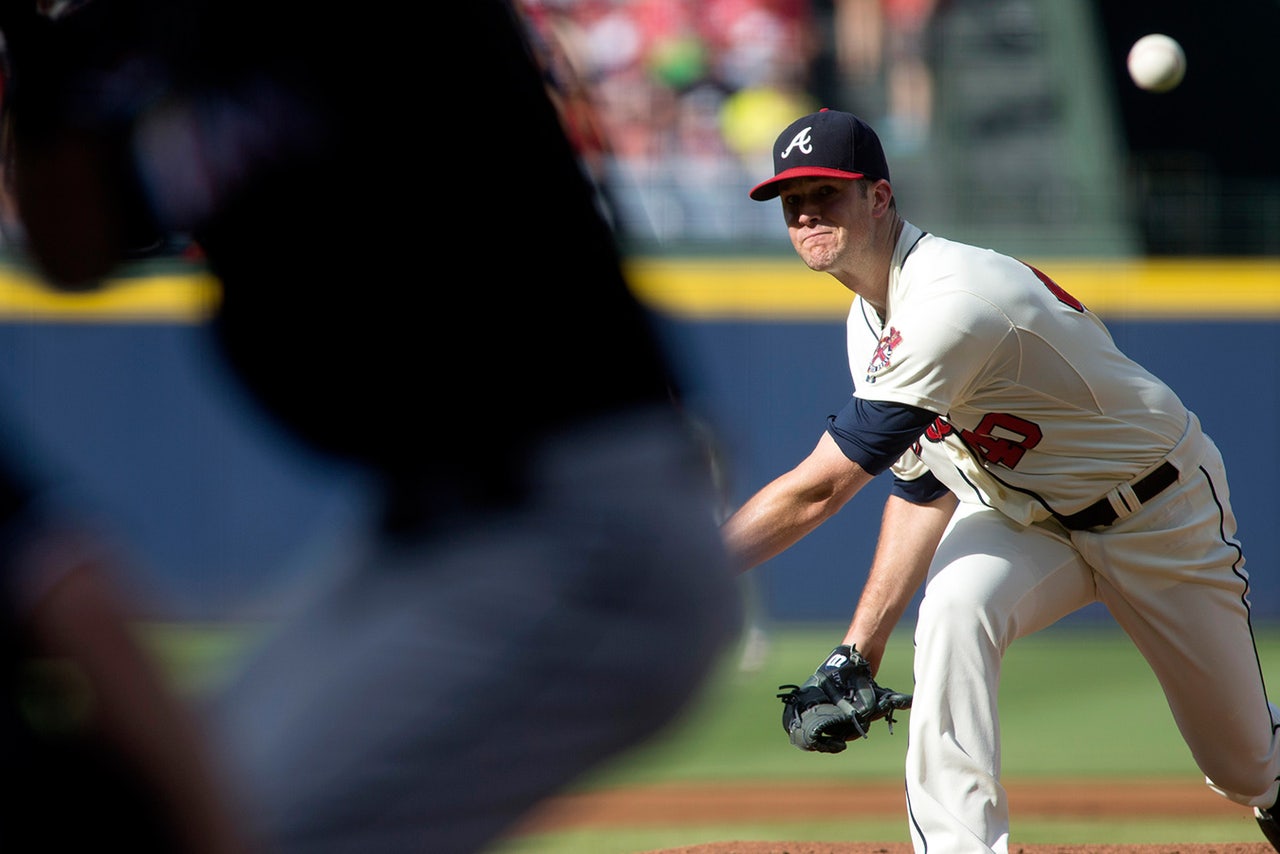 ATLANTA -- There is only a small handful of major league pitchers performing better than Braves left-hander Alex Wood at the moment, and after arguably the best start of his young career that list got even shorter. Wood's eight innings of dominance spearheaded the Braves' 1-0 shutout win against their NL East rival Miami Marlins on Sunday evening to avoid a series loss for the fifth straight time.
Asked to assess his performance, Wood did not hesitate to put it high on his career list.
"It's up there. I mean, think the significance of it is we're in a playoff hunt. I think that plays a big part in it. But if weren't in a playoff hunt, it'd still be up there."
The win keeps Atlanta right in the middle of the wildcard chase with the Giants, Brewers and Cardinals, and on the outside-still-looking-in with the Nationals in the divisional standings. Here are three observations from the game.
The nine most crucial pitches Alex Wood made in what was his 10th win of the season came in his worst inning on Sunday evening.
After loading the bases with three straight singles in the sixth inning, the Marlins sent right fielder Giancarlo Stanton, a frontrunner for NL MVP honors and one of the premier power hitters in the game, up to the plate with one out. Clinging onto a 1-0 lead, this was the worst kind of news for Wood, who cruised through the first five innings allowing only two hits. Seeing Stanton in the box is one thing -- seeing Stanton in the box with an opportunity to hurt Atlanta's playoff chances is another.
There was no margin for error, so Wood went after the two-time All-Star. He hummed a 92-mile per hour fastball past him, followed up by a 91-mph fastball for the second strike. Then he went off-speed, flicking a knuckle curve, which is becoming a devastating out pitch for him. It only took three pitches: strikeout. Stanton was out of the way, and the heavy lifting looked like it was over with Casey McGehee striding to the plate.
The umpire's strike zone diminished for McGehee's at-bat, though, twice calling balls on low fastballs at the knees. Eventually, the count ran to 3-1 -- again, with nowhere to put the batter. The by-the-book pitch would have been another fastball somewhere well within the safety of the strike zone. Wood tossed an 83-mph changeup. And with a full count, he went back to his knuckle curve. McGehee swung.
Strike three, inning over.
When Stanton strode to the plate, the Braves held basically a 50-50 chance to win the game (50.9 percent win probability, according to FanGraphs). When McGehee went down swinging, Atlanta's odds skyrocketed up to 75.8 percent. It was the game's biggest swing, bar none.
"I was kinda at the point where I wasn't gonna let them beat me. If I walked them, I walked them and start over with the next guy," Wood said of the sequence. "To McGehee, the 3-1 changeup and the 3-2 breaking ball, if I don't have all three (pitches) going that doesn't happen. On 3-1 I thought he was swinging for sure, and he took the changeup. On 3-2 I knew he was probably hacking. If I didn't feel like I had command of all three tonight, I might have thrown another changeup or just a sinker away and hope he hits it at somebody.
"That's kinda the little advantages you get when you've got all of them kinda working and throwing them for strikes."
It was Wood's 10th strikeout of the evening -- the third time in his career he's touched double-digit Ks -- and officially wrapped up the second dominant August campaign of his career. With his eight-inning, 12-strikeout performance, he finishes off the month with 40.1 innings pitched and a 1.96 ERA. His manager was looking for even more.
"I was hoping we would score three or four runs (in the bottom of the eighth) just to give him an opportunity to go out there in the ninth inning and have a complete-game shutout," Fredi Gonzalez said. "But when you have arguably the best closer in the game (Craig Kimbrel), he's got 100 pitches at the time after that sixth inning that he got himself out of a jam, I thought it was the perfect time to get out of there."
And just to revisit how dominant the 23-year-old has been in August: In 11 starts, he's posted a 1.51 ERA in 71 1/3 innings.
"I've seen him really good before, but (this start was) one of the best, if not the best. Really good. Even just in bullpen, sharper. Just everything today just looked sharp," catcher Evan Gattis said. "Any mistake at any given time and the game can change. He just went out there and just pitched, man. He competed. ... You could see he was fired up. Just outstanding."
As good as Wood has been for Atlanta since making his debut last season, there's a strong case for this being his career's best outing. Along with the 12 strikeouts in eight shutout innings, he limited the Marlins to just five hits and zero walks. That left him with his career's single-game best 0.13 fielding-independent pitching score. Translation: he didn't need too much help behind him to get the job done. And he did all of this while clutching onto a 1-0 lead. It was a remarkable performance.
The Marlins had not been shutout since June 21, a 60-game stretch that was the longest streak in the majors until Wood intervened.
In many ways, this was the mirror image of his last home start against Miami, his record-breaking duel with Marlins ace Jose Fernandez. Whereas Fernandez got the better of Wood, despite his 11-K, zero-walk performance while allowing just one run, in that matchup, it was talented Marlins fireballer Nathan Eovaldi who was on the losing side of the equation this time around after limiting the Braves lineup to just one run.
Needless to say, it feels better on this side of the fence.
"It was probably a little more escalated going against Fernandez," Wood said. "He's got electric stuff. It's always fun to throw against guys like that, but this will probably top it because we came out on top tonight."
The only thing preventing Wood's start from being spoiled by an ineffective offense -- as MLB.com's Mark Bowman points out, Atlanta was just 3-6 in the previous nine games that Wood had pitched at least seven innings and allowed two earned runs or fewer -- was Gattis's powerful bat.
Though the Braves went on to rack up 11 hits on the night, the catcher's second-inning homer was the only run that crossed at Turner Field on Sunday. Gattis jumped all over a first-pitch fastball from Eovaldi, who has given Atlanta problems in the past, sending the pitch into the seat in left-center field for his 21st home run of the season. The curious thing for Wood's offense-dominant battery mate? According to his pitcher, he just might have called it -- however off-hand or innocuous the comment may have been at the time.
"I wanted to work this in," Wood said with a laugh. "Gattis and I were talking before the game, and he's always pretty candid about what he's going to do. And I asked him, 'Are you gonna hit a home run today?' He thought about it for a second, and he said, 'Yeah, I'm probably gonna hit a home run today. I'm probably gonna hit a home run today.' And then first or second at-bat he went out and did it, so I thought that was pretty cool."
Among catchers with at least 300 plate appearances this season, Gattis ranks first in homers and trails only Devin Mesoraco, Russell Martin, Jonathan Lucroy and Buster Posey with 132 weighted runs created, so it's not exactly shocking that he hit one out. Still, his pitcher found it to be a pretty amusing ... and helpful.
As a team, the Braves found very little success against Eovaldi. However, the No. 2 spot in the lineup, typically a shaky part of this team's order this season, came through. Gonzalez once again ran out rookie infielder Phil Gosselin at the second spot between Jason Heyward and Freddie Freeman, and he came through with a career-high three hits on the night.
Gosselin is not an everyday starter. But he's a rather strange platoon player.
In 11 starts for Atlanta this season, he's been slotted into the No. 2 hole 10 times. Typically, when labels like "platoon" get thrown around, it's associated with the back half of the lineup.
The fact that Gosselin is a top-of-the-order type of guy is certainly a reflection of the Braves' issues in finding a starter to fill the role, but Gosselin has held his own. With his three-hit night, he's now hitting .333/.357/.407 for 117 weighted runs created.
"It's nice hitting in front of such a good hitter. If I can get on, there's a good chance Freddie or Justin (Upton) is gonna drive me in. It's fun hitting in front of two hitters like that," said Gosselin, who also mentioned he probably sees better pitches to hit at the 2-spot. "It definitely helps when you have two guys behind you like that. I'd say a few more fastballs."
It didn't pay off with any run support, but the Braves will take whatever they can get out of a rotating combination of Gosselin, Emilio Bonifacio and Andrelton Simmons right now.
---