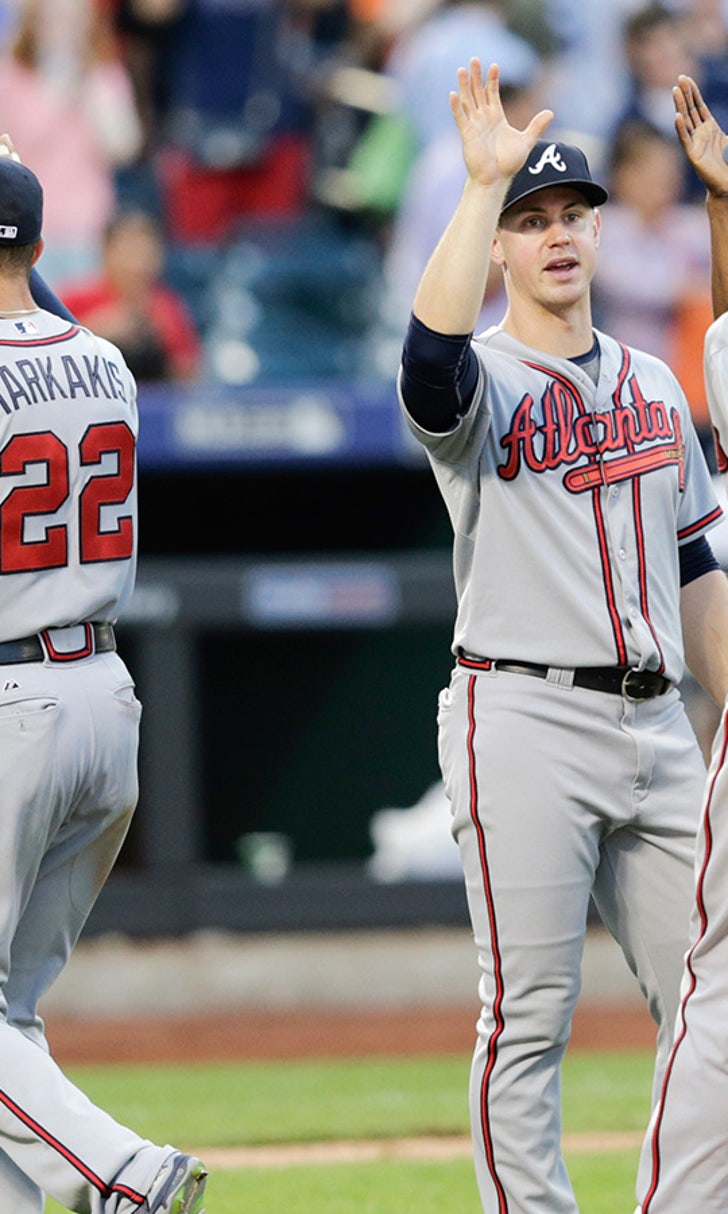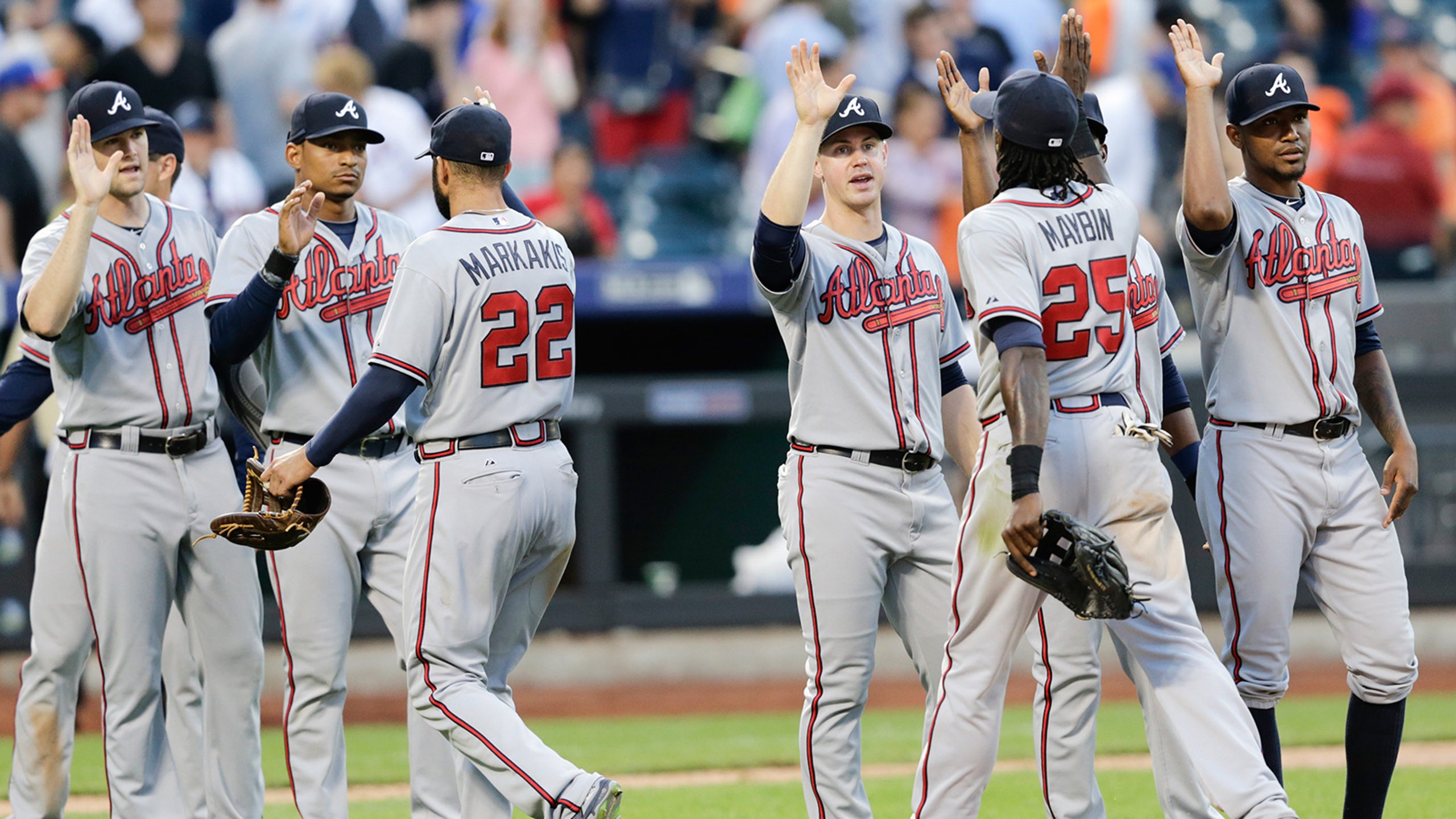 Three Cuts: Maybin goes from goat to hero as Braves down Mets in 11
BY Cory McCartney • June 13, 2015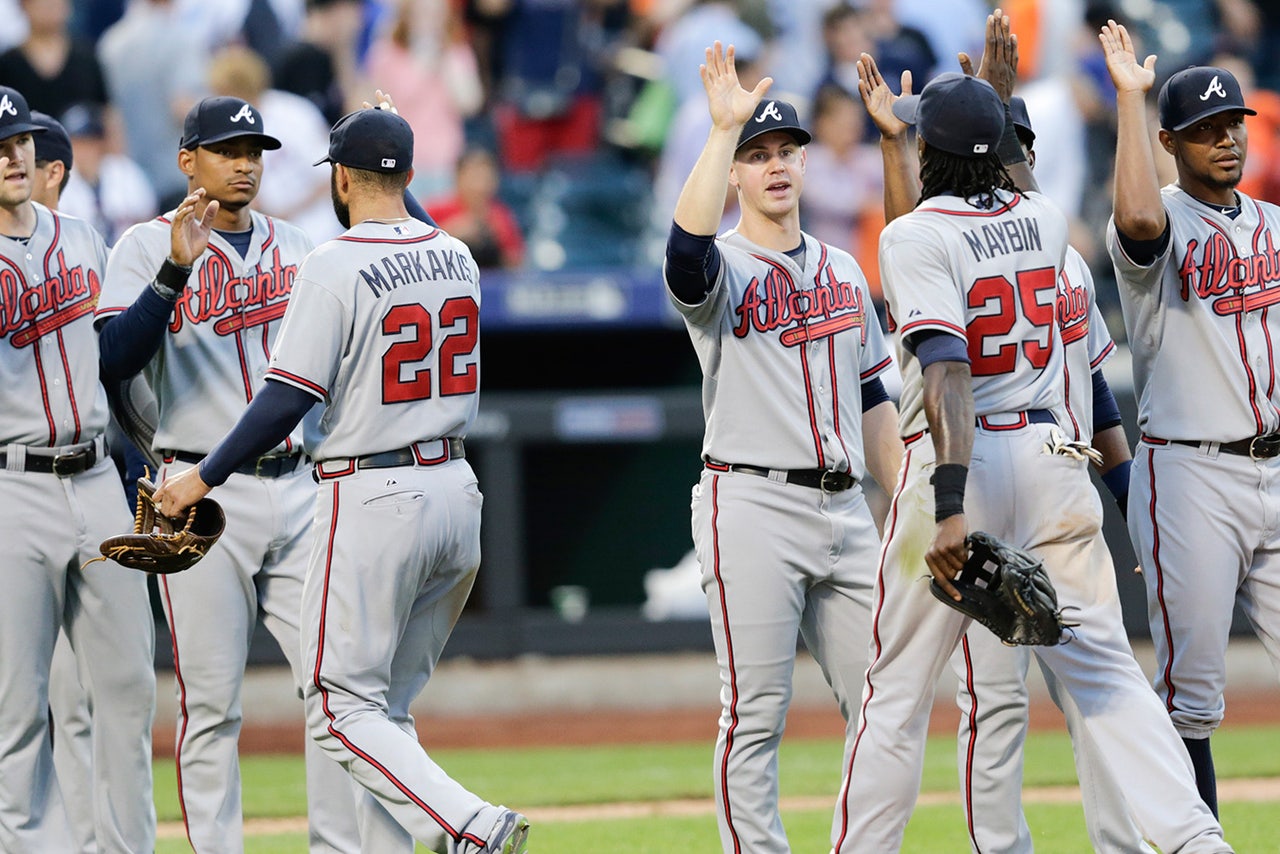 What started off as duel of two of the National League's premier young pitchers turned into the redemption of Cameron Maybin.
Questionable base running by the center fielder in the eighth inning cost the Braves a potential run. He made up for it, delivering a one-run single in the ninth and the go-ahead RBI with a base hit in the 11th as Atlanta sank the Mets 5-3 on Saturday.
In the turnaround season of Maybin, one number now stands out above any others: he's now hitting .468 (22 of 47) with runners in scoring position -- including 2 for 3 in New York -- which is .001 off the major league lead.
A year ago in San Diego, Maybin hit just .230 with 61 at-bats with RISP and is .249 in his career.
From more Freddie Freeman magic vs. the Mets to Miller vs. deGrom and more, taking three cuts after Atlanta's win.
The Braves have a long list of Mets killers, with Chipper Jones arguably the greatest of them all. Freeman continued to build his own resume against them.
He delivered the game-tying RBI with a two-out, ninth-inning single to make it 3-3, that coming after his first homer off deGrom, the only one given up in his 16 home starts and the first he's ever yielded to a Brave.
Freeman now has 15 home runs against New York, a figure that ties him for eighth-most in franchise history and puts him one behind Hall of Famer Eddie Mathews' 16 for seventh (see graph below).
It's fitting company for Freeman given he's appeared in just 80 career games vs. the Mets and Mathews is the only other player in the top 10 who is at less than 89. By comparison, the other players Freeman tied, Brian McCann and Rico Carty, played in 122 and 89 games, respectively, vs. New York.
Those 15 homers are also the most Freeman has hit against any single opponent.
It's all part of his impressive play against them, with the first baseman hitting .301 with 62 RBI. He only has a better average vs. the Nationals (.340), but those RBI outrank any other opponent by 16.
Miller's day ended with him stepping into the visiting dugout and hurling a stool, but his seventh-inning sendoff -- and subsequent meltdown -- can't entirely put a damper on an impressive duel with the Mets' Jacob deGrom.
Through six innings they had combined to allow three runners to get past second base -- two by deGrom -- with Freddie Freeman's first-inning home run, the only run allowed.
It was the duel we expected to see considering Miller came in with the third-best ERA in baseball at 1.84 and deGrom wasn't far behind with a 2.42, and a much-needed effort for a beleaguered and criticized Braves bullpen.
Then the seventh inning happened.
Miller hadn't allowed a hit with less than two outs until Juan Lagares singled with one out in the seventh, and it opened the flood gates. The Braves' right-hander failed to record another out as Curtis Granderson doubled, followed by Travis d'Arnaud's two-run, broken-bat bloop single to center field gave New York the lead.
It ended Miller's day with eight hits allowed over 6 1/3 innings with four strikeouts and two walks. He also absorbed d'Arnaud's run after he scored on a wild pitch and Lucas Duda double yielded by recently acquired Dana Eveland.
Showing how dominant Miller has been overall in his first season with the Braves, his ERA "ballooned" to 2.02. That's still good enough for third in the National League behind the Pirates' Gerrit Cole (1.73) and Dodgers' Zack Greinke (1.92), but it underscores his relative issues on the road of late. He has a 2.32 ERA away from Turner Field -- he's at 1.59 at home -- and added with his June 2 start in Arizona, has a 6.10 ERA in his last two road outings.
If there was any silver lining to Miller's last inning it's that thanks to Freeman's ninth-inning heroics, he didn't have to take the loss.
As previously noted, Eveland added to Miller's pitching line, allowing d'Arnaud to score as the reliever gave up an RBI double to Duda. But what's more confounding for an Atlanta bullpen that's trying to find some stable pieces, is what has unfolded in Eveland's incredibly brief appearances.
Promoted ahead of Thursday's series finale vs. the Padres -- a move that let the Braves designate struggling starter-turned-reliever Trevor Cahill -- he came on in the eighth and issues a four-pitch walk to Justin Upton.
During that sequence Eveland threw a passed ball by Christian Bethancourt that scored a run, which given that the young catcher has a penchant for those with 11 in 57 major league games and 82 over 469 games in the minors, wasn't stunning. But n New York, the left-handed Eveland threw a pitch that sailed way to the right of catcher A.J. Pierzynski, allowing d'Arnaud to advance to second, and ultimately, score.
Given how little we've seen of Eveland, who made one appearance for Triple-A Gwinnett before being called up and didn't get promoted from the Red Sox despite sterling numbers, you have to wonder if miscues in his only game time as a Brave are rust, miscommunication or a combination of the two?
Follow Cory McCartney on Twitter @coryjmccartney
---