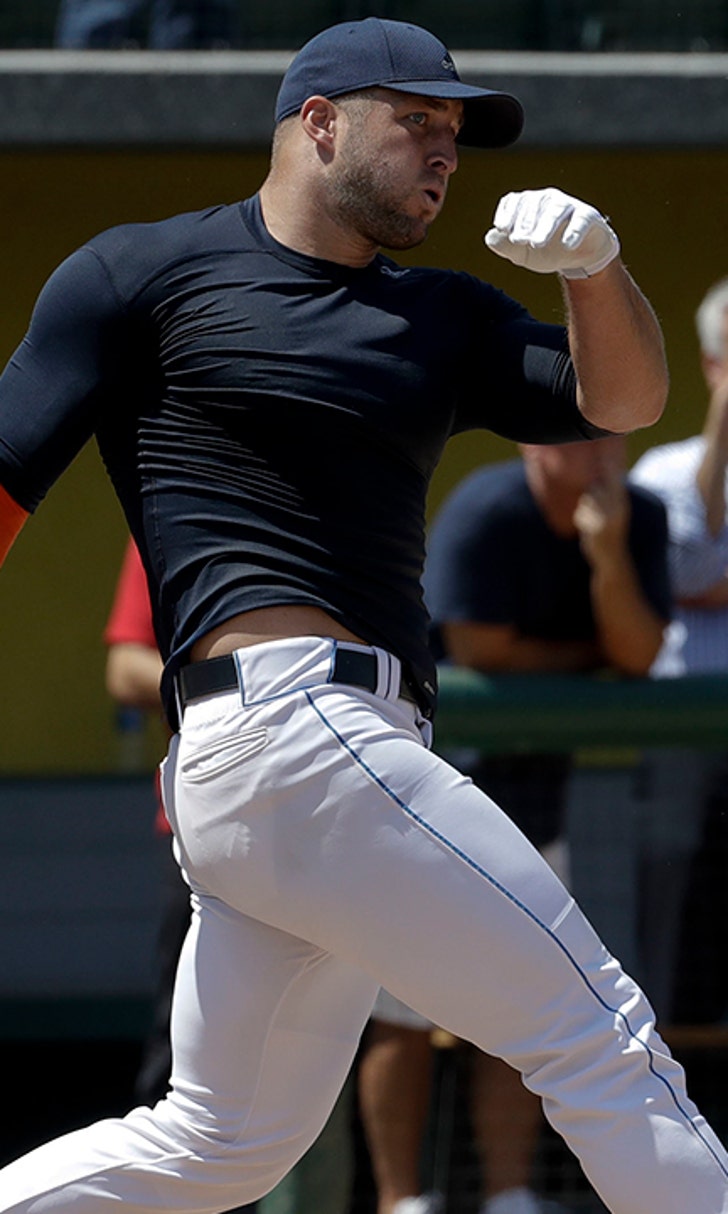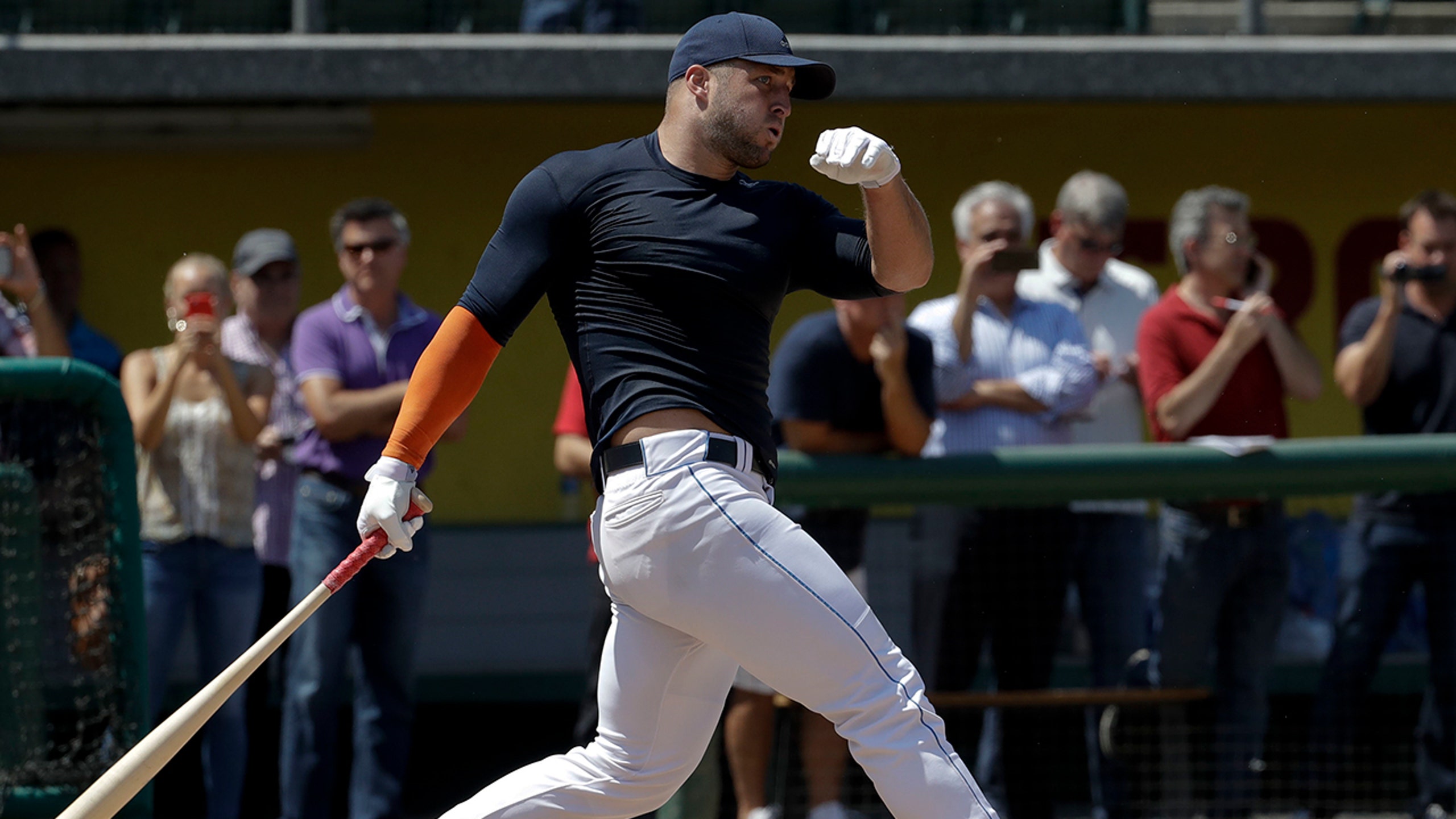 Three Cuts: Love him or loathe him, signing Tim Tebow may make sense for Braves
BY foxsports • September 4, 2016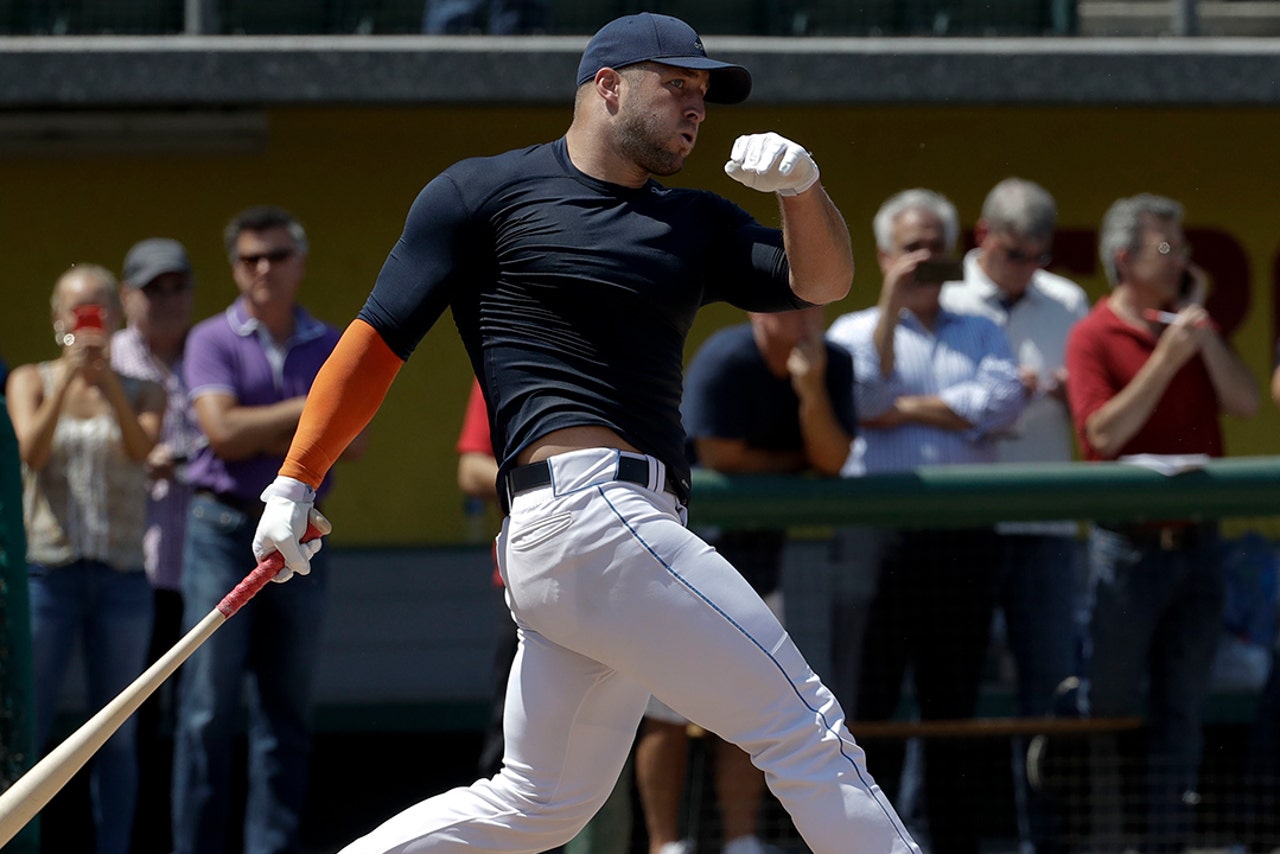 Taking three cuts after a week that saw these streaking Braves put it all together like never before, a Heisman Trophy winner land on Atlanta's radar and a lefty-hander (yes a left-hander) join the roster as a rotation option in Jed Bradley.
There's a love/hate relationship with Tim Tebow, the seemingly too-good-to-be-true 2007 Heisman winner who put together one of the greatest resumes in college football history at Florida, and went on to flame out in the NFL.
Atlanta may be banking on the "love" part of the Tebow equation, with multiple reports that the franchise is interested in signing the quarterback-turned-outfield prospect.
Tebow, 29, last played as a high school junior in Florida, but the 6-foot-3, 245-pounder's name and athleticism were enough to draw 28 MLB teams to at workout on USC's campus last week. The only teams that weren't in attendance were the Cubs and A's.
He earned mixed reviews, with an outfield arm that scouts graded as below-average, but it's the power that, expectedly given Tebow's frame, that's enticing. Or as one National Leagues scout was quoted as saying "that raw power is irreplaceable."
Tebow will have his critics, and his skeptics, as to whether this is a publicity stunt (he has already signed an exclusive apparel deal with Adidas), but don't scoff at the Braves showing interest in the QB's career turn.
There's the obvious point that maybe, he can actually play, and that bat could pay dividends down the road if Tebow is willing to put the work in to rise through the minors. Don't discount that Teobw was working with David Aardsma -- who was impressed with his adjustments at the plate -- a reliever who spent part of last season with the Braves. Surely, Atlanta's front office has enough of a relationship with Aardsma to get a stronger take on what Tebow is really capable of.
Then there's the fact that Tebow is a legend in the state of Florida, which is where the Braves have their spring training home. Sign him, invite him to camp and expect a surge of attention at the Wide World of Sports complex, where the Braves ranked 21st overall per the latest spring attendance analysis, and 10th in the Grapefruit League. That draw which would surely continue at any of his potential landing spots in the south for the the Braves in Kissimmee, Danville, Rome, Mississippi or Gwinnett.
He may never make it out of the minors or ultimately give up if he stalls in his progress, but if it's the low-risk commitment that's expected, is it really a gamble? Plus, if a Braves team that is coming off two of its worst seasons in a quarter of a century wants to dig deep for talent -- regardless of your hot take on his credentials -- who can truly blame them?
The predominant thinking on the Braves' third base situation was it was going to have to be addressed -- along with catcher -- as main areas of concern this offseason.
Is Adonis Garica doing enough to changed that?
Saturday, he jumped on Phillies pitching for two home runs, and went 0-for-5 Sunday, making him 22 for 75 with four HRs, four doubles and 11 RBI in 17 games since moving into the No. 2 spot in the order in the middle of the Twins series Aug. 16-17.
On the season, that gives him a slash line of .270/.315/.415 with 13 HRs and a 0.6 WAR -- which includes minus-5.4 offensive WAR and minus-3.5 defensive -- which is 25th among all third basemen and 11th in the NL among qualified batters.
Garcia has basically been the same hitter he was a year ago when he hit a surprising 10 homers in 198 plate appearances. His line drive rates (21.5 in '15 to 20.7 now), ground ball rates (49.4 and 53.3) and his soft/medium/hard contact rates of 19.8, 49.3 and 30.9 put him just between the above average/average lines among all MLB hitters.
While he hasn't been spectacular defensively, he's made a number of eye-opening plays, most impressively this one in St. Louis, when he tumbled into the seats and came up firing. His minus-8.3 UZR/150 and minus-5 defensive runs saved aren't ideal, but since his return from his Triple-A sabbatical, the eye test has proven he's a much-improved defender.
Rio Ruiz and his .274/.358/.405 line with 10 homers, 24 doubles, three triples and 60 RBI for Triple-A Gwinnett will make a challenge this spring, and of course, 19-year-old Austin Riley -- 10 homers and 38 doubles at Single-A Rome -- is coming. With a free-agent class that doesn't include anyone under 30, is it even worth pursuing the likes of Martin Prado (32) or Justin Turner (31)?
Garcia has blossomed into a viable weapon in the Braves lineup, and with serious potential behind him the minors, Garcia has put himself into position to be the starting third baseman at SunTrust Park.
There should be a lot more comfort in saying that then there was back in May.
Five out of six games with six or more runs -- a run halted by the Braves in Sunday's 2-0 win in Philadelphia -- put a Bat-Signal-size light on an offense that was the lowest-scoring in baseball in the season's first half.
But don't let your focus on streaking Ender Inciarte (15-game hit streak) or Freddie Freeman (14 in a row) have all the attention, because Julio Teheran has been sensational.
He's always been dominant against the Phillies, entering Sunday with a 2.47 ERA in 12 career starts and had a stout 1.82 ERA in five starts at Citizens Bank Park -- his best at any park in which he's had more than one outing -- and in the series finale in Philly he added to those strong splits. Teheran threw six scoreless innings, allowing five hits with seven strike outs and two walks.
Combined with his victory against the Padres on Aug. 30 -- his first, stunningly, since June 16 -- that's two earned runs over 13 innings with 15 strikeouts and two walks. That's more Ks than Teheran has had in any back-to-back outings outside of the 16 he had against San Diego and Cincinnati on June 8 and 14. It was also the first time he'd put together back-to-back quality starts since he ripped off four in a row from June 8-June 25 in cementing his All-Star selection.
Teheran had been erratic in his first two starts after a stay on the disabled list with a lat injury, following five innings with three runs allowed vs. the Nationals on Aug. 19 by being blistered for 11 hits and six runs by the Diamondbacks in six innings Aug. 24.
These last two outings have been much more in line with the Julio Teheran that represented the Braves in San Diego, with a games score of 67 Sunday, which added with the 65 he had Aug. 30, represented his best work in consecutive games in more than a month.
Follow Cory McCartney on Twitter @coryjmccartney and Facebook. His book, 'Tales from the Atlanta Braves Dugout: A Collection of the Greatest Braves Stories Ever Told,' is out now, and 'The Heisman Trophy: The Story of an American Icon and Its Winners' will be released Nov. 1, 2016.
---
---