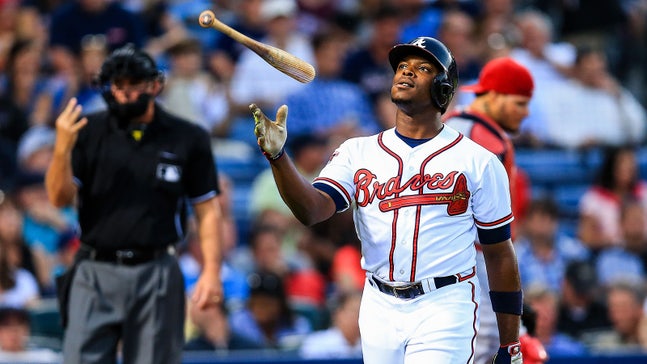 Three Cuts: Braves fall to Cardinals for seventh straight loss
Published
May. 5, 2014 11:58 p.m. EDT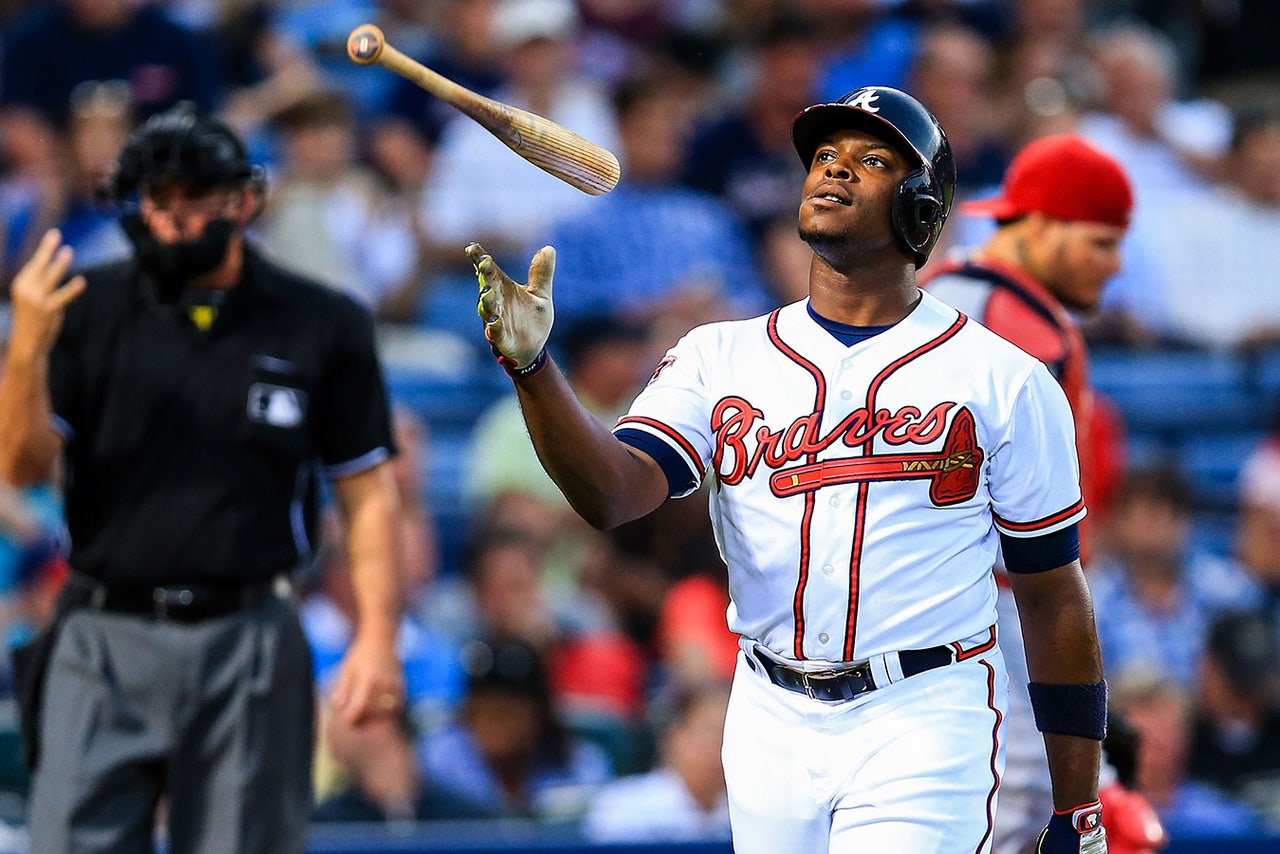 ATLANTA -- The losing streak is up to seven games. With a 4-3 loss to the St. Louis Cardinals on Monday night, the Atlanta Braves extended their worst skid since May 2012 and threatened to give up the first-place position in the National League East. Here are three observations from the game:
Extended losing streaks can drive a manager, especially a manager who has grown so accustomed to winning over the past three-plus seasons, to take some drastic measures, to shake things up from the 162-game grind.
Gonzalez made headlines by taking such action on Monday, moving his starting pitcher (Aaron Harang) into the eighth spot in the lineup to put an "extra" lead-off hitter (Ramiro Pena) in the 9-hole, all while elevating outfielder Justin Upton into the 2-hole to replace his brother, B.J. Upton, who moved down to the No. 5 spot. Got all that? Gonzalez overhauled the order in an effort to spark something in an offense that had scored just 10 runs during the six-game skid, a detrimental lack of production (and some misfortune) that has become a concerning trend.
The team ranked 29th in runs scored entering the Cardinals series, and after putting up three runs on St. Louis starter Shelby Miller and his bullpen, they'll be holding that position for at least another day.
The usual statistical suspects -- runners in scoring position, too many strikeouts, a mediocre-to-poor walk rate -- found their way into the conversation, but overall, Gonzalez and others pointed out that the lineup changes did lead to some positive situations. The Braves (17-14) just didn't capitalize.
That's been the story for the past week, but it's nearly impossible to fault Gonzalez's quirky, Tony La Russa Special.
"Today (the lineup order) didn't hurt us. And I think a couple times it helped us having that pitcher in the eighth hole," Gonzalez said. "You know, once that starter goes out of the game it doesn't really matter. But, you know, I think (Freddie) Freeman hit third in the first inning and I think later on in the game he came up as a No. 4 hitter and there were men on in scoring position, so that's what we wanted to do."
A big reason for the success of the back-to-back lead-off theme was the production of Pena, who put up his best game of the season in the loss. Pena finished 2 for 4 with a double and a home run, his second of the season in just 35 plate appearances. He's now hitting .250/.314/.500 and a 120 weighted runs created. That's some pretty good production for a guy who is starting to see more and more playing time.
"It feels better (getting regular at-bats). The timing, it gets better. You get used to playing, you know? So I feel a little more confident at the plate right now and, like I said, it's tough to be on the bench and just come in to pinch hit," Pena said. " ... First AB, I get a double and it's like, 'OK, here we go. It's gonna be a good day.'"
This is significant partially because of who Pena replaced in the lineup on Monday. Even though Gonzalez said in the pre-game that this is not indicative of starting second baseman Dan Uggla's performance -- he credited Miller's splits against left-handed hitters; Pena is a switch-hitter -- it certainly does not help his cause when Pena comes in to match Uggla's home run total in 74 fewer plate appearances, puts up a better slash line despite inconsistent at-bats and brings a better glove to the table. (It also doesn't help Uggla that Triple-A prospect Tommy La Stella is raising a fuss with his numbers in Gwinnett.) Time will tell just how the Braves will handle the situation, but if Uggla's troubles with the bat continue, just how long can an offense starving for runs afford it?
But it's not just the second base spot. If just one spot could do such damage, the Braves would have never won 96 games last season. Right now, the offense is going through a rough patch, and even the best hitters on the team are feeling it. Take Justin Upton, for example. Entering the Cardinals series, Upton led the team with 166 weighted runs created, but he could not find anything to hit on Monday, walking once and striking out four times, including the game-ending looking strike with two men on-base.
"This game is funny. When you're not going good, it finds you all the time. It finds you in certain situations. (Upton will) be fine," said Gonzalez, whose team went 20-4 last season with Heyward and Justin Upton at the top of the order. "There's a couple guys on this team that you look to be up there in that situation and he's one of them."
As for the losing streak? It's a substantial slide that has exposed some concerns for the Braves, but, according to Aaron Harang, it's better to deal with these things now rather than later.
"Teams are gonna go on runs like this," Aaron Harang said. "We're gonna battle out of it. It's still early in the season. I don't think we're stressing it yet in here. You'd much rather go on a streak like this early in the year when the teams are about even, because you do this kind of run when it's getting the end of August and early September, that's when things get out of control and you definitely lose ground."
The Paul Maholm references to Harang's ridiculous start to the season are a bit inaccurate, albeit inevitable. After all, it was Maholm who carried the veteran label and refused to allow a single run to cross the plate over his first three starts of 2013, a 20 1/3-inning, surprise performance out of the lefty that aided the Braves' ridiculous April record. Then he gave up 11 earned runs over his next two starts and, despite some decent efforts scattered across his final 23 starts, his ERA never really threatened to go below 4.00 once August arrived.
Harang is a long way from August -- and the Braves have plenty of options and decisions to make in the rotation from now until then -- and there's something similar in the works.
After leading the majors with a 0.85 ERA after five starts, Harang has now given up 11 earned runs over his last two outings. Of course, a hefty portion of that damage came in a forgettable performance in Miami, but numbers are numbers ... and Harang's recent numbers are falling within the realm of preseason expectations. This was expected. Maybe not nine runs allowed in one outing, but certainly not MLB-leading ERAs or the like.
Harang's line against the St. Louis Cardinals was hurt by a few too many hits allowed (nine) and some uncharacteristically spotty defense behind him at times, but he did limit damage: the dam leaked but never broke. The 35-year-old gave up four runs (two earned) over six innings of work, striking out six and walking just one.
"I thought Harang deserved better than getting a loss," Gonzalez said. "They hit some balls through the infield a little bit and we kinda gave them an extra opportunity there in that one inning, gave them a couple extra outs there for the Cardinals and they put a crooked number up. But I thought Aaron, overall, did a nice job."
Added Harang, who fell to 7-14 lifetime against the Cards: "You got to give St. Louis credit. They're always a tough team. They're always going to battle you throughout the game, and they're gonna try and find ways to make things happen. ... That's what makes them good. We had a couple missed opportunities to come back and the guys battled and made it a one-run deficit and really made them bite their nails over there."
Through 42 1/3 innings in his first season in a Braves uniform, Harang still claims some impressive individual numbers: a 2.98 ERA and 2.78 fielding-independent pitching (FIP) are not terrible rates to pair with nine-plus strikeouts per nine innings. Those numbers still put him on pace for his most valuable season since 2007 (he finished fourth in the Cy Young voting) if he can keep logging a starter's workload -- say, 150-plus innings. And yes, the Maholm parallels are intriguing, but Harang looks to be carrying better "stuff" -- his fastball is more effective than it's been in years and his breaking stuff is varied and keeping hitters off balance.
What makes things interesting for Harang and, for different reasons, Alex Wood, is the return of Gavin Floyd on Tuesday night.
How Floyd fits into this equation remains to be seen, but it will rely primarily on his own health and effectiveness, followed by decision time from the Braves' brass. If a six-man rotation is out of the equation, just how many long-relief type guys would they carry in the bullpen (Harang, Floyd, Wood, David Hale and Anthony Varvaro are options on the 25-man roster right now) moving forward? Would the upcoming return of left-handed reliever Jonny Venters change that? Floyd is replacing Santana (swollen hand) this time through the rotation, but more "good, not great" outings like this from Harang and others should only make the call more difficult, especially given the extremely high standards the rotation has set for itself early on.
For now, even with the recent difficulties, Gonzalez seems fairly content with his most-experienced veteran.
"You don't worry about a veteran guy like that," Gonzalez said. "He'll figure something out."
When things are going bad in baseball, miscues tend to pop up in the unlikeliest of places. Andrelton Simmons, the Platinum Glove winner for his defensive work last season, can now even say his glove has attributed, in some small way, to the streak. In a strange twist, even a couple innings after making a spectacular play sliding to his right and throwing back across his body for an out, Simmons botched a few plays he usually makes against the Cards, plays that could have kept a couple extra runs off the board.
Not that anybody in the Braves clubhouse asked Simmons for an apology.
"I told him, 'Hey man, you've got to keep your head up. Don't kick yourself up over one little thing like this,'" Harang said. "I said, 'You're probably gonna save my butt a few times this year.'"
It hasn't been quite the magical defensive year for Simmons, in terms of defensive runs saved (three), that it was last season, but he's still widely considered the best defensive shortstop in the game and it's only a matter of time before he makes these plays up with a feat that nobody else in baseball can pull off. That's the way these things have gone in the past. The Braves still rank first in baseball in team defensive runs saved (25), behind the standout play of Heyward -- Atlanta could legitimately win back-to-back Platinum Gloves with two different players -- so it's strange to see defensive miscues from this group.
---