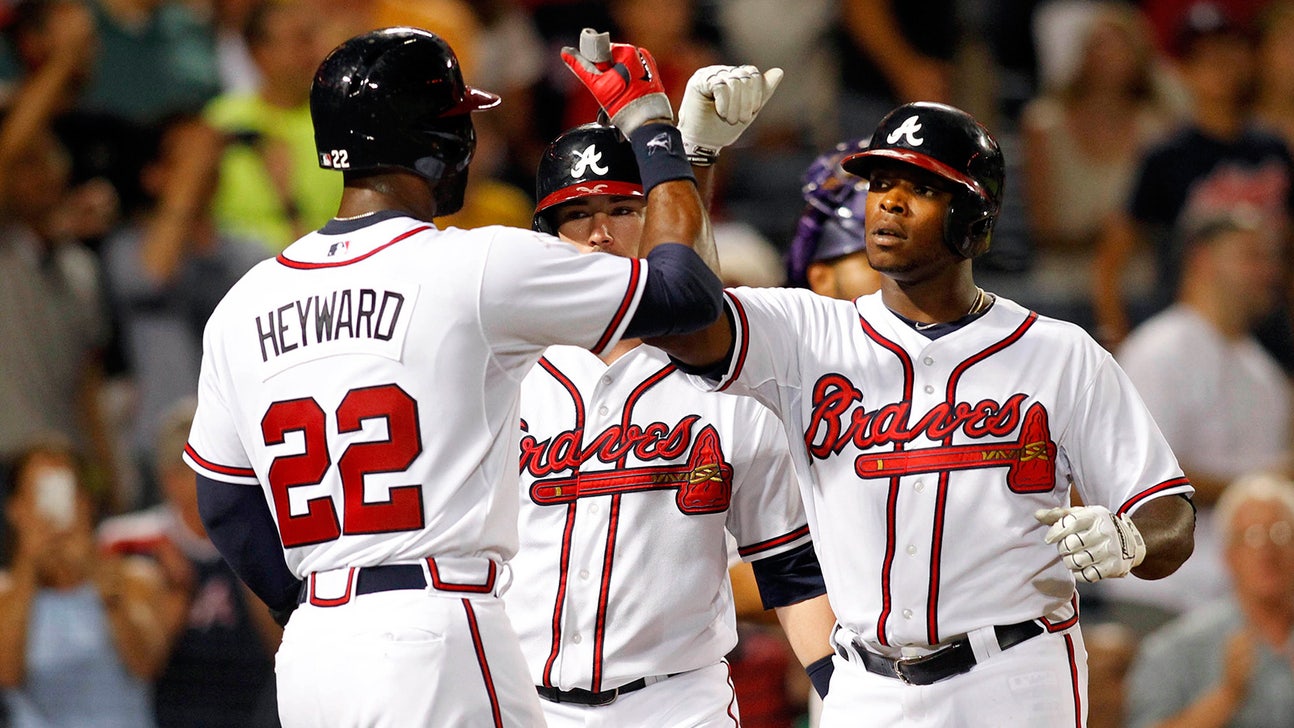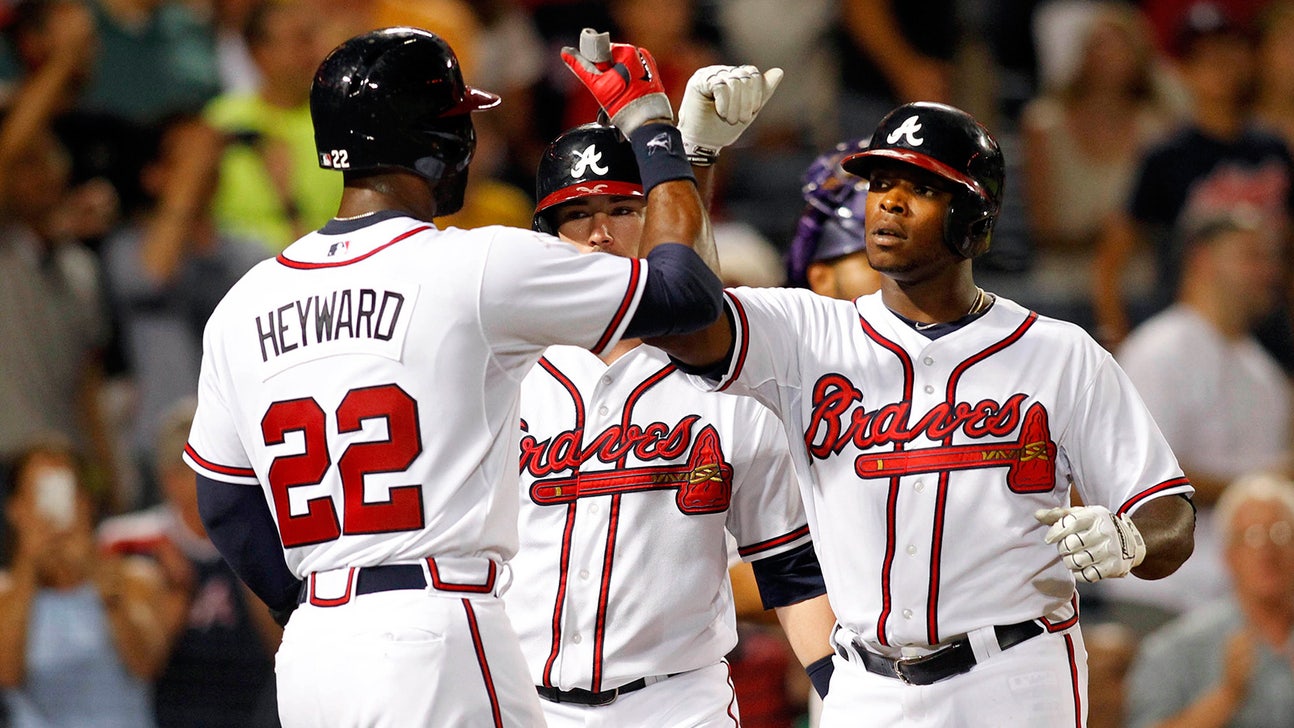 Three burning questions for Braves' outfield
Published
Jan. 29, 2014 1:14 a.m. ET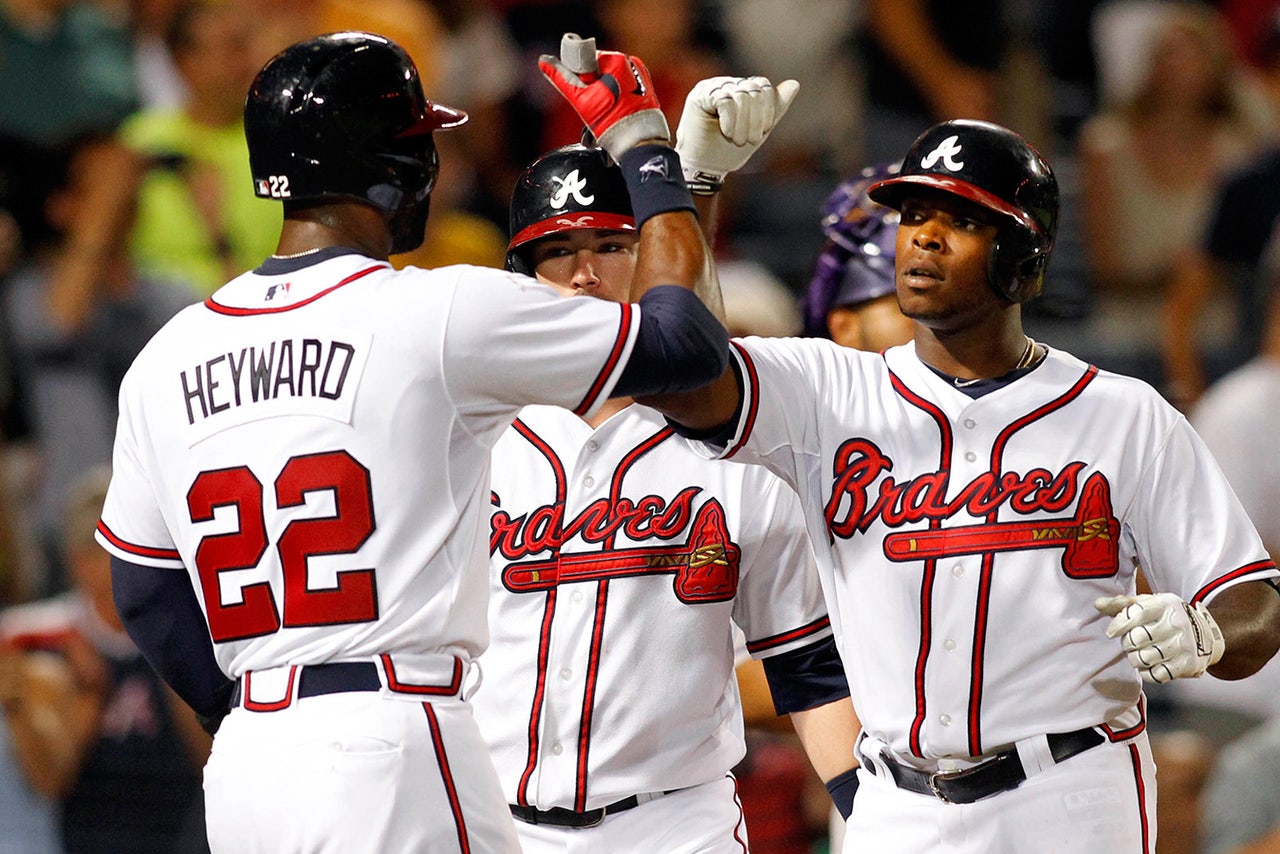 The additions of B.J. Upton and Justin Upton last season, at the cost of nearly a quarter of the team's 2013 payroll, brought along plenty of highs and lows. The 20-20 individual seasons never materialized, Justin cooled off after taking Player of the Month honors in April and B.J. was benched multiple times as one of the least productive everyday players in baseball (-0.6 WAR, via FanGraphs). Add in the fact that Jason Heyward, who was very, very good in stretches last season after a slow start, missed time due to an appendectomy and a broken jaw, and the collective results fell below expectations.
That wasn't exactly the initial plan, but it wasn't a total disaster either. The second year of the combination brings the welcome reprieve of a fresh start -- and all the talent is still there for the taking.
Justin Upton still capped off his first season in Atlanta with 27 home runs, hitting .263/.354/.464 in 643 plate appearances. Those offensive numbers were undercut by a few mediocre months, but he's still the threat in the middle of the lineup that manager Fredi Gonzalez called a go-to No. 3 hitter prior to the season (and Freddie Freeman's emergence) -- also, that Upton-Johnson trade still looks like highway robbery. The younger Upton, 26, may never annually reach his 2011 heights -- meaning: a bona fide annual MVP candidate -- but he can still flat out hit the ball when he's locked in and, with a season in left field under his belt, he should be improved in the fielding department (barring a re-shuffle that sends him to right, his original position in Arizona).
Then there's Jason Heyward, who, despite some occasional hiccups on the offensive end and some unfortunate injuries last season, is still one of the most valuable outfielders in baseball. Over the past two seasons, the 24-year-old ranks fifth in WAR among all qualified outfielders: Mike Trout, Andrew McCutchen, Ben Zobrist, Carlos Gomez, then Heyward. And that's after playing in just 104 games in 2013 -- in his 440 plate appearances, Heyward hit .254/.349/.427 with 14 home runs. However, he turned it on during the second half of the season when Fredi Gonzalez moved him into the leadoff role, a spot he could/should see more of this season.
If there's one player in the outfield that management should not worry about, it's Jason Heyward, who remains $300,000 removed from the Braves' offer in arbitration dealings set to be concluded in hearings next week.
But the main suspect of underperformance entering an important campaign for the organization, one which is starting to feel some sense of urgency as a young corps starts hitting bigger arbitration numbers and inches closer to free agency while its division rival (Washington) reloads with big-name talent, is the its highest-paid player in '14: B.J. Upton. This part has been covered ad nauseam since the team's starting center fielder limped out of the gate after signing the largest free-agent contract in team history, but B.J., 29, simply has to be better and, for that type of money can't be worse. As in: It's almost to the point of being complete unrealistic to think a player of his natural ability will hit .184/.268/.289 again.
On the other hand, since we're on the topic of inconsistency, Upton was the most stable of the bunch -- just in all the worst ways. Month-to-month, save for his decent June splits, he was a troubling case in the lineup (OPS+, where 100 is league average):
The good news from that less-than-spectacular graphic is that the Braves pretty much ran away with the NL East and they should receive a boost from B.J. Upton's (projected) improvement. Even if he's not "living up" to his contract, he should be much closer to his averages from the last three seasons in Tampa Bay -- .242/.317/.436 with 58 extra-base hits and 36 steals -- than his '13 stats.
All in all, start short of dominant with this unit's projections. Start short of where this outfield was two seasons ago with Heyward, Michael Bourn and Martin Prado. Start with consistency, and then work your way up -- which is perhaps a long, long ways up, in terms of ceiling -- from there.
The issue of depth most concerns B.J. Upton, for the aforementioned reasons, and how much patience the franchise will show him this time around is a definite point of interest. The club was able to find production off the bench in 2013, namely from Jordan Schafer, a former top prospect who returned to the club off waivers and turned out to be one of the pleasant surprises for Frank Wren & Co. Though he battled a midseason leg injury, Schafer hit .247/.331/.346, stole 22 bases, was one of the team's best options at leadoff and all but forced himself into the equation.
That could happened again in 2014 if B.J. Upton finds himself in another hole, production-wise.
The remainder of the 40-man roster features outfielders Joey Terdoslavich, Jose Constanza and Todd Cunningham. Though Evan Gattis is technically listed as an outfielder (where he accumulated the majority of his at-bats as a rookie) on the team's website, he's more likely to grab the lion's share of starts behind the plate with Brian McCann gone, while trade acquisition Ryan Doumit is an outfield/utility option the Braves could use in a Reed Johnson-type role, especially with reports coming out that he may not play catcher due to a previous concussion. Tyler Pastornicky could be another potential reserve option if needed.
Best guess: Schafer and Doumit are the first guys off the bench in the outfield, while Terdoslavich fights for a spot on the 25-man roster and at-bats during spring training.
So there are the choices. How will Gonzalez utilize them?
Barring injury or egregious shortcomings, expect the starters to be given plenty of leeway. This group is still locked up for at least the next two seasons, and the one guy most likely to see playing time cut short (using history as a guide) is still in the second year of a five-year deal.
Wren's explanation for replacing longtime assistant Brian Snitker with Dascenzo as the big league club's third-base coach was that his area of expertise -- outfielders and base-running -- was a priority this offseason. The GM, entering his seventh season in charge, has a point. According to FanGraphs, the Braves ranked 23rd in baseball in baserunning last season, which makes sense considering the team logged just 64 stolen bases on the season (24th).
Dascenzo will be expected to change that. The question is: How? Will the Braves, particularly their athletic outfield, be more aggressive on the basepaths? Can a shuffling of the coaching staff re-energize an occasionally stagnant offense, one that still finished above league average in weighted runs created in 2013?
Jordan Schafer, in just 265 plate appearances, nearly doubled up every other player on the roster last season, finishing with 22 steals in just 86 appearances on-base. The next-closest outfielder was B.J. Upton with 12 in 116 on-base opportunities. After stealing 21 bases in 2012, Heyward swiped a career-low two bags last season; it was the first time since 2008 that Justin Upton didn't hit double-digit steals.
All told, the outfield has the ability to do more damage in the running game. That, among other things, is expected to fall on Dascenzo's plate.
---