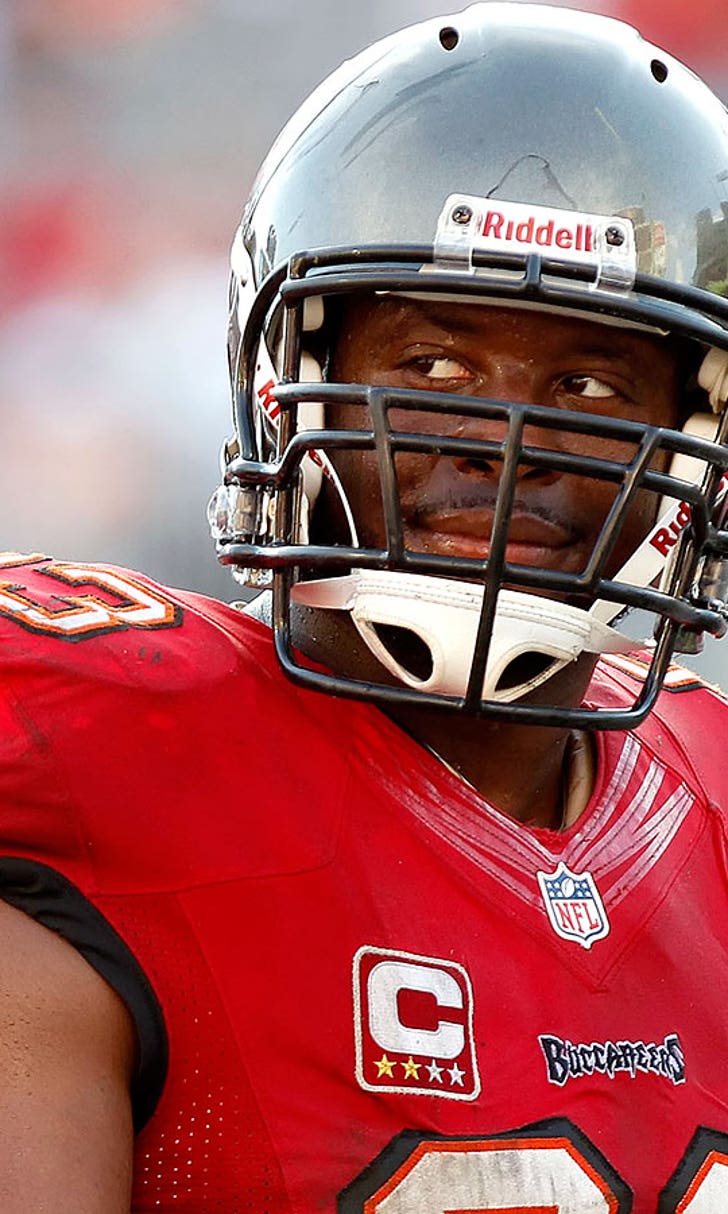 Thought to be a strength, Bucs' defense has been major disappointment
BY foxsports • October 7, 2014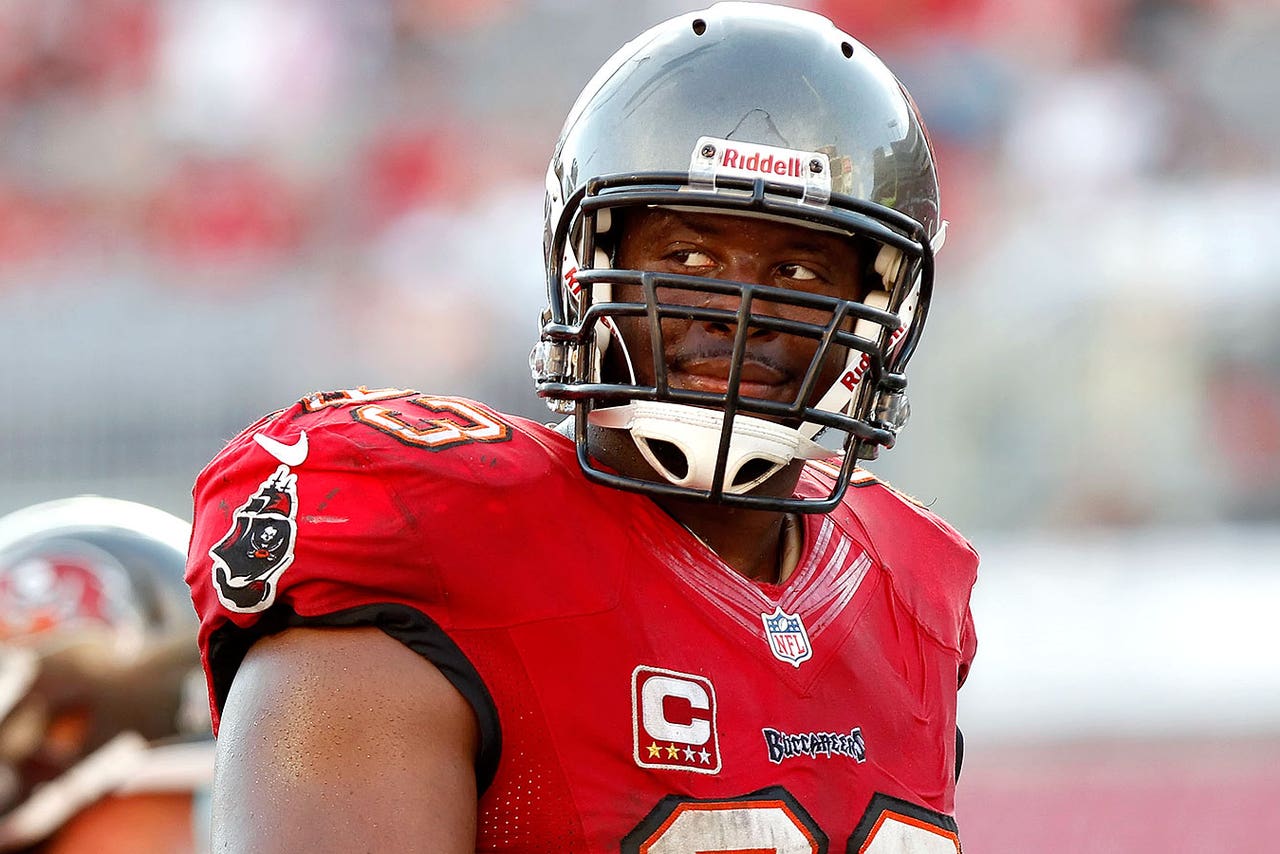 TAMPA, Fla. -- Struggles of Lovie Smith's defense have become too consistent to consider them outliers. They have become part of the Tampa Bay Buccaneers' identity on that side of the ball, and a group that many thought had a chance to become elite has fallen short too often in a 1-4 start.
Call it proof that instilling a defense-first approach to winning will be more of a project for Smith than a King-Midas-like transition to a gold standard.
The numbers are bad, and they reveal a perceived strength stands far from its desired reputation. The Bucs are decent against the run by ranking 18th in the NFL (120.2 yards per game), but they're 30th both against the pass (292 ypg) and in total defense (412.4 ypg). They're 31st in scoring defense by allowing a terrible 31.2 points per game.
The loss to the New Orleans Saints on Sunday exposed the shortcomings of the Bucs' defense again, just as results against the Carolina Panthers, St. Louis Rams and Atlanta Falcons did before. An 11-point lead with 13 minutes left should be enough to win, and that's why this outcome, clinched when running back Khiry Robinson raced 18 yards for a touchdown in overtime, should leave a nasty aftertaste for anyone in pewter and red.
"You have an 11-point lead in the fourth quarter and you lose it, it's not a good thing, period," Smith told reporters Monday, "and I think, to a man, we all realize that, and we'll keep working to get it corrected."
Good teams preserve hard-earned double-digit advantages late, and if Smith succeeds in changing the Bucs' identity from an NFC South also-ran to a contender, Tampa Bay will one day win games like the one that slipped away in overtime at a frothing Mercedes-Benz Superdome. This loss should leave a scar, just as large as the one formed after the 42-point embarrassment at Atlanta.
So there are growing pains, and the defense should be a large concern. Linebacker Lavonte David and defensive tackle Gerald McCoy are stars, but many faces around them deserve criticism.
Safeties Dashon Goldson and Mark Barron have disappointed. Defensive end Michael Johnson, a high-dollar addition in free agency, was good in the victory over the Pittsburgh Steelers with five tackles, two sacks and one forced fumble, but he has done little else. Cornerbacks Alterraun Verner and Johnthan Banks have looked vulnerable. Few escape blame.
The optimism among some that the Bucs could produce a top 10 defense under Smith this season was understood, but now it's clear more caution should have been used when projecting the group's potential. The underwhelming play of the unit creates more pressure for quarterback Mike Glennon and quarterbacks coach Marcus Arroyo, the men charged with babysitting the Bucs' offense without its creator, Jeff Tedford.
There's little margin of error for an offense trying to find its way. Even when the offense does enough, the Bucs' defense has shown an ability to allow leads to crumble late (see St. Louis and New Orleans).
That's not a formula for success in the present. That's not a building block for the future.
What should be worrisome for Smith is that the Bucs lag behind his first defense with the Chicago Bears. In 2004, the Bears finished 13th in the NFL in scoring defense, 15th in passing defense, 21st in total defense and 25th in rushing defense.
That Bears' defense was mostly average during a 5-11 season, a result that should have been expected with a new coach learning his terrain. Like then, there's time for the Bucs' defense to rise to the middle of the league or better this season. But the fall through the first five games hints at how the reconstruction job facing Smith here is larger than first thought.
"Defensively, we want to impose our will," David told reporters Tuesday. "Start fast defensively, and try to make the offense change their minds and change their game plan."
The Bucs still can do that, but these first five games have been, in many ways, a return to reality. Just because Andy Reid and Chip Kelly reached the playoffs in their first seasons with the Kansas City Chiefs and Philadelphia Eagles doesn't make Smith's situation the same. But comparisons are inevitable, and unless Tampa Bay rallies in an unexpected way in the coming weeks, it's likely that the franchise's playoff drought will reach seven seasons.
In that way, Smith's vision for how to regain relevance can be viewed as a disappointment this early. The Bucs' defense has been far from the hard-charging, fast-flying unit many envisioned it to be, and it was thought to be the soul of a turnaround.
Given the scheme, how are just nine sacks acceptable? When will faces other than McCoy and David make themselves memorable each week?
Look, there's time for the Bucs' defense to grow into what Smith wants it to be. It's only October of his first campaign here, and yes, Tony Dungy began 0-5 in his first year with the Bucs before closing with a 6-10 record. Tampa Bay won 10 games and reached the playoffs the next season.
So Smith can produce a similar rise. The Glazer family will have patience with him, and he deserves that treatment, given how he represents ownership's attempt to recapture the Dungy era after the pain sustained during failed experiments with Raheem Morris and Greg Schiano.
Yet make no mistake, the Bucs' defense must be elite for Tampa Bay's full potential to be reached under Smith. Some cornerstone parts are there in David and McCoy. If other players emerge -- perhaps linebacker Danny Lansanah, who already has two interceptions -- then the future will be brighter than what the Bucs lived in recent doldrums of 3-13, 4-12 and 7-9.
Just don't expect the full evolution to occur this year. The overestimation of the Bucs' early ability on defense was made, in part, because of Smith's reputation as a guru on that side of the ball. It's clear more skepticism was required.
After all, some personnel mistakes were made -- the signing of cornerback Mike Jenkins, for one, and Johnson has much more work to do to prove he was worth the new regime's trust. Misfires happen. Perhaps more tinkering with defensive chemistry will be required after this season to discover what works best in the long term.
For now, the Bucs' defense should be concerned with forming the sharp edge many thought they'd own starting in Week 1.
More was expected of the Bucs' defense, but it has failed to deliver. More was expected of a group that figured to rise among the NFL's best. But instead, the hard, cold numbers reveal a much different landscape.
Like everything about Smith's tenure with the Bucs so far, the full meaning of "project" should be embraced.
You can follow Andrew Astleford on Twitter @aastleford or email him at aastleford@gmail.com.
---
---