The Woodshed: Preseason college football rankings
BY foxsports • August 29, 2016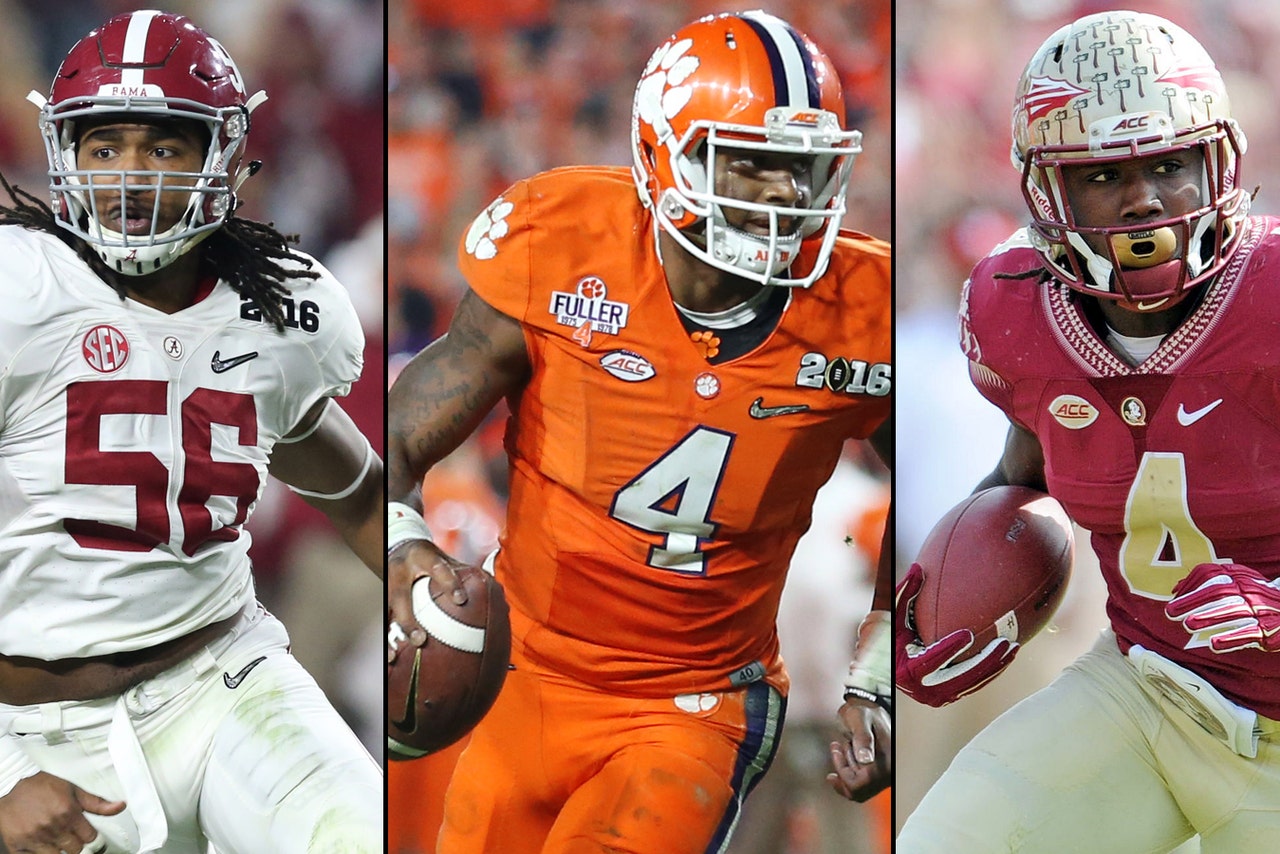 It's the time of year where talk around the water cooler turns to who the alma mater plays on Saturday. IT'S GAME WEEK! Who has an extra pep in their step this week? I know I do! I had six conversations in my office on Monday morning about who's playing who this weekend. If you are like me, college football will consume most of your weekends somehow, someway.
This will be the unveiling of my own top 20, because I don't remember when or why it went to 25. We're not giving out participation ribbons when it comes to the playoffs, although some schools played like it last year in the bowls. Chomp!
This is fair warning, you are not going to agree with me too much. Case in point, the season has not even started and Notre Dame fans took a loss of sorts when coach Brian Kelly had to suspend some players. Who didn't pick up their phone and text a jab or two? I was reluctant to do just that because my wife flies a freaking flag when it comes to Notre Dame football.
Point is, in the time that it takes to make fun of a team for suspensions or worse an injury, it will happen to your team.
Every week we will take a look at the playoff picture, who should be in, who's out. The bottom line is, I want the four best teams in the playoffs regardless of record or conference.
I'm going on record right now by saying I do not believe Alabama was the best team in the nation last year. The playoff committee judged and I believe they got it wrong by leaving Ohio State out of the mix. I do think 'Bama should have been in the playoffs, I was just suspect on Michigan State and Oklahoma.
These weekly rankings are to create discussions around what I believe to be the second greatest debate this fall. But first, I'm taking the AP top 25 to the WOODSHED before I list my preseason top 20.
AP Top 25
1. ALABAMA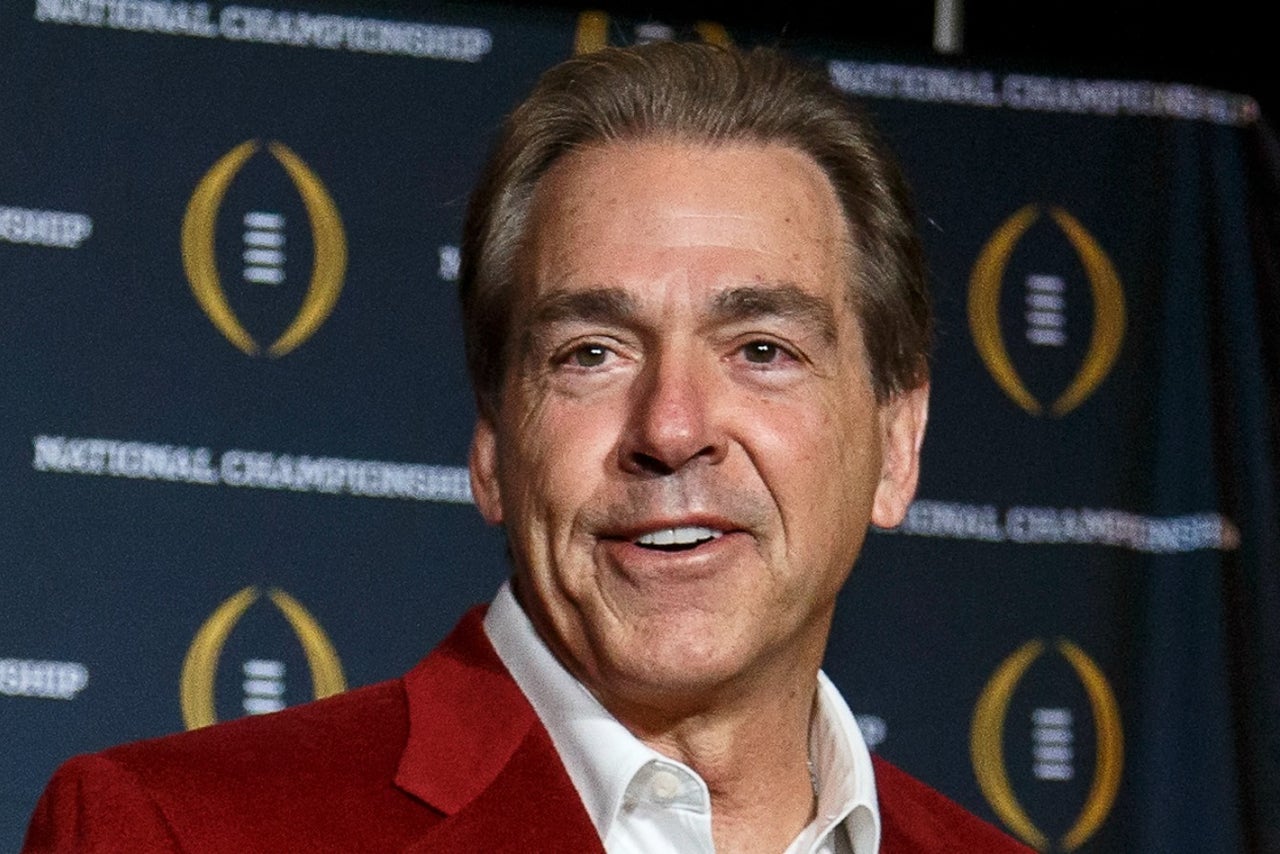 Nick Saban.

To be the champ, you have to beat the champ. Until they lose, they will sit on No. 1 on my poll until we've all seen enough football to help pass the eye test. The eye test is important. By the way, they are beatable. Ask Urban Meyer.
Alabama has five-star players everywhere, but most do not have experience. And a three-quarterback race maybe hurting the experience and reps one would want a three-year starter to have. I'm suspect on 'Bama. An inexperienced quarterback will cause turnovers. Just wait and see what I'm talking about Tide fans. The Tide have way too many weapons on offense (How is O.J. Howard not in the league on Sundays by the way?) and you'll find that Tim Williams will help generate points from the defensive side, too, which really isn't fair. Can we talk about the schedule? It has landmines everywhere. I can't say that in the past about 'Bama. I've always believed they had a cupcake schedule, even in the SEC. But at Tennessee, at LSU and at Arkansas this season; the Crimson may lose twice in the regular season. When's the last time you can say that? My prediction is Texas A&M and LSU jump up and get them. But they have Nick Saban, and he is masterful. Keep in mind the defensive coaching staff is in their first year at 'Bama, and there is always Lane Kiffin. The bottom line, I don't believe Alabama wins the SEC three years in a row.
2. CLEMSON
Who loves free pizza? I admit, I love me some Dabo! One of the greatest coaches in America! Now reality has set in. Last year's season was Clemson's best shot at winning it all, and they found that the ACC just doesn't have enough horses to stay with the mighty teams of the SEC, right? Deshaun Watson is already the No. 1 ranked Heisman hopeful going into the season, and, if they beat FSU this year, there's a good chance he walks away with the prize. The reason being, they are in the ACC and they don't play anybody other than FSU and Auburn. If Clemson wants to get real, the ACC needs to step up. Yes, Louisville and Georgia Tech can give you fits. And don't sleep on Pitt. But it's a one-game season, and this year's Halloween party will be in Tallahassee. At the end of the year, I bet that FSU is the only ranked team on Clemson's schedule, and that will crush their playoff hopes. Dear ACC, better pray that both FSU and Clemson don't each have one loss, because it would be easy to vote them out if other conferences have the same. At least the 'Noles have five tough games. Clemson has one. #notgood
3. OKLAHOMA
Has anybody seen "Dirty Rotten Scoundrels?" You would know what voice I hear when someone refers to the state. "Rupert's been banging on his pots again!" The Sooners are loaded. Some believe they should be the No. 1 team in nation to start the season. But they have to pass the look test, too? Do you really think the Sooners have more weapons than Alabama? We will find out early. The Sooners open with Houston. I know, Houston isn't a powerhouse, but it's a first game I don't think I'd want on my schedule. There will be no defense in this game, that's for sure! Baker Mayfield has had four years of college football. In my perfect recipe for a title, you need a great defense, and you need a QB that has experience and that wow factor. Mayfield is my dark horse for the Heisman. He will keep in the discussion because the rest of the Big 12 is a yawner. An early fight with Ohio State will propel or end his candidacy early depending on the outcome. The Buckeyes kill Heisman candidate campaigns because the defense is always that good. Note that defenses are ahead of the offenses early in the season. This game will be the season for both teams. I could see it being the Sooners only loss. Or the Buckeyes only loss. I don't think the Big 12 plays defense, so I'm suspect on their title hopes.
4. FLORIDA STATE
You can't walk through our office without stepping into an argument on which team is the best in Florida. I'm going to end the discussion here Gator fans, it's not you. The 'Noles are loaded. When the Gators get a Heisman candidate like Dalvin Cook, then they can enter the discussion. Until then, the Gators need to fend off Miami, South Florida, and Florida Atlantic for the second-place ribbon. May I add that the 'Noles did lose to Houston to end last year's misery. This year, they get some help with the schedule. They open with the over-ranked Ole Miss. How the Rebels are ranked is beyond me, but that will help when comparing the two conferences. The war party will take its battles to Louisville and Miami. They also have North Carolina and Florida at the end of the year, both at home. If they run the table, they are the No. 1 team in the nation even over LSU. Again, it comes down to the inexperience at quarterback, that will be the question mark all year.
5. LSU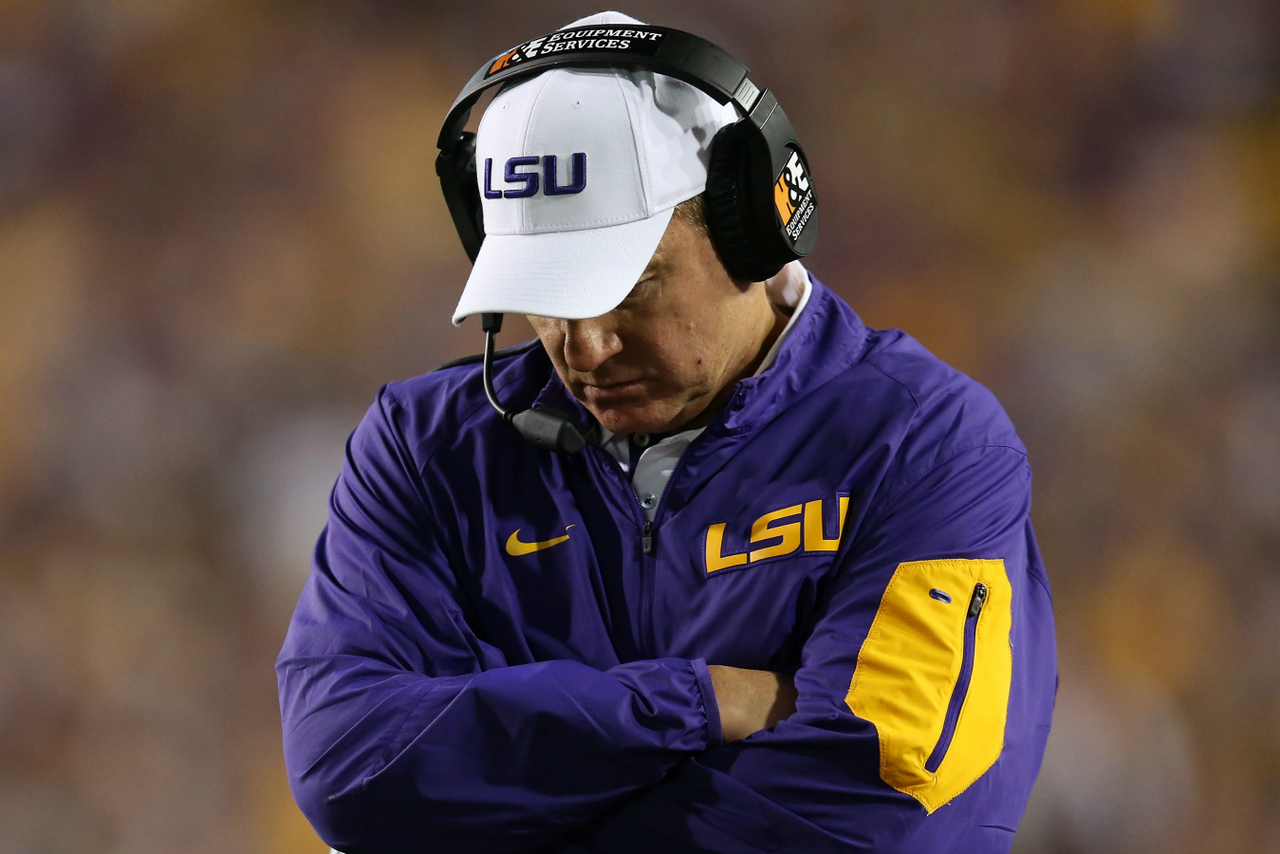 Les Miles.
If they don't improve on their 9-3 record this year, then it's OK to look for a new coach. But I believe Les Miles will get it done this year. Now is the time to dethrone 'Bama. And it's okay to listen to the ESPN hype machine about Leonard Fournette. He is the real deal. He is the sexy pick for the Heisman too. The Tigers have an unreal defense, and with 18 returning starters overall, I think the Tigers will be the ones playing for the SEC title in Atlanta. And, wait for it, I'll give ESPN only 3 weeks into the college football season to start talking about if LSU beats 'Bama and 'Bama's only loss is to LSU, how both teams should go into the playoff over Florida State, Ohio State, Oklahoma and Clemson.
6. OHIO STATE
The Buckeyes lost a ton to the first round of the draft last year, more so than any other football team and yet they are in the discussion already. Why? Well, the Buckeyes are lucky to have both its quarterbacks of the offense and defense in J.T. Barrett and Raekwon Mcmillan. The biggest question mark for the Buckeyes is life after Joey Bosa. You will still see a No. 97 with the name Bosa on the back of it... younger brother Nick. But it's Sam Hubbard who will be the menace of the edge. It's the rest of the defensive line that is below Urban Meyer's standard when it comes to his typical defense. If the Buckeyes can stop Oklahoma's running attack, then they will have no problem figuring out the Big Ten's offenses. I think the Buckeyes are loaded with five-star replacements, they just had to sit behind a first-round NFL type of team. Look for Barrett to enter the Heisman race if they run the table down the stretch. If they can take care of Sparty at East Lansing, then beating Jim Harbaugh and the Michigan Wolverines at home will be all they need to make the playoffs. Urban Meyer has lost five games in five years. Let's let that sink in shall we. I was excited to see Torrance Gibson see the field, but he just got suspended for the semester due to violation of the university's student code of conduct. Ohio State still has speed everywhere. SEC-type speed, so I'm sure the Buckeyes will be fine.
7. MICHIGAN
OK, I like the program Harbaugh is building. But can we pump the breaks on Michigan going to the national title game? I'll give it to Coach Harbaugh, he can build a hype machine. Congrats. Reality is going to set in. I'm suspect on the Wolverines this year. They are the Tennessee of the Big Ten! What does that mean? Every Gator fan will tell you, that they will be talked about every year, but never actually do anything worth substance. Now, I'm not here to bash the Wolverines, at least not yet. The reason the Blue is hyped is because they have a good coach and a lot of returning starters who happen to be seniors. The problem is they have to go to Michigan State and Ohio State this year with an inexperienced quarterback and running back. Jake Butt is a man child when it comes to tight end, and that defense with the overhyped Peppers should be sick. Here is a note you should consider, if your defense is so good that two of your guys may be playing on the offensive side too, then that means your offense needs help! Michigan's schedule doesn't really start until late October when they go to Team Green's house. They will rack up the wins, but to me, it's fools gold, I'm not buying.
8. STANFORD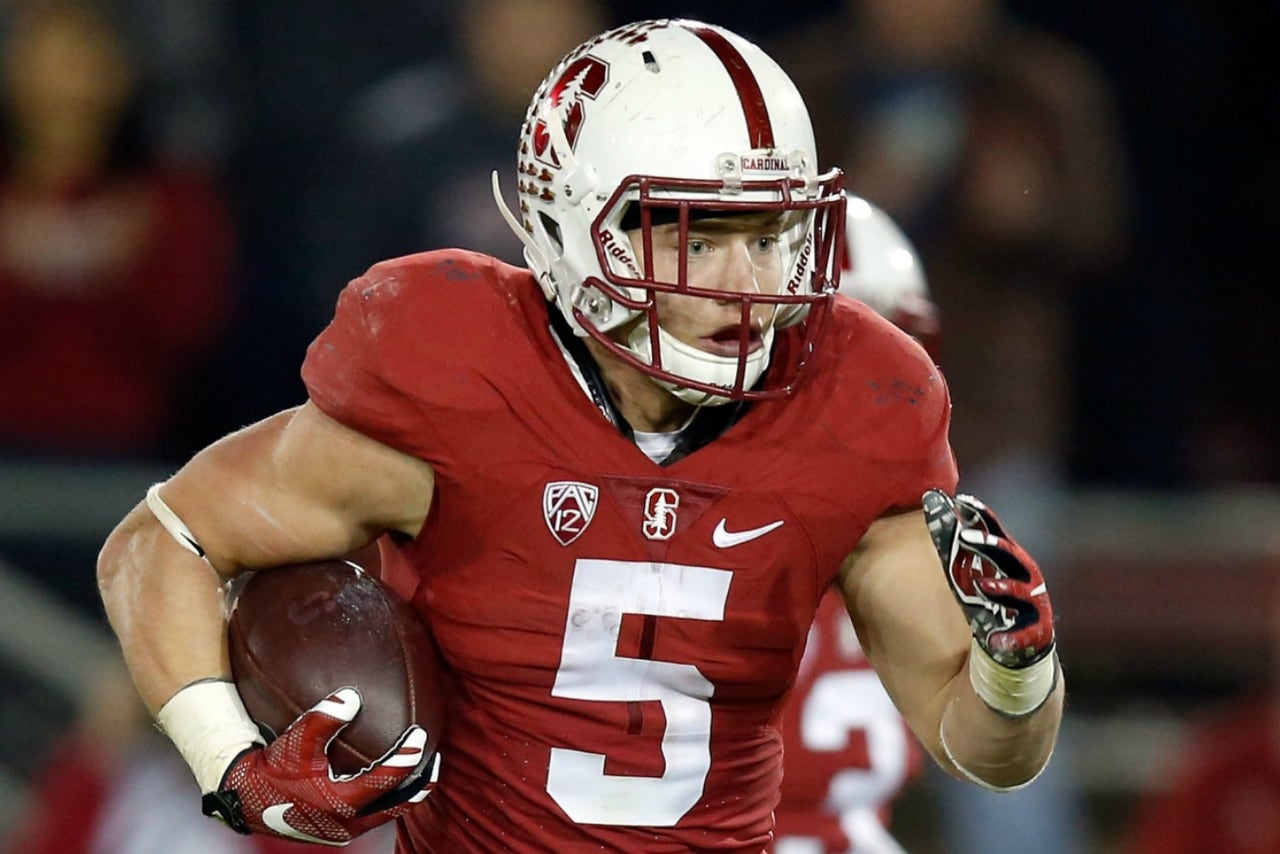 Christian McCaffrey
One of the best teams in the west, but will be breaking in a new quarterback. The bar was set pretty high with Andrew Luck and Kevin Hogan. Can Ryan Burns and Keller Chryst fill those shoes? One thing is for certain, everybody will want to watch Christian McCaffrey, who should be mentioned in every Heisman update from now till early December. The Trees are good, but are they a playoff contender? I think they are over-ranked. Let me know when somebody in the Pac-12 plays defense. Until then, there will be no Pac-12 team winning the national title. USC, UCLA, Notre Dame and Oregon stand in the way, and don't sleep on Washington.
9. TENNESSEE
If you're drinking the Gatorade, you think this is the year the Vols get to the dance. But I am suspect on Tennessee, just like I'm suspect of Michigan. Will somebody tell me when these guys became the paper champions? What did Butch Jones ever win? Perhaps I'm trolling because I thought the Vols would make some noise last year and I had to eat crow in the office with the Gator fans. The Vols will be better. Jalen Hurd is legit and will play on Sundays someday. He reminds me a bit of a Robert Smith, who had a longer stride and ripped it up for the Vikings. I'm just glad the Vols are back in the conversation in the SEC East. For a second, I thought it was Big East football. I'm kidding of course, but this is the year Butch Jones gets a signature win. They will beat the Gators this year, because they have better players. They'll rise in the polls with four wins to start the season, then reality will set in, losing to Georgia, Texas A&M, and Alabama. After that, it's smooth sailing to the Outback bowl. Peyton Manning knows about the Outback Bowl.
10. NOTRE DAME
Did anybody just hear the "Rudy" theme in their head when you read the words Notre Dame. Brian Kelly has a dilemma on his hands. Malik Zaire or Junior DeShone Kizer at QB? Either way, it's a great problem to have. Notre Dame was embarrassed by Ohio State in the Fiesta Bowl, the difference in talent was evident. But Kelly is selling highly ranked kids to come to South Bend, so this is a team to watch. I'm not hating on the Irish or loving on them either. The schedule sets up where they could be undefeated and in the playoff conversation. Remember when playing Texas, Miami, Michigan State, Stanford, and USC was a nightmare scheduling wise? Notre Dame has the talent and coaching to beat all of those teams and will be in the playoff discussion if it doesn't get sniped by Navy or Army.
11. OLE MISS
Let me go on record stating the fact that Ole Miss does not deserve to be ranked in the top 25. Yes, they beat 'Bama two years in a row. But that's where my praise ends. Chad Kelly is dynamite at QB, so there is a chance they can beat some teams in the SEC. But I'm going to end this by saying they are ranked because they need to promote this weekend's game vs. Florida State and for when the play Alabama. Alabama in the past needed signature wins because the conference was not as potent. Ole Miss could easily lose six games this year. Yes... six.
12. MICHIGAN STATE
Let me start this by saying Mark Dantonio is one of the best coaches in all of football. Sparty has the horses to make some noise because they are a defensive-minded team. That being said, their destiny lays in the hands of Tyler O'Connor who will have to make some plays this year, rather than just manage the game. I think Sparty will be solid and beat some good teams, but they'll finally get nipped by somebody they shouldn't. Hosting both Michigan and Ohio State at home gives them a chance to make some noise. There are just too many questions with this team right now. L.J. Scott will carry the ball and he's good, really good. This is a team we will have to check out a couple times before passing judgment. I feel like this team is ranked right where it should be.
13. TCU
I need to do my homework on TCU. Why is everybody so high on them? Did they suddenly get a defense? Or is it because Baylor self-imploded? The team to beat in the Big 12 is Oklahoma and that's pretty much it. TCU is the second best team in Texas behind Texas A&M. The Horned Frogs expectations will be high, but in the end, I'm predicting a three- loss season. Kenny Hill will take over at QB for the Frogs. I respect Gary Patterson and his program, I'm just not very high on teams that give up close to 25 points a game. But the name of the game is to outscore your opponent, and TCU certainly does that most of the time. They are a bit over-ranked, but not far off from where I would slot them.
14. WASHINGTON
It seems now that Oregon is not the King of the West; other programs are smelling blood and are going to come hunting. The Huskies have Chris Peterson and will be a program to watch moving forward. That being said, I'm going to refer back to Tennessee and Michigan. Who have they beaten to garner respect? I like where the program is going, I'm just not sold on the ranking of 14 quite yet. I will say Rutgers will give them a closer game than they are expecting. I will say this, they'll need to go undefeated to get into the playoffs, because their schedule is a snoozefest. I wonder if Miami Heat head coach Erik Spoelstra will be on Portland State's sideline for their game. Bonus points to anyone that knows Portland State's mascot!
15. HOUSTON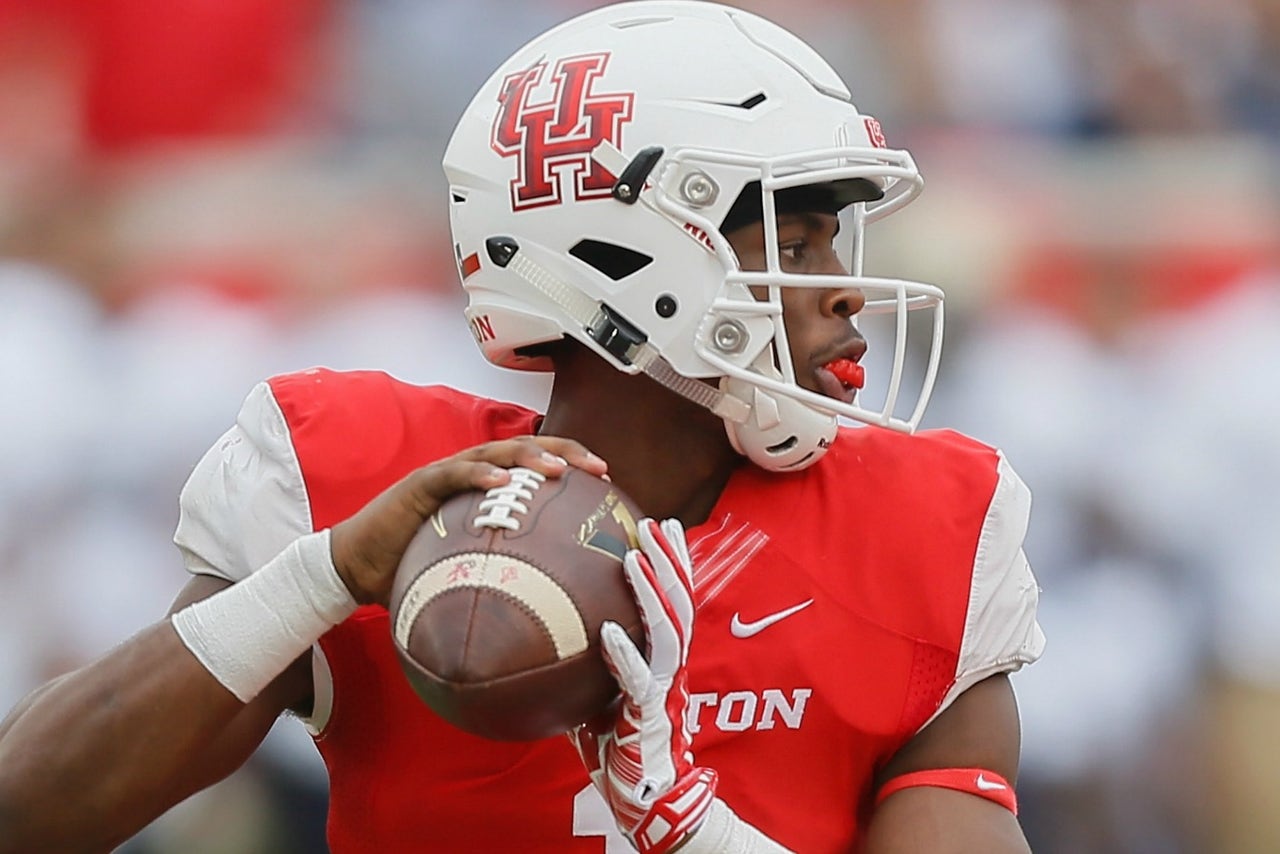 Greg Ward Jr.

We will find out really quick if Tom Herman is up to the task to take down third-ranked Oklahoma. They ended last season with a victory over Florida State in the Peach Bowl. The Cougars have the weapons to do it, and Tom Herman is a pretty bright guy. Although he can be stubborn when calling plays (ask Texans Braxton Miller about that.). The Cougars' Greg Ward Jr. can get it done in Herman's system. So much so, you'll hear his name in the Heisman race at the end of the year. Is he better than Mayfield and Watson? Probably not, but he will put up huge numbers. I'm just not sold on the rest of the team as of yet. I don't think they have the horses to take down the Sooners in week 1. The game of the year could be in Nippert Stadium when they face the Cincinnati Bearcats. I think they are a two-loss team. Time will tell! And yes, I know they host Louisville.
16. UCLA
While the "experts" are high on Washington and, of course, you can't talk about the Pac-12 without uttering USC, the Bruins are my pick to win the conference. Josh Rosen will take a large step forward this year, right? The Bruins lost to both USC and Nebraska to end their season last year, so that puts them right where they should be in this poll. Stiff test vs. Texas A&M this weekend. I will take the SEC over the Pac-12 any day of the week.
17. IOWA
The Hawkeyes program awoke like a dormant volcano last year. Running the table in the Big Ten West division isn't much to write home about unless you're a fan of a particular Kevin Costner baseball movie or like to eat corn. Iowa fans are optimistic because it seems they are doing better for recruiting next year than in year's past. All-American Desmond King will enjoy Saturdays when everybody throws the other way. The Hawkeyes are a team to watch because of returning senior quarterback C.J. Beathard. I bet Michigan wishes it could steal another quarterback for this year. Hawkeyes have a very manageable schedule. They host the Wolverines, Badgers and Nebraska. Nobody believes Iowa will be 12-0, even Hawkeye fans. The reality is that Eno Benjamin is still a year away and they're playing for a trip to get beat by the Big Ten East.
18. GEORGIA
Kirby Smart, can he be a head coach? The Bulldogs are at the front of a perfect storm. There are a number of prospects in Georgia that have their eye on Clemson, Ohio State, and Florida State. But if the dawgs can win 10 games this year, look out! Those guys will be harder to pull, even if you're Dabo Sweeney. The Bulldogs are loaded at running back with Heisman candidate Nick Chubb and Sony Michel. Chubb is returning to the gridiron after tearing all three ligaments in his knee last October. If you've seen Chubb play, he is a man among boys. Georgia has two really talented tailbacks, to go along with the No. 1 QB prospect in the nation in Jacob Eason. He has not been named the starter, but come on, let's get real. Start the kid! Georgia has some question marks, mainly in coaching and health, but to me, they are the dark horse of the SEC. No. 18 is a great place to start in the poll, but I suspect that they will earn higher rankings as they beat up on everybody in the SEC East, including Florida. A really tough schedule for the Bulldogs will keep them out of the playoff picture, but will be good enough to knock out some SEC favorites. North Carolina is not an easy opener, they can play for sure. Georgia has Tennessee at home, and Florida in Jacksonville.
19. LOUISVILLE
The Cardinals return virtually everybody back from last year's 8-5 record. Is that a good thing? Five losses isn't all that great, but they do play a heck of a schedule. I don't think the Cards will run the table by any means. But Lamar Jackson at quarterback will spice up the offensive attack and make things easier for Bobby Petrino. James Quick is an elite receiver with big play ability. They will be a team to reckon in the ACC.
20. USC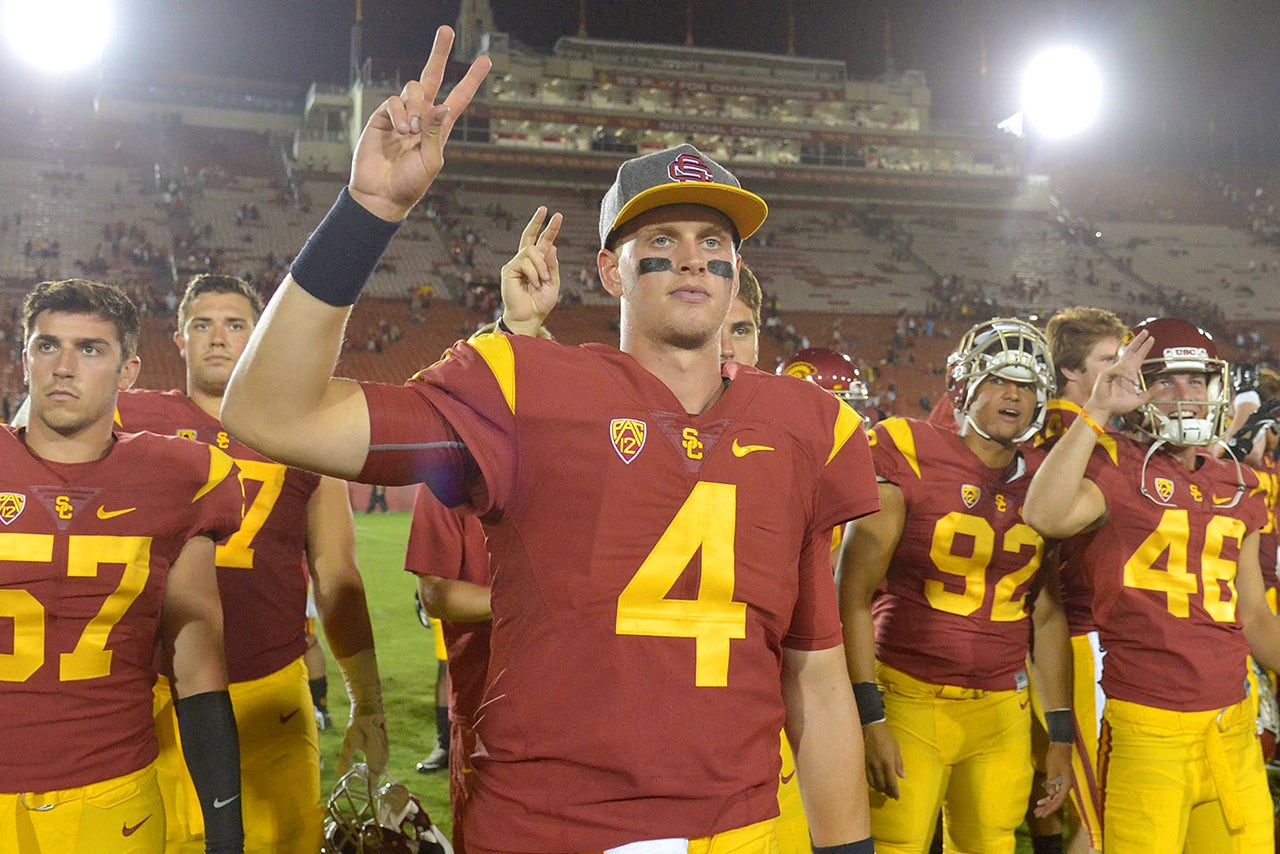 Max Browne.
I feel like this team gets a ranking because they are the other team in L.A. and somebody has to be good right? Well, the Trojans maybe poised for the best season in a decade. Heralded Max Browne takes over at QB for Todd Helton's Trojans and will have a number of weapons at his disposal. The offense will be fun to watch. JuJu Smith-Schuster will be shucking and jiving his way through secondaries all year. Adoree Jackson will give 'Bama fits this upcoming weekend. Big players make big plays in big games, and Jackson fills that role nicely. It will be interesting to welcome the Trojans to the college football playoff picture.
21. OKLAHOMA STATE
I don't believe there should be five more teams worth a ranking, so I'll make this quick. Mike Gundy is a good coach, and his teams are always in the picture. The schedule isn't very powerful, so if they surprise everybody and go unbeaten or have one loss, they could be on the outside looking in.
Look out Georgia. I follow recruiting pretty closely, so when the Tar Heels pulled in Elijah Hood, T.J. Logan, and Mitch Trubisky I knew I need to watch the ACC a little more. All three were recruited by Urban Meyer at Ohio State. Trubisky has had to wait three years to start in Chappel Hill. Trubisky threw for 9126 yards in his career in Mentor, Ohio. The Tarheels will make some noise this year.
23. BAYLOR
Goodbye. Sorry Art, goodbye.
24. OREGON
I'll watch for the uniforms.
25. FLORIDA
The Gators seem to think they have a QB in Luke Del Rio. It's always a great day to be a Gator. At least that's what I hear in the office all the time. I'm suspect on this team this year, but it can't get any lower than losing to Michigan can it? I have many Gator friends that will tell me that they will be better this year. The schedule favors UF to grow early in the season. I've got the Gators losing four this year.
Now for the Woodshed Top 20!
---
---