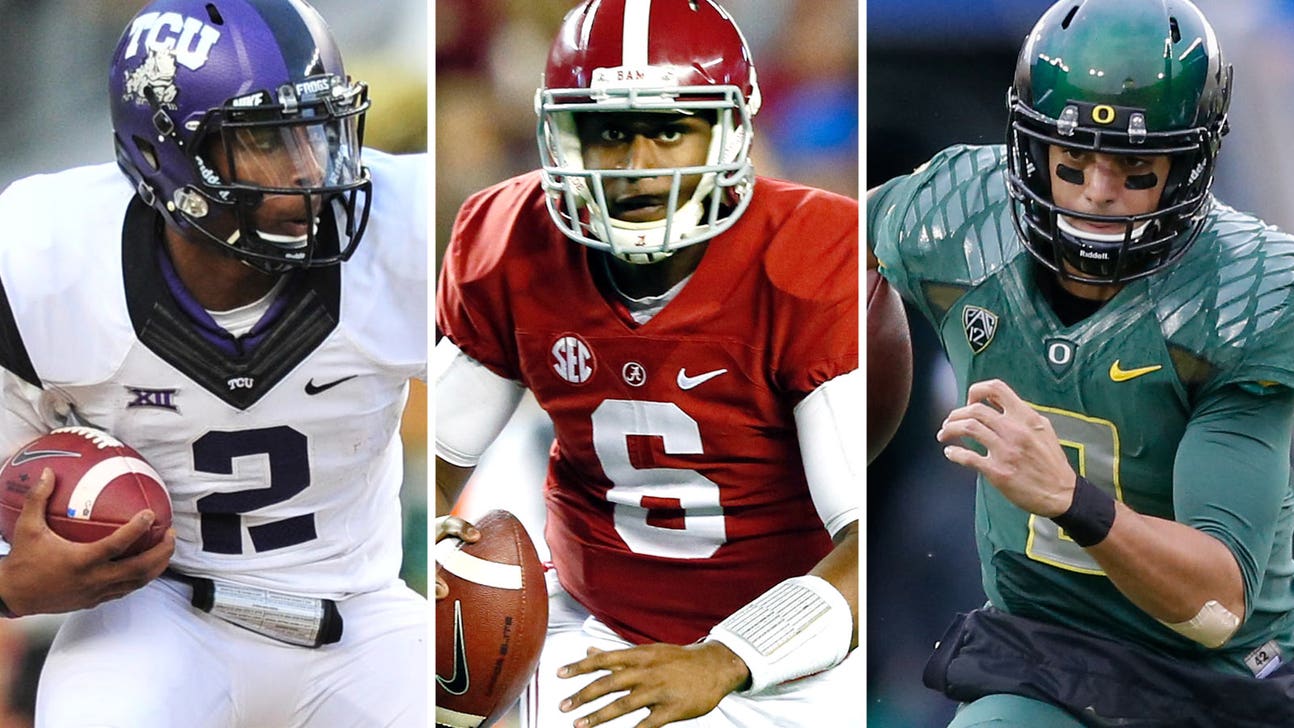 The Vegas Top 10
Published
Dec. 4, 2014 12:03 p.m. ET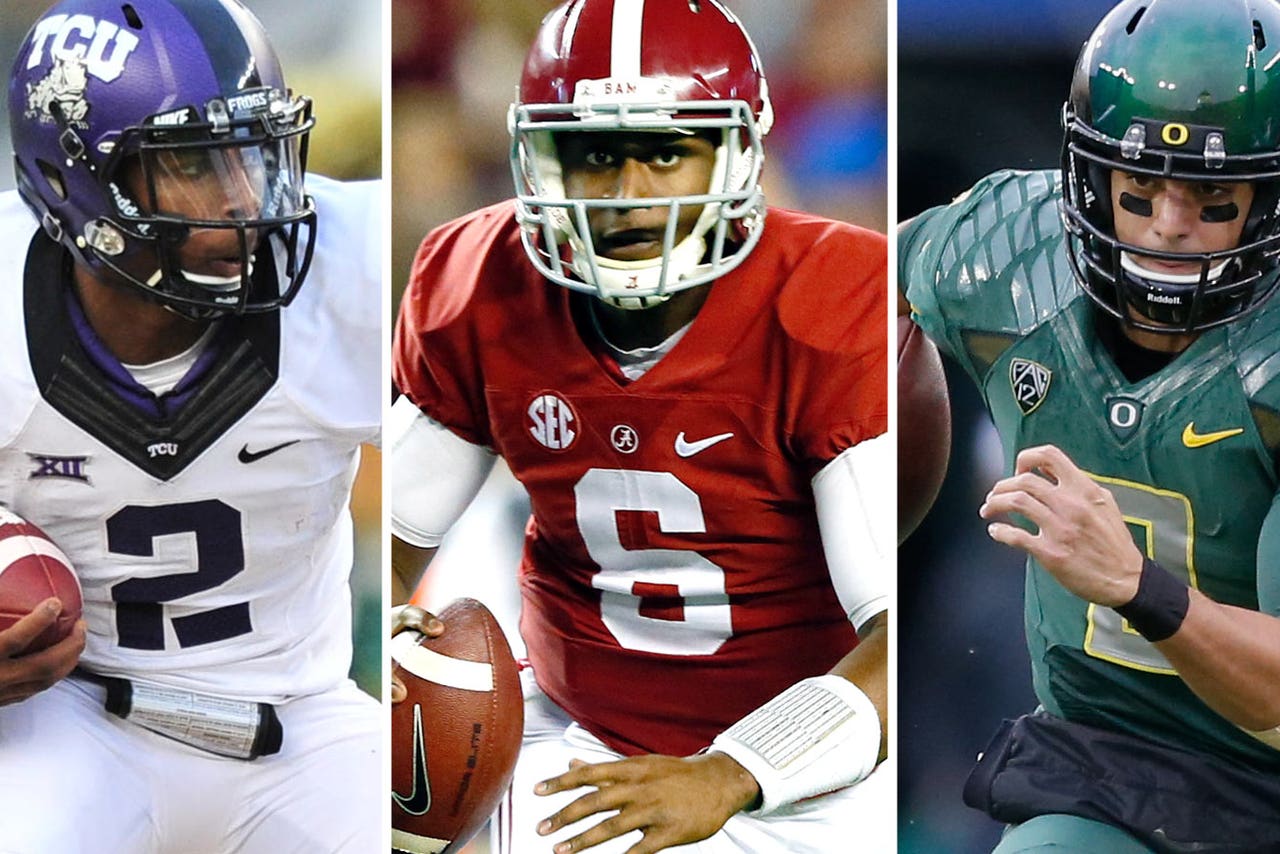 College football fans are delusional.  I know this goes as the understatement of the century however we've all learned plenty about their tendencies with each unveiling of the college football playoff field.  Arguments devoid of logic and rants laden with nonsense flood Twitter. Fans from every corner of the country come out proclaiming their school best by virtue of a resume chock full of season defining wins.  The irony in all of this is I've been able to avoid pissing off SEC fans since Texas A&M early in the year...identifying other teams the committee has overvalued weekly. Tuesday night I learned that apparently Arizona has 20 loyal football fans out there and they came out in droves to defend the overachieving Wildcats as the 7th best team in the land.  Keep in mind Arizona would find themselves listed as underdogs against at least 20 teams including every school hailing from the SEC west not named Texas A&M.  Here are a few excerpts, paraphrased of course, from Wildcat nation, fans of the most overrated team in the country.
"Arizona is a top 7 team because they have road wins at Oregon & Utah."
Two very impressive wins for sure but what about the narrow victories against UTSA, Nevada, Washington, and a 7 point explosion at UCLA? Apparently those should be forgotten if they end up with 2 wins against the Ducks.
"Our early season struggles are because we had a freshman quarterback."
Fair argument, but what explains the late season struggles as Solomon matured or the fact you want to demean Ohio St for losing to Virginia Tech early in the year given a similar situation?  I don't buy youth or inexperience as an excuse if we're expected to examine a team's entire body of work.
"Good teams just find ways to win games at all costs."
Won't argue this point but how does Arizona benefit from the ugly win category while Florida St that hasn't lost in 2+ years yet continues to drop in the poll? Again, this logic only applies to your school when it helps an argument.
Onto the other big debate between TCU and Baylor since this was even more fun given TCU fans KILLED me for picking Texas against them last week.  I mean who could argue with the Frogs "dominant" win over the Horns?  Dominant eh? TCU barely outgained Texas (368-290), had 4 more first downs (16-12), and benefitted from 6 Horns turnovers.  If the committee wants to do their job they shouldn't be falling in love with final scores when a team only has 1 drive of more than 37 yards in the entire first half.  Baylor's box score didn't look much different when they went to Austin and beat the Longhorns but 28-7 isn't nearly as sexy as 48-10.  Good for the committee looking at final scores as a useful comparison because I can train my 7 year old cousin to do the exact same thing if all that matters is margin of victory.  
Now, I know we want to talk about the close call for Baylor this past weekend against Texas Tech.  Bryce Petty started a drive for the Bears that led them to a decisive 42-17 lead...wait, we judge the strength of this win based on a final yet again? Apparently the 25 point margin when the starting QB left the game doesn't impact the committee's decision.  Now please explain to me why TCU wasn't penalized for a 34-30 win over KU in Lawrence when Baylor beat the same team 60-14?  Ok, ok, clearly homefield advantage in Lawrence explains the difference between a 4 point win and 46 point rout.  
Before everyone jumps down my throat I'm not advocating for Baylor or TCU, merely pointing out the ridiculousness of the hypocrisy the committee is leaning on in making decisions.  We can always find signature wins or narrow escapes if we so choose during a 12 game regular season.  I mean if we're saying TCU's non-conference strength of schedule is far superior then maybe Minnesota should be playing for the Big Ten championship this weekend.  Also if you're looking to defer to Vegas to help answer this TCU/Baylor argument understand that you'll get a variety of opinions on a potential rematch line ranging from Baylor -1.5 to TCU -1.5, lets just call them equals in the eyes of the desert right now.
Now onto bigger things while I let the twiterrati go back to debating the merits of the playoffs based on arbitrary analysis.  Here's a current look at the odds to win the college football playoff courtesy of the Westgate Hotel.  The biggest takeaway this week is how short the current price is on Alabama, a direct reflection of the potential pointspreads in their next 3 games.  TCU remains 3rd on the board given a stronger foot hold inside the playoff than any team not named Oregon or Alabama.
ALABAMA 5-4
OREGON 5-2
TCU 4
BAYLOR 8
FLORIDA ST 10
OHIO ST 15
MISSOURI 25
WISCONSIN 30
ARIZONA 40
KANSAS ST 40
GEORGIA TECH 40
MISSISSIPPI ST 100
Naturally the part that comes next is where everyone tells me I'm on drugs or operating with a SEC bias when I reveal my final top 10 rankings of the season headed into championship weekend.  Drum roll please...
1. Alabama
2. Oregon
3. Baylor*
4. Florida St*
5. TCU*
6. Mississippi St
7. Wisconsin
8. Georgia
9. Auburn
10. Ole Miss
The * indicates teams that I have rated equally right now.  Ohio St fell out of the top 10 given the 6 point hit to their power profile without JT Barrett under center.  Yes, you can blame me along with other betting groups for being too high on FSU all season, which helps explain their dreadful 3-9 ATS mark.  However it should be noted the Seminoles took sharp money at -3 for this week's game against Georgia Tech, the first time professionals have backed FSU in weeks.  
UPSET ALERT: Kansas St +7.5
Last week was ugly, flat out ugly if anyone was trying to use the Lone Star showdown to finance a Thanksgiving vacation.  Back on the horse this week in the BigXII albeit not a game I love given the short slate.  Kansas St gets Baylor at the absolute right time if you ask me.  The Bears defense is starting to show kinks and I worry about their ability to withstand a Bill Snyder led attack.  KSU won't beat themselves with stupid penalties, something Baylor isn't afraid to gift their opponents.  Kansas St was in a similar spot against TCU but came up well short as TD underdogs with a chance to play spoiler...I don't think they do here given all the pressure in the world on the Bears.  Every season the committee (BCS or otherwise) seems to get bailed out and a Kansas St victory would make their decision easier.  Don't think it's lost on Snyder or his players how a trip to Waco 2 years ago derailed a magical season in Manhattan.  Baylor is 14-4 ATS their last 18 home games, a stretch where they've gone 17-1 but numbers be damned! KSU will improve on their blistering 19-6 ATS conference record Saturday with a signature win to close the regular season.
Upset Alert Current Record: 8-3 ATS, 3-8 SU
11/29: Texas +7 over TCU (obliterated...non cover)
11/22: Iowa +10 over Wisconsin (Covered but lost)
11/15: Minnesota +12 over Ohio St (Covered but lost)
11/8: Utah +8.5 over Oregon (lost)
11/1: Navy +14 over Notre Dame (Covered but lost)
10/25: Penn St +14 over Ohio St (Covered but lost)
10/18: West Virginia +8 over Baylor (Won Outright)
10/11: Pass
10/4: Utah +13 over UCLA (Won Outright)
9/27: NC State +19 vs FSU (Covered but lost)
9/20: West Virginia +7.5 over Oklahoma (Lost)
9/13: South Carolina +6 over Georgia (Won Outright)
---