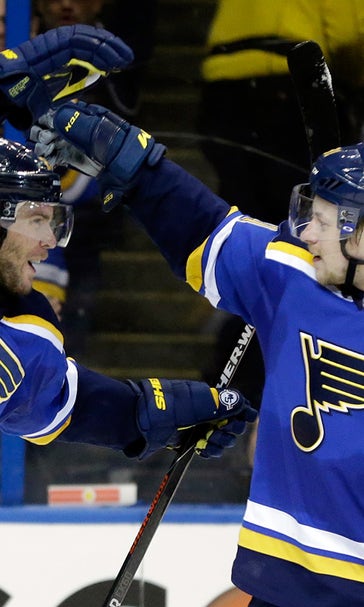 The quest continues: Blues plan to keep it simple against Sharks
May 15, 2016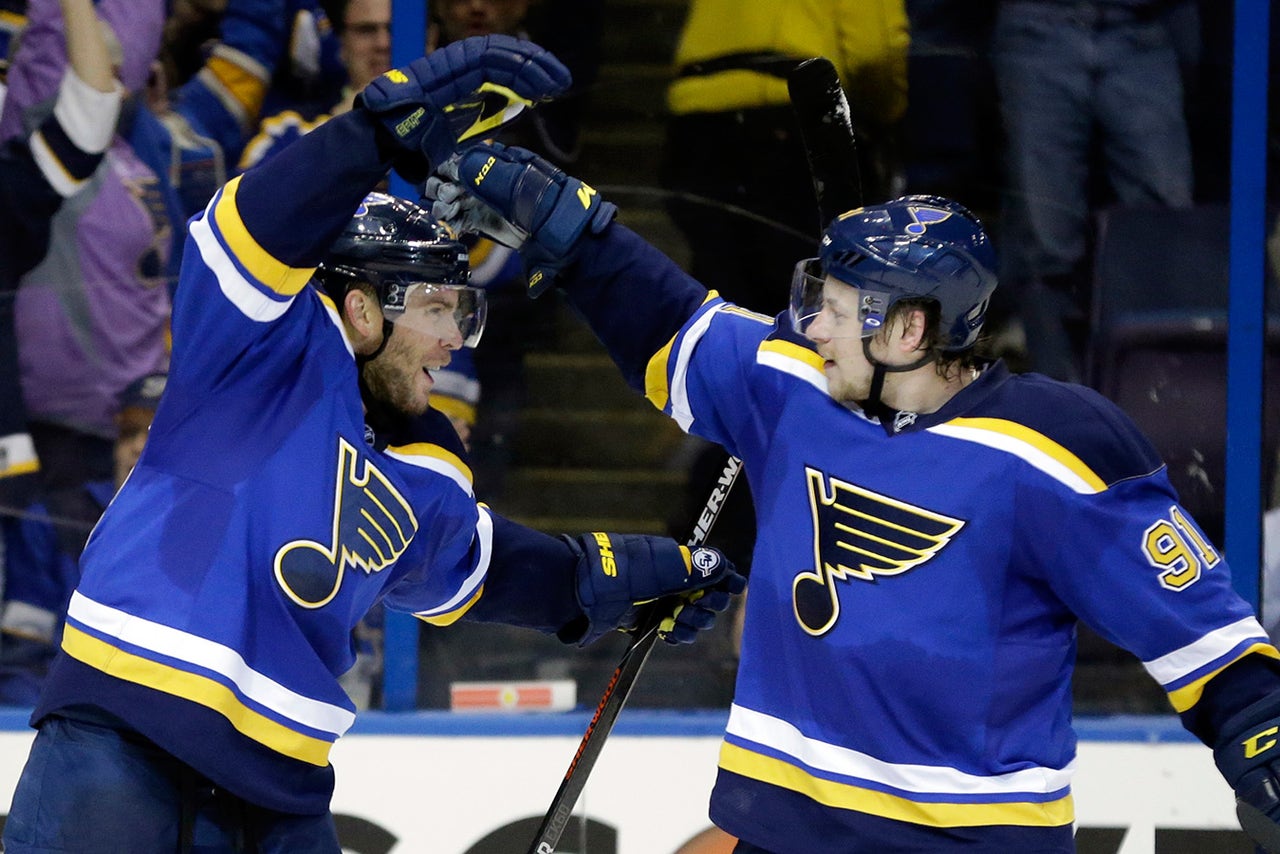 ST. LOUIS -- The rest of the postseason, the St. Louis Blues have home-ice advantage. Now, if they can only capitalize on it.
The Blues are in the Western Conference finals for the first time since 2001 not because of those rip-roaring, standing room crowds, but because they've been so good at blocking out the noise elsewhere.
They're 3-4 in the Scottrade Center and 5-2 in the other two rinks, including the 6-1 knockout blow in Game 7 of the second round at Dallas two days after they fumbled a chance to wrap up the series at home.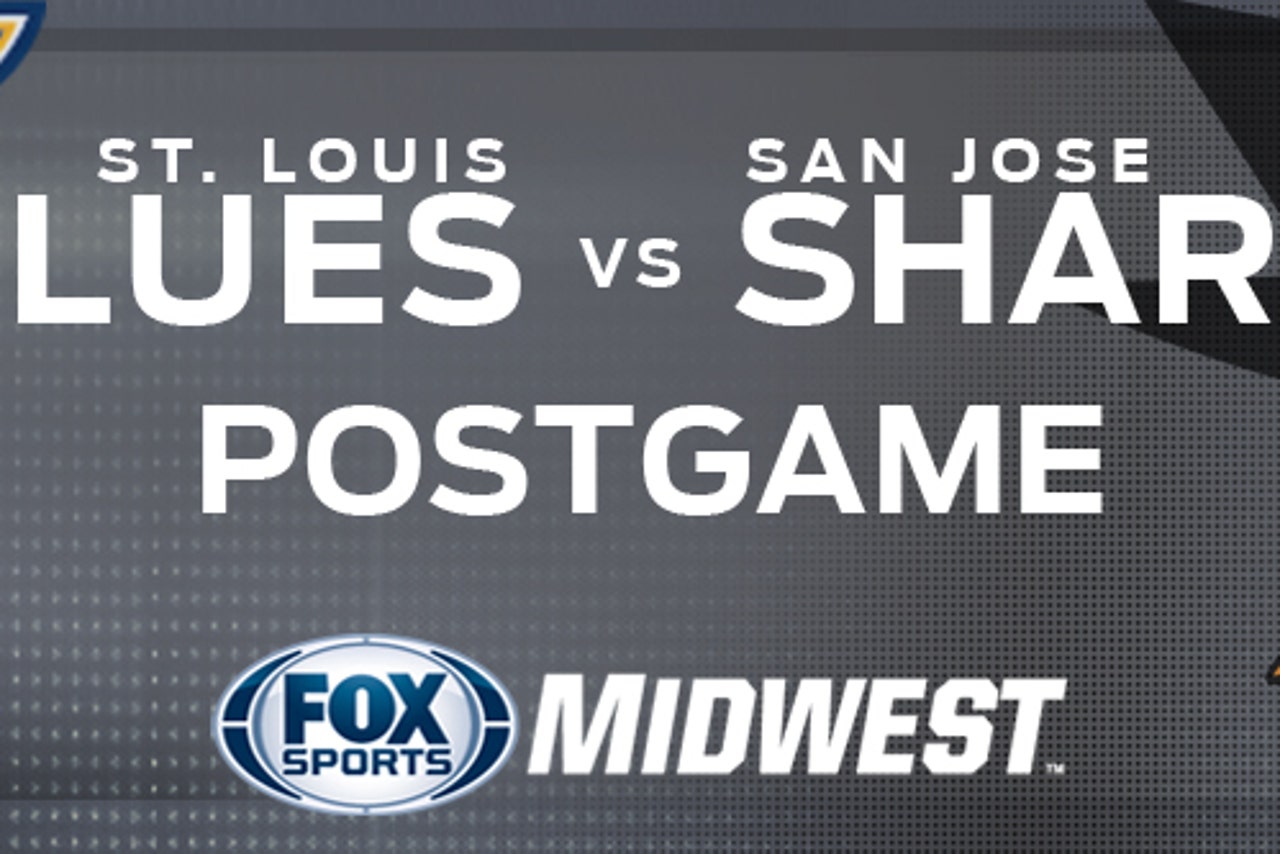 Heading into Game 1 Sunday night against the San Jose Sharks, the message from coach Ken Hitchcock to the players is time honored: Keep it simple, get the puck to the open man, avoid heroics.
"One-on-one hockey is for November and February," Hitchcock said Saturday. "Not now."
Ensemble work, combined with sterling goaltending by Brian Elliott, has carried the Blues this far. Six players have at least 10 points and five others have at least a half-dozen points.
"I think it doesn't matter who you are playing now, both teams are going to be good home and on the road," Blues defenseman Alex Pietrangelo said. "So we have to make sure we play our game."
The Sharks were the NHL's best road team during the season, although that hasn't carried over to the playoffs. They were 4-0 at home in the second round against the Predators, and 0-3 in Nashville.
"That's the playoffs," San Jose forward Tommy Wingels said. "You're expected to win at home and hold serve. If we can go in and continue winning games on the road, I'll be very happy."
Both teams are strangers in recent years to deep playoff runs, and neither has won a Cup. San Jose, in the Western Conference final for the first time since 2005, took two of three during the season.
But this, every coach and player will tell you, is a different animal.
Some things to watch:
MAKING THE STOPS: The 31-year-old Elliott has thrived in his first extended postseason opportunity, making an NHL-high 441 saves. Elliott was a ninth-round pick in 2003 by Ottawa. "It's something you wake up in the morning and you just try to have that same winning feeling," Elliott said.
Goalie was one of the biggest questions facing the Sharks heading into the playoffs given Martin Jones, formerly undrafted, had not made a postseason start. Jones has passed the test so far, posting a 2.16 goals-against average and giving San Jose its first playoff shutout in six years in the Game 7 clincher last round against the Predators. "We're confident in him," coach Peter DeBoer said. "He's been great all year for us."
CLUTCH COUTURE: It took awhile for Sharks center Logan Couture to regain form after missing about two months early in the season with a broken leg. He's at the top of his game this postseason, leading the NHL with 17 points, including a franchise-record 11 in the second round. His presence gives the Sharks a second top center behind Joe Thornton and makes it tough for opponents to match up.
X FACTOR: Blues center Patrik Berglund is playing perhaps the best of his career with four goals, four assists and a team-leading plus-9 rating. He missed about half of the regular season, totaling 10 goals and five assists.
"Did you see me in Juniors? I was sick," Berglund joked. "No, I'm happy with how I'm playing right now but there's more to go, so I hope I can elevate it even more."
POTENT POWER PLAY: The Sharks' top-ranked power-play unit has been together for years and has been a work of art this postseason. With playmaking from Joe Thornton, a big shot from the point from Brent Burns, Joe Pavelski's ability to find open space and versatility from Couture and Patrick Marleau, the Sharks have converted at 31 percent -- the best of any team that made it past the first round. In its victories, San Jose has converted 41 percent. The best defense against that unit: Stay out of the penalty box.
"It keeps the other team honest," DeBour said. "Again, you need all the pieces. I think the further you get, you can't just survive on power play."
---
---