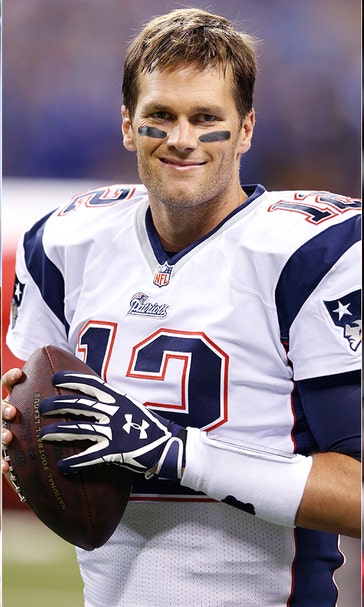 With this being Thanksgiving week, The Buzzer would like to give thanks for 20 Athlete Social Media Accounts that always keep us entertained.
This is not a ranking or a list of the best athletes to follow.
We just want to show you why we enjoy these 20 athletes and offer our thanks to them for keeping us amused on a daily basis.
So, without further ado, in alphabetical order, we'd like to thank:
1. BRETT ANDERSON: MLB pitcher regularly tweets funny observations about sports, pop culture and life.
2. PAUL BISSONNETTE: You never know what you'll get from the hockey player, which is what makes his feed great.
3. TOM BRADY: The Patriots quarterback has become a master at posting funny Facebook photos.
4. KOBE BRYANT: The Lakers superstar pulls no punches.
5. DARNELL DOCKETT: We couldn't publish his best tweets, which are usually filled with NSFW words, but the Cardinals defensive lineman has no filter.
6. SEAN DOOLITTLE: The A's pitcher has a knack for dry humor.
7. JOEL EMBIID: The Sixers rookie is thirsty, which makes him amusing.
8. ARIAN FOSTER: Like Kobe Bryant, the Texans running back isn't afraid to tackle any issue.
9. LEBRON JAMES: The Cavs superstar is a huge sports fan and constantly heaps praise on other athletes.
10. DWAYNE "THE ROCK" JOHNSON: The WWE Hall of Famer usually shares pictures of his bulging muscles, but he also drops humorous photos on a regular basis.
11. JASON KIPNIS: Indians second baseman tweets about sports a lot, but also has a great sense of humor.
12. CHRIS LONG: The Rams defensive lineman has opinions on all sports and also tweets about tons of GIFs, photos and videos.
13. ROBERTO LUONGO: The Panther goalie mocks himself while mixing in hysterical one-liners.
14. JOHNNY MANZIEL: His Instagram page is a must-follow, and we probably don't need to explain why.
15. EVAN MATHIS: The Eagles offensive lineman has poked fun at his own knee injury, posted a fake receipt that caused a stir with the media and has a thing for Katy Perry.
16. BRANDON MCCARTHY: If you make any kind of sports Twitter list, the law states that you have to have this humorous right-handed pitcher on it.
17. HUNTER PENCE: Yes, Pence's Twitter account is pretty much what you'd expect based on his personality.
18. YASIEL PUIG: If you look at Puig's Instagram page, you'd be hard-pressed to find someone who enjoys life more than the Dodgers outfielder.
19. DEVON STILL: Obviously, we hate that Still's daughter has a rare type of cancer, but we love the positive news and updates shared by the Bengals defensive lineman.
20. RYAN WHITNEY: Great observations about sports, life and pop culture.
---