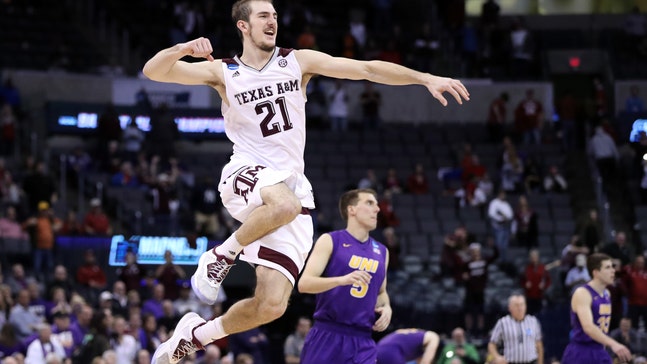 Texas A&M Completes Greatest Comeback in College Basketball History
Published
Mar. 21, 2016 10:34 a.m. EDT

Last night I was flying back from Las Vegas -- betting all 48 games we finished 26-22, our third straight year over 50% -- when my Twitter feed blew up with details of the Texas A&M-Northern Iowa game. 
The Aggies were down 12 with 44 seconds left, prompting most on Twitter, including the Big Ten's portly homer, Barstool Big Cat, to commence tossing dirt on the SEC's 2016 basketball season. 
But then a strange thing happened, A&M completed the most incredible comeback in the history of college basketball. (That isn't hyperbole either. No team had ever come back to win from 12 or more points down with a minute or less to play.)
I had to follow it on Twitter -- you guys were great keeping me updated -- but many of you still haven't seen the comeback, so here it is in all its glory. If anything, it's kind of incredible how calm the announcers are. They're seeing something that has never happened before in the history of college basketball and it's almost like they expect it to happen.
The other wild thing about this comeback -- not one free throw attempt for Northern Iowa. Granted, Northern Iowa turned it over four times, but it's still pretty remarkable that they never even attempted a free throw. You'd anticipate a ton of missed free throws in order for a comeback like this to happen.
If you missed the comeback, here it all is in one place. And if you're a Northern Iowa player, coach or fan, I have no idea how you ever forget this. I'm sorry.  
---