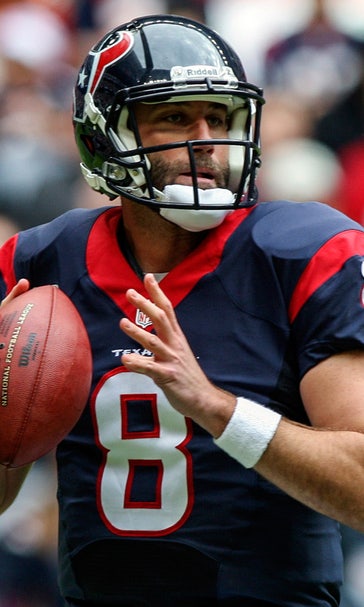 Texans QB Schaub traded to Raiders
March 21, 2014

ALAMEDA, Calif. (AP) -- Matt Schaub and the Oakland Raiders are both hoping to put the mistakes of 2013 in the past.

The Raiders acquired Schaub from Houston on Friday for a sixth-round draft pick, giving the quarterback a second chance after he lost his starting job with the Texans last season.

"A fresh start can do a lot of things for a player and a team and I'm one of those guys," Schaub said. "Last year did not go as I had planned, given my prior nine years before that. I'm looking for a fresh start, I'm excited for the opportunity here."

The deal also is a second chance for Oakland general manager Reggie McKenzie, whose trade last spring for Matt Flynn was a bust when he couldn't win the starting job and was eventually released early in the season.

Coach Dennis Allen said Schaub comes in as the starter after Terrelle Pryor and Matt McGloin were inconsistent last year in Oakland's second straight four-win season.

Schaub was Houston's starter from 2007 until last season, when he was benched in favor of Case Keenum after a terrible start to the year. The Texans were expected to contend for a Super Bowl last season, but instead became the NFL's worst team, sinking to 2-14, which tied the worst record in franchise history.

It was clear after last season that Schaub didn't have a future in Houston, but his departure looked to be imminent on Thursday night when the Texans signed veteran quarterback Ryan Fitzpatrick.

"We weren't going to let last season deter us from the player and the track record that he has shown over his career," offensive coordinator Greg Olson said. "He was our No. 1 target from Day 1, and it was just a matter of getting the deal done."

Along with failing in the Flynn trade, McKenzie also wasted a fourth-round draft pick on quarterback Tyler Wilson, who did not make the roster out of training camp and was eventually signed off the practice squad by Tennessee.

The move takes pressure off Oakland to use a high draft pick on a quarterback in May when Teddy Bridgewater, Blake Bortles and Johnny Manziel are all projected as first-round picks.

The Raiders pick fifth overall in the draft but now can use that selection to fill another hole. The Texans might be in the market for a quarterback with the top pick.

Oakland is hoping last year was an aberration for Schaub.

While the Texans had plenty of problems, Schaub's poor play was perhaps the biggest. The Texans won their first two games before Schaub began to struggle and he threw six interceptions, three of which were returned for touchdowns in the next three games. He started the sixth game of the season and left with an injury before being replaced in the starting lineup by Keenum.

"People look at Schaub and only look at his last year," said Raiders safety Charles Woodson, who officially signed his one-year contract to return earlier in the day.

"I think they base his career off of his last year. But, I see a guy that, in my opinion, has been very steady. He's done some really good things throughout his time. Sometimes you just need a fresh start, a new set of circumstances to restart, to restart your history. Hopefully this is the place that he can get it done."

Keenum was injured late in the season, forcing Houston to go back to Schaub for the last two games. He didn't fare any better than he had before he was benched and he threw four interceptions combined in the last two games as Houston wrapped up the season with a 14-game skid.

The 32-year-old is a two-time Pro Bowler, who last made the game in 2012. He had been solid for the Texans since taking over the job after being traded from Atlanta in 2007, but his best seasons came in 2009 and 2012 when he started every game. In 2009, he led the NFL in yards passing (4,770), completions (396) and attempts (583) and was fifth in touchdown passes (29). In 2012, he threw for 4,008 yards with 22 touchdowns and 12 interceptions to help Houston to its second straight AFC South title.

He spent three seasons with the Falcons as Michael Vick's backup before joining the Texans, and has thrown for more than 24,000 yards with 130 touchdowns in his 10-year career.

---