Territorial Cup perspectives vary by locale, until the uniform goes on
BY foxsports • November 25, 2014
For as long as it has been played, the Territorial Cup game between Arizona and Arizona State has divided the state and even households, drawing lines between Sun Devils and Wildcats. Some fans are indoctrinated from an early age, taught to love one and hate the other.
But when the game itself is played, most of the men on the field have roots elsewhere. They're outsiders to a degree, without a lifetime of context on the rivalry. Once the uniforms come on, though, those state lines disappear.
We spoke this week to a smattering of Sun Devils and Wildcats to examine the different viewpoints from which in-state and out-of-state players see the Territorial Cup.
FSAZ: What memories do you have of the game from growing up in Arizona?
UA punter Drew Riggleman (hometown: Tucson): "My grandparents have season tickets so I remember them getting ready to go to the game. My entire family would talk about how important it was. It's crazy to be on this side of it."
UA kicker Casey Skowron (Phoenix): "The biggest thing I remember was everyone saying ASU is a football school and Arizona was not. That no one cared about basketball and that's all that Arizona has."
ASU running back D.J. Foster (Scottsdale): "Just seeing so many great players play in this game throughout the years, and how intense and how much fun they are to watch. I just love being a part of this history."
ASU receiver Gary Chambers (Glendale): "I was a senior in high school, I think the 2010 win down there, and I remember seeing videos on YouTube of the campus and everyone going crazy after we won and seeing the team down there going crazy. I remember how wild that game was. I could see all the excitement around it and how big of a deal it was to ASU."
FSAZ: Was the rivalry a big deal in your family?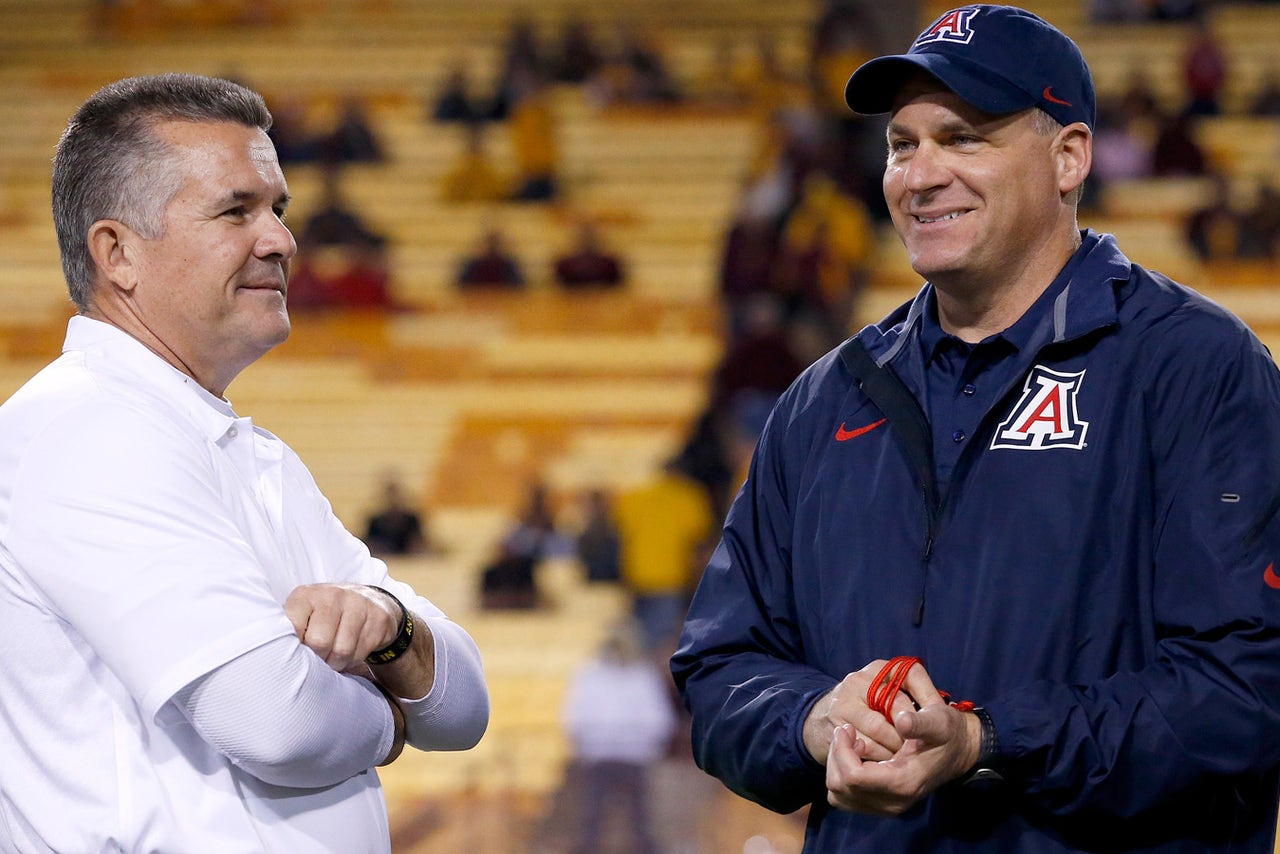 No. 13 ASU at No. 14 ARIZONA
When: 1:30 p.m. Friday
Where: Arizona Stadium, Tucson
TV: FOX (Tim Brando, Joel Klatt, Jenny Taft)
ASU offensive lineman Christian Westerman (Chandler): "I have a cousin who goes to UA, so it's pretty big in my family. We always bicker about it and stuff like that. It's definitely a big game for who owns Arizona. We were always an ASU house. I grew up as an ASU fan."
UA OL Steven Gurrola (Phoenix): "I didn't pay attention to it but I knew it was big because when I committed here (from Glendale Community College) people were telling me, 'why?' and 'forget UA.' I was confused. I was thinking, 'shouldn't you be happy for me?' All my family and friends would say, 'even though you are going to UA I'll still cheer for you, but just you.' I'm OK with that."
But far more players grew up without a front row seat to the rivalry, be they from California or Texas or even the other side of the country. And from the sound of things, word about the Territorial Cup didn't get much past Arizona's borders.
FSAZ: Did you know much about this rivalry growing up in a different state?
ASU quarterback Taylor Kelly (Eagle, Idaho): "I heard a little bit, just from me following Jake (Plummer). I didn't know the extent of it until I came out here."
ASU QB Mike Bercovici (Calabasas, Calif.): "Not too much. I always kind of followed the Pac-10 teams. I really was a UCLA-USC kid to be honest with you."
UA RB Nick Wilson (Fresno, Calif.): "I've heard the rivalry is really intense. I've heard stories here and there and I get a feel for it. So far this week it's UA-ASU, so there's a different kind of vibe in the air."
UA defensive lineman Dan Pettinato (Grass Valley, Calif.): "I didn't know much about it until I came here."
FSAZ: How did you learn just how much it means to everyone involved?
Pettinato: "As the years went on, going up there and playing in it, finding out about the environment up there and when they come down here. Playing here you grow to learn how intense the rivalry is."
Bercovici: "It was Thursday night, I just got home from practice, we had a game the next day in high school, and I ran home to watch the UA-ASU game when they were down there (in 2010) and Coach (Dennis) Erickson was here. Once I saw us block that (point-after attempt) in overtime, it was on from there on out. I knew this was serious because I saw the way the team celebrated. From then on I was like 'Man, I just can't wait to be a part of the maroon and gold of that rivalry."
ASU safety Damarious Randall (Pensacola, Fla.): "When I got to juco in Arizona at (Mesa Community College), that's when I actually got kind of familiar with the rivalry. It was just kind of a natural hate by the time I got here."
For in-state players, too, becoming a part of the rivalry showed them a side of it they'd never known. There's a big difference between watching the games and being on the field or holding the trophy.
FSAZ: How did becoming part of the rivalry change your perspective?
Chambers: "When I got here as a freshman, just in the mood in the atmosphere the whole week leading up to the game, you could tell it's kind of part of being a Sun Devil. You get something in your heart, you feel it."
Foster: "Being a part of this and seeing all the tradition and how people really do have hatred to a certain extent, it's just a fun game. That first game I played down there in Tucson, I just saw the intensity of how my teammates and the coaches and everyone approached it. I just loved it from the beginning."
For everyone involved, no matter your hometown, Territorial Cup produces lasting memories. In recent memory, the better memories have belonged the Sun Devils, who have won three of the last four meetings.
FSAZ: What stands out among your Territorial Cup memories?
UA safety Jared Tevis (Tucson): "Probably not winning the last two years. (Last year was) one of those losses that sticks with you. It hurt because we didn't give them our best shot."
Foster: "For me individually, it was last year coming in for my first start with Marion (Grice) going down. I got the chance to play that game and I got MVP, so that was one of my most memorable moments."
Bercovici: "I think one of the most memorable things in my time was when Kevin Ayers blocked the punt down there (in 2012). That was something where being on the sideline to be a part of that and not have to watch it on TV was pretty exciting. And then when Will (Sutton) was running around with the Cup here (in Tempe last year)."
---