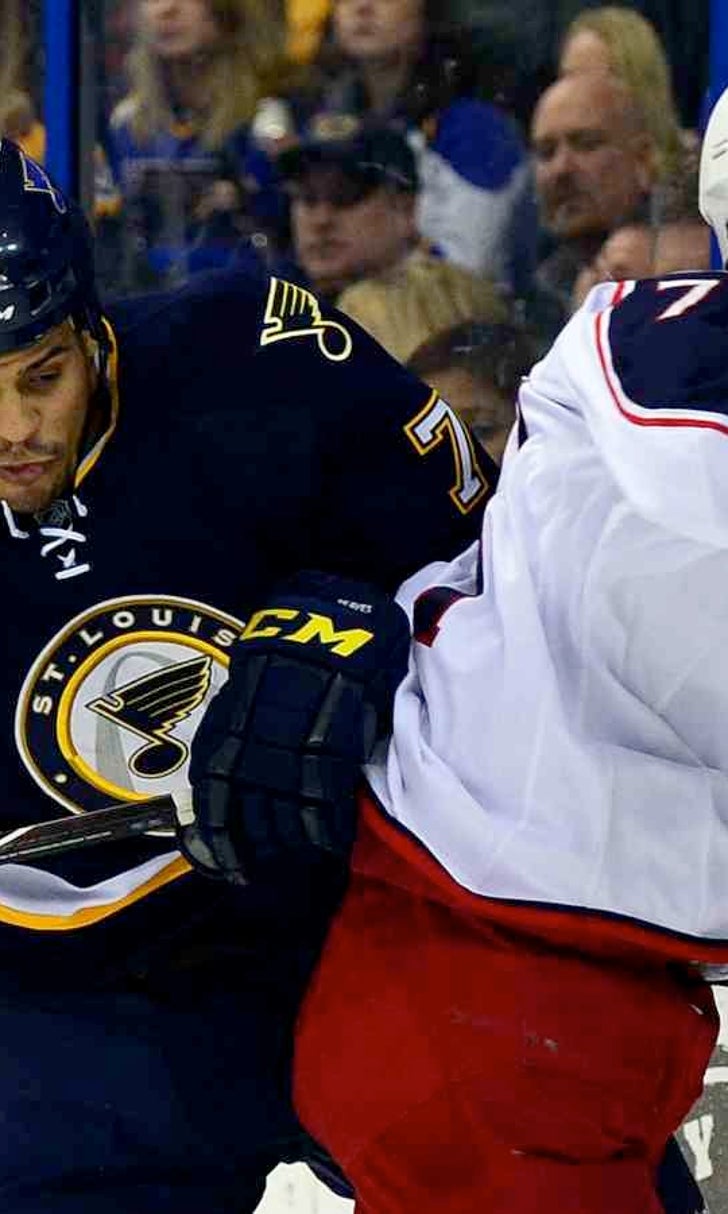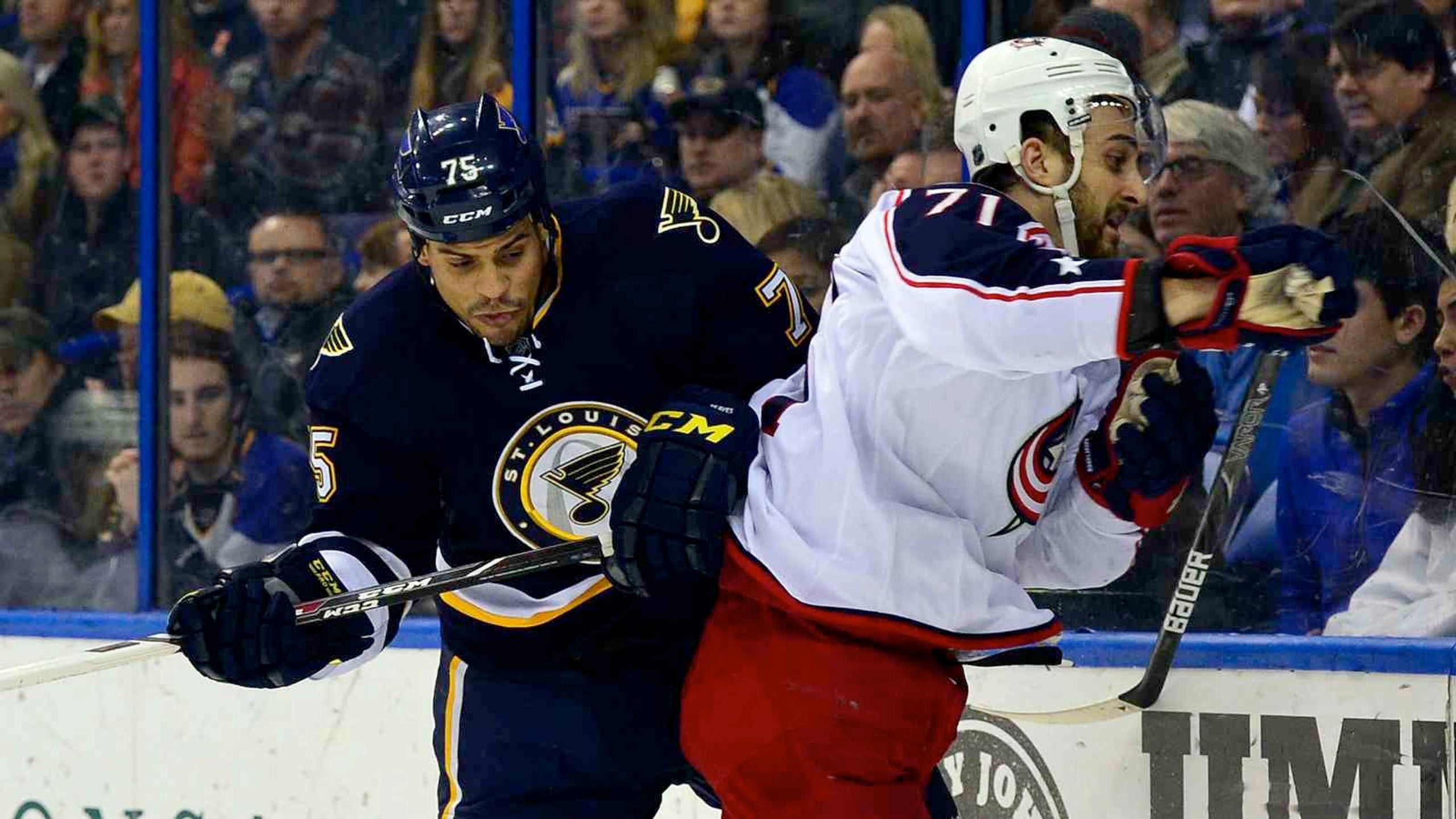 Teammates make Foligno star of the game in win vs. Washington
BY foxsports • February 1, 2014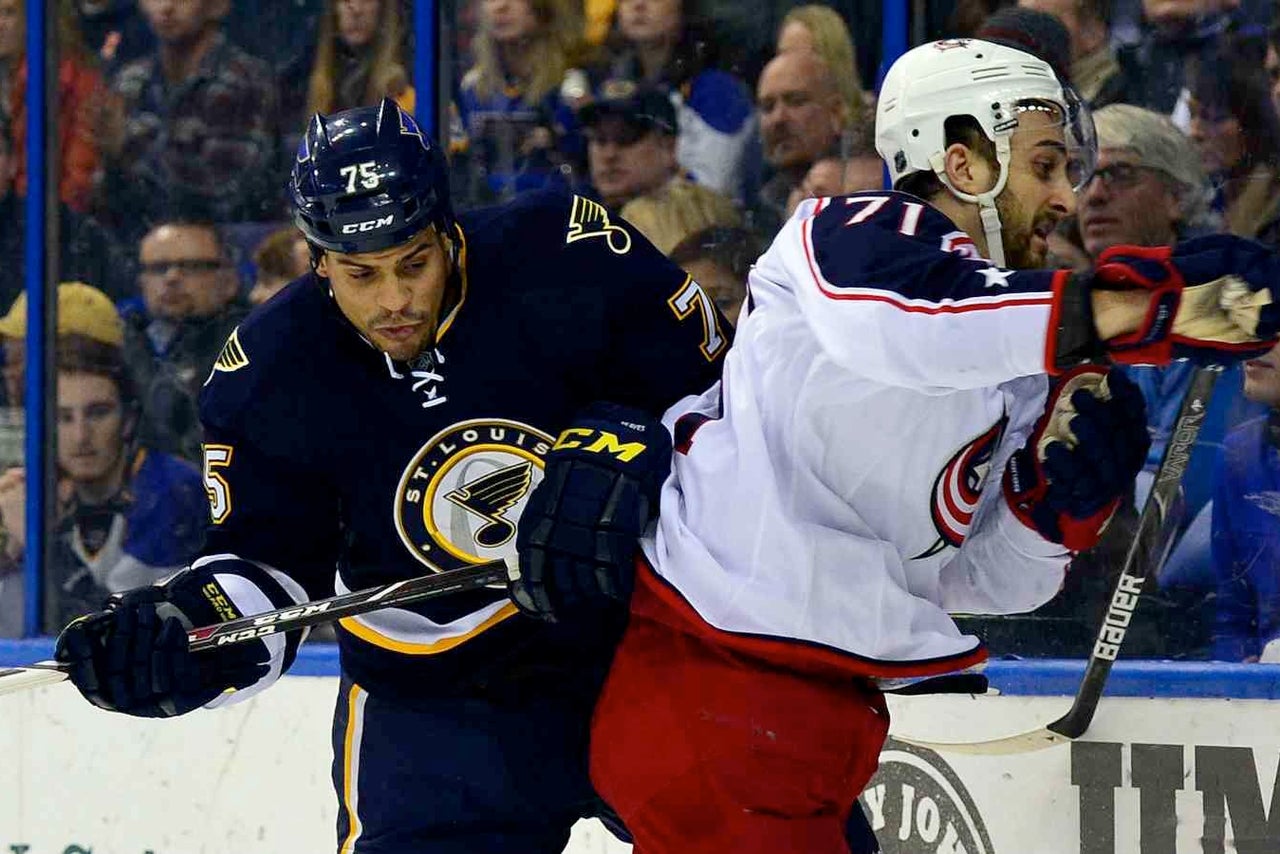 There they were, the championship belt and crown, sitting in Nick Foligno's locker after the Columbus Blue Jackets had defeated the Washington Capitals 5-2 Thursday, in the team's latest "biggest game of the year."
The belt and crown are handed out after every winning effort by the players, to the teammate they feel had the most impact on the victory. A quick glance at the game sheet reveals Foligno played 10 minutes and had no points and no shots on goal. Say what? So why was all that shiny swag parked in number 71's locker?
Rewind to the first period Thursday at Nationwide Arena. Capitals forward Tom Wilson had plastered Columbus defenseman Nikita Nikitin into the boards with a hit that some thought was borderline. Nikitin lay on the ice for a while after the hit, but luckily he had only had the wind knocked out of him.
But even though Nikitin wasn't badly hurt, Foligno felt Wilson needed to answer for the shot from behind. So a few minutes later, he challenged Washington's rookie winger.
"Yeah, I mean I just obviously didn't like the hit; that's where you can kind of police things yourself," Foligno explained."Not to say that I'm trying to go out there and make anybody answer the bell. I asked him, he was obliging, and we had a good scrap. And it kind of got the guys going, so it was good."
Isn't that the truth? Less than two minutes after the Foligno-Wilson scrap, Derek MacKenzie scored a shorthanded goal to give the Blue Jackets a 1-0 lead, which they would extend to a 4-0 cushion before the Caps got on the board. Everyone on the Columbus bench felt Foligno's effort was the catalyst for the team's energy surge Thursday.
"You're always hoping that it'll motivate your team," said Foligno. "That was something I just wanted to do for Niki. He plays a lot of big minutes for us, and I feel like he didn't have a chance to defend himself on that one.
"And I know any guy would do that for anyone on our team. It just happened to be me, we got a big shorthanded goal by Derek (MacKenzie) after that, and the guys kept going from there. It was a big win, and we've got to continue to do that down the road here."
No doubt Foligno stepped up for his team when he challenged Wilson Thursday. And it wasn't the easiest thing to do, considering the Capitals young, 6'4 tough guy stands four inches taller than Foligno.
"You know, it was funny," he said. "As I got closer to him, I realized how much bigger he is than me, and it's just one of those things. You go into a fight and those things are going to happen. You're going to take a few punches to the face, but I came out no worse for wear (swollen nose).
"Some guys say it's an improvement on my looks," Foligno laughed. "It was good; it gets you into the game, as well. It got me into the game. Unfortunately, I had to sit for 17 minutes after that, but the blood's pumping, and we scored two big goals after that, and it was a big win for us."
With Jared Boll injured, it's important for the Blue Jackets to police their on-ice environment by committee. Foligno admits it's more difficult with Boll out of the lineup but believes his team has manifested a collective toughness that's working.
"You lose a guy like Jared, you lose a little bit of your toughness, so other guys have to step up," he noted. "I think we've had that. You see Matt Calvert fighting, Derek MacKenzie, Brandon Dubinsky, James Wisniewski. Guys are stepping up. We have a lot of toughness on this team, not just Jared.
"And it doesn't have to come just from fights either," Foligno went on. "It comes from our physicality, and I think that's a way for you to turn teams off from taking liberties on your good players. We have guys in this room who are capable of handling themselves, and anytime that presents itself, we know we have the answers. That brings a team together, too. I think it's a real good mix of toughness that we have, and I think that's allowed us to play the game we've played all year."
Who won the Foligno-Wilson fight? Despite the swollen nose, let's call it a draw. But Foligno still got the belt, at least for a couple of days, and the Blue Jackets got more affirmation that they are a group that plays with -- and for -- each other.
That makes it a unanimous decision.
---