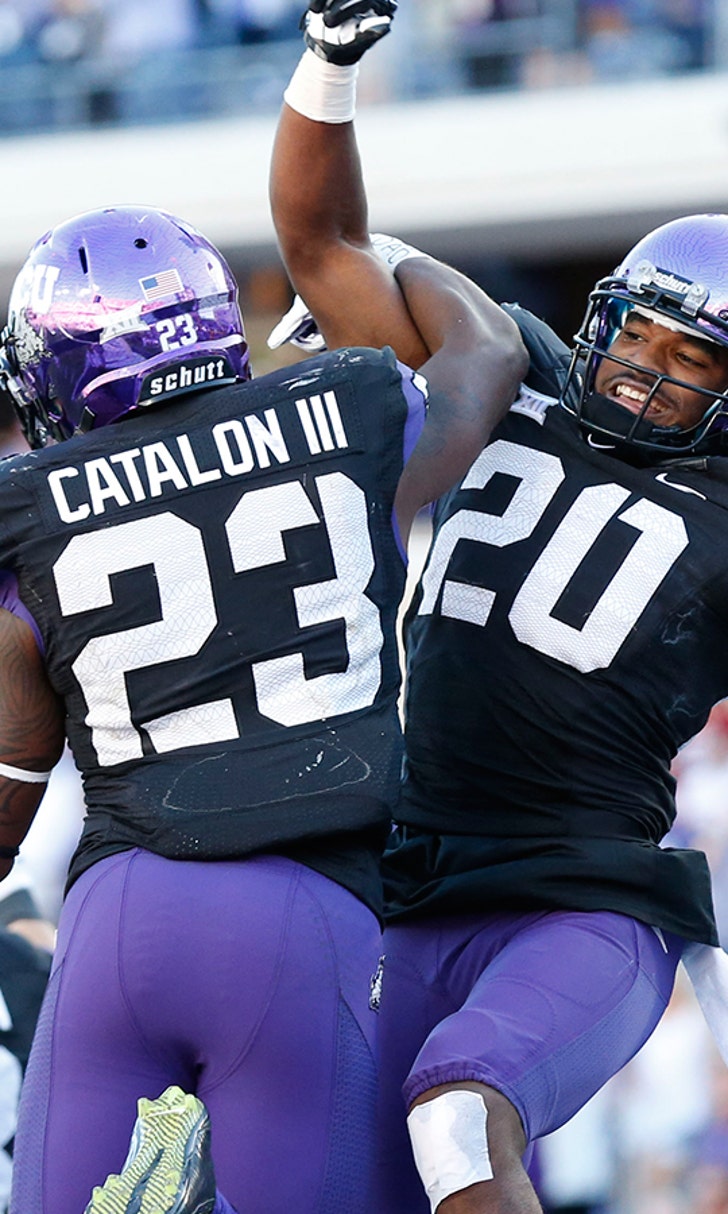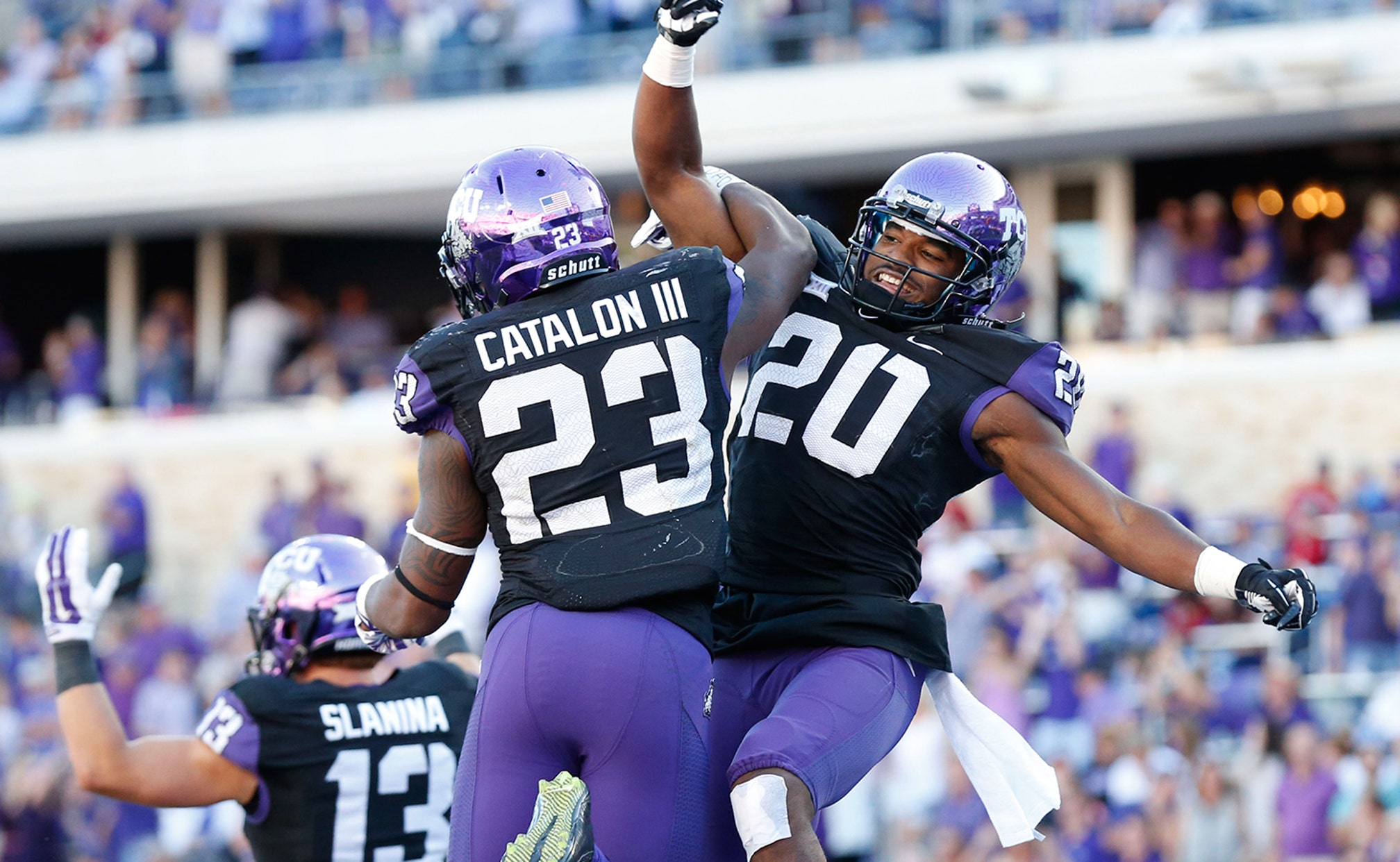 TCU can take control of Big 12 with another big win
BY foxsports • October 7, 2014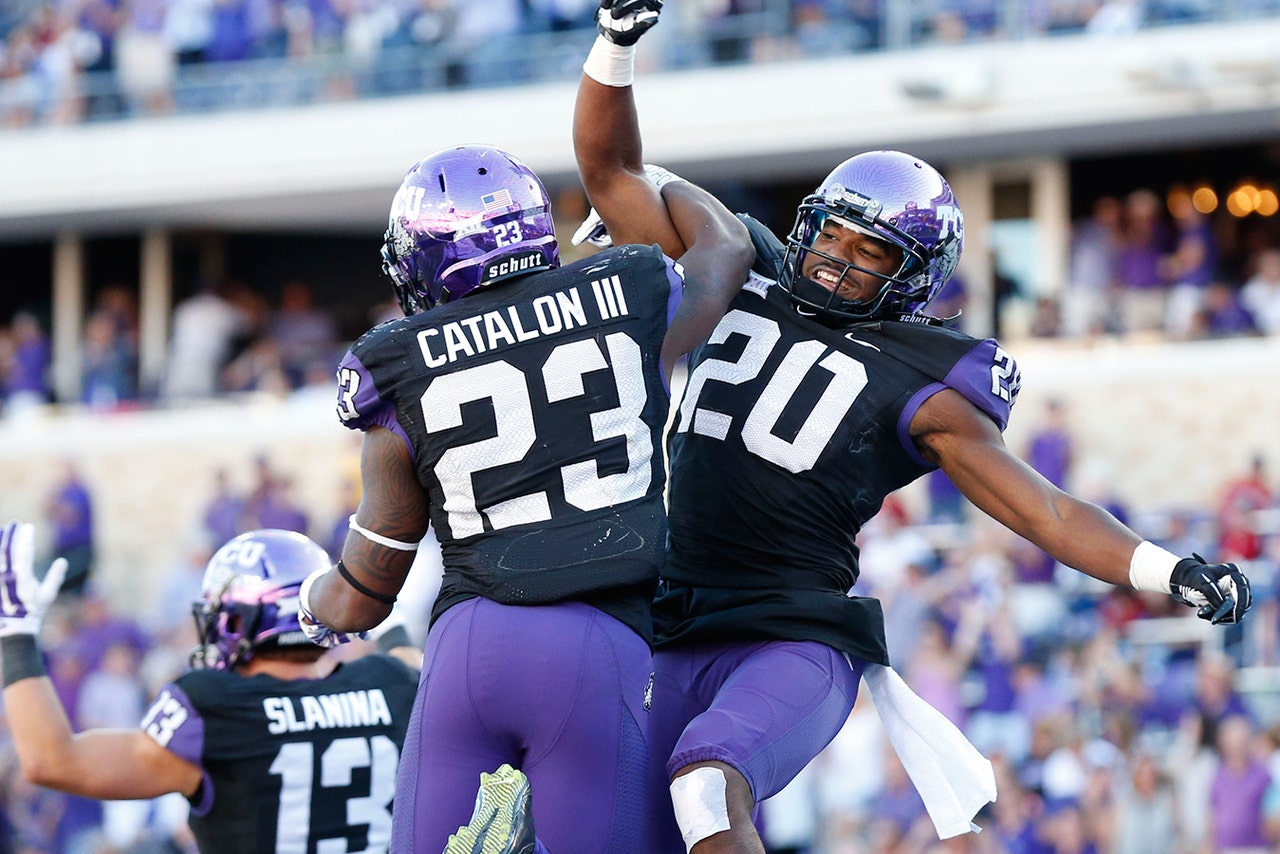 FORT WORTH, Texas -- Two weeks ago TCU was an unranked 3-0 team that was cruising comfortably below plenty of football radars across the country.
Saturday's 37-33 win over Oklahoma changed all that for the Frogs.
Now TCU (4-0, 1-0) is ranked ninth nationally, has been mentioned for a College Football Playoff spot and is playing in one of the country's marquee games once again this weekend Saturday at Baylor.
While the OU win has created plenty of buzz around campus, it's pretty much been business as usual for the football team itself. That's because this is the kind of season TCU expected.
"This is what we came to the Big 12 for," senior defensive back Kevin White said. "This is what we came to prove that we could go out there and play top 10 teams every week. We're not just getting up for one game, playing one team tough. We're going to try and do it every single week. That's our goal."
The game at fifth-ranked Baylor (5-0, 2-0) Saturday is just part of a brutal October scheduled that started with a victory over then fourth-ranked Oklahoma and also includes a game against 16th-ranked Oklahoma State.
But because of the 24-hour rule after games the Frogs have moved on from their win against OU. And they don't play Oklahoma State until Oct. 18. That means Baylor, which leads all FBS teams in scoring offense (51 points) and is No. 2 in total offense (590.6 yards) has all the attention of the Frogs.
And if recent history is any indicator, Saturday's game should be a close one. TCU has won four of the last six matchups. Two years ago in his first road start Trevone Boykin led the Frogs to a 49-21 win in Waco, making TCU the last team to beat the Bears at home. Last season Baylor won in Fort Worth 41-38.
Now both are vying for the early frontrunner status in Big 12 play.
"It's going to be a pretty big game going back into Waco, and trying to beat those guys," said Boykin, the reigning Big 12 offensive player of the week. "We're going to have to win games on the road in order to win a Big 12 championship and we know that. We're going to try to bring our own intensity and create our own energy and try go in there and give those guys a good game."
While in recent years the matchup has been about TCU's stingy defense matching up against Baylor's explosive offense that might not be the case Saturday. The Frogs rank 16th nationally in total offense and the defensive is still a force, ranking seventh nationally in both total defense and scoring defense.
Despite the new up-tempo offense in place the Frogs know that Saturday things could revert back to form with TCU's defense trying to slow down the Bryce Petty-led Bears. The Frogs are fine with that too. 
"As a defense you want to shut out anybody," said safety Chris Hackett, who had an interception against OU.  "That's the goal to try and shut out a team. That's one of our goals to try and shut out anybody we play. Having an offense that can contribute and score definitely helps. If our offense goes for 50 we don't want to give up anything. That's just the mentality we have as a defense. Just like the offense wants to score every time they get the ball."
Another win Saturday would put even more of a spotlight on the Frogs but head coach Gary Patterson isn't thinking about that. The Frogs were a national power when they were in the Mountain West Conference, winning three straight conference titles before joining the Big 12 and finishing second nationally following the 2010 season. 
Now in their third season of Big 12 play, the Frogs are a national player again. And Patterson believes his team still has room to grow.
"For us you've got to go through the hard times and to me the last couple of years have been that," he said. "I don't think we're out of the water yet here this season. I think our kids have really played hard and I think they deserve a lot of credit for doing what they do."
MORE FROM FOX SPORTS SOUTHWEST: 
- Ranking NFL quarterback salaries
- Best college football traditions
- Greatest NBA players without a championship ring
---