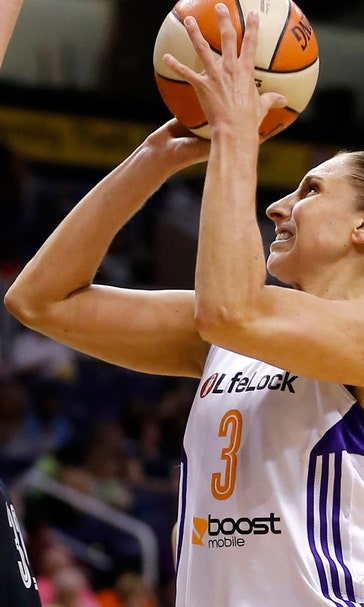 Taurasi, Mercury nets seventh straight win
BY foxsports • July 6, 2014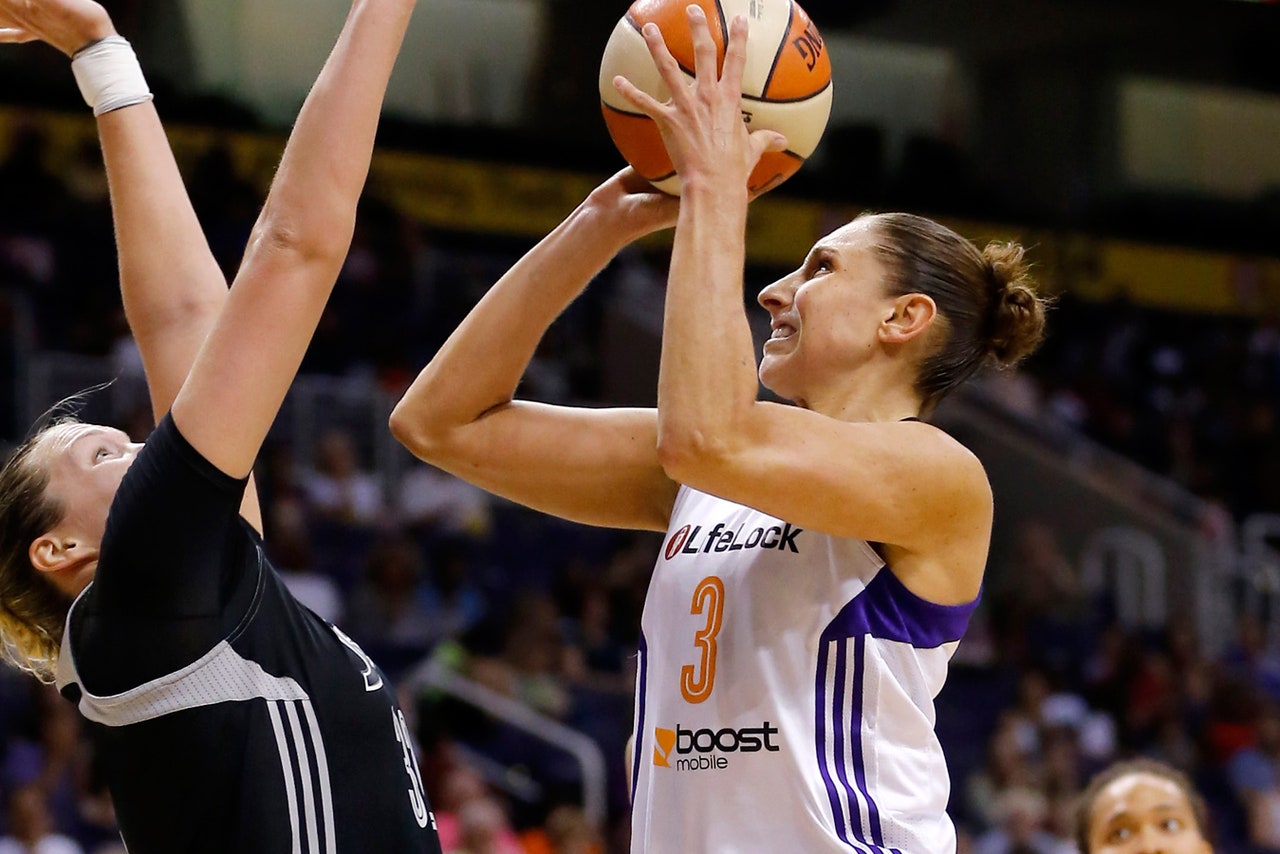 LOS ANGELES -- Diana Taurasi put up a 3-pointer in the closing seconds. The ball went in, time expired and the veteran guard had coolly delivered another victory for the Phoenix Mercury. This one was extra special.
Taurasi scored a season-high 32 points, including a season-best seven 3-pointers, playing in front of family and friends from her nearby hometown of Chino, and the Mercury beat the Los Angeles Sparks 94-89 for their seventh straight victory Sunday, tying a franchise record.
"In those moments, you can't really panic," Taurasi said. "You actually have to feel the most relaxed because you've done all the work. You've played 38 minutes. Now, let's get a good shot and if it goes in, you feel good about it. If you don't, go on to the next game."
Penny Taylor hit a go-ahead 3-pointer with 1:18 to play, giving the Mercury a 90-89 lead. They got the ball back on a turnover by Kristi Toliver, leading to Taurasi's 3 with 8 seconds left that ensured the Mercury's longest winning streak since August 2006 and the longest in the WNBA this season.
"Diana is amazing," Sparks forward Nneka Ogwumike said. "She's going to make some crazy shots."
Mercury coach Sandy Brondello, a former Sparks assistant, didn't bother calling a timeout.
"We know what we needed to run," she said. "Diana made a big play. She's a great player. That's what they do."
Taylor added 17 points, Candice Dupree and Brittney Griner had 15 points each, and DeWanna Bonner had 11 points and eight rebounds for Phoenix (13-3). The Mercury's winning streak has coincided with Taylor joining the starting lineup on June 15.
Candace Parker scored 10 of her 27 points in the fourth, when the Sparks (7-10) trailed by six to start and fought back to lead by four twice before losing. Toliver added 26 points, including five 3-pointers. They fell to 3-6 at Staples Center.
"It was a big-time heavyweight fight," Sparks coach Carol Ross said. "They punched hard and fast, and we hit back."
Los Angeles had chances to win after Toliver's 3-pointer put the Sparks ahead 89-87 with 2:37 to play. But they were done in by errors. Ogwumike missed two layups and Parker watched as her jumper went in and out with 46 seconds to go.
"We shouldn't have had to battle back," Parker said. "I'm tired of all of us being right there. We better get it together soon."
Phoenix broke open a tie game early in the third with a 10-0 run. Taurasi scored five in a row and Griner added a three-point play to give the Mercury a 62-52 lead. They stretched it to 68-54 on three consecutive baskets, helped by Sparks turnovers.
Ogwumike, Alana Beard and Toliver combined on a 10-5 run to close the Sparks' deficit to 73-64 going into the fourth.
Los Angeles recovered from its horrible start in the second, taking its first lead of the game on a pair of free throws by Lindsey Harding. The Sparks gained and held onto the lead while Parker was on the bench getting her first break of the game. She returned to help them stretch the lead to seven points on a layup before settling for a 47-45 lead at the break.
The Sparks trailed by 13 three times in the opening quarter, when the Mercury shot 71 percent.
---