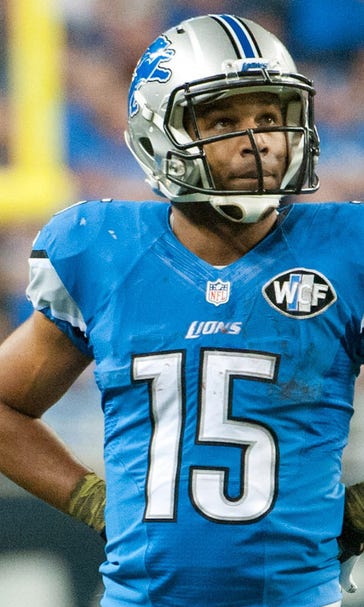 Tate's lack of touches against Cardinals baffling
BY foxsports • November 17, 2014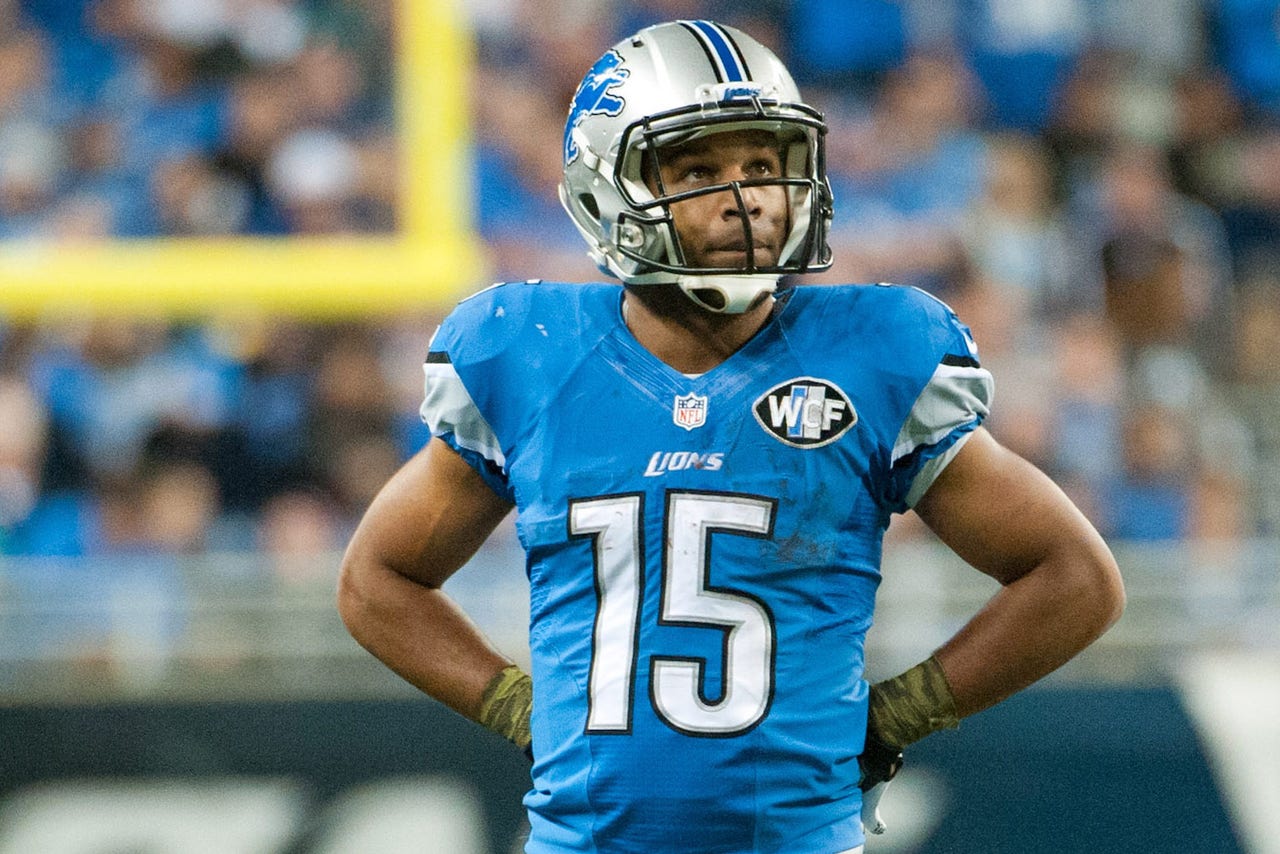 ALLEN PARK, Mich. -- Nothing stands out from the Detroit Lions' 14-6 loss to the Arizona Cardinals quite like the stat line for receiver Golden Tate.
Tate made only two catches for 41 yards. Most importantly, he was the target for only those two passes all game.
This is the same guy who had been racking up more than 100 yards receiving on a weekly basis and had become the team's biggest threat of late.
Some of the credit certainly goes to the Arizona defense, especially cornerback Antonio Cromartie and the Cardinals' aggressive, blitzing style that put pressure on Lions quarterback Matthew Stafford.
Nevertheless, the way that Tate was used is a head-scratcher.
"Every game is different," Lions coach Jim Caldwell said Monday during his weekly news conference when asked about Tate's lack of touches. "There may be some games where he gets 10, there may be some games where he gets one.
"We've got a number of guys out there that are capable of getting the ball. Ebron (tight end Eric Ebron, who returned after missing three games) got a few more this week (four catches for 22 yards on four targets). It changes from week to week."
Tate also ran the ball once for eight yards, but he was mostly the forgotten man, or so it seemed.
And it wasn't as if other elements of the offense were working so well. They finished with only 262 total yards and failed to score a touchdown for the first time in five years.
"It's not a matter of going to him," Caldwell insisted. "The plays that we call, a lot of the plays are the same plays where he might have gotten the ball previously.
"You look at the progressions (by the quarterback). There might have been a guy in front of him (Tate). 'Let's go somewhere else.' Those are the things that happen more so than we're not designing any plays to go to Golden. That wasn't the case. It's just kind of the way things turn out sometimes.
"You all think it's targeting, but it's not targeting. It's progressions. A lot of factors go into that. Pressure (on the quarterback), all those kinds of things."
The Lions started the season with extremely high expectations for the offense because they had so many weapons around Stafford, especially with the addition of Tate and Ebron.
But as difficult as it's been to explain the positive turnaround by the defense, it's been just baffling to understand the inconsistencies of the offense.
A new system under first-year offensive coordinator Joe Lombardi certainly was a factor early on. Injuries and perhaps lack of timing because of them also have contributed.
But scoring one or fewer offensive touchdowns in four of the first 10 games, the way the Lions have done, must be considered a little embarrassing based on the personnel.
"Sometimes it may be a route that's not run exactly like you'd like it," Caldwell explained. "Or it's the ball placement, it's not thrown exactly where you'd like it with the kind of timing you're looking for.
"It could be pressure on Matthew that could have given him some problems. That could have come from offensive line, tight end or backs. There's never been any one thing. That's the thing with consistency.
"We've had our spurts. We just haven't been able to do that consistently across the board. That's what we're striving for. We've got time to do it. All the things we've got problems with, they're correctable, we can fix."
The Lions, who have another tough road challenge Sunday at New England, are tied for first place in the NFC North with Green Bay with six games remaining.
However, they rank 21st in total offense, 12th in pass offense and tied for 30th in rushing offense.
Under the circumstances, it's inevitable that the play-calling is going to come into question. After all, this is Lombardi's first time on the job.
Caldwell, not surprisingly, defended his coordinator.
"Certainly I'm satisfied with it," he said of the play-calling. "Joe does a good job."
"Here's the bottom line," Caldwell added. "Every defensive call, every call on the special teams, every call on offense goes through me. If I don't like it, I'll change it.
"I'm responsible for every call that goes into the ballgame, plain and simple. It's my prerogative. I'm responsible for everything that goes on whether effective or ineffective."
Too often with the offense these days, it's been surprisingly ineffective.
INJURY UPDATE
--- Receiver Calvin Johnson was treated for an elbow injury, but it's not expected to keep him out any length of time.
"I would not expect there would be long-term ramifications," Caldwell said. "Calvin's a guy who's been around a while, I think he was able to fight through it without any problems."
--- A foot injury that forced offensive tackle LaAdrian Waddle out of the game also is not a long-term concern, according to Caldwell.
EXTRA POINTS
 --- Caldwell, on running Theo Riddick in a third-and-1 situation late in the third quarter, rather than Joique Bell, a bigger back: "In terms of our preparation, we thought that was going to be a good play for us in that situation. It didn't turn out that way."
--- Caldwell, on whether he had gotten a clarification from the league on the controversial punt play that forced the Lions to start at their 1-yard line rather than near midfield: "They said he (Arizona's Justin Bethel) possessed it. That was it. End of story."
---