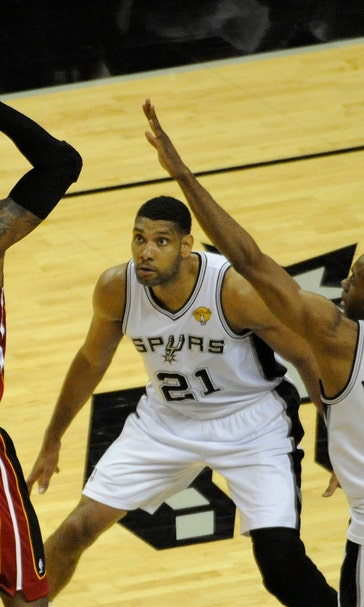 'Targeted' Heat hit Game 2 bullseye in San Antonio
June 9, 2014

LeBron James and the Heat are one of the most predictable teams in all of sports. And what is most predictable is their greatness. They self-centeredly view themselves as 'targets' but in truth, in Game 2 at San Antonio, they were the ones who eventually hit the bull's-eye.
On Sunday morning before Game 2 of the NBA Finals in San Antonio, I said on 105.3 The Fan that LeBron James would respond to his Game 1 cramps and the ensuing flood of worldwide cramp-related criticism by putting up, oh, say, 35 points, 10 rebounds and eight assists.

 

It was an easy prognostication. How difficult is it to predict excellence for the excellent? How many games does LeBron usually go without having a monstrously positive influence on the outcome? How much more difficult is it for an opponent to overcome him when he combines his basketball brilliance with a chip on his broad shoulders born of his belief that he's been unfairly criticized?
"I know I'm the easiest target that we have in sports," LeBron said to ESPN during the two-day break between Finals games. "I'm aware of it."
An easy target. An easy prognostication.
In Miami's 98-96 win, James scored the 35 points. He pulled down the 10 rebounds. I missed the mark just a little bit otherwise as he totaled four assists -- but the final one was huge, on a feed to Chris Bosh for a go-ahead 3-pointer with 1:18 remaining.
"When the ball is in my hands," James said, "I'm going to make the right play."
Some of LeBron's defensiveness comes across as whiny and some of it comes across as hypocritical -- especially if you are a Dallas Mavericks fan who remembers that LeBron James in the 2011 NBA Finals did to Dirk Nowitzki exactly what the public did to LeBron after the air conditioning went out in Game 1 in San Antonio.
So... LeBron has cramps? Cough. Cough.
The whimpering part of LeBron's way of perceiving criticism is notable because he knows very well by now that it is part of the territory. You want to be a movie star, the President of the United States, the quarterback of the Cowboys? This is what you get. LeBron is, in terms of publicity in the basketball world, all those things rolled into one. But he should also be aware that he is not only the biggest target for criticism in basketball and beyond, he is also the biggest target for praise and fame and fortune in basketball and beyond.
Being made fun of on Twitter is the price one pays. It's the trade-off. It does seem silly but it does not seem unjust.
"What happened on Thursday was Thursday," James said. "My whole focus was how I was going to try to help this team even this up and just try to make some plays."
He did just that, overcoming Tony Parker's 21 points and Tim Duncan's 18/15 effort for a Spurs club that had won eight straight at home by at least 15 points. He did it with some preparatory alterations that may have been as psychological as they were physical; he wore shorter compression shorts and attended a Sunday morning yoga class. And he did it with help from that big bucket from Bosh, who marched in lock-step with the theme of the night when asked about LeBron as the No. 1 easy target for criticism in sports.
"I," Bosh replied, "am probably the second (easiest target for criticism in sports.)"
Um no. If the sports galaxy revolves around LeBron as if he is the sun, Chris Bosh barely qualifies as Uranus.
They can come across as whiny and arrogant and self-centered. But also, in the end, LeBron's Miami Heat come across as predictably excellent.
---