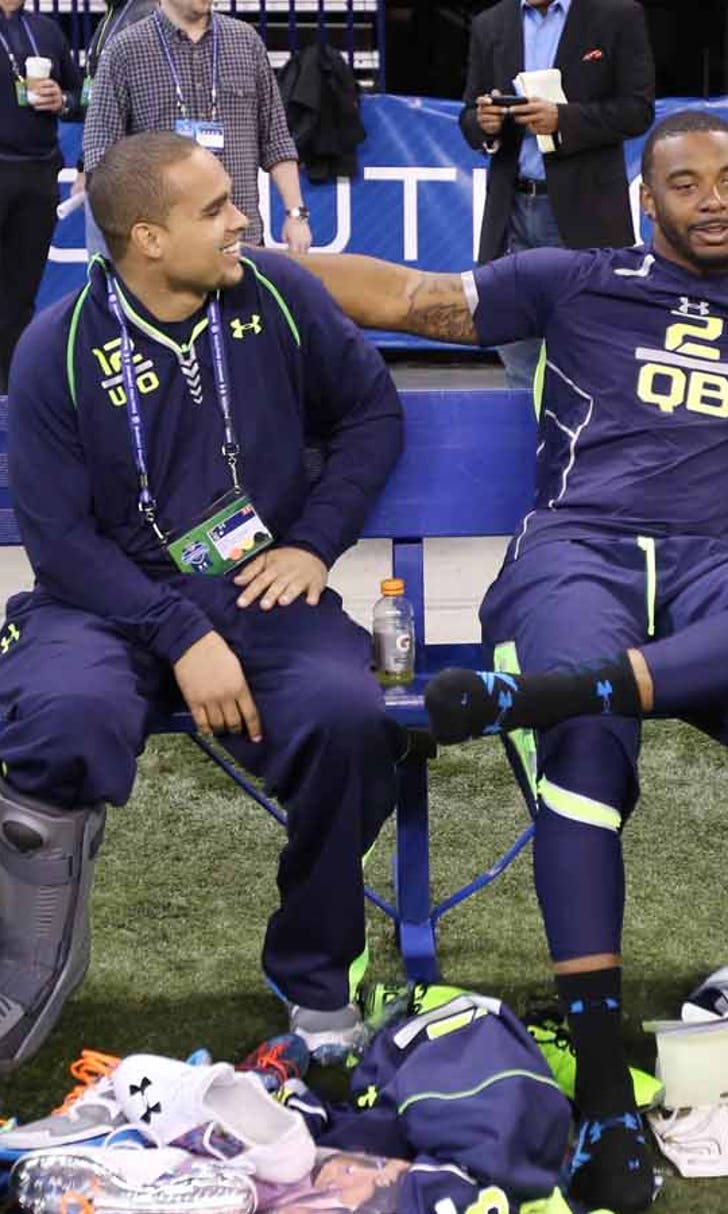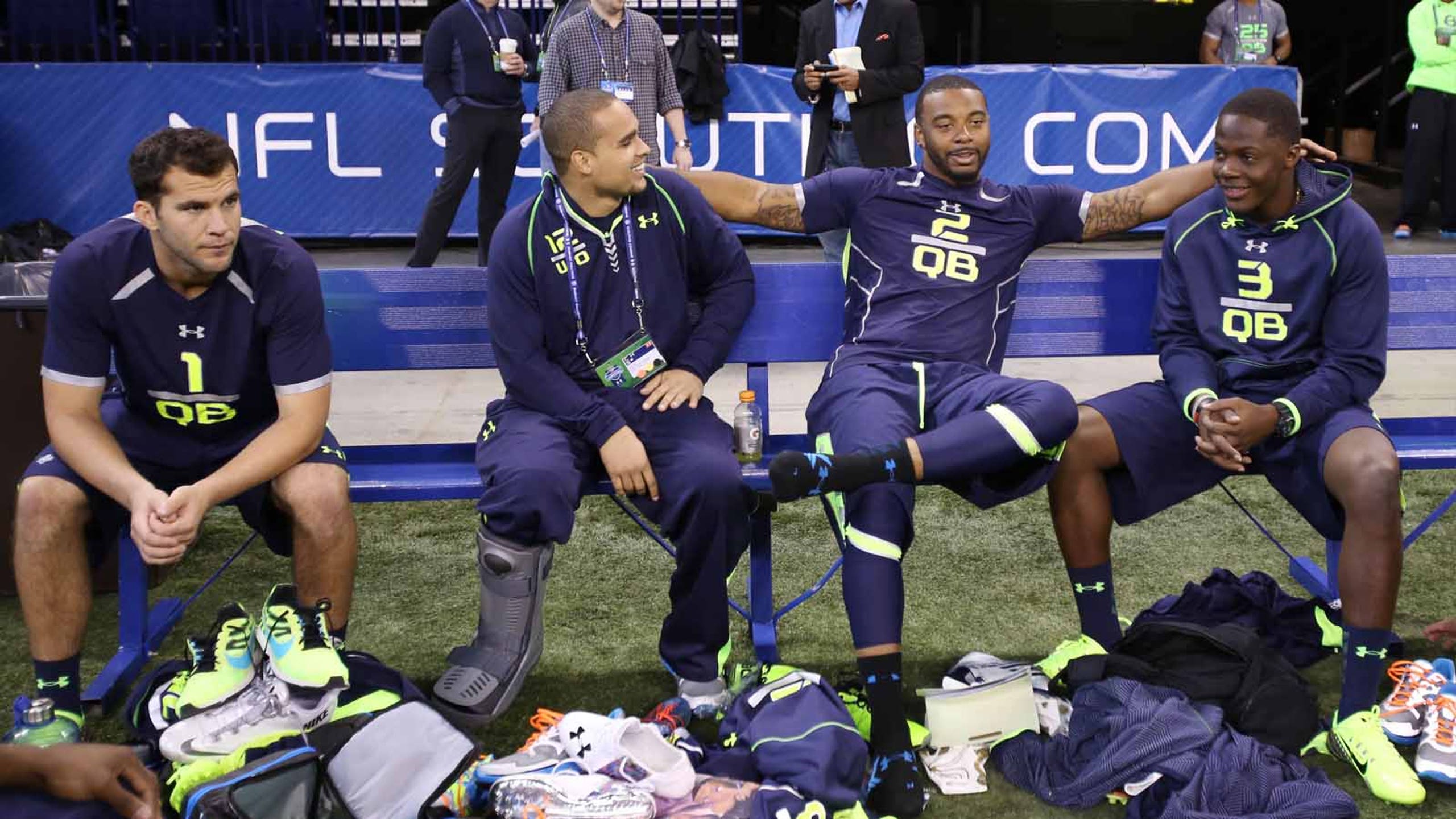 Tackling the combine: Observations from the weekend
BY foxsports • February 24, 2014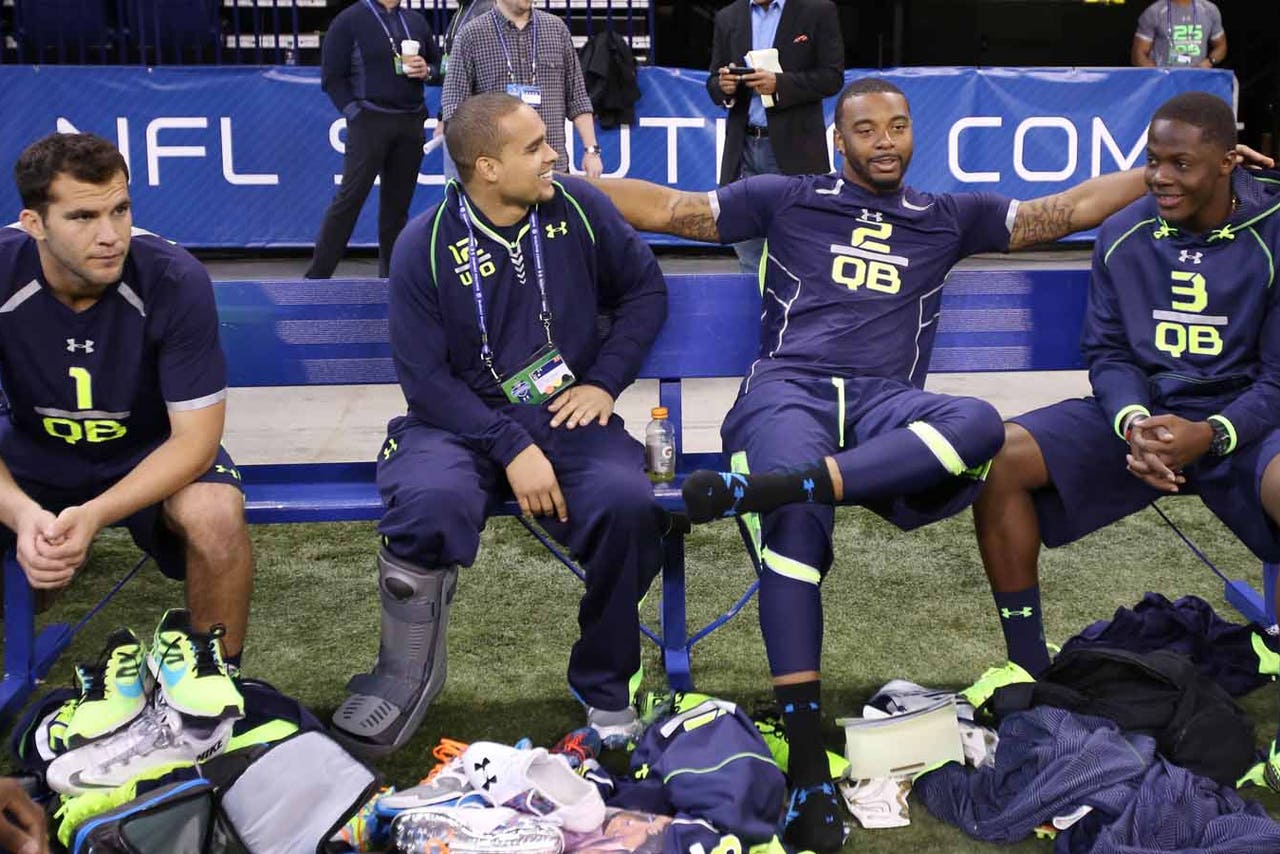 Ever wonder what it's like at the NFL Scouting Combine?
For four days, draft prospects are paraded to the media, speaking with the hundreds of reporters in Indianapolis for the combine. Three podiums and six tables are set up to feature the prospects as they come into the interview room in Lucas Oil Stadium.
All of this before players ever get the chance to show their physical abilities on the field in front of general managers, coaches and scouts.
Players come and go during the four days of media access at the combine, being assigned to tables and podiums for their roughly 15-minute media interviews. In some cases, big-name prospects reach the room for interviews simultaneously leading to tough choices for the media -- which is what happened to me Saturday when Buffalo linebacker Khalil Mack and Louisiana State quarterback Zach Mettenberger spoke at the same time.
Here are a few observations on prospects who could find their way to the Minnesota Vikings in May's NFL Draft:
Jimmy Garoppolo, QB, Eastern Illinois: I'll start out with the one player I was assigned to watch and write a pool report on from the first session of quarterback workouts Sunday. Garoppolo is certainly an interesting prospect who has gained steam in the past two months, starting with his performance in the East-West Shrine Game.
During the combine workouts the media is not allowed inside the bowl of the stadium, except for three special sessions. A group of media members were allowed in for the offensive line and tight end workouts Saturday, with other reporters splitting up the two quarterback, receiver sessions Sunday.
As part of the first session -- which included quarterbacks Blake Bortles, A.J. McCarron, Tajh Boyd, David Fales, and Jordan Lynch -- I closely watched Garoppolo. I came away most impressed with his delivery.
Garoppolo, a good athlete, has an extremely quick release. It's a fast and compact motion and might be the quickest release of any quarterback in the draft. He does tend to throw 3/4 delivery and even side-armed one pass on Sunday, but teams are sure to like his delivery. The ball also comes out with zip. He's able to throw downfield with velocity with little wind-up.
The biggest knock on Garoppolo is his college experience. Garoppolo worked mostly out of the shotgun at Eastern Illinois and shows a need to work on his drops. He also faced smaller competition in the FCS. But after a strong workout, I'm not surprised by the Monday reports that Garoppolo could even find his way into the first round.
The top-3 quarterbacks: The combine did little to change the consensus that there are three top quarterbacks who could go in the early portions of the draft. Bortles, Teddy Bridgewater and Johnny Manziel were as expected during the interviews with media. Bortles and Manziel particularly come off impressively. Manziel was very polished and spoke about his measurables, and he showed off his athleticism with the fourth-best time in the 40-yard dash.
"I play with a lot of heart, play with a lot of passion," Manziel said. "I feel like I play like I'm 10-feet tall. A measurement to me is just a number."
Bortles' confidence is easy to see, as well. He was well-spoken and then bucked the trend of top quarterbacks by throwing in the workouts. Manziel and Bridgewater opted not to throw.
Bortles, part of the first session, had a strong workout. He showed off his arm strength and accuracy, and had a couple of the more impressive throws deep down the sideline of any quarterbacks in the first session.
"I believe that I can compete with any guy here, and that's why I'm doing everything I'm doing," Bortles said. "That's why I'm throwing. That's why I'm running, doing all this stuff. Why wait till pro day when you have an opportunity to make your first impression here in Indianapolis. I grew up watching this as a kid and dreamed of competing in it, why would I sit anything out and do any of that kind of stuff? Just excited to be here and honored to be here, but definitely believe I belong here."
He certainly has the look and gives off the impression of a starting NFL quarterback.
Other quarterbacks: A few other quarterbacks didn't throw because of injury concerns, like Mettenberger and Georgia's Aaron Murray. Murray was confident and well-spoken during his media interview and will throw at his Pro Day. Murray spoke of the loads of tape based on his experience as a four-year starter.
In fact, Murray pointed out the extensive tape available for Boyd and South Carolina's Connor Shaw as well. Boyd's athleticism stood out and he has plenty of strength in his arm, but he showed inaccuracy during his workout.
Shaw's confidence comes off in interviews and he spoke of his winning past. Shaw, who was meeting with the Vikings, said teams appreciate his competitiveness. Shaw then showed off his athleticism by finishing with the third-best 40-yard dash time.
After Bortles, Manziel and Bridgewater, Derek Carr is widely considered the next best quarterback. Carr's interview with the media was an enlightening session where he was personable and charismatic. He admitted to struggling in his bowl game and was self-deprecating, setting off an air of confidence. Carr even spoke openly about his son's medical troubles, being born with intestinal malrotation and needing three surgeries.
"I've been through some adversity," Carr said. "For doctors to tell me my son might not live, there is nothing anyone can do or say that can affect me. My priorities in life are my faith, my family and then football. You can say whatever you want about me, but I'm going to give everything I have to whatever team I'm on."
Carr did make the decision not to throw at the combine.
Speaking with one former NFL general manager, he was perplexed why Carr decided not to throw. The general manager understood why the top picks might choose to not throw at the combine, even though he disagrees with the decision not to throw. But Carr's exclusion from the throwing drills was baffling to this general manager.
Carr has a strong arm, is accurate and has good athleticism. He has a chance to be a first-round pick in May. There is generally considered little separation among the group behind the top-3 and it could depend on team needs and perception in the draft.
As for the other quarterbacks who threw during the first session, McCarron might have had the best performance. He is very smooth and polished. He has a good, but not great arm and is accurate. A proven winner at Alabama, workouts like Sunday's could propel him in the draft, and he interviewed well too, showing a chip on his shoulder for not being considered higher.
Boyd and Fales struggled a bit during the workouts. Fales wasn't overly accurate and he has a long wind-up and doesn't throw with much velocity or distance.
Defenders: Minnesota might not get the chance to get Bortles, Manziel or Bridgewater picking at No. 8 -- and might be in a tough spot for Carr or Garoppolo. But the Vikings could address some of their many defensive needs in the draft.
Clowney, a defensive end, isn't expected to be available when Minnesota drafts. The top defensive player who could be waiting on the Vikings is Mack.
Mack was well-spoken during his interview session with the media and his confidence comes across. He tested well when he hit the field as well. Mack could be the second defensive player off the board and would fit well in Minnesota.
What struck me about Mack is his physical attributes. Even dressed in the standard Under Armour sweatshirt provided to combine participants, Mack's physique was noticeable. He's not overly tall (coming in at 6-foot-3) but he was barrel chested and stocky.
Alabama linebacker C.J. Mosley never made it into the interview room during the four days. His exclusion, certainly one of the very few, was curious. Mosley then withdrew from the 40-yard dash adding to the mystery. NFL Network reported Monday though that Mosley is dealing with a slight leg injury.
The funniest interview of the week might have been Notre Dame nose tackle Louis Nix. Nix has the chance to be the first defensive tackle taken and weighed in at 331 pounds. Yet he talked about losing weight and brought some humor to the interview.
Asked if he wants to be at 331 pounds for the draft, Nix said: "It depends on who you ask. If somebody wants me to stay there, I'll stay. If they want me to get sexier, then I got it."
Asked if he is just able to hold the point or if he has some wiggle: "I think I can wiggle a little bit. I have dance moves. That should prove a lot."
On if it feels different being lighter: "Yeah man, my stomach doesn't stick out as much. That's kind of nice. I like that part. My thighs got a little smaller. I just feel sexier, man."
Nix said he stopped eating at the fast food restaurant Five Guys and his favored Cajun fries, instead substituting salads. But he doesn't add dressing.
"No dressing. I eat it like chips," Nix said. "I just pick it up and yeah."
That's one person's observation of a hectic four days at the combine. We'll find out what Minnesota saw and heard in May.
Follow Brian Hall on Twitter
---