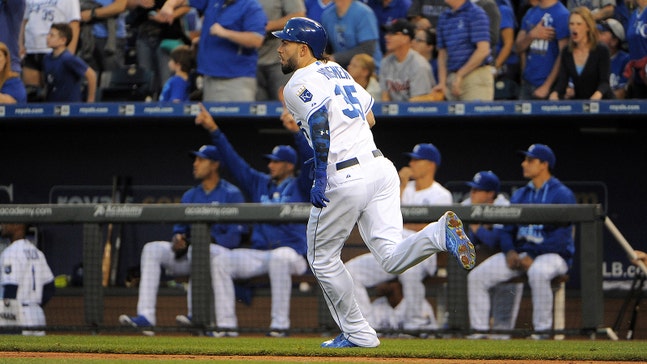 Swing, crack, gone: Hosmer's latest homers have been no-doubters
Published
May. 1, 2015 2:58 p.m. ET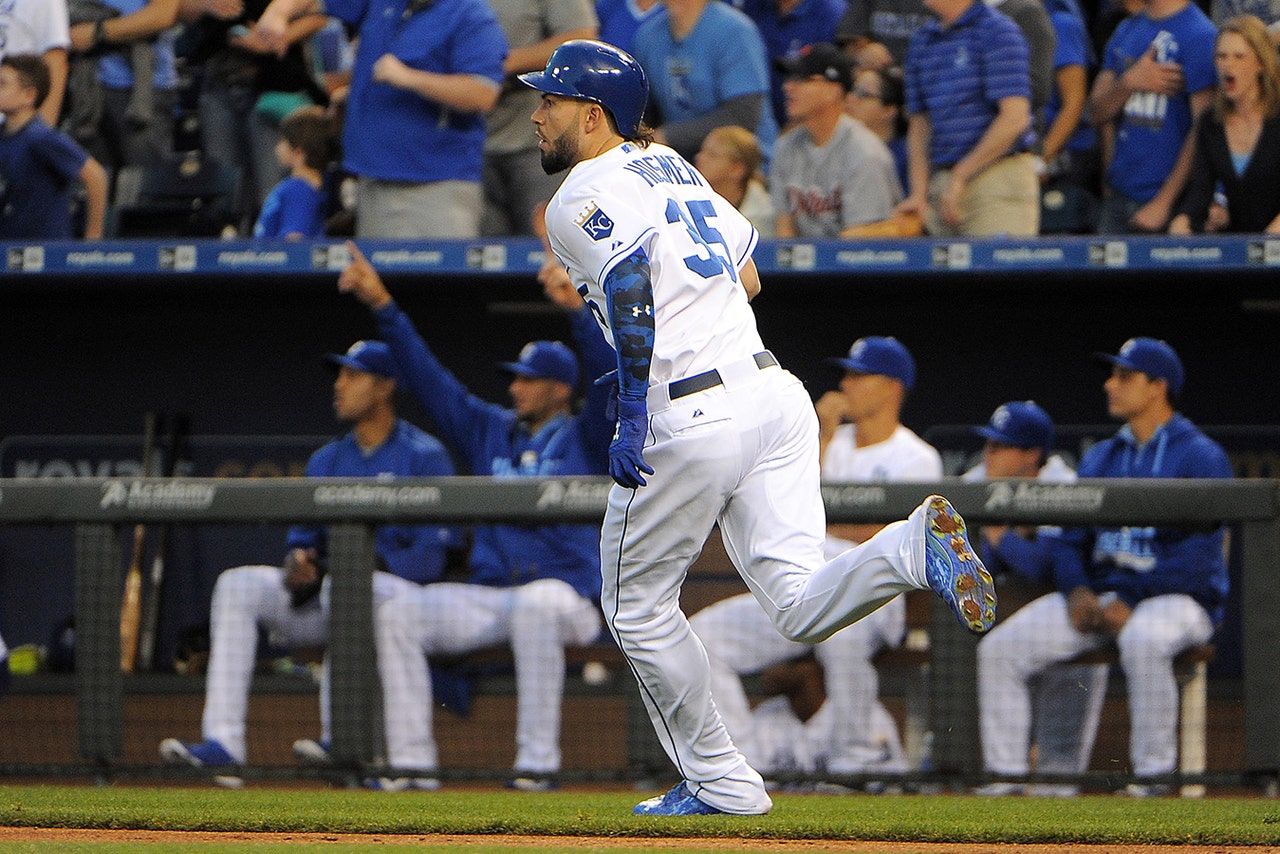 KANSAS CITY, Mo. -- Ned Yost hasn't been impressed with Eric Hosmer's recent power surge -- he knew the potential was there. But the Royals manager has been wowed by the form Hosmer's power has come in.
After launching a two-run home run beyond the 410 sign in center field on Thursday night, Hosmer now has two home runs in as many days, ending an 18-game homerless streak emphatically. On Wednesday night in Cleveland, Hosmer stroked a homer out to left-center field, a long way to go for a left-handed-hitting batter.
Hosmer now has three homers in 2015, tied for the team lead with Salvador Perez, Mike Moustakas, Alex Gordon and Kendrys Morales.
"He's got power," Yost said. "The thing that's so impressive is his dead-center power. That's hard to have. You can have pull-side power, but Hos can hit the ball out the opposite way and he can hit the ball out of this ballpark in center field. That's a pretty impressive tool to have."
It was the eighth time in his career that Hosmer has homered in consecutive games, though the 25-year-old hasn't ever gone deep in three straight games.
When Hosmer cracked his 421-foot home run off Alfredo Simon on Thursday night, Moustakas was on second base. Moustakas, though, was the one who first broke into a home run trot. The third baseman didn't even turn to look at Hosmer's homer, and simply jogged towards third base.
Wednesday's bomb was a similar feeling. When Hosmer's ball zoomed towards the left-field bleachers, Indians center fielder Michael Bourn stopped chasing it. He knew there was no point.
Hosmer pointed to the baserunners for both distracting pitchers and limiting their pitch selection in fear of a stolen base.
"I think I'm getting myself in good counts and finding good times to take chances on pitches," Hosmer said. "That's a big thing. Anytime these guys are on base, pitchers are really worried about them running, so they're really coming at us with a lot of fastballs. As hitters, we're trying to be aggressive. Took advantage of it twice and put some good swings on it."
Hosmer has never reached 20 home runs in a season, but has been tasked this season with being Kansas City's cleanup hitter. He has had similar starts before -- five home runs in the season's first month in 2012 -- but hasn't stitched a whole season together of consistent power numbers.
You can follow Matthew DeFranks on Twitter at @MDeFranks or email him at matthew.defranks@gmail.com.
---