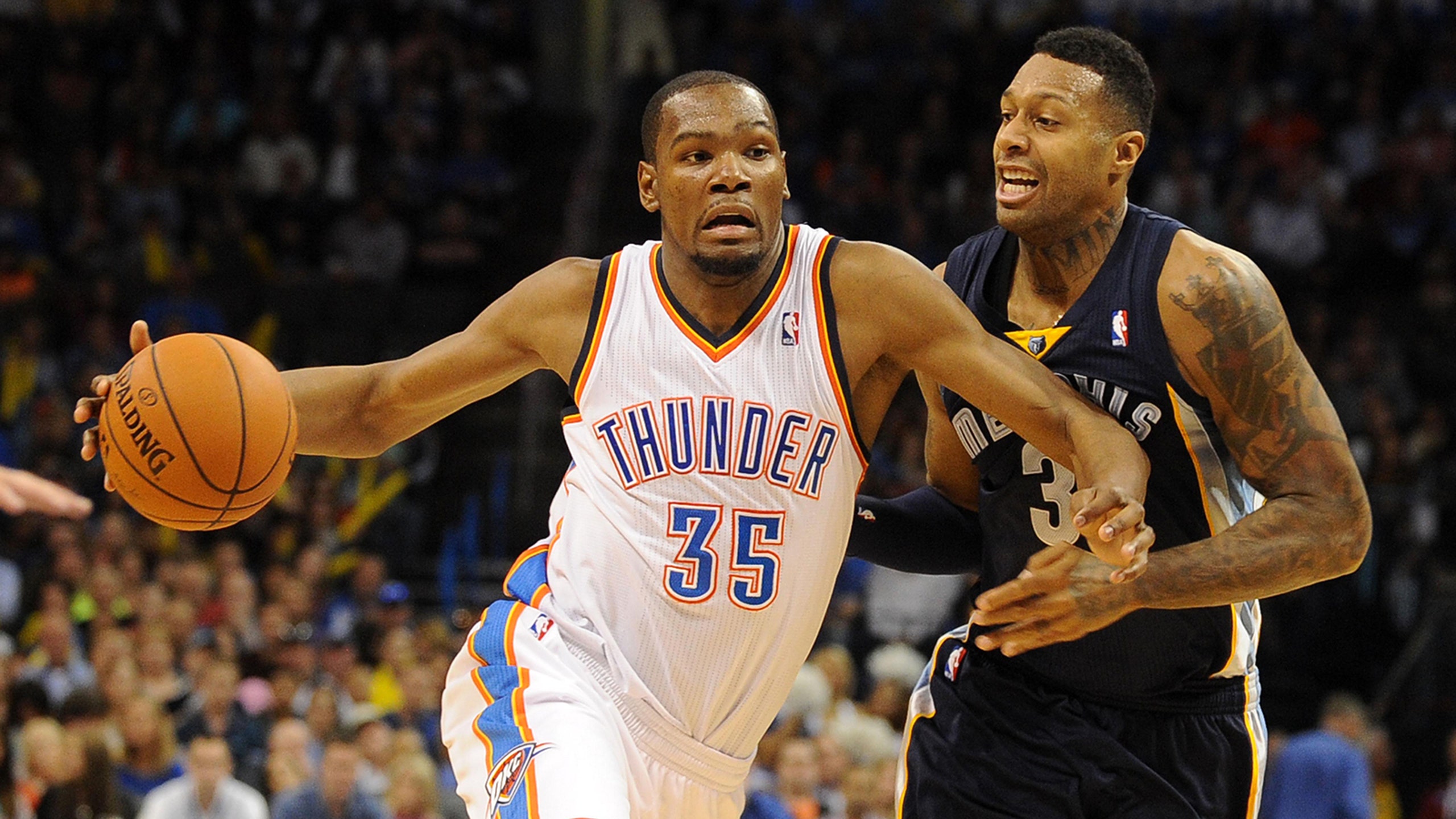 SWIM: Thunder-Grizzlies
BY foxsports • March 1, 2014
Looking at a box score is something anyone can do. Who lead my team in scoring? How'd we shoot from the field? And while that knowledge is useful, does it really earn you bonus points around the water cooler?



That's why I'm here. I'm bringing you the S.W.I.M: Statistics Worth Increased Media. Let Joe from accounting regurgitate what he heard on the way in this morning; you're better than that. Use these nuggets to gain a unique perspective about last night's Thunder/Grizzlies game.



For the first time since March of 2012, the Grizzlies have been involved in back-to-back games in which both teams reach a triple figure point total.



Zach Randolph scored 13 points and pulled down 10 rebounds in only 25 minutes of action. It was his first double double in 25 or fewer minutes since February 9, 2008, a stretch of 416 straight games.
Mike Conley failed to make a two point bucket for the second time this season. That is not as rare as you might think, as Conley now has had multiple games without a two pointer in five of his last six seasons.



For the third time in Memphis' last four losses, Marc Gasol recorded more assists than rebounds.
Mike Miller scored 19 points and converted on four of his five three point attempts. His accuracy from deep is nothing new, as the sharp shooter is shooting 56.1% from distance in games in which he scored at least 10 points in 2014.



The Thunder are the fourth best team in the NBA in terms of fourth quarter scoring differential, yet they have been outscored by 37 points in the final period over their last four games (outscored by double digits in three of those instances).



Oklahoma City scored 57 points on three pointers/free throws and 56 on two point buckets.
Jeremy Lamb is averaged more missed shots in February than made shots in any other month, a scary trend when you consider that he averaged a season low in FGA.



Kevin Durant made all 10 of his free throws last night, the 22nd time this season in which he has made at least 10 free throws at an 81% clip or better. He has 22 games with double digit rebounds and/or assists.



Durant missed two of six free throws against the Bobcats on December 27th. Subtract that uncharacteristic performance and Durant has missed just two of his 46 free throws on Friday's since December 1st.  



Over the last month, Derek Fisher has made 22 three pointers and just five two pointers when the Thunder score at least 100 points.



Serge Ibaka handed out three assists in his first matchup (32 minutes) against the Grizzlies this season. He has recorded one assist in the last three games against Memphis (100 minutes).
Steven Adams, the Thunder's starting center, totaled 14 field goal attempts in February. Durant made at least 14 field goals four times in a 12 day span.


---