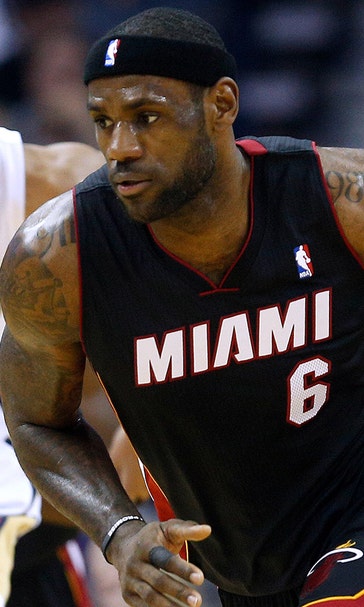 SWIM: Pelicans vs. Heat
March 22, 2014

Looking at a box score is something anyone can do. Who lead my team in scoring? How'd we shoot from the field? And while that knowledge is useful, does it really earn you bonus points around the water cooler? That's why I'm here. I'm bringing you the S.W.I.M: Statistics Worth Increased Media. Let Joe from accounting regurgitate what he heard on the way in this morning; you're better than that. Use these nuggets to gain a unique perspective about last night's Pelicans/Heat game.
New Orleans still has not won a game in which they scored fewer than 100 points since February 7th.
Tyreke had six turnovers against the Hawks on Friday … the Pelicans had six turnovers tonight against the Heat.
For the first time in nearly three months and only the second time this season, the Pelicans won at home when Tyreke Evans handed out at least eight assists.
Anthony Morrow's last five double digit point totals, and seven of his last eight, have come in front of the home crowd.
Luke Babbit made three three pointers for the second consecutive game … he has three two pointers in all of March.
Coming into this game, New Orleans had a -94 point differential in games in which Anthony Davis failed to record an assist.
Four of Davis' nine 30 point efforts this season have come in his last four games played.
For the first time since the first week of January, Al-Farouq Aminu took at least one three pointer in consecutive games but failed to make one.
The Heat fell for the sixth time in the last seven games when LeBron James attempts at least three triples and doesn't make at least 75% of them.
Miami had won nine of the last ten games in which James records at least eight assists and eight rebounds, but they have now dropped the last two instances.
Michael Beasley scored 16 points in 18 minutes of action, upping his March average to 23.5 points per 48 minutes.
Chris Bosh took 2,804 shots in his first three seasons in Toronto, missing 29 triples in the process. He's attempted 130 shots over the last 17 days, missing 29 threes.
The Heat have lost four of the last five games in which Mario Chalmers has recorded a single double. They had won the previous five before this skid.
---