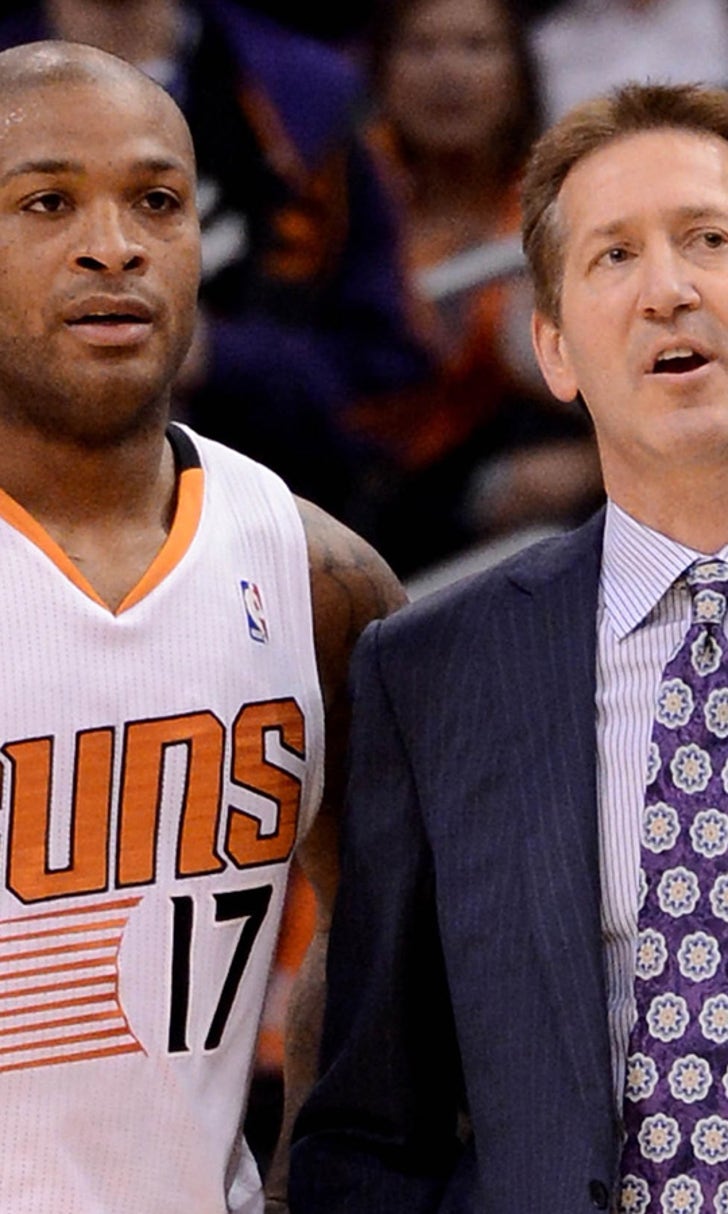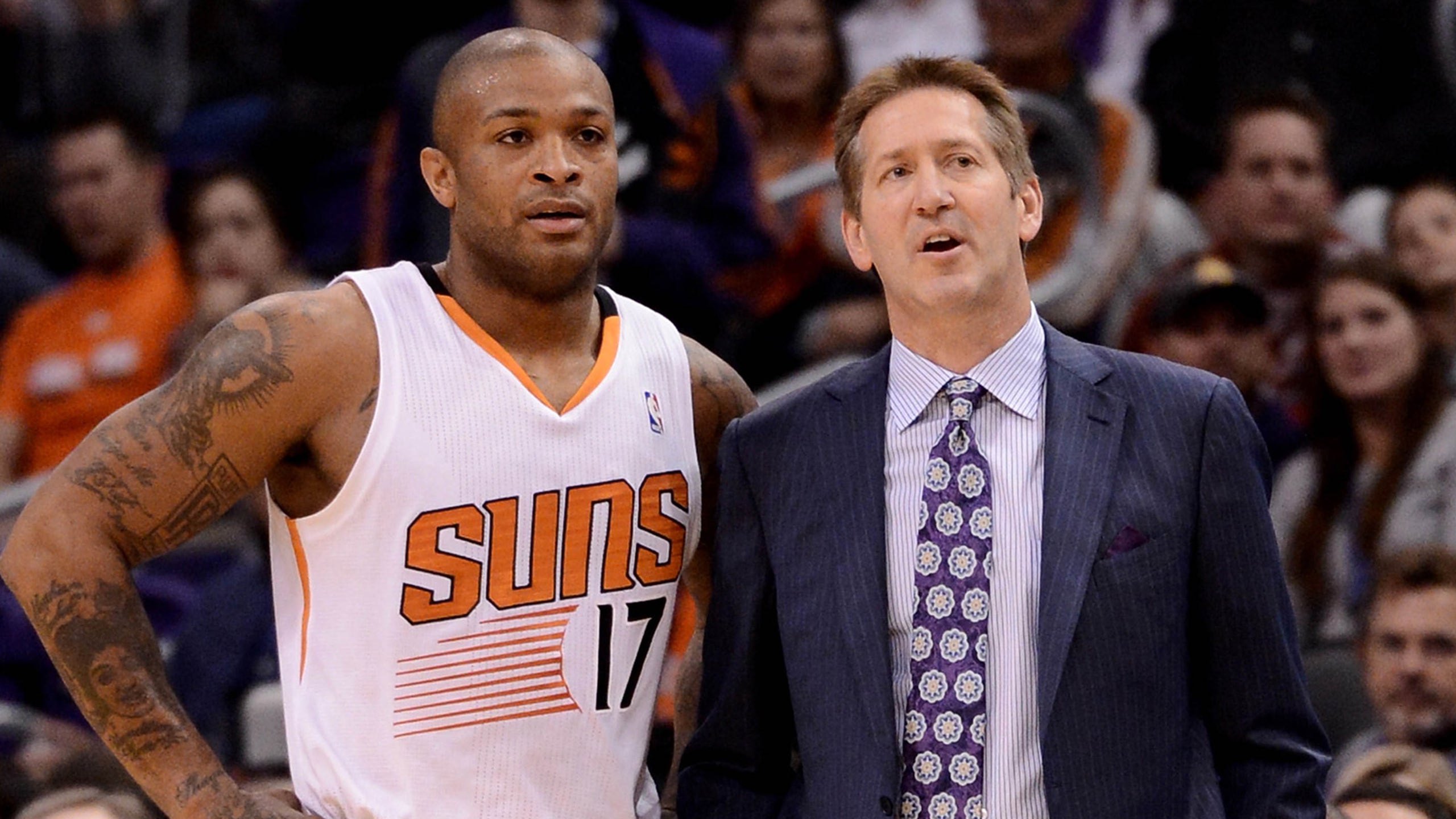 Suns spots: 'Tis the giving season
BY foxsports • December 23, 2013
With three wise men named Hornacek, Babby and McDonough bearing gifts for this season, Randy Hill shares his holiday edition of Suns spots.
Sort of, but not exactly in full force.
Monday night's date with the Lakers will include homecomings for coach Mike D'Antoni, small forward Wesley Johnson (a one-year Sun) and even recently added point guard Kendall Marshall (the Suns' lottery pick in 2012). But Steve Nash's bad back reportedly will keep the former leader of D'Antoni's high-flying Phoenix attack off the court for another several weeks.
And the Lakers, you may have read, also are competing without Kobe Bryant ... again. A knee injury will put Kobe back on the sidelines for a while and greatly reduces the intrigue potential for this Lakers-Suns intersection at US Airways Center.
Also missing for the Lakers are point guards Steve Blake and Jordan Farmar (for another game), creating a predicament that translated to 24 turnovers in Saturday's loss to the Warriors. Pau Gasol (upper respiratory infection) also missed that game but could be good to go here.
So without the Steves and Farmar, the Lakers must take on the Suns' stellar double-point-guard backcourt with two-guard Jodie Meeks and Marshall.
The game may turn out differently, but it hardly seems compelling right now.
Despite surrendering 62 points in the paint, the Suns were able to outgun the Mavericks on Saturday night. For the season, Phoenix is giving up an average of 46.8 paint points, ranking 27th in the league in protecting the lane area.
"There's a trade-off," Suns coach Jeff Hornacek said.
Hornacek was referring, in particular, to the Dallas game, during which the Mavs managed only nine points from behind the 3-point line while the Suns were piling up 45. That trade-off is found when we look at the league's cluster of defensive numbers, which rank the Suns second in the NBA for 3-point percentage defense (32.5). This awareness of defending the 3-point line has helped the Suns climb to 17th in defensive efficiency. That's nowhere near where Hornacek was hoping the Suns could be, but it's considerably better than last season's rank of 23.
And now that the Suns' offensive efficiency has climbed from 29th last season to fifth in the NBA right now, the differential (the Suns are 10th in margin of victory) has enabled Phoenix to move into sixth place in the Western Conference standings.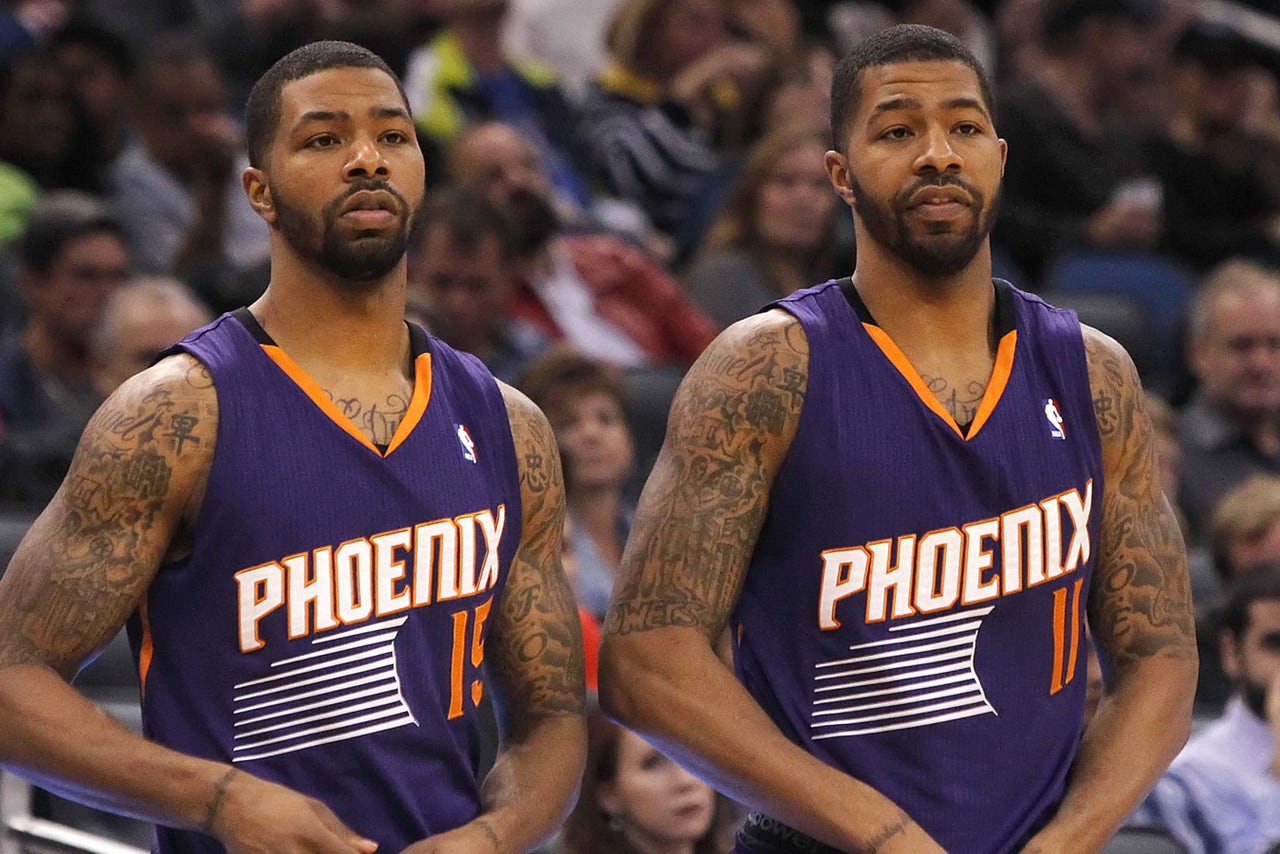 One subtext of a surprising Suns season includes the performance upgrade from the Morris twins. As the 13th and 14 picks, respectively, in the 2011 NBA Draft, Markieff and Marcus didn't exactly wow observers during their first two pro seasons.
But even though they don't exactly thrive in the same game that often, the Suns are receiving more from them than league-wide expectation allowed. According to Hornacek, there's one area of improvement that really stands out.
"The biggest surprise is their willingness to do what we ask defensively," Hornacek said. "Do they do it right all the time? No, but percentage-wise, compared to what they did last year, it's night and day."
Markieff's rise includes an early offensive surge that brought a Western Conference Player of the Week distinction. His breakthrough difference is dialing back those 3-point attempts.
"He's passing those up to drive to the basket, which is a big thing," Hornacek said of Markieff, adding that down-the-middle 3s in fast-break trail situations may still be on the menu.
For Marcus, being versatile enough to hang with small forwards on screens and posting them on the other end has added to his value.
"We've just got to put him in those situations," Hornacek said.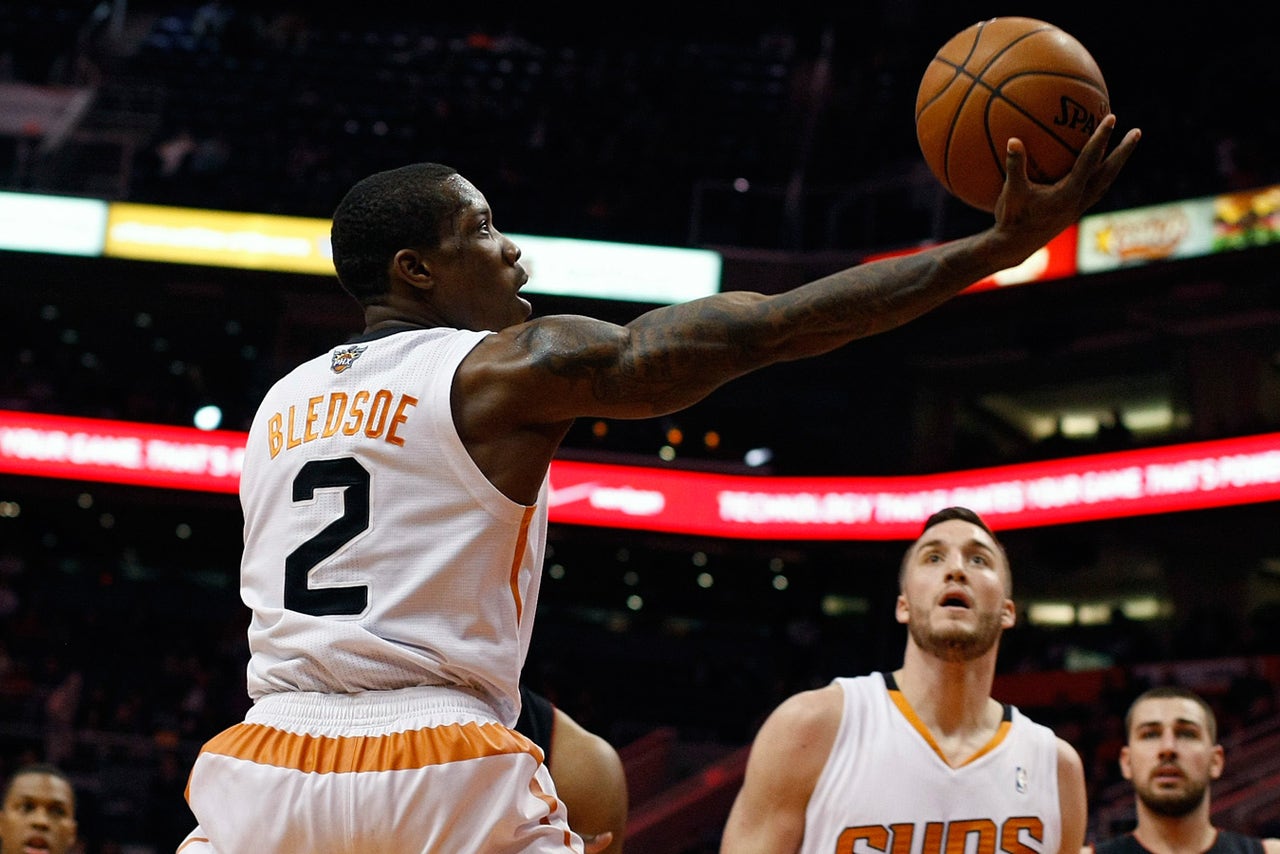 Well, his six-point, two-assist fourth quarter in Saturday's win over the Mavericks certainly suggests otherwise. But before that game, perspiring minds were wondering if half of the Suns' "Dragon Blade" tandem had yet to hit tip-top shape following his shin-contusion absence.
Bledsoe, in his first season as a full-time NBA starter, may simply be adjusting to a larger workload, according to his coach.
"It's tough when you go from 15 minutes per game to having to go 35 a game," Hornacek said. "There's lessons in there. When you have to play 35, it's a different story.
"But Eric will get there. We don't want him to really save himself. We'll give him the rest during timeouts."
Things seem to be going pretty well thus far. In his first season removed as the understudy to Clippers superstar Chris Paul, Bledsoe ranks fifth in overall efficiency among NBA point guards; Paul is No. 1.
Bledsoe is giving the Suns 19.1 points, 6.3 assists and 4.2 rebounds per game. But Hornacek still would like him to push the ball more after made field goals.
Since Bledsoe returned from that shin injury, the Suns have started him with Goran Dragic and had one of those two on the floor at all times. Well, almost all times. The exception was an effective, game-changing stint by Ish Smith in Friday's rally in Denver.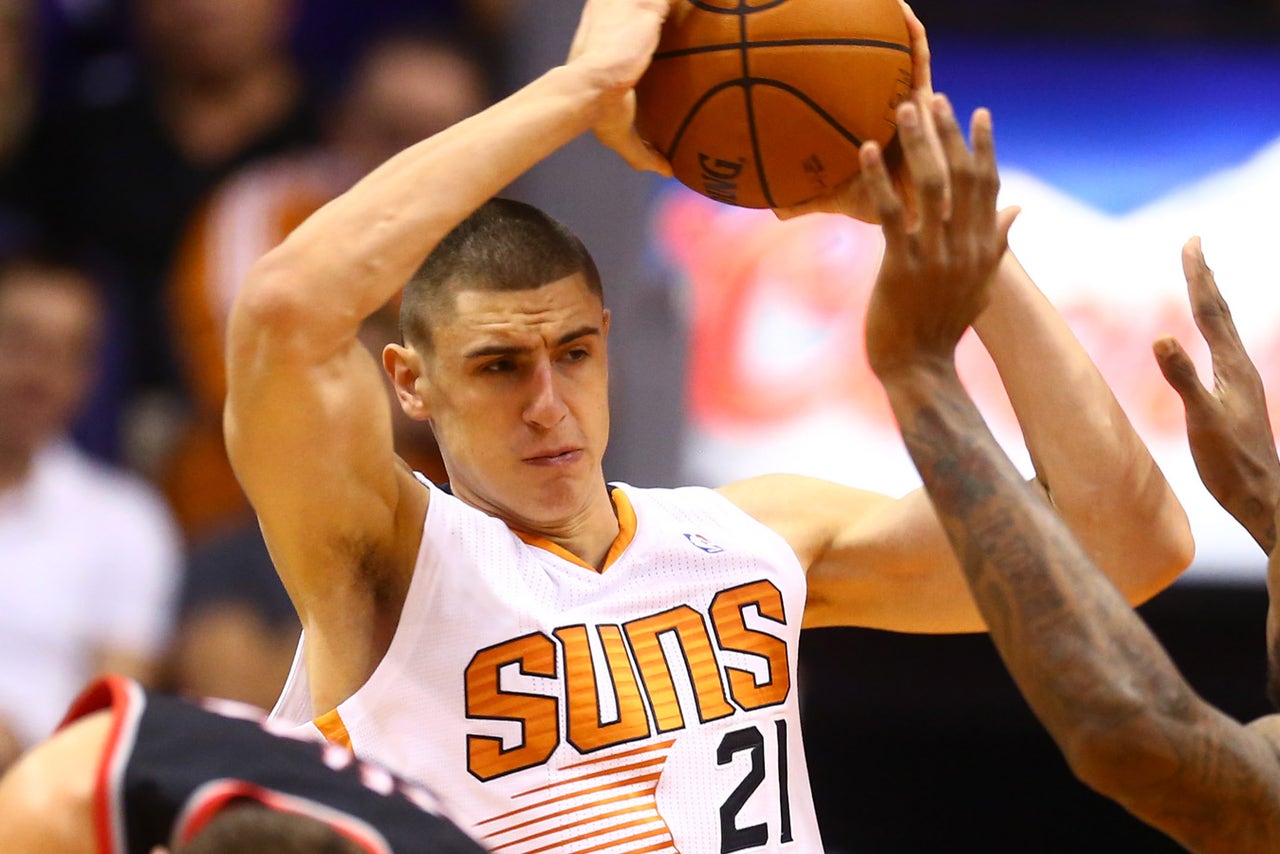 The Suns' rookie center continues to be listed in the box score as DND "(Did Not Dress) Sore Left Ankle." But Hornacek said there has been progress in the activities leading up to Len's return to the court.
To be clear, we're referring to the practice court.
"He can go out on the court and shoot now," Hornacek said of Len, the Suns' selection with the fifth overall pick in last summer's draft. "They (medical and training staff) don't want him bouncing around."
The 20-year-old, who played two seasons at Maryland, has participated in four NBA games.
"Playing-wise, it may be another few weeks," Hornacek said when asked about Len's down-the-road availability.
In his abbreviated work thus far, Len has averaged 7.8 minutes, giving the Suns 1.8 points (while making 43 percent of his shots from the floor) and 1.8 rebounds per game.
With Len out and fellow Ukrainian 7-footer Slava Kravtsov not exactly a solid option playing behind starter Miles Plumlee, the Suns have used power forward Channing Frye as a backup center.
---