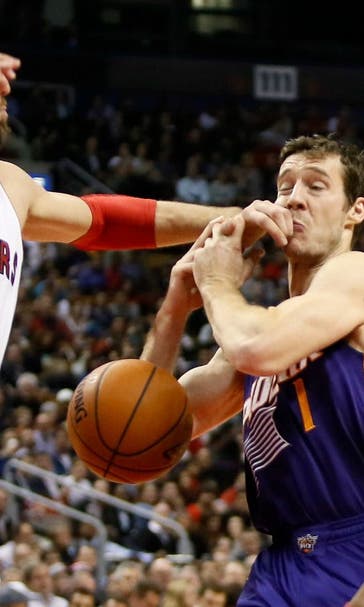 Suns spots: Even Dragic must earn his minutes
November 25, 2014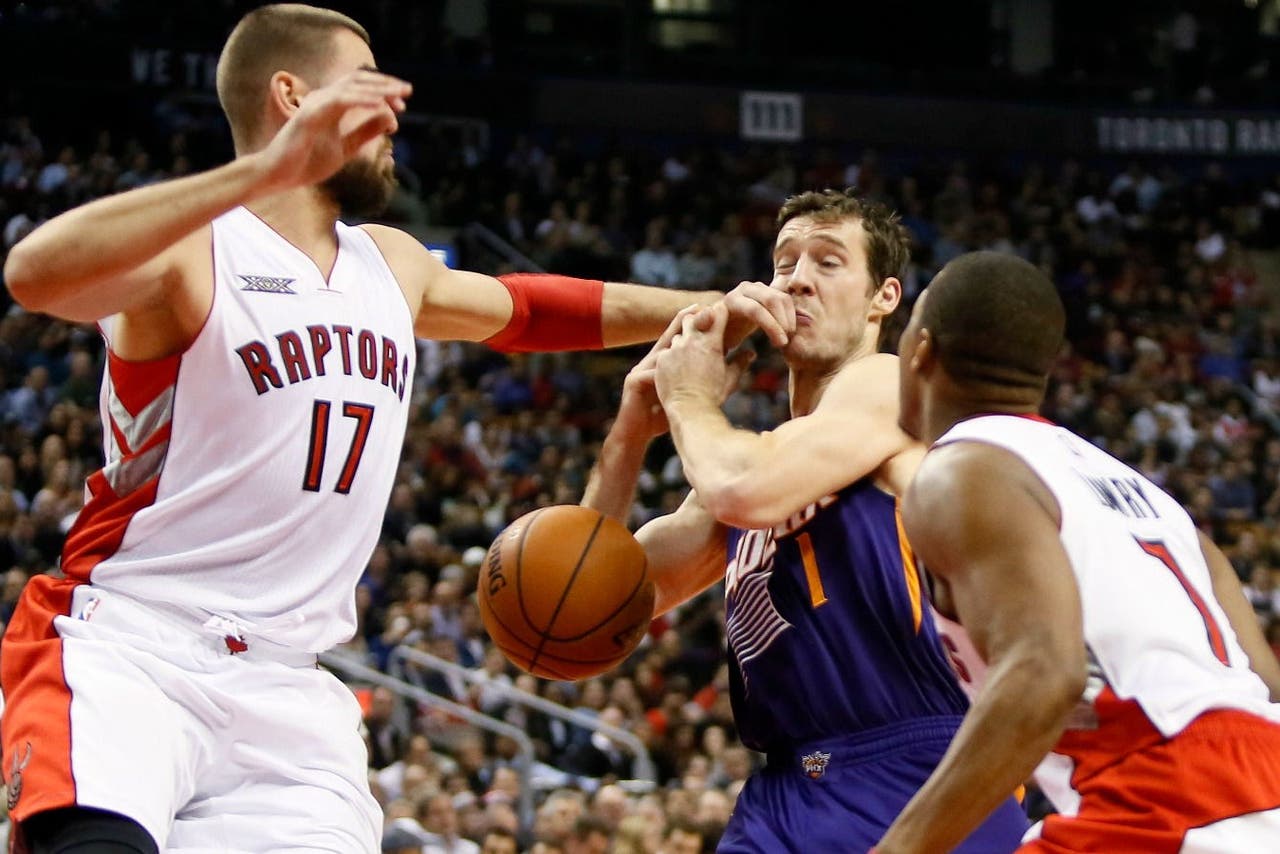 Having completed their longest road adventure of the season, the Suns return to Phoenix for a one-game home stand.
On a trip bookended by losses to the Clippers in Los Angeles and the mighty Raptors in Toronto, they did manage to win four consecutive games. It should be noted the competition in those triumphs included four of the worst teams in an Eastern Conference that (though Monday) has lost 44 of 66 games against the Western Conference.
Now boasting 9-6 record, the Suns currently are registered ninth in the unforgiving West. They'll take on the rising Denver Nuggets at home Wednesday and in Colorado two nights later.
Based on the two defeats, a pair of competitive victories in Boston and Detroit, respectively, followed by relative laughers in Philadelphia and Indiana, let's look at what we may have learned about the Suns:
Although some observers seem to prefer more consistent order to the Suns' rotation, Coach Jeff Hornacek continues to skew toward providing minutes for those playing well that night.
Yeah, that sounds pretty simple . . . and rational.
But when the seated include Phoenix favorite Goran Dragic, a sense of fan discomfort is palpable.
With Isaiah Thomas doing more with his minutes during Monday's loss at Toronto, Goran didn't play in the fourth quarter.
This has happened to all three of Phoenix's point guards during the season's infancy, but when Dragic is involved, the reaction seems to indicate Hornacek is stifling the rhythm of one of the NBA's best players.
As one of the NBA's best people and a really good player, Dragic deserved all the accolades and adoration he received last season in keeping the Suns on the cusp of a playoff ticket last season. And with 67 more games to reconcile this season, he has plenty of opportunity for a statistical uprising and a comfort within the team's structure that will work in favor of his reenlistment with the Suns' next offseason.
But with a Hornacek-provided mandate to do the most with your minutes, Dragic and all of his teammates are required to thrive on competition. Until any true superstar arrives or emerges, that's all any coach of a fringe-level playoff team can do in an effort to win every game in a conference demanding it.
We shouldn't expect Hornacek to postpone in-game momentum while waiting for one good-but-not-great player to hit his stride.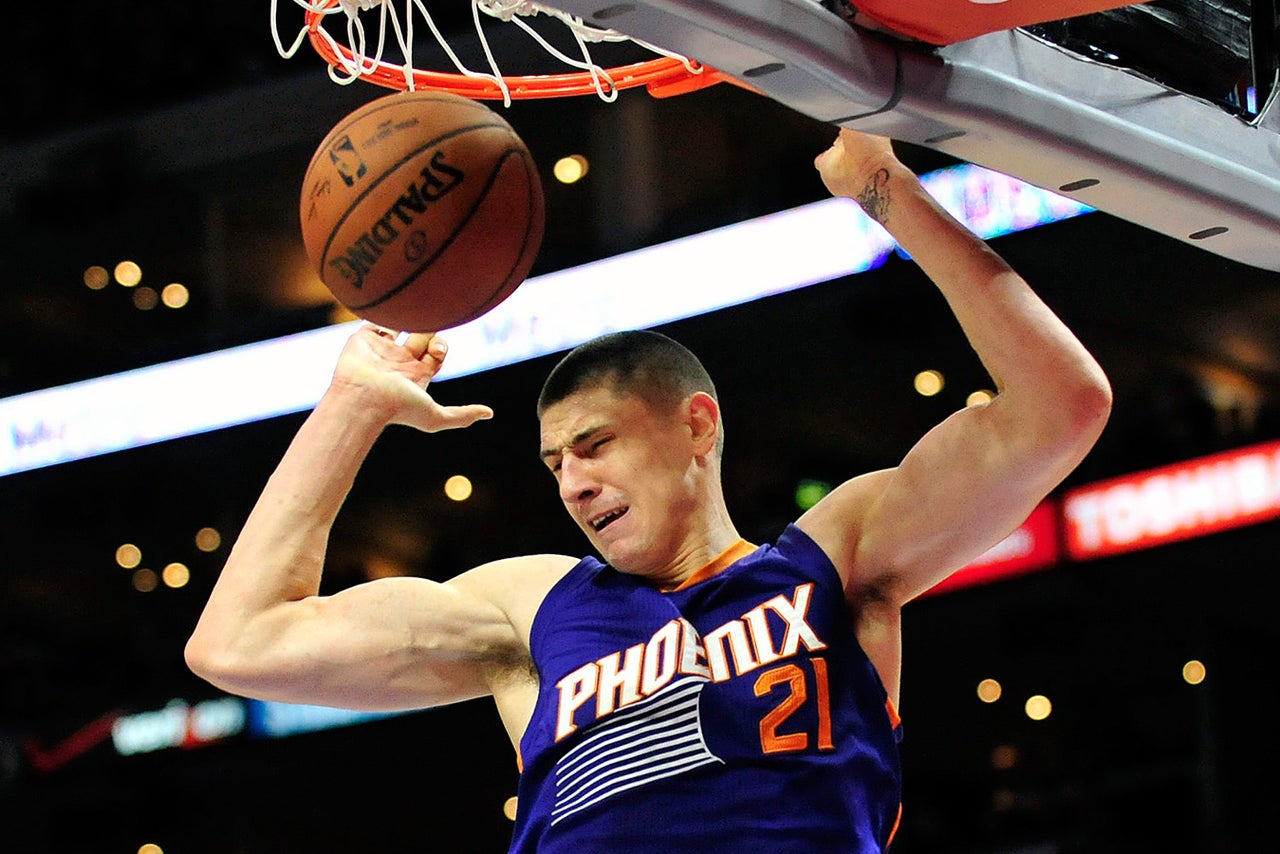 Alex Len is showing the ability to score at the rim and from beyond 10 feet.

Let's put the emphasis on progress in discussing Len, the 7-foot-1, second-year center who scored 36 points and took 18 rebounds in the first two games of the trip.
The numbers were less gaudy over the next games, due to Len's struggle to maintain defensive position without fouling. Despite having become considerably stronger in the past year, Len still is at a physical disadvantage in some matchups.
But as the future component in a current two-center punch with Miles Plumlee, Len is coming along nicely.
For example, he's making himself more available on dribble penetration from his many dribble-dominant teammates; with this spoon-feeding, Len is converting 71 percent of his attempts at the rim.
What makes him an even more viable option for the offense is his ability to strike on a face-up jumper; he's made 9 of 20 jump shots, including 7 of 13 beyond 10 feet.
The Suns don't require a salvo of 3-pointers from Gerald Green to secure victory . . . but it certainly seems to help.
When the mercurial swingman shoots it at a success rate of 40 percent or higher, Phoenix is 7-2.
The shooting accuracy of Thomas, who rides shotgun for Green on the chuck wagon, is similarly impactful -- the Suns are 6-2 when he hits at 40 percent or better. When Thomas dips below 40 percent, the Suns are 3-4.
But their victories in Boston and Detroit were managed with Thomas shooting a combined 2 for 17.
The trip yielded additional evidence that Eric Bledsoe is more comfortable allowing his play to do the talking.
Last summer, Eric incited considerable angst by not proclaiming his love for Phoenix prior to the restricted-free-agency stare down. While this event was in full stalemate, he said the Suns were (understandably) using restricted free agency against him.
And last week, he responded to an inquiry about an imagined clash between the Kentucky Wildcats' (he played one season at UK) and winless Philadelphia 76ers by saying Kentucky would win.
The Sixers, of course, were the Suns' next foe. After getting clocked by fellow former Kentucky Wildcat Nerlens Noel, Bledsoe rose to give Phoenix 13 points, seven assists and five rebounds in a blowout victory. Then Eric said he was kidding about the Kentucky-would-win thing.
By the way, he had on-court stinkers in L.A. and Indy but made 24 shots in 46 attempts across the other four games.
---
---