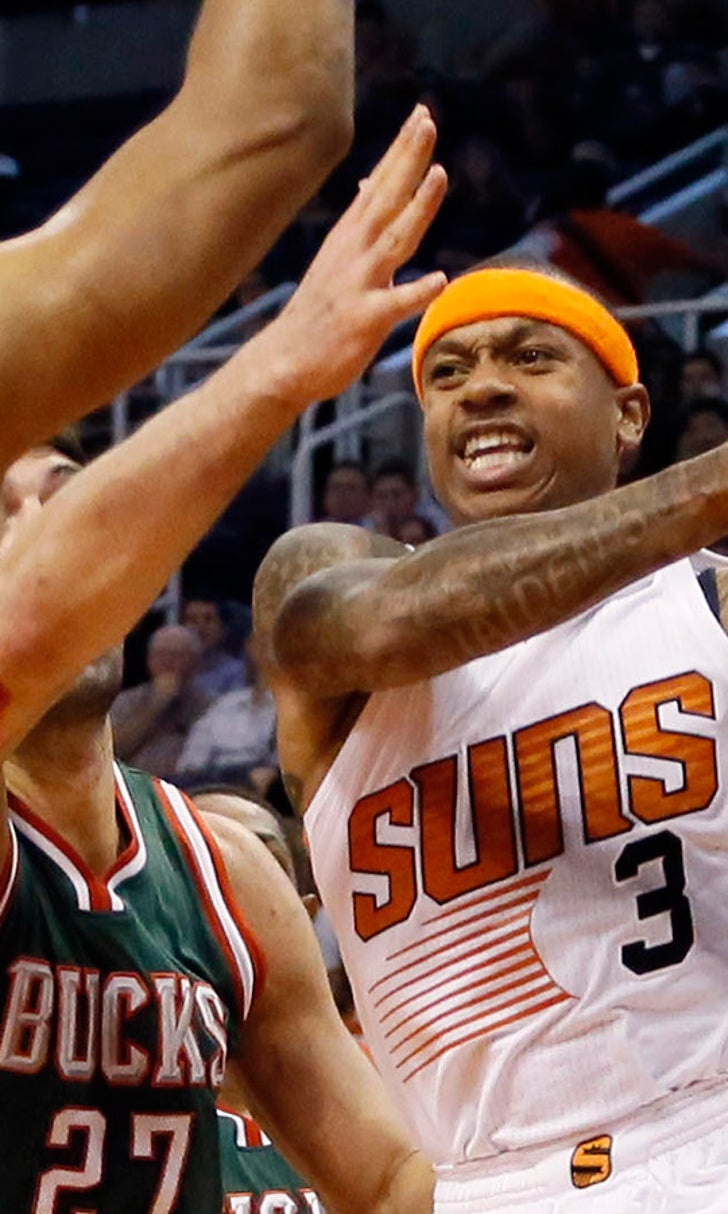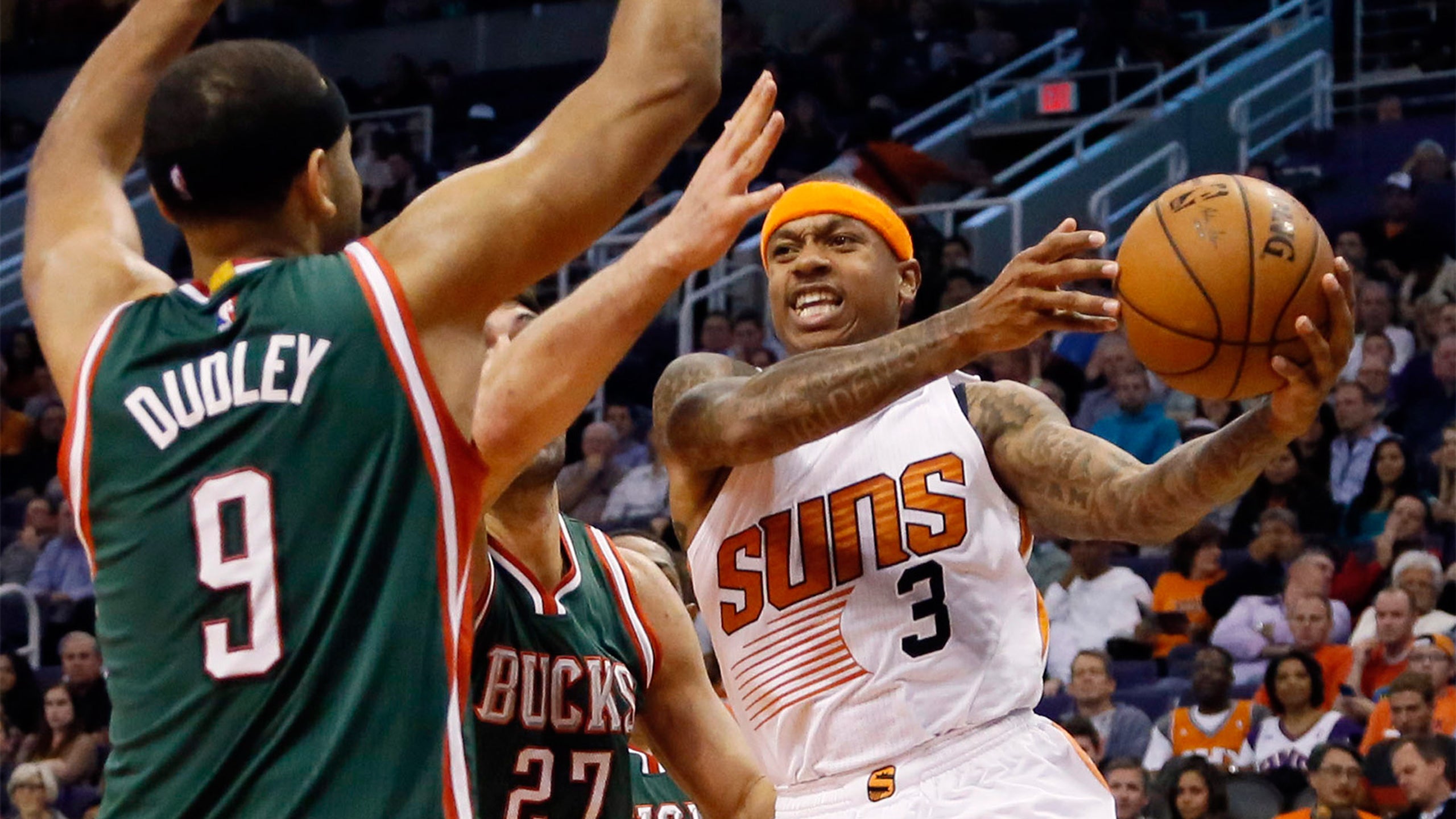 Suns' point guards struggling to deliver quality looks
BY foxsports • December 16, 2014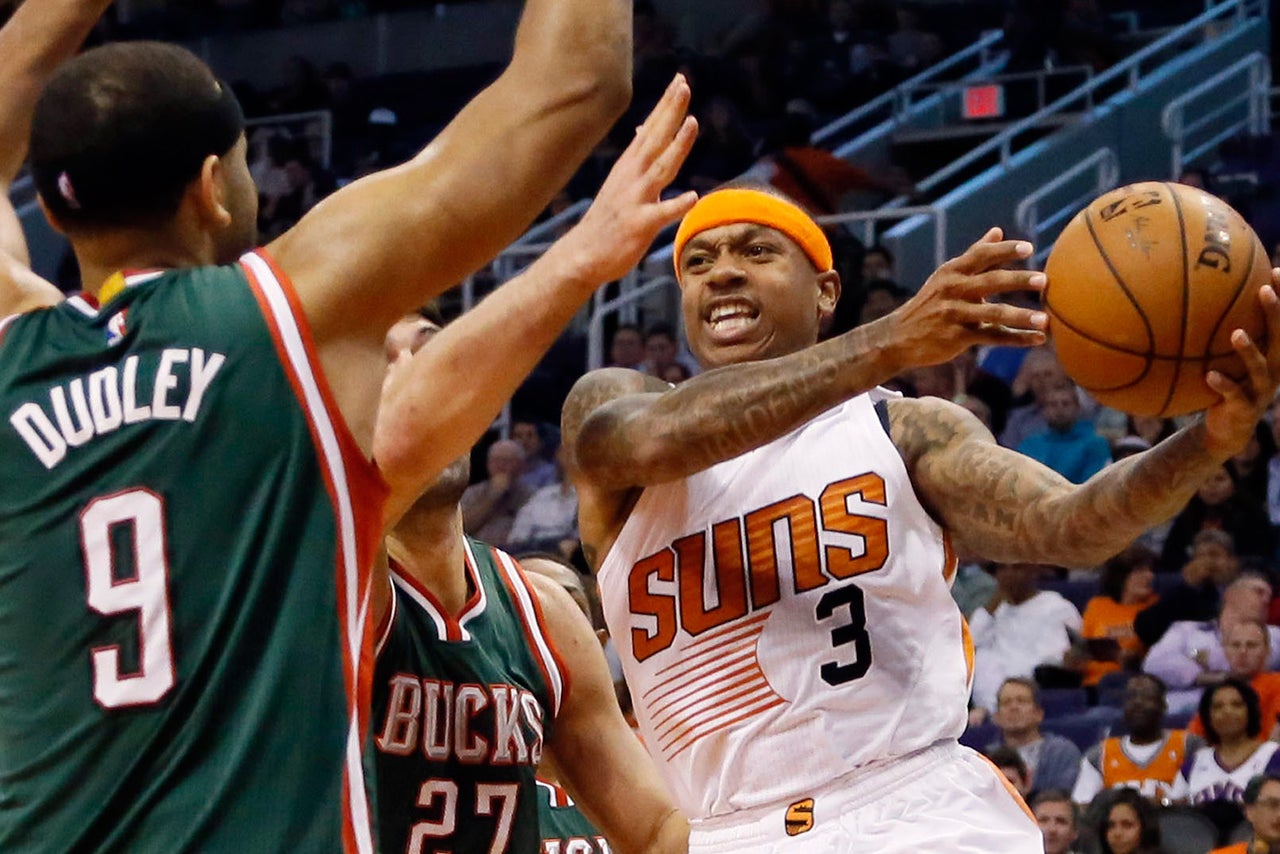 PHOENIX -- The key component in any  interpretation of the Suns and their sputtering offense is perspective.
As witnessed by Coach Jeff Hornacek, his team has an abundance of dribble-penetration types who usually rocket toward the hoop with a less-than-altruistic purpose.
On more than one occasion, Hornacek has said that too infrequently, the primary focus of his ballhandlers is finding an open teammate as they approach the rim.
Eric Bledsoe wasn't directly responding to this assertion when asked, but he did indicate that he thinks the intentions of he and his dribble-drive teammates are fine.
"We do a great job of knowing when to dribble and create and making the extra pass, whatever the case may be," Bledsoe said after Monday's home loss to the Milwaukee Bucks extended the Suns' losing streak to six. "We're just shooting the ball bad as a team right now. This is a long season, and we're going to get back."
Well, this is a long season, and Phoenix does have enough talent and sideline direction to play much better. We also can agree that the Suns, who made just 40 percent of their shots against the Bucks, are capable of better marksmanship.
But the plan of piercing opposing defenses with three scoring point guards in a relentless rotation seems to have evolved into an offensive issue for a team that -- after looking so cohesive and deadly last season -- now sits at 12-14.
OK, anyone expecting Bledsoe, Goran Dragic and newcomer Isaiah Thomas to duplicate their individual levels of efficiency probably was overwhelmingly quixotic.
Mixing Gerald Green into the perimeter-minutes flow, it's hard to imagine everyone in this quartet reaching that perfect rhythm at the same time. 
In terms of efficiency, we find Dragic ranked 21st among NBA point guards with a rating of 15.6. He finished last season 6th at 19.8. Bledsoe has slipped to 14th (17.7) from 11th (18.5).
And Thomas, who averaged 20 points and 6 dimes for the Sacramento King last season, has fallen to 25th (13.3) from 10th (18.8).
Hornacek thinks adjustments required to reach a flow similar to last season are simple.
"Just make the extra little passes," he said. "Defensively, just help each other. I think maybe we're becoming a little robotic in our actions on both sides of the court. Just play a little control-freer. That's easy to say, and then the guys start running around and doing crazy things.
"To their credit, they're trying to listen to what we're askin' . . . it's probably taken a little of their instincts away. We have to continue to play the way we play and take those shots. I don't think we've forced . . . there was a few, but typically there's only three or four a game we probably shouldn't take."
Although Monday's report that Thomas had fired his agent, Andy Miller, sparked rumblings of Isaiah's desire to be traded, the first-year Sun said that wasn't the case.
The news of Thomas' decision came precisely when recently signed free agents became eligible to be traded, but Thomas said he made the move to drop Miller two weeks ago.
We're not sure how that timeline demonstrates disinterest in being moved, but as long as the Suns' PG3 collection struggles, the rumors will continue.
Despite a strong desire to participate in Monday's battle with the Bucks, Dragic (lower back strain) didn't play for the second consecutive night.
"There's no sense in having him aggravate it worse and having him be out two or three weeks," Hornacek said before the Milwaukee game. "You love the fact that he wants to play; that's the type of player he is. He wants to get out there. He saw what happened last night to us. He feels he wants to be out there, but again it's such a long season . . . you can't have it lingering. Obviously, we miss him. But that's the NBA, a lot of guys have injuries, you have to step it up. If he doesn't play, the other guys gotta kick in and contribute and, you know, give us a lift."
Even with Dragic out, rookie Tyler Ennis didn't see the floor against Milwaukee.
But the former Syracuse star received more than 10 minutes of burn during Sunday's loss to the Thunder in Oklahoma City.
Ennis scored 11 points (making 5 of 7 shots from the field), handed out two assists, didn't turn the ball over and grabbed three rebounds.
He also impressed his coach.
"Well, you know, we've said it from day one -- Tyler knows how to play the game of basketball," Hornacek said. "He sees things develop, he doesn't get riled, doesn't try to do too much, he sees the open play.
"He can look guys off and throw it somewhere else. He passes with both right and left hand. You know, he's going to continue to work and get stronger. His shot is probably better than what we thought. We thought he could be a good shooter; he shoots it with great confidence.
"He's going to be a great player someday. He's gonna continue to work. You just like his intelligence. Any coach wants smart players, and Tyler's definitely a smart player."
---