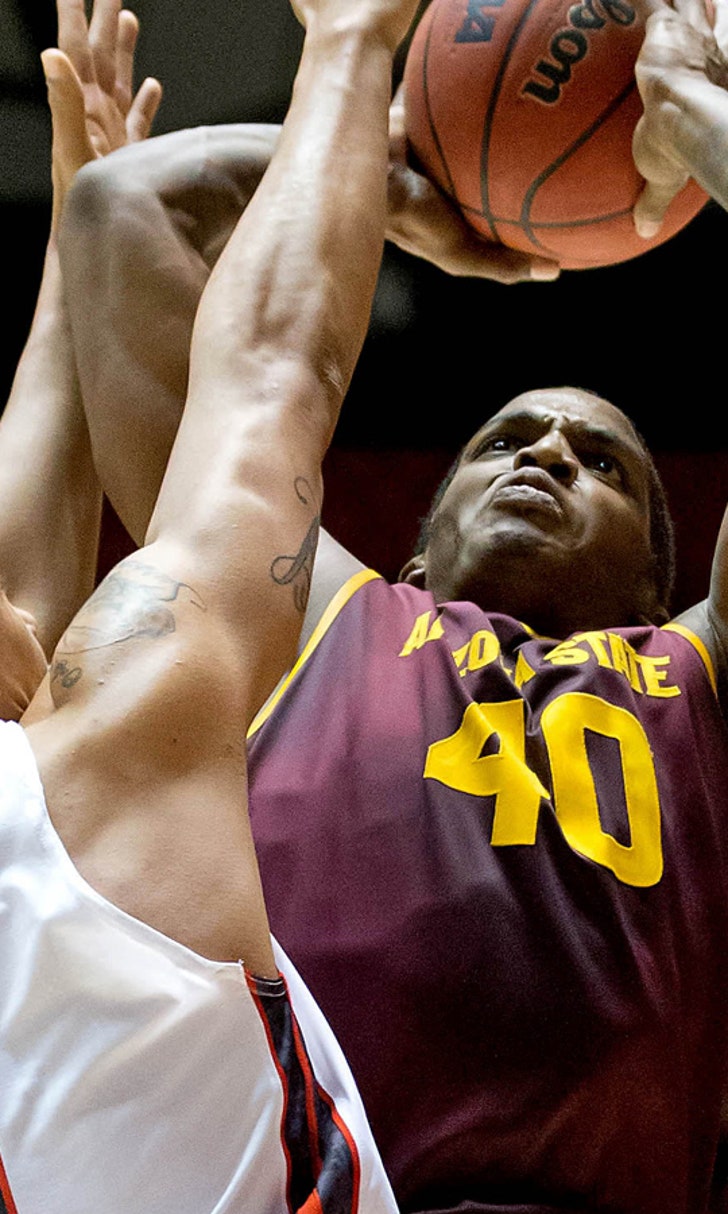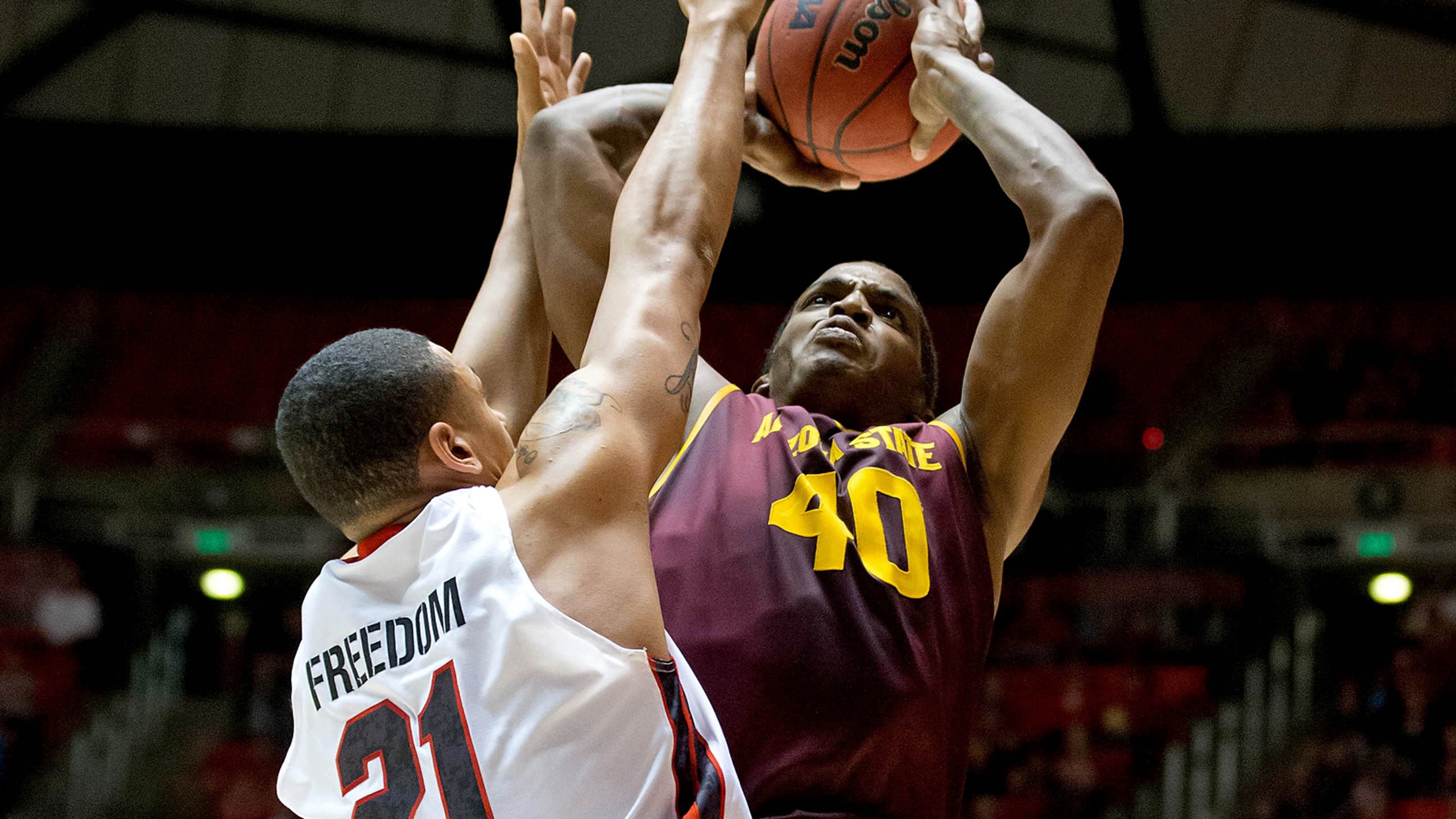 Suddenly slumping Sun Devils denied by Utes
BY foxsports • February 23, 2014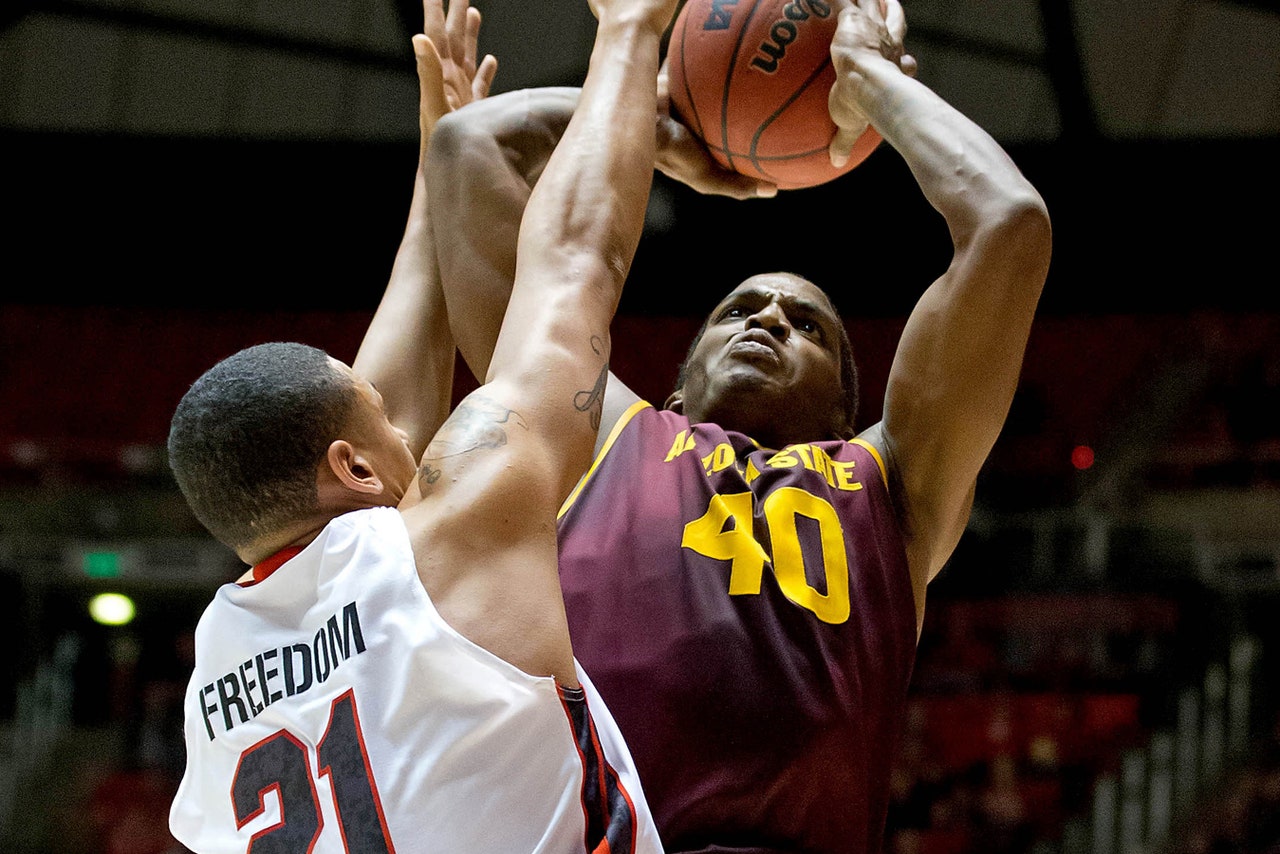 TEMPE, Ariz. -- A trip to the mountains brought Arizona State back down to Earth. 
The Sun Devils played arguably their worst game of the season Sunday in an 86-63 Pac-12 loss to Utah at the Huntsman Center to finish a two-loss road trip. The game was never close after the Utes scored 20 of the first 26 points, and ASU coach Herb Sendek was so disappointed with the early effort level that he benched every starter but Shaquielle McKissic less than three minutes into the game.
It never not get much better. The Utes used 18-4 and 15-2 runs to build a 38-11 lead with about seven minutes left in the first half, and while ASU got back to within 13 points with 10 minutes remaining, the climb was too steep.
"It's really simple: You have to show up and compete," ASU assistant coach Stan Johnson said in a radio interview when asked about Sendek's postgame message to the team. 
"Our whole mission right now is to reconnect ourselves, refocus ourselves, re-energize ourselves and get that mojo back to where it was."
The Sun Devils had won six of seven after a double-overtime victory over Arizona nine days ago, but they began the trip with a 61-52 loss at Colorado on Wednesday. They had trouble shooting at altitude at both places, making 30.8 percent of their field-goal attempts against the Utes after shooting 31.5 percent in Boulder.
While ASU's losses were ugly, especially in light of the scintillating 69-66 victory over No. 2 Arizona, they hardly ruin the likelihood of the program's first NCAA tournament appearance since 2009.
Arizona State (19-8, 8-6) will finish its home season against Stanford and California this week before concluding the regular season at the Oregon schools. A split of the final four games should guarantee an NCAA berth, and a home sweep this week could be enough. ASU was listed as a No. 8 seed in one projected NCAA bracket and a No. 9 in another before weekend play.
"We haven't responded well after beating Arizona," Johnson said. "We have not been our best. We haven't played with that urgency, that fight, that hunger we had. That being said, our guys have responded all year in situations like this.
"The one thing we know: Things can change quickly either way. It's how you handle it, how your prepare and what your mindset is every day. We have to play better basketball, and if we do that, all that stuff will take care of itself. Everybody knows what is at stake. They key is not to look at that and take it day by day. You start thinking three weeks ago, you get lost."
McKissic led ASU with 16 points, adding five rebounds and two steals, but he was the only starter in double figures. The Sun Devils received little help from their top three scorers, Jahii Carson, Jermaine Marshall and Jordan Bachynski.
Bo Barnes and Egor Koulechov had 11 points apiece off bench. Koulechov had not played in the previous three games, but both he and Barnes brought some energy to the floor.
While ASU had trouble scoring, Utah (18-9, 7-8) made 53.8 percent of its field-goal attempts and had a 44-36 rebounding edge. Shooting guard Delon Wright had 22 points, nine rebounds, six assists and three of the Utes' 12 blocked shots.
The Sun Devils attempted to strengthen their rebounding by going to a bigger lineup a month ago, but they have been outrebounded in five of the last six games. Kolechov led the team with eight rebounds and Bachynski had six. With three blocked shots, Bachynski moved to within one of the Pac-12 season record of 120, which he set last year.
"You have to give (Utah) a lot of credit," Johnson said. "That being said, we weren't connected defensively. We weren't locked in mentally. We got rattled early, and we could never shake it. When you are on the road, you have to be on top of all that. You have ton weather the storm. We just couldn't do it.
"Offensively, when things are not going well -- and there are going go be nights like that, especially on the road -- your defense has to hunker down. Tonight, we let our offense dictate our defense. Good teams, championship teams, don't do that."
Follow Jack Magruder on Twitter
---