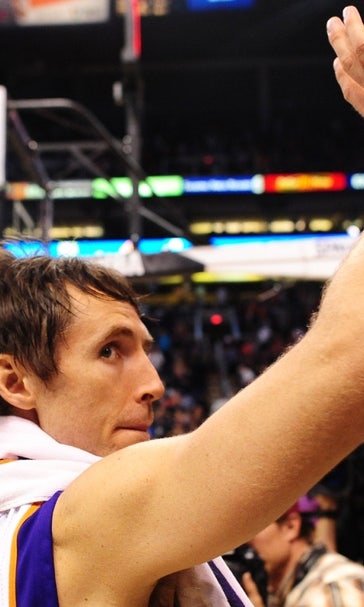 Steve Nash makes his NBA retirement official
March 21, 2015

Two-time MVP and former Phoenix Suns guard Steve Nash on Saturday announced his retirement with a letter published on The Players' Tribune.
In the piece titled "Life After Basketball," the NBA's third-leading career assists leader thanked former Suns players Amare Stoudemire, Leandro Barbosa and Raja Bell. He also made sure to thank former Phoenix coaches Mike D'Antoni and Alvin Gentry.
"Mike D'Antoni changed the game of basketball," Nash wrote. "There's not many people you can say that about. No wonder I had my best years playing for him. His intelligence guided him to never over-coach, complicate or hide behind the game's traditions. He deserves a championship."
Nash, who retires in his final contract season with the Lakers, also reached out to Suns fans.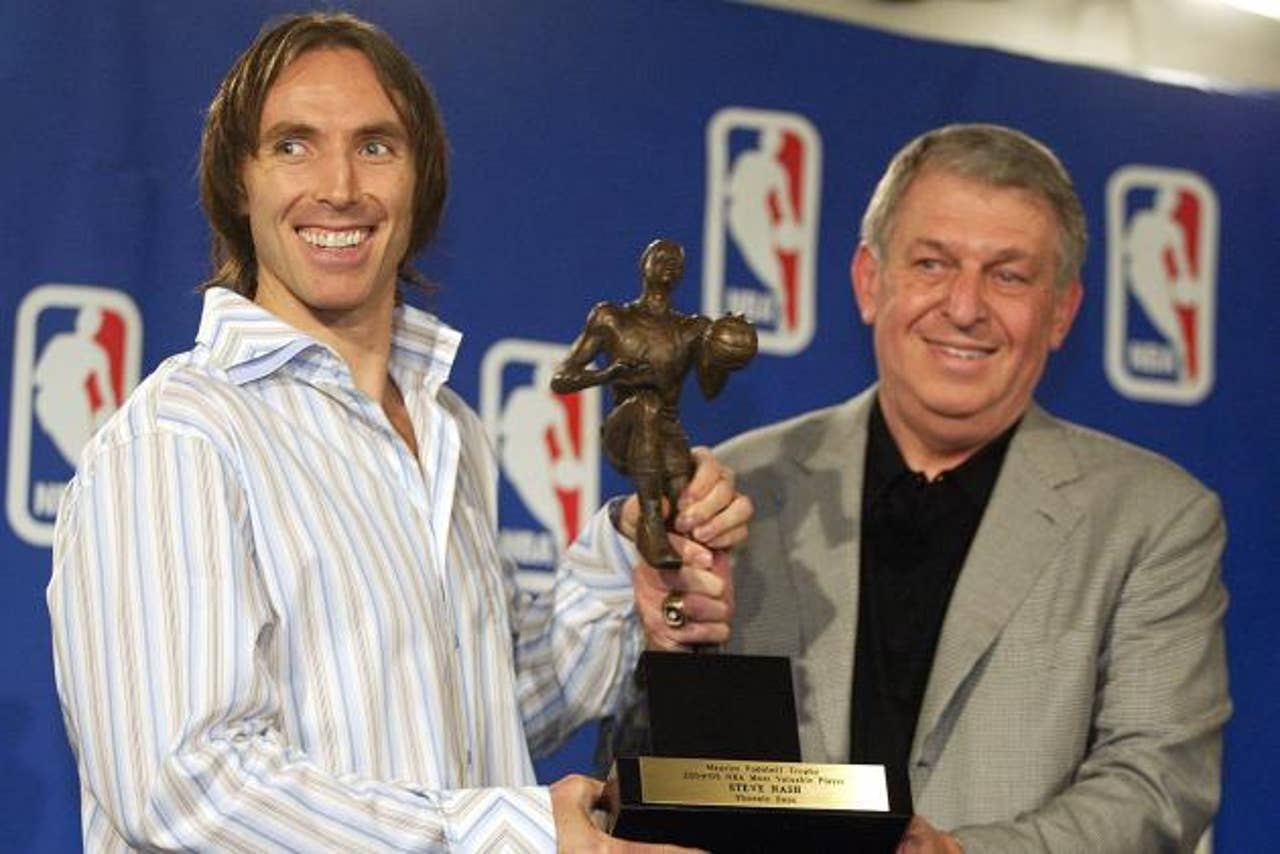 GALLERY: Nash through the years >>
"It will always hurt that Phoenix Suns fans didn't get the championship they deserved during our run," he wrote. "Yes, we had some bad luck but I always look back at it and think, I could've made one more shot, or not forced a turnover, or made a better pass. But I don't regret anything. The arena was always sold out and rocking. It was the time of my life. Thanks, Phoenix."
The Suns traded Nash to the Lakers on July 4, 2012. He appeared in 50 games in 2012-13 and 15 last season for Los Angeles. His ailing back didn't allow him to play this season. Bleacher Reports' Kevin Ding earlier this month reported Nash held off on announcing his retirement to help the Lakers by making his contract available for a potential trade.
Phoenix drafted Nash 15th overall in 1996, and he played with the Suns from 1996-98 before being traded to the Dallas Mavericks. He played with friend Dirk Nowitzki in Dallas from 1998-2004 before returning to Phoenix as a free agent in 2004.
"The Phoenix Suns congratulate two-time MVP Steve Nash on an incredibly successful NBA career," the Suns said in a team statement. "During his time in Phoenix, Steve epitomized what it means to be a winner. His leadership, work ethic and commitment to excellence set an example for those around him. Steve's success on the court was matched by his philanthropic efforts off of it, which have left a lasting impact on our great fans and city. Congratulations, Steve. We are proud to call you a Phoenix Sun!"
Along with two MVP awards in 2005 and 2006, Nash finishes his 19-year career as the NBA's all-time free throw percentage leader (90.4 percent). Maybe most impressively, his teams led the NBA in offense from his 2001-02 Mavericks team to his 2008-09 Suns squad.
"The greatest gift has been to be completely immersed in my passion and striving for something I loved so much a visualizing a ladder, climbing up to my heroes," Nash wrote in his letter. "The obsession became my best friend. I talked to her, cherished her, fought with her and got knocked on my ass by her.
"And that is what I'm most thankful for in my career. In my entire life, in some ways. Obviously, I value my kids and my family more than the game, but in some ways having this friend -- this ever-present pursuit --€" has made me who I am, taught me and tested me, and given me a mission that feels irreplaceable. I am so thankful. I've learned so many invaluable lessons about myself and about life. And of course I still have so much to learn. Another incredible gift."
Here's what others are saying about Nash's retirement.
Follow Kevin Zimmerman on Twitter
---