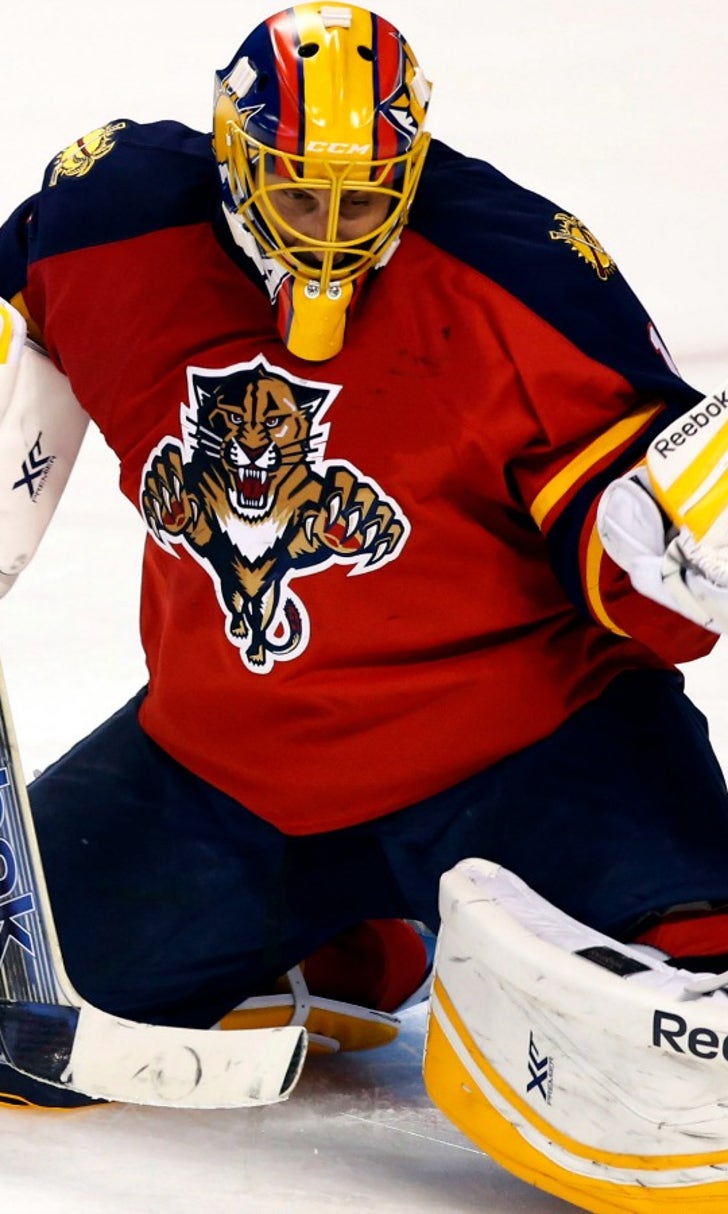 Steve Goldstein Q&A: Roberto Luongo gives Panthers confidence
BY foxsports • November 16, 2014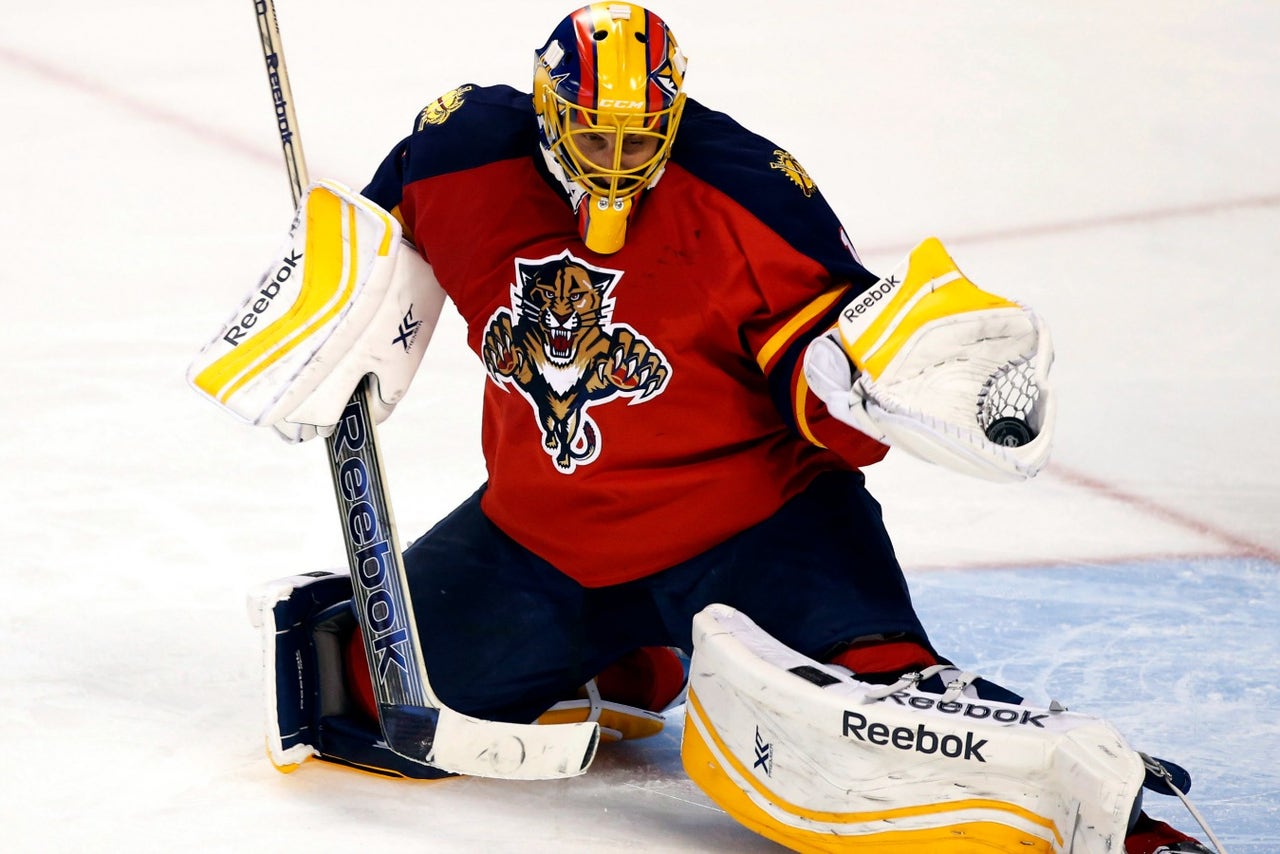 The longtime voice of the Florida Panthers, Steve "Goldie" Goldstein is in his in the midst of his eighth season as the team's television play-by-play announcer on FOX Sports Florida.
With ties to the organization that date back all the way back to 1997, Goldstein boasts an extensive knowledge of not only Panthers history, but also South Florida hockey in general.
Just over a month into 2014-15 season, Goldstein likes what he sees from this year's team. Posting a 5-4-5 record, the Panthers have found early success this season behind a revamped defense and elite goaltending courtesy of the franchise's all-time wins leader, Roberto Luongo.
Prior to embarking on the team's current four-game road trip, Goldstein sat down with FOXSportsFlorida.com's Jameson Olive to discuss topics ranging from the return of color analyst Denis Potvin to the exceptional play of No. 1 overall pick Aaron Ekblad.
FOX SPORTS FLORIDA: After a few seasons with the Ottawa Senators, color analyst and hockey Hall of Famer Denis Potvin returned to the Panthers broadcast booth this season. How has it been having your old partner back?
STEVE GOLDSTEIN: Denis is a great guy. We were friends before we ever worked together so it made the transition seamless. It's been super having him back. His knowledge of the game, the way he sees the game and the things he sees during the game are pretty impressive. He notices a lot of small, intricate things.
FSF: How important is chemistry among broadcasters?
GOLDSTEIN: It's really important. You have to have a mutual respect for each other and you also want to have a good time. We're broadcasting sports. We're broadcasting hockey and I love it. It's a passion of mine and I love going to work all 82 games. You want to portray that as well and I think having chemistry with your partner is an important part of having fun and letting the viewers know you enjoy what you're doing so they can enjoy watching it.
FSF: Just over month into the 2014-15 season, what have you seen out of this Panthers team thus far?
GOLDSTEIN: A lot of hard work, a lot of determination and a team that's a tight-knit unit, those are the three things that I've really noticed. Of course, you're getting great goaltending from Roberto Luongo and that always helps. He's been outstanding. I'm seeing a team that's also deeper. The Panthers have suffered some injuries, I mean, there's been a few games where there's been five forwards out of the lineup and the Panthers picked up points in some of those games, and that hasn't always been the situation. It's a maturing organization from a depth standpoint, but the players are really buying into Gerard Gallant's system and I'm seeing a team that's bringing it every single shift. When you do that, you play good defense like they have been and you have Luongo, I think it's a winning formula.
FSF: The Panthers have certainly seen their fair share of goaltenders since their inaugural season in 1993, what is the difference in the perception of this team when Luongo is between the pipes?
GOLDSTEIN: I think there's just a confidence factor. I mean, there have been other good goaltenders. Back when [the organization] got going, John Vanbiesbrouck was super. From there you go to Tomas Vokoun and Ed Belfour, who had a good year or two here, and then (Jose) Theodore and (Scott) Clemmensen, who helped win the division. So there have been good goaltenders, but Roberto is an all-timer. He's going to be a Hall of Famer. He's up there in wins, he's up there in shutouts, he's up there in saves and he's one of the all-time great goaltenders. I think the difference with him is the confidence factor, knowing that if you have a pretty good structure in front of him he's going to stop the puck. There aren't many goals that are going to get by him that you say, 'oh he should have had that one'. I also think there's a respect factor from other teams and his teammates. Just about everybody in the league has respect for him.
FSF: In front of Luongo the team has several new faces that arrived this offseason via free agency, including Willie Mitchell, Derek MacKenzie and Jussi Jokinen. Who, if any, of the new players have surprised you or played beyond your expectations?
GOLDSTEIN: I think Willie Mitchell as captain and being as steady as he is back there has been really impressive. I think Dmitry Kulikov is playing very well. I think a lot of that, and Dmitry has said this to me also, has to do with Mitchell. Ekblad went back there with him and had a great game. I think Mitchell has been really impressive. None of the players the Panthers signed have really surprised me because I was told by a number of people, before they signed, that guys like Shawn Thornton, Derek MacKenzie and Willie Mitchell are solid veteran guys. You're going to love them and they're going to be great in the dressing room. They're going to help the young guys along and make this a close-knit team, and that's exactly what they've done.
FSF: You mentioned rookie defenseman Aaron Ekblad, who has already tallied two goals and seven assists in 14 games this season. Have you ever been this impressed with a Panthers rookie?
GOLDSTEIN: (Long pause) No. No one has come in with all of the number one picks and been able to walk into a situation like he has and been this good this quickly. I haven't seen it. There have been players that have gotten off to great starts, (Jonathan) Huberdeau did it a few years ago and (Aleksander) Barkov was impressive last year. Nathan Horton in his first year, he was really good. But no one has been able to do what Ekblad has done, especially at that position. They always say it takes a defenseman a few years, well, it's taken this guy a few days. You hate to put too many expectations on him less than 15 games into his NHL career, but he looks like he's the guy. He looks like Drew Doughty, Shea Weber, Norris Trophy good down the road.
FSF: Has there been any specific play by Ekblad this season that made you step back and say "wow"?
GOLDSTEIN: It was the play in Boston. (Chris) Kelly's going back for Boston, it's in overtime, four on four, Ekblad is just closing on him and Kelly can skate. Ekblad just comes down that right wing, passes Kelly, takes the puck, cuts to the front of the net, goes backhand upstairs on Tuukka Rask and he had him. It was the right decision and the puck just goes wide in overtime. If he finished that off it would have been a win and that play would have been seen everywhere for a long time. He's got a really unique knack of knowing when to go and he's also got the burst to be gliding along and then just take off. His offensive instincts have been very impressive at a young age. That play in Boston, where really nothing happened since the shot went wide, that was the play for me.
FSF: Looking ahead, what do you think this team has to do to remain in playoff contention as the season rolls on?
GOLDSTEIN: I think they've just got to keep doing what they're doing. There may not be a player on this team that's going to get 30-35 goals. I don't know if the Kings had that last year, but you can get [to the playoffs] through hard work and compete level, playing smart hockey and responsible hockey when you have a goalie like Luongo. I've been impressed with their start. I think they're in good shape. I think they've just got to keep doing what they're doing as far as playing as a team and I think they've got a great chance. 
You can follow Jameson Olive on Twitter @JamesonCoop or email him at JamesonOlive@gmail.com.
---
---