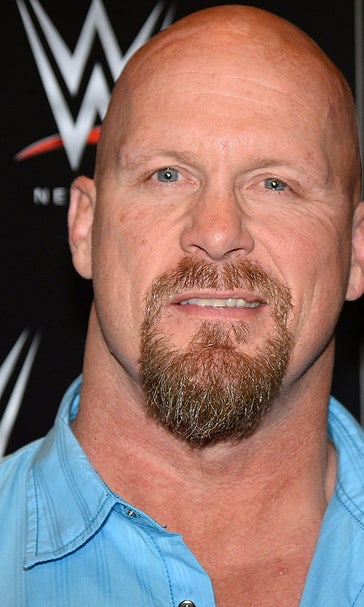 Steve Austin on return to Raw, WrestleMania 32, Lesnar, WWE 2K16 and more
November 2, 2015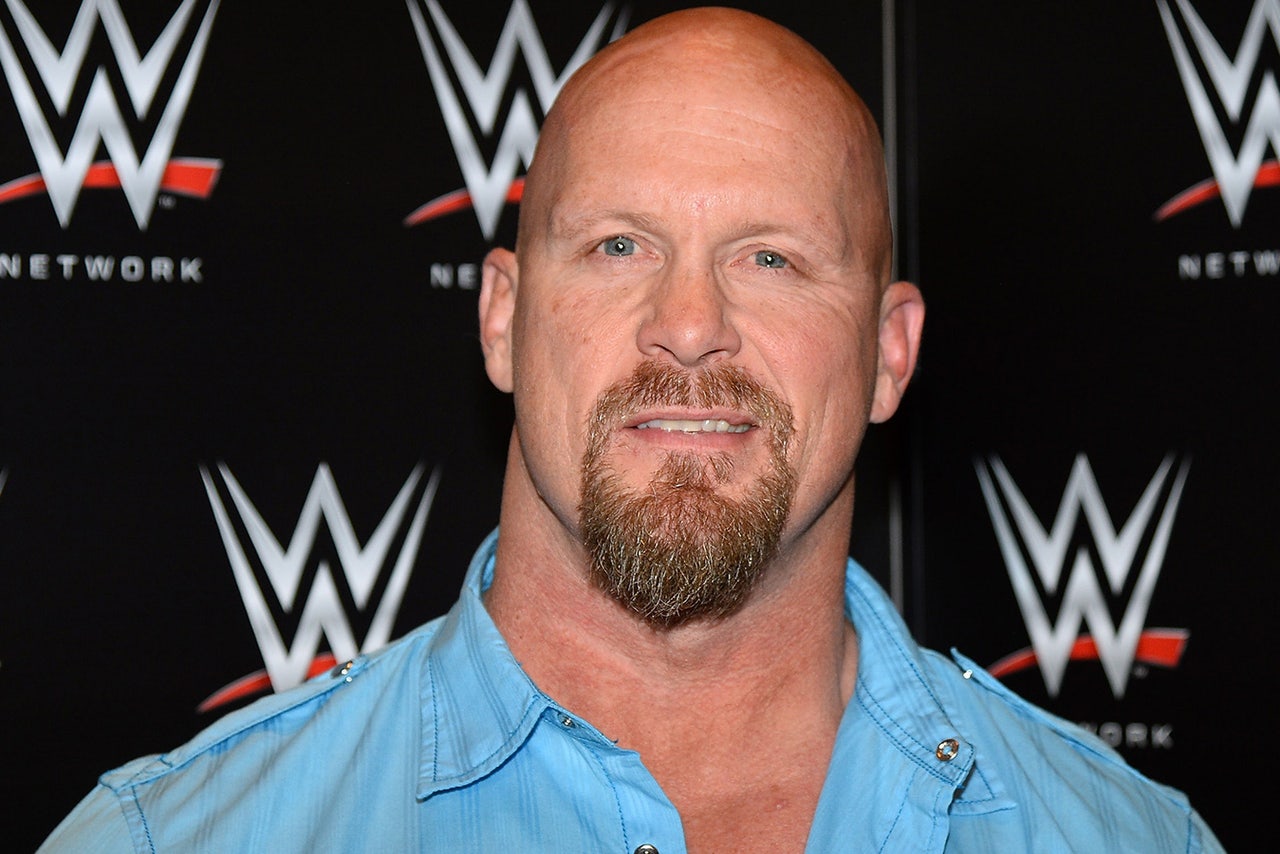 Many fans thought that it made perfect sense that Steve Austin would appear on the Oct. 19 edition of Monday Night Raw. After all, he would be sitting down with Brock Lesnar immediately after the broadcast for a live edition of the Stone Cold Podcast on the WWE Network.
Austin says that was never the plan until he got a text that morning saying that the WWE wanted him for the show.
That night he kicked off Raw, returning to the program he helped take to its highest levels when he was raising hell during the Attitude Era. It had been more that four years since he last appeared on the WWE flagship show, but it turned out to be a quick appearance.
"It was what it was," explained Austin. "It was short, brief. I had four announcements to make. I got handed a piece of paper: 'Yeah, I'll be ready for Raw, yeah, I'll be ready for (WrestleMania) 32 in Dallas. I've got Brock Lesnar coming up in a couple of hours and I'm going to introduce The Undertaker right now.' So, you know, when you ain't been on TV for four years and you'd really like to go out there and uncork a promo and just raise hell for my 6-10 minutes, it left a lot to be desired for my part, but it was doing a favor for WWE."
Still, Austin said it was great to catch up with fellow stars Ric Flair, Shawn Michaels and The Undertaker, who also appeared that evening. Plus, he still enjoys being around his devoted fans.
"It's always nice when you can go out, because it's been so long, and get a great ovation and a pop and people still remember who you are," said Austin. "On one hand, it was great to be seen by the WWE fans, it was great to get that reception and I'm always grateful for the fact that people remember what I did while I was involved in the business of pro wrestling."
Austin stressed that the main reason he hadn't been on Raw for so long is simply because of the busy schedule he keeps these days.
"I've been focusing on reality television shows, which I really love doing. I've got two shows on Country Music Television -- CMT Network -- and one of them is the No. 1 show on the network. Between filming those gigs, it's hard to line up the dates," explained Austin, who hosts Redneck Island and Steve Austin's Broken Skull Challenge on the channel.
He admits that it can't be just anything to have Stone Cold pop up in WWE programming.
"Ultimately, if it's not going to end up in the ring, there's not always room for it," Austin explained. "I can go over and stir the pot, but if I'm not going to be the guy getting in the ring, how much havoc, how much chaos can I create? What can I contribute to, the end product, that's not going to the squared circle. I'm not wrestling anymore. I'm out of that part of my career and it doesn't make sense to have me on TV for no reason if it's not going to end up in the squared circle. That's pretty much the reason."
It's been 12 years since Austin had his last match, but that hasn't stopped wrestling fans from thinking -- hoping -- that Stone Cold could return for one more match.
That buzz picked up this past June when Austin was asked on his podcast by Paul Heyman if he would be interested in a fight with Brock Lesnar at WrestleMania 32 with the huge event taking place in AT&T Stadium in Dallas and the home state of the Texas Rattlesnake.
Austin replied in classic Stone Cold manner, saying that if it were to go down, he would beat the Beast Incarnate. That only got people talking more about the potential dream match, but Austin says it's not happening.
"I think 99.9 percent I've had my last match," said Austin. "If I felt froggy and wanted to jump for any particular reason, just because I said right now I have the fever for it, I'd like to do it. But for all practical, intrinsic, whatever kind of purposes, I'm done. Again, if I felt like it, could I? Yeah. Would I? In a dream world. possibly. I'm not trying to promote a match and pretty much I am done. I would always reserve the option."
Austin admits that he did have the itch to get in the ring against Lesnar, who he says is one of the few guys he would entertain facing in a match.
"I considered it for just a brief moment but again, just like I tell everybody, what's on the backside of a match like that, you know?" wondered Austin. "I got out of the business when I got out. The hunger was out of my system. It's almost like getting off an addiction. I'm not addicted to wrestling anymore. For a long time I was. So what's on the backside of that match for me? A whole lot of nothing. So it would be a lot of buildup and, to me, it would be almost anti-climactic."
WWE hopes to pack in a record crowd of more than 100,000 fans at WrestleMania 32 next April. For that, they'll need something special to headline the card. And what would be bigger than the toughest S.O.B. in WWE history against the baddest man on the planet?
"With respect to all of the WWE superstars currently in the system and any legends they could bring back, that would be a big-ass match just because of the fact that if it was going to be my last match going up against Brock Lesnar who's absolutely on fire right now and the fact that I'm from the great state of Texas. I started in Dallas and could end it in Dallas -- that would be all the stars aligning."
Another factor that Austin says would keep him away from a WWE return is how things are run these days compared to when he was in his prime.
"I was just at the pay-per-view Hell in a Cell and prior to that I was in Dallas at a Monday Night Raw and, man, the system is very constricted right now," explained Austin. "I feel for the guys in the system. I had a lot more creative freedom back in the day. These days, it's a very rigid system and it's very political. Because of the system that I was in, I could never comply to the current system. I ain't knocking it. I'm just saying I couldn't fly in that system with so many restrictions on me."
Austin also recognizes that he had his time to shine as a performer.
"I love my fans and I love my relationship with the fans but when you're a performer and you're used to being the mac daddy, the main cat and all of a sudden you're not that guy anymore, it's kind of a whole different spectrum and a whole different level. It's the younger guys' time now and I recognize that."
Even though he is no longer an active performer in the business that made him a household name and one of the biggest stars in WWE history, Austin still has a passion for wrestling. You can hear that passion on his podcast, The Steve Austin Show, which airs twice a week on the PodcastOne Network and is one of the most downloaded sports podcasts each week on iTunes.
"Man, I love professional wrestling," Austin exclaimed. "I'm not going to call it sports entertainment because I don't call it that on my podcast. I'm not going to call it that here. There is professional wrestling to me. There's a fine line, but there's a big damn difference as well. I love the business. I want these young guys and gals to understand what the business is all about and it's not working a million miles an hour and taking all these crazy, supercross bumps that they don't have to take. You want to be able to help them or influence them."
One of the things that has impressed him the most recently is the women's movement in the WWE, from the Bella Twins to the main roster additions of Charlotte, Sasha Banks and Becky Lynch. Even Austin was impressed by the NXT TakeOver: Brooklyn show in August on the WWE Network where Bayley won the Women's Championship from Banks in what was the best women's match in a long time or maybe ever in WWE history.
"When you get those women working at a level like that, give me more women's wrestling," said Austin. "I want to see guys working like that. Those young ladies are getting it. They're understanding it. I love it. It's not about pushing the envelope at 100 miles an hour. It's about establishing an identity and a character and having people believe in you whether they love you or they hate you, they despise you, they adore you, they feel your pain and buy into what you're doing. You're telling a story. I still love that aspect of the business."
Austin says he watches as much wrestling as he can these days but admits it can be tough at times.
"Sometimes I find it hard to watch, but I wish the best for all the guys and girls and I look forward to a little bit more simplistic booking and not 50/50 booking, but booking where wins and losses do matter. They can bring in personal issues."
That booking, with stars winning a match one night and then losing the following night, has frustrated fans. Just look at Seth Rollins who won just one of the nine matches he was involved in on both Raw and Smackdown during a recent four-week span despite being the WWE World Heavyweight Champion.
"You're damn right wins and losses matter in any sports endeavor you can imagine," exclaimed Austin. "Out of every single sport, wins matter so don't sit there and say that wins and losses don't matter in pro wrestling because absolutely they do. Remember, you can call it sports entertainment, but this whole thing is based on the fact that you have winners and losers and the winners are sent to the top and that guy who holds the belt loses the least.
"You gotta have a bad-ass champion to be able to pull that off, pull out those wins, cheating if he's a heel, however he wins as a babyface, strong performance, a great finish, whatever. The only scheme of booking -- wins and losses do matter. For someone to say they don't is BS."
As for Rollins, Austin has a lot of respect for him and what he's done since becoming the champ at WrestleMania 31 this past March.
"Man, I really like what the guy does in the ring. He needs to let his opponent sell a little more, as he should as well, but he's a hellacious hand in the ring. I love what he does, but you can't beat him like a drum and expect him to draw a house."
Recently, Austin got the call to be on the cover of the WWE 2K16 video game which is now available for the PlayStation 3, PlayStation 4, Xbox 360, and Xbox One game systems. It was a call he didn't expect.
"I was surprised on one hand, I wasn't surprised on another because of the global reach that they wanted that person and the cover to have," said Austin. "A lot of people were saying 'Hey man, this should be so and so' or a current superstar that is in the system. But they're looking at the small picture. WWE and 2K were looking at the big picture of the current and past fan base and that ended up pointing all the arrows to Stone Cold Steve Austin."
Not only is he on the cover, but the WWE 2K16 game features the Stone Cold Showcase Mode, which spans Austin's legendary career from his epic encounter with Jake the Snake Roberts at the 1996 King of the Ring all the way to his showdown with The Rock at WrestleMania XIX.
It's right up the alley for anyone who was a fan of Austin's during the Attitude Era. But there were some fans who spoke out when he was chosen to grace the game's cover, which he understood.
"If you're a hardcore fan who is following the product, you want your guy on there," said Austin. "Man, that's the thing. Stone Cold fans are some of the greatest in the world, but so are the other WWE fans who have their favorite superstars and want to make a case for Roman Reigns, Seth Rollins or Dean Ambrose or John Cena again or Brock Lesnar. Any of them. Of course, when you have a decision like that, anybody and everybody is going to have their favorite."
These days, Austin is enjoying life out of the ring as he now shares time between his Broken Skull Ranch in Texas and his home in Los Angeles, which he fondly refers to as 3:16 Gimmick Street on his podcast.
While he still enjoys a good beer -- mostly craft beers and IPA's lately -- he also fancies a good wine and hopes to find some time to get back to wine country with his wife Kristin.
"I'm in a real good place right now," said Austin. "I've been able to stay busy with the shows on CMT. Luckily, the podcast has been has a success for me. I love doing it."
As for WrestleMania 32, Austin does expect to be a part of the show in some fashion. With a possible 100,000 fans, it sounds like a good time for a good ol' Stone Cold beer bash doesn't it?
"If there was ever a reason to have a beer bash, I think that's the best idea I've heard so far because no one has mentioned to me anything for WrestleMania 32. They know I'm not interested in wrestling. I'm not going to wrestle. But a beer bash at WrestleMania 32 is a pretty dang good idea."
---