Kevin Durant
Kevin Durant
Stephen Curry doesn't need finals MVP, another title will do
Published
Jun. 8, 2018 12:25 p.m. ET
OAKLAND, Calif. (AP) -- Before the NBA Finals began, Stephen Curry could only chuckle at how long it took for someone to inquire about how badly he wants to add a finals MVP to his decorated resume.

Maybe a minute passed.

Curry has earned two NBA MVPs, set the single-season 3-point record, captured a pair of championships and is on the cusp of a third. He doesn't need the finals MVP, another title will do just fine.

It might come down to Curry and teammate Kevin Durant for series MVP with the Warriors up 3-0 on LeBron James and the Cavaliers going into Game 4 on Friday night with a chance to clinch at Cleveland.

"It took to the second question of my first media availability, so I'm pretty sure that narrative's going to take life, as it has since 2015," Curry said. "But it doesn't make or break my career or whatever you want to say looking back. If we win this championship and I don't win finals MVP, I'm going to be smiling just as wide and just as big."

Sure, if he could edge out KD, then Curry would join the big names of James, Michael Jordan, Magic Johnson, Larry Bird, Kareem Abdul-Jabbar, Wilt Chamberlain, Moses Malone and Tim Duncan as players with a pair of NBA MVPs and a finals MVP.

Not that Curry is thinking about any of that: He would gladly settle for a second straight victory parade.

"It's part of my motivation to try to get back to this stage because I want more championships," he said. "But I've never really highlighted the individual type (honors) -- even before my regular-season MVPs, I've never even really attacked it as if that was the goal, per se."

Still, the undersized point guard out of Davidson has defied the critics. Curry knows how much he has meant for the franchise during this special four-year stretch.

And this might have been the toughest one yet for Curry, even counting all those losing seasons early in his career, plagued by multiple injuries and so much missed time. He was even out for the entire first round of the playoffs.



Curry's typically steady shot has been inconsistent, too.

As he always does regardless of whether they're going in, Curry has kept firing 3-pointers.

He reached a mindboggling 0 for 9 Wednesday before finally making one from deep against the Cavs -- just three days after knocking down a finals-record nine from beyond the arc.

That frustrating Game 3 performance epitomized Curry's topsy-turvy season.

"I'm going to play aggressively, confidently, with that right energy and motivation to help my team win," Curry said. "And usually when I'm in that mindset, good things happen, whether that means it's a finals MVP or not, who cares, but I'm going to be playing like it, for sure."

As Curry walked off the court with only 11 points on 3-for-16 shooting in the 110-102 win that put Golden State one victory from a repeat title, Andre Iguodala draped his right arm around No. 30's neck and whispered something in his left ear.

"He was telling me what he's going to order at our team dinner tonight, and I agree with his choices," Curry cracked.

He certainly isn't taking himself too seriously on the big stage, appreciating how hard it is to get here with hopes of doing so for the long haul.

Even on a night his shot wasn't falling and he got outshined by Durant, Curry connected when it mattered and the game was on the line. That's just what he does as the Warriors' dependable star.

The defining moment of Curry's postseason might have come in Game 2 of the finals, when he scored 33 points and returned to being leading man for Golden State with the home crowd at Oracle Arena cheering his every move.

"Thank goodness I never had to play against him," said B.J. Armstrong, who spent 11 seasons in the NBA, mostly with Chicago. "He's a very special player. Every time I see him, I played in Charlotte for like a year and a half, so I remember him when he was very little, to see him now I chuckle every time I see him. I just remember when he was little and his dad would be dragging him around. He's phenomenal. I'm in awe of his ability to shoot the ball and what he's been able to do, his leadership, the example he's setting for all the young kids and what he's been able to do in the game. It's just incredible. I have such respect for him, especially because I know his parents, and he's a point guard, so I just marvel at what he's been able to do."

Curry showed his unselfishness when he traveled to the Hamptons two summers ago to recruit Durant, willing to cede the spotlight as Golden State's singular star.

After back-to-back MVP awards that made Curry the face of the Warriors and one of the league's most dynamic and thrilling players, he has taken a backseat to let KD get comfortable.

Golden State has been complete again since Curry returned for Game 2 of the Western Conference semifinals against the Pelicans following nearly six weeks out with a sprained left knee.

Just having Curry back on the court provides a huge emotional lift, even if he's not at his most dominant. There's that noticeable joy coach Steve Kerr so loves with his star-studded bunch.

"I think Steph really sets the tone more than anybody in that regard," Kerr said, "for what our culture is about."
---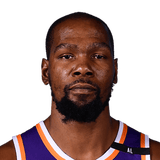 Get more from Kevin Durant
Follow your favorites to get information about games, news and more
---