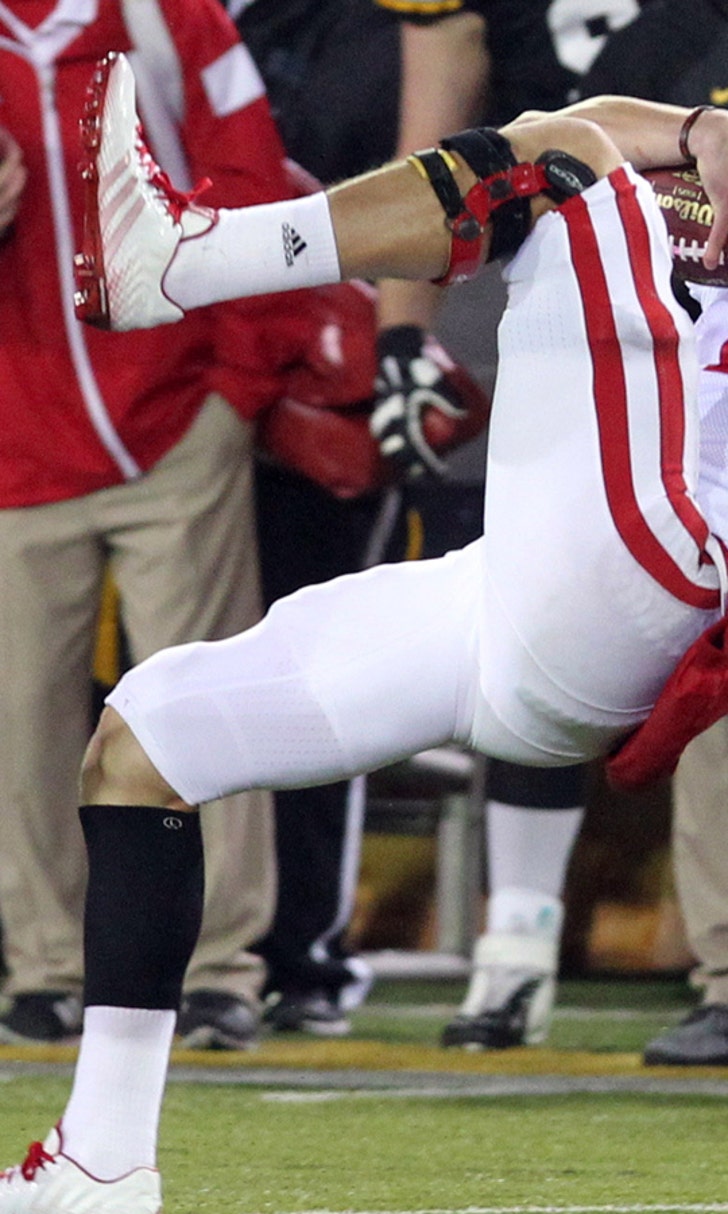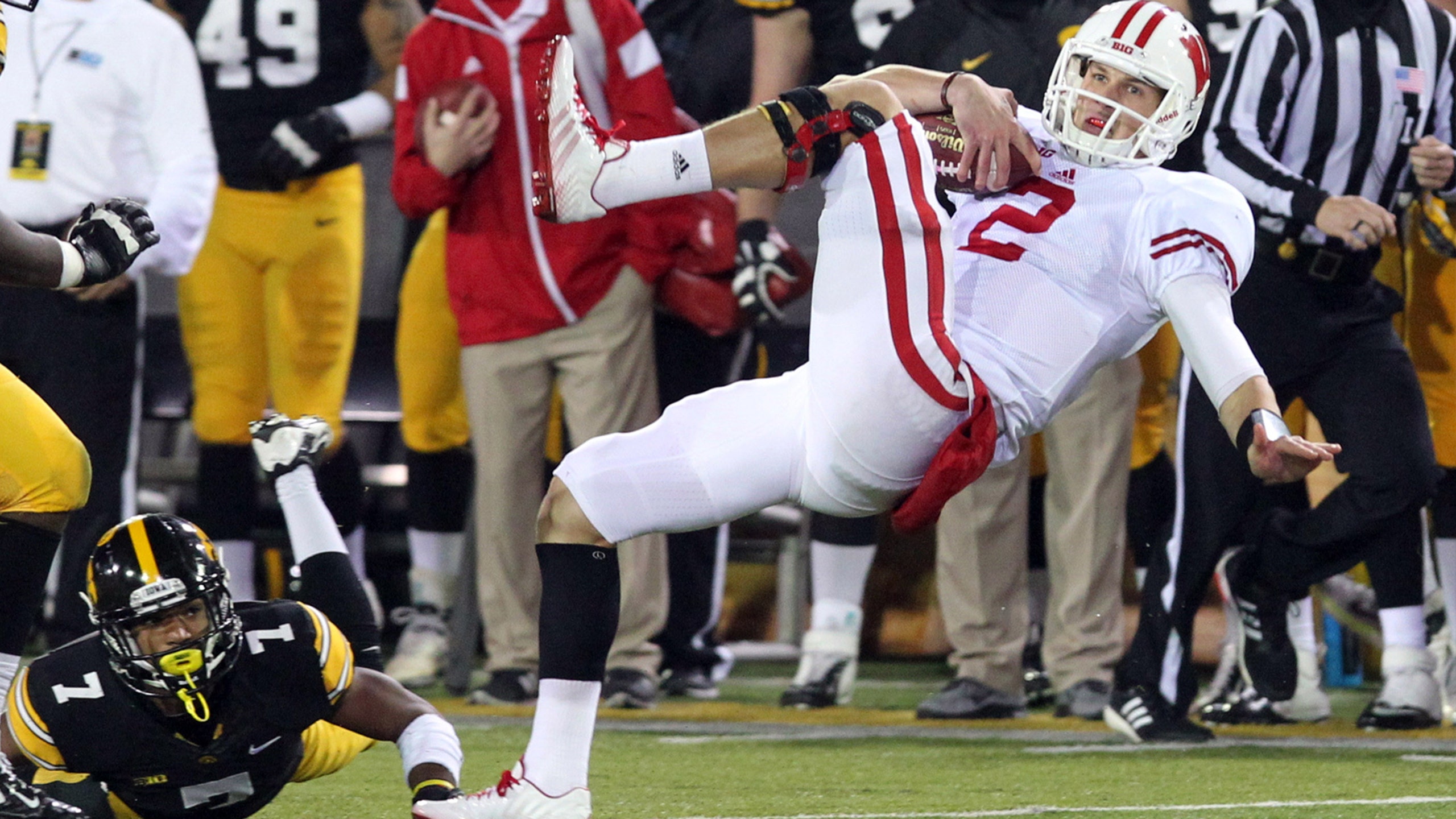 Stave stands tall, helps Wisconsin slip past Iowa
BY foxsports • November 22, 2014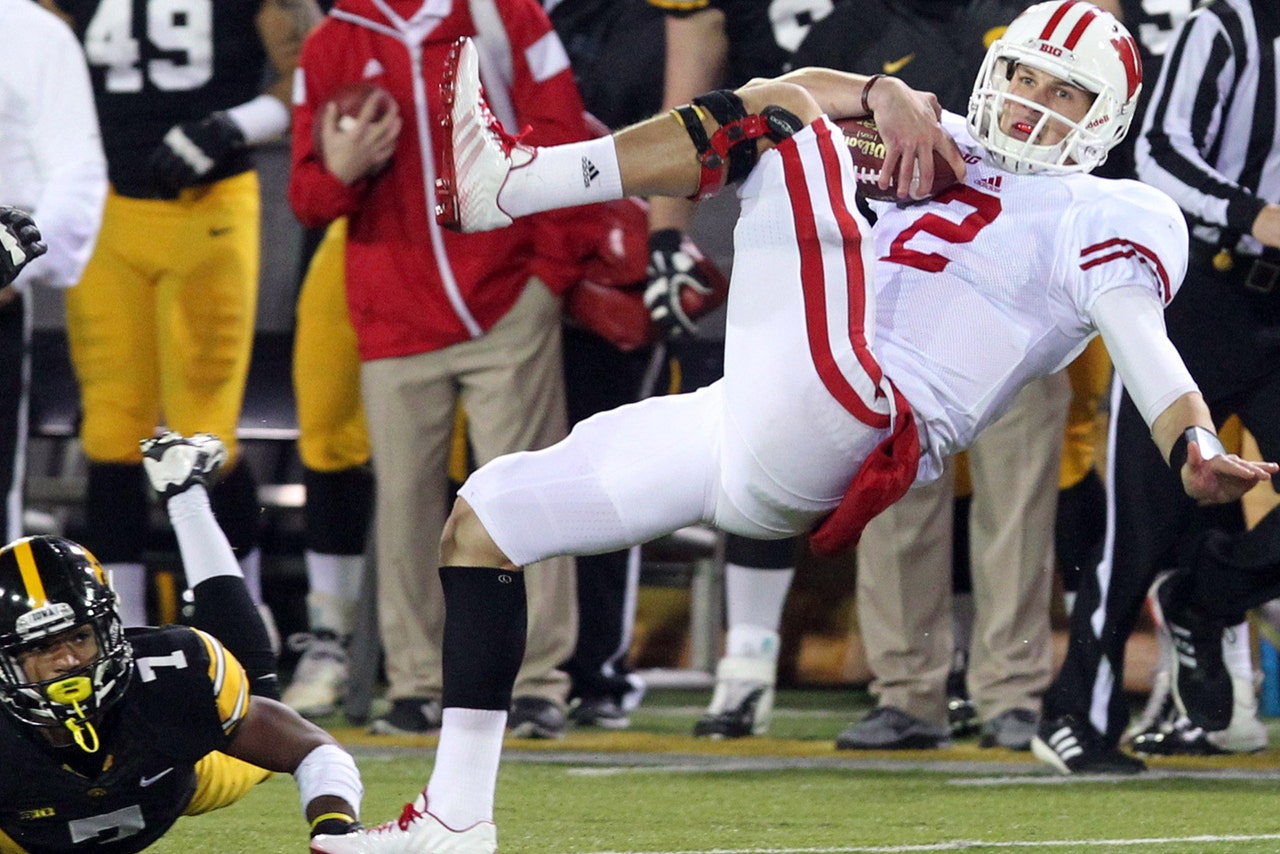 IOWA CITY, Iowa -- The last man on the field anybody would expect to tuck a football and run surveyed his receivers on third down in the waning minutes Saturday night. He saw his slot man covered in the quick flat. He spotted a safety draped over his big tight end across the middle.
And then, Wisconsin quarterback Joel Stave opted for the only choice remaining -- the one from which even the most ardent Badgers fans couldn't help but shield their eyes.
"At some point, that clock in your head goes off saying, 'I can't stand here anymore,'" Stave said. "So, I just took it down."
What transpired was not exactly a thing of grace, but its effectiveness certainly was beautiful. Stave, on third-and-8, dashed toward midfield, absorbed a punishing blow that flipped him at the knees and recorded the game-clinching first down conversion with 1:55 left in the fourth quarter.
The 12-yard run saved the game and very well may have saved the season for No. 14 Wisconsin, which squeaked out a 26-24 victory against Iowa at Kinnick Stadium in front of 68,610 fans. Iowa was forced to call its final timeout, and Wisconsin had secured a win and the Heartland Trophy following two kneel downs to close the contest.
Saturday's result, coupled with Minnesota's 28-24 victory against Nebraska, sets up a winner-take-all matchup between the Badgers and Gophers in the regular-season finale next Saturday at Camp Randall Stadium. The victor earns bragging rights, Paul Bunyan's Axe, and most important, a chance to play for the conference championship as winner of the Big Ten West division.
Before Wisconsin could have an opportunity to decide the West champion next week, it first had to overcome a pesky Iowa team (7-4, 4-3) that fought to wedge its way into the championship conversation, too. The Hawkeyes trimmed a 19-3 deficit to 19-17 with 11:10 remaining in the fourth quarter and appeared in position to pull off a stirring comeback.
Iowa quarterback Jake Rudock connected with receiver Kevonte Martin-Manley on a 20-yard touchdown, and tailback Jordan Canzeri converted the two-point conversion to cut the score to 19-11. Rudock then scored from three yards out before Badgers linebacker Joe Schobert batted down his two-point pass attempt intended for wide receiver Jacob Hillyer, which kept the Hawkeyes behind by two.
But Badgers running back Melvin Gordon again showed why he'll be a Heisman Trophy finalist on the ensuing drive, eating up chunks of yardage in the air and on the ground. He caught two passes for 45 yards from Stave and then took a 23-yard run around the left side for a touchdown and a 26-17 Wisconsin lead.
"We needed a play," Gordon said. "I knew the play they were calling. I knew the ball was coming to me."
Gordon finished with 31 carries, 200 yards rushing and two touchdowns after backup tailback Corey Clement sustained an injury early in the game. Gordon tied former Badgers great Ron Dayne for the program and Big Ten record for single-season rushing yards (2,109).
Iowa quickly pieced together a seven-play, 86-yard drive in 2 minutes, 43 seconds, capped by Rudock's nine-yard touchdown pass to tight end Jake Duzey, which trimmed the score to 26-24 with 5:01 remaining. That set the stage for Stave and the offense to salt the game away.
Four times in the game, Stave had connected on third-down passes to receivers that resulted in a first down. He found tight end Troy Fumagalli for 12 yards on third-and-8 and then hit tight end Sam Arneson for 13 yards on third-and-11 in the second quarter. Those completions helped Gordon score his first of two touchdowns, a six-yarder that gave Wisconsin a 16-3 lead.
Stave later found receiver Alex Erickson for seven yards on third-and-6 and Gordon for 35 yards on third-and-13. He also completed 11 of 14 passes for 139 yards in the game. So when Wisconsin faced a third-and-8 from its own 36-yard line, it stood to reason Stave would look to pass.
But with receiver Kenzel Doe and Arneson covered, Stave did what Iowa least anticipated. For an idea as to how surprising Stave's run was, consider that he entered the game having rushed seven times this season for minus-28 yards -- an average per rush of negative-four yards thanks largely to sacks.
"I would've expected me to help pick up a key third down maybe throwing the ball," Stave said. "To say that I would've run for a big third down on the last play of the game, I wouldn't have put my money on it I guess going into the game."
Stave's run wasn't quite akin to quarterback Darrell Bevell's 21-yard touchdown scramble to clinch Wisconsin's 1994 Rose Bowl victory against UCLA. But given the circumstances and the player involved, it was nearly as surprising.
"A little unexpected, but it was the biggest play of the game," said Tanner McEvoy, the speedy option in Wisconsin's two-quarterback system, who broke a 45-yard touchdown run earlier in the game. "We needed a first down there, and he answered."
Added Stave: "I think I'm maybe a better athlete than I get credit for. I've just got to do it when I can. That was a really big situation to basically tuck it down and run. I spend all this time working on my sliding, but that was not the situation to put it into action."
When it was over, Wisconsin (9-2, 6-1) had won its sixth consecutive Big Ten game, and Badgers players were able to leave Kinnick Stadium in high spirits knowing what lies ahead.
Wisconsin has won a record 10 consecutive games against Minnesota (8-3, 4-2). And Saturday's victory against Iowa ensures this year's version of the longstanding Wisconsin-Minnesota rivalry will be as significant as any game in recent memory.
"It's going to be big time," Arneson said. "It's been a while since the axe game really had that much value. I can't explain how excited I am. We take so much pride in having that axe and being able to win in this rivalry. For it to decide the West division is just icing on the cake."
Follow Jesse Temple on Twitter
---