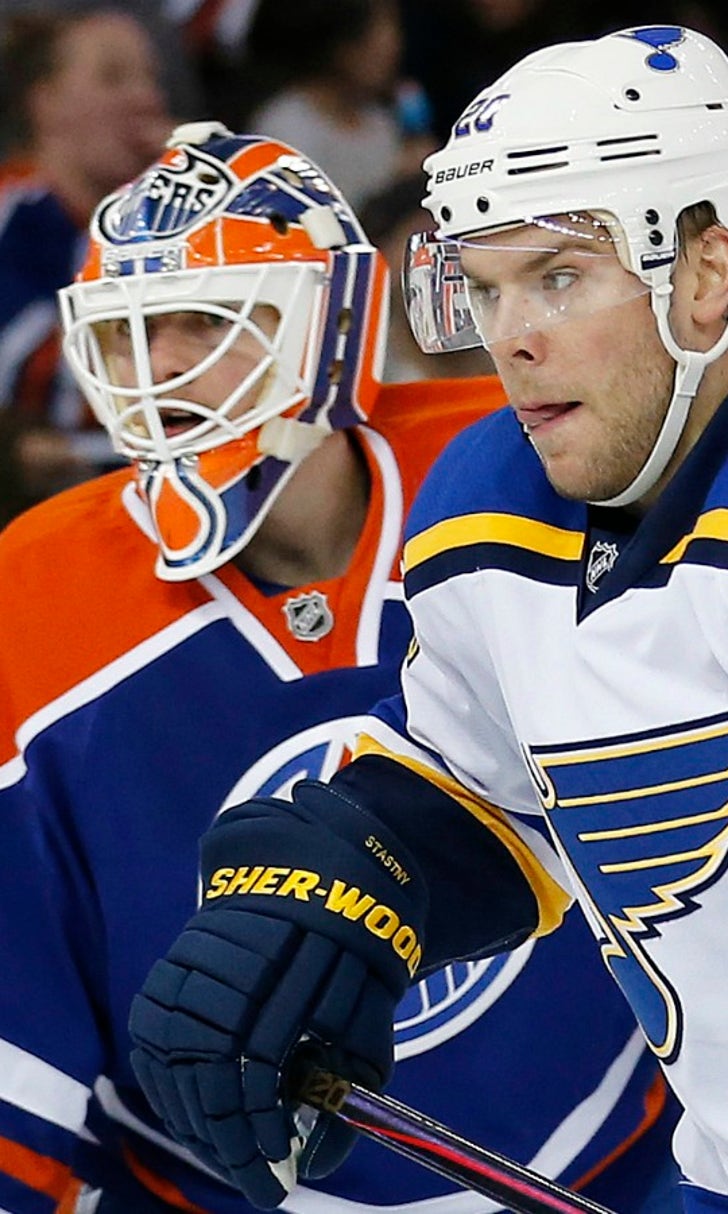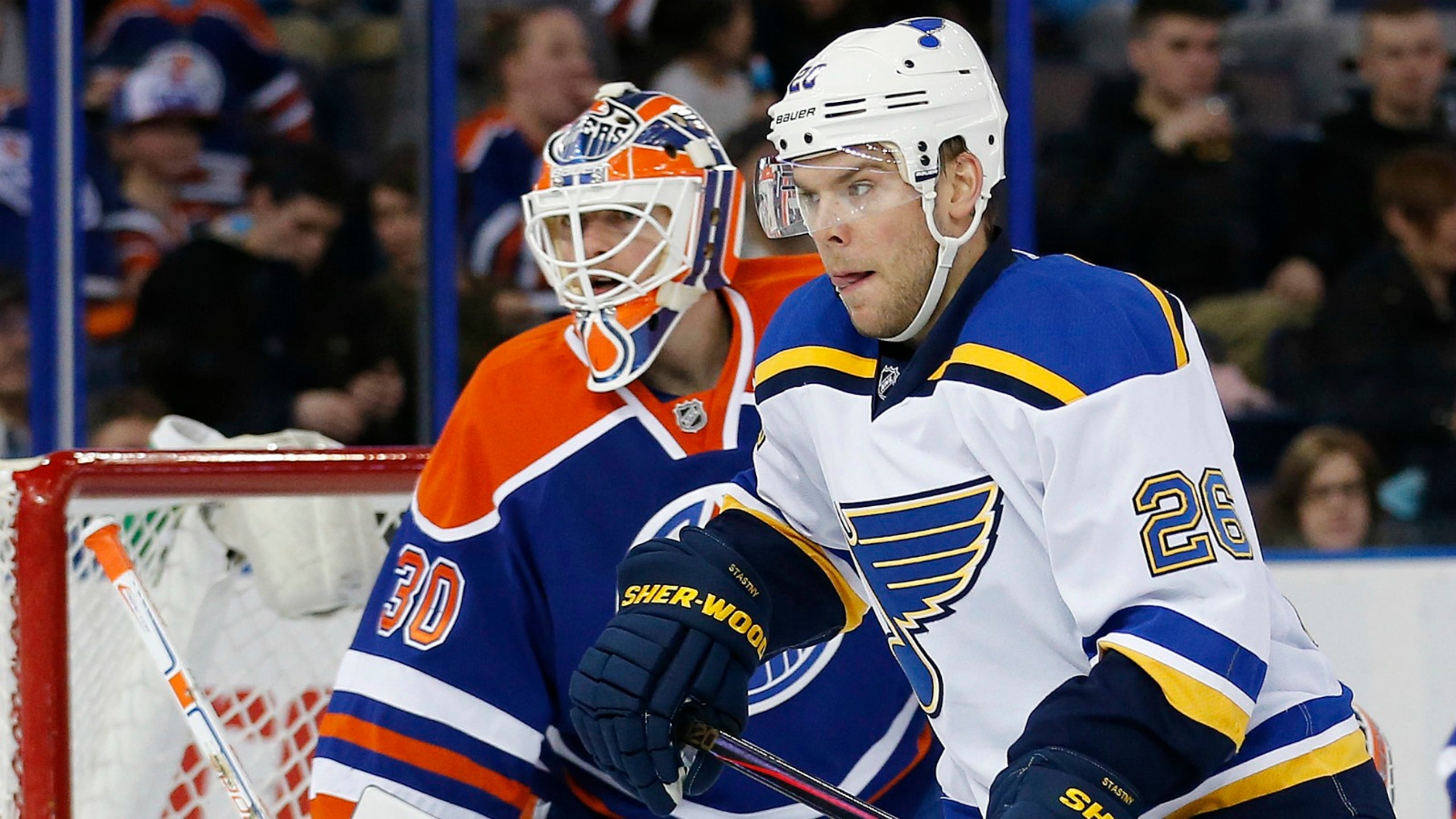 Stastny and dynamic third line lead Blues to win in Edmonton
BY foxsports • March 1, 2015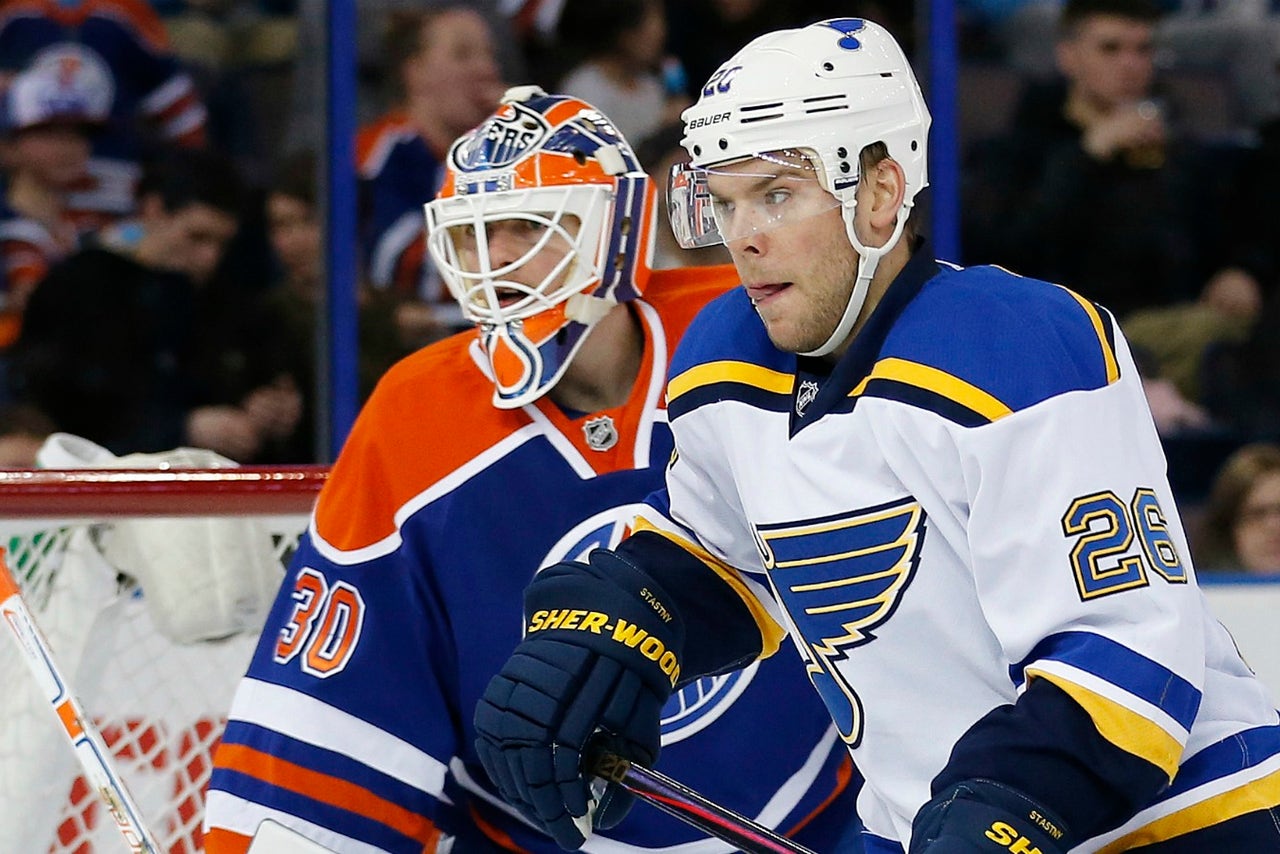 The Blues' offense may be slowly heating up, one game and one piece at a time.
Paul Stastny and his linemates looked to be on a different level than the rest of their teammates Saturday night, carrying St. Louis to a key 2-1 win at Edmonton. Ben Scrivens' quick glove kept Stastny from scoring the game-winner midway through the third period, but the St. Louis forward found the net on a backhand through the five-hole with just over five minutes left to play.
"I thought throughout the game we probably had five or six better chances that we should have scored on," Stastny told FOX Sports Midwest play-by-play announcer John Kelly and analyst Darren Pang on the Blues Live postgame show. "But over the course of the game, the ones that are the least likely to go in are the ones that go in."
Indeed, only some great saves by Scrivens stopped St. Louis' dangerous third line from doing even more damage. Stastny led the way with five shots and rookie Dmitrij Jaskin added four more, highlighted by his 10th goal in 35 games.
The third forward, Patrik Berglund, started a brilliant sequence for the game's first goal when he intercepted a pass in the offensive zone. He found Stastny, who quickly sent it over to Jaskin for an easy shot into a mostly open net from the right circle before Scrivens could get into position.
"You just want to be put out there no matter the situation and then we're good on faceoffs," said Stastny, who won seven of nine draws. "I think wingers helped out. We had a lot of puck possession."
Berglund scored the lone Blues goal in a 2-1 shootout win Thursday night at Winnipeg, a tap-in set up by another great Stastny pass. Saturday, the Oilers appeared to be expecting a pass before Stastny skated around a defender on his game-winner, and earlier his 24th assist moved him into fifth on the St. Louis roster, just eight behind leaders Alexander Steen and Kevin Shattenkirk.
Last-place Edmonton rarely challenged Brian Elliott beyond a game-tying goal in the second period, but the Blues' offensive struggles continued on their top two lines. The Blues failed to score a third goal for the sixth time in their past seven games, with the only exception coming against Boston goaltender Malcolm Subban in the only NHL appearance of his young career.
Other forwards created some chances, notably on golden opportunities for T.J. Oshie off a perfect pass from Steen and Jori Lehtera all alone in front of the net on a third-period power play. Neither could take advantage and the game remained tied at one.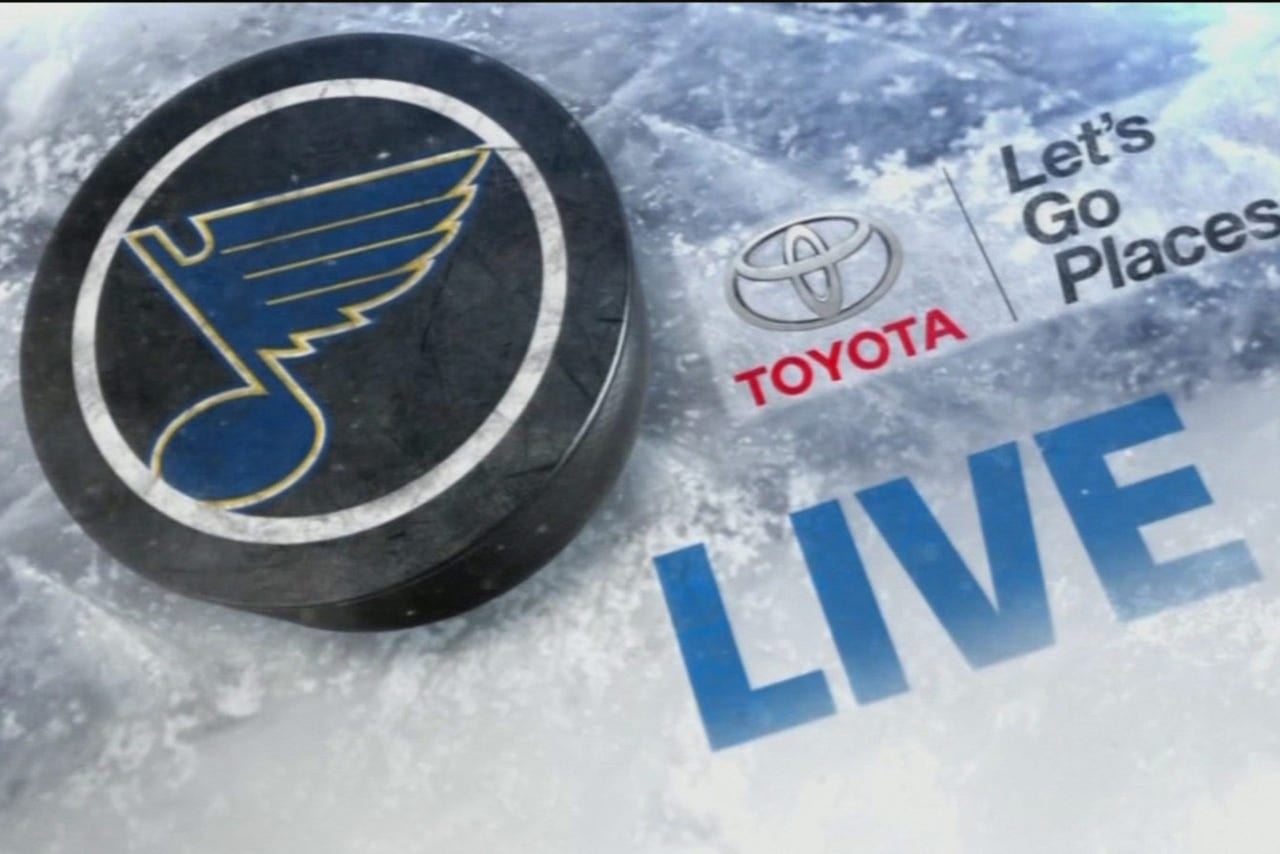 Watch the Blues Live pregame and postgame shows before and after every St. Louis Blues game on FOX Sports Midwest.
Nonetheless, the Blues have done enough to win six of their past 11 games and nine of their past 10 on the road to move within five points of Nashville for the Central Division lead. The Predators have played one more game than St. Louis after losing their second straight home game to Detroit on Saturday.
FIRST PERIOD DROUGHT ENDS
The Blues took a critical step in getting their offense back on track with Jaskin's first-period goal.
That snapped a streak of six straight games without a goal in the opening 20 minutes, something they'd done only once in the previous 11 games. St. Louis improved to 17-1-2 when leading after the first period, no surprise for a team built on balance and depth rather than individual skill.
A strong start still eluded the Blues as they spent plenty of time in their own zone early and didn't even get a shot on goal until Jaskin nearly scored on a three-on-one with 11:15 left. That seemed to light a spark and give St. Louis some much-needed energy before the first intermission.
BOUWMEESTER HITS 900
It's always special for Jay Bouwmeester to return to Edmonton, where he grew up and played youth hockey for the Pee Wee Oilers.
The 31-year-old's return took on an added significance Saturday night with the 900th game of his impressive NHL career. Bouwmeester tallied an assist in his debut for Florida on Oct. 10, 2002, and played all 82 games as a rookie, a feat he's repeated a remarkable eight more times for three different teams.
St. Louis acquired the reliable defenseman from Calgary just before the trade deadline in the lockout-shortened 2013 season, and he reached 150 games wearing the Blue Note on Saturday. An injury in November snapped his streak of 737 consecutive games played, the longest in professional sports at the time.
You can follow Luke Thompson on Twitter at @FS_LukeT or email him at lukegthompson87@gmail.com.
---