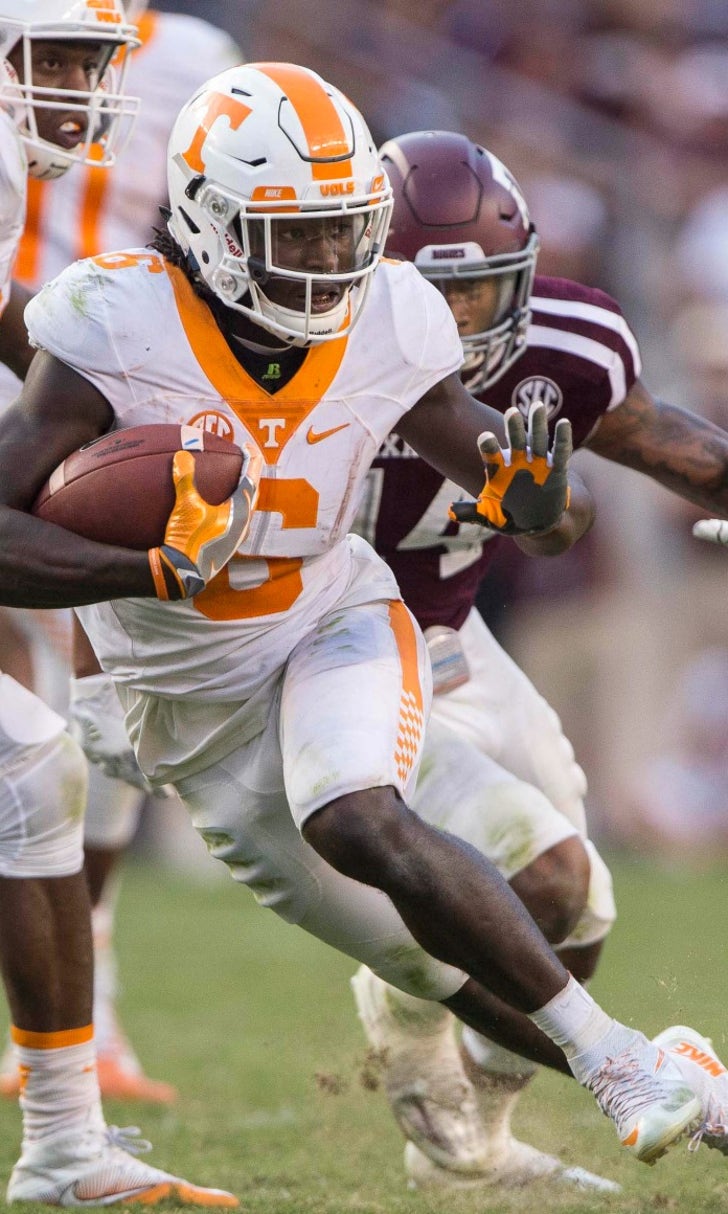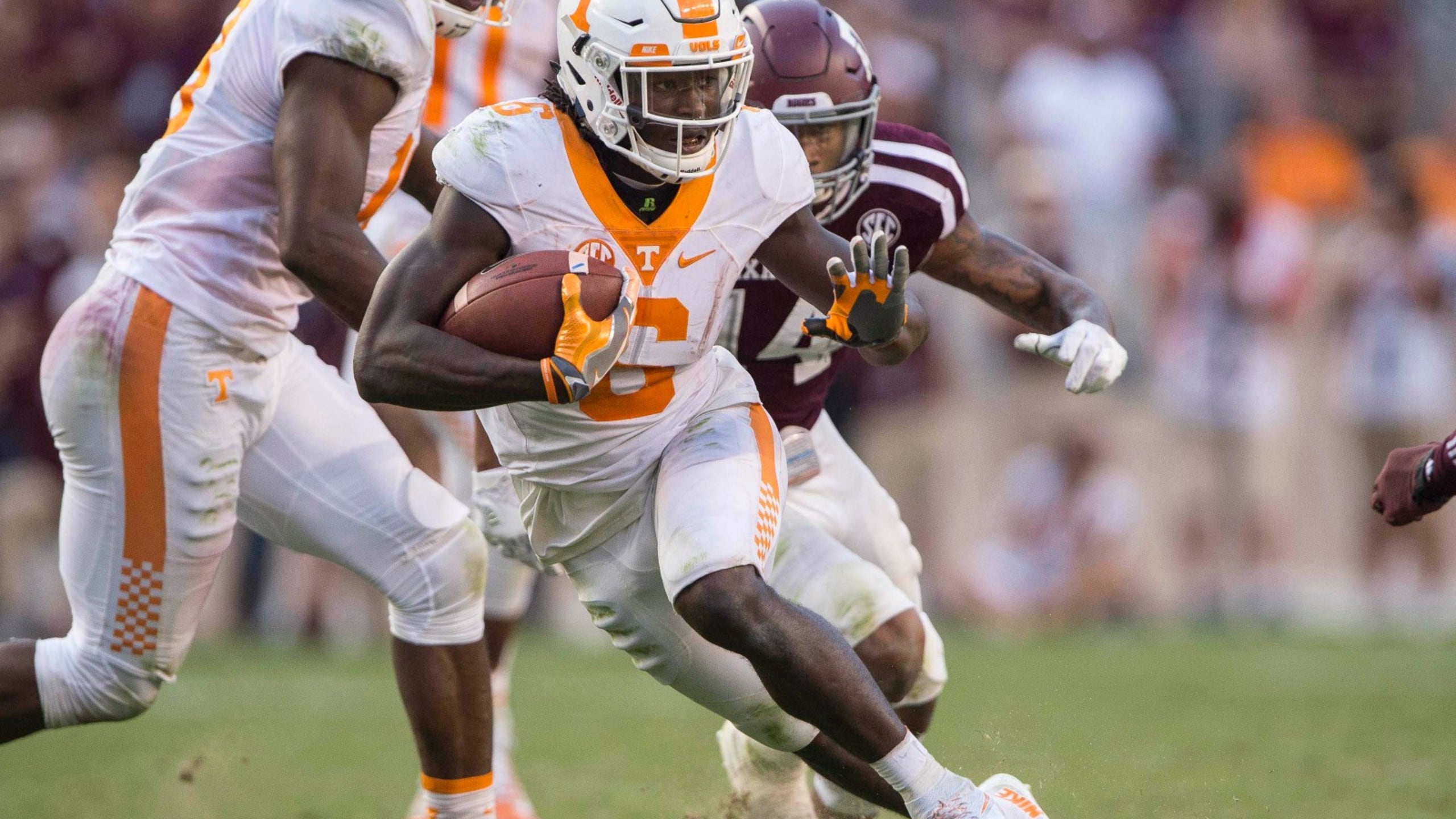 Starting 11: Only the Coach Matters
BY foxsports • October 8, 2016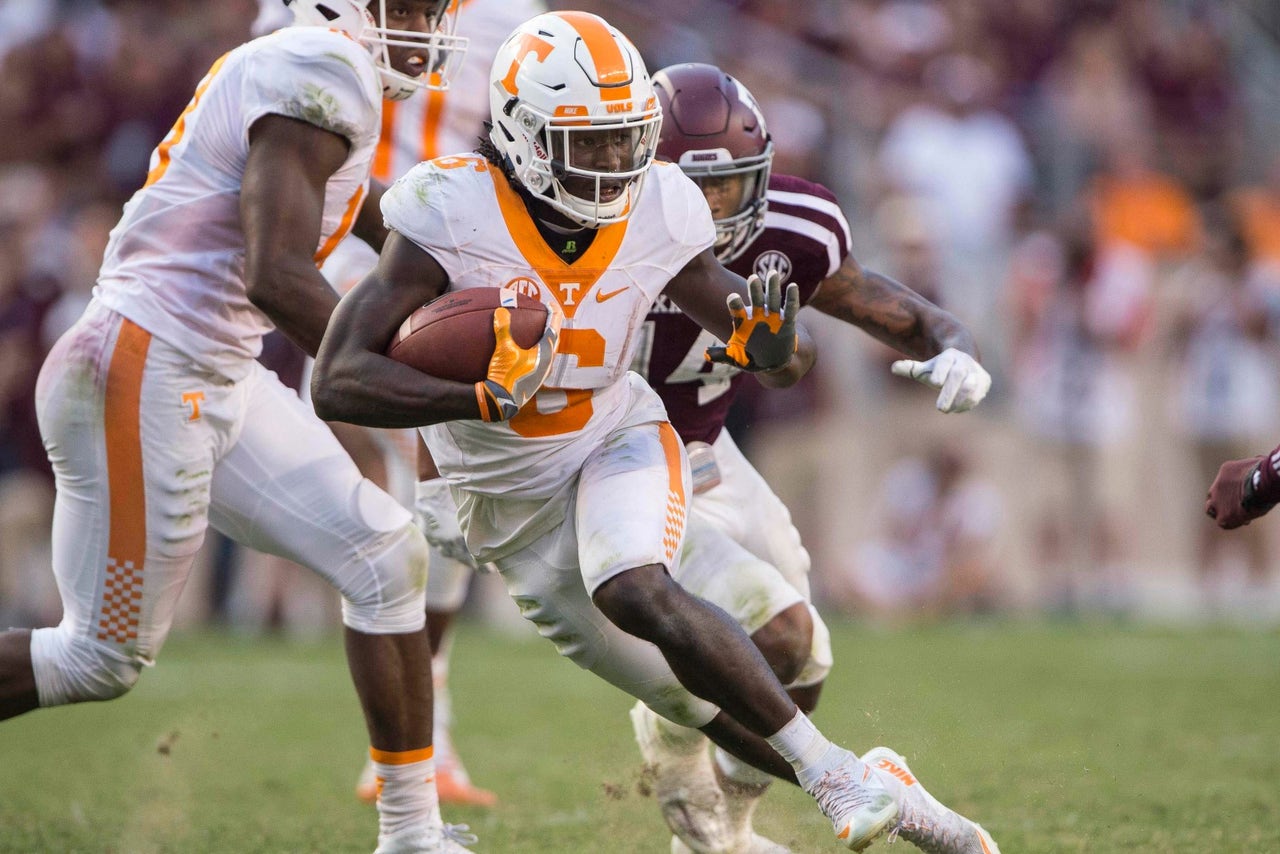 All that matters in college football is your coach. That's it. Look at my top ten teams in college football right now. Is it any coincidence that Nick Saban, Chris Petersen, Urban Meyer, Jim Harbaugh and Bobby Petrino, five of my top seven coaches in America, all have their teams in the top seven in the Outkick college football standings?

Of course not.

Top college football coaches are like top NFL quarterbacks, there are only about ten of them that are outstanding in the world and the rest are thoroughly mediocre. The result is that if you're a college football fan or an NFL fan you either have a top coach or a top quarterback or you're hoping that your young guy, coach or quarterback, is going to become a star. Because otherwise you're not going to win a title unless you have a miraculous run, Gene Chizik style, to a title with a transcendent player.

If you doubt this fact, look no further than what has happened to the Oregon and Washington programs since Chip Kelly left and Chris Petersen was hired. They're like two ships passing in the night. And last night's game crystallized it for everyone to see. If Oregon had hired Petersen and Washington had hired Helfrich, the results would have been the exact same, the different team would just have been winning.
That's coaching.

Don't make college football more complicated than it needs to be -- a coach is all that matters in college football.

Okay, on to the Starting 11.   

1. Tennessee amd Texas A&M are good football teams, but Alabama looks to be the class of the SEC by a substantial margin.

The Vols almost won at Texas A&M despite seven turnovers. SEVEN! They racked up 685 yards of offense, the most ever allowed by Texas A&M, and served notice that they're a top ten team in the country. You can quibble with the Vol performance thus far this season and argue that they've been lucky, and they have had some good fortune, but more often than not they've also demonstrated that this is a pretty deep and talented team. The injuries have been insane, three of the top four Vol defenders missed the A&M game as well as running back Jalen Hurd, and the Vols still came within a hair of winning.

As for Texas A&M, I think they're good too, top ten level, but I'd be stunned beyond belief if they can go into Tuscaloosa and beat Alabama. The defense was gouged by Tennessee and Alabama will have a field day with them if they play anything like this. Plus, I'm still not sold on Trevor Knight.

I do think, however, that Tennessee matches up decently with Alabama and will keep it close in Neyland. Hell, Tennessee led in last year's game in Tuscaloosa with just a few minutes left in the game. Do I think Tennessee will beat Alabama? Of course not. I wouldn't bet on anyone to beat Alabama right now, but I think it will be a tight game in the fourth quarter.
And what you have to hope if you're Tennessee is that you can rattle Jalen Hurts a little bit and force him into not playing like a true freshman. (Pray for Verne Lundquist in advance when it comes to there being a Jalen Hurts and a Jalen Hurd in this game). Ole Miss rattled Hurts, but just couldn't quite make enough plays to put the Tide away. We'll see if Tennessee can do the same.
One concern is that Tennessee has to be physically and emotionally drained after playing tight games against Florida, Georgia, and Texas A&M in three straight weeks. And now the Vols draw Alabama without a bye?
Goodness.  

One question on the A&M game, don't you have to at least consider going for two at the end of the game there if you're Tennessee? Especially after the offsides play would have given Tennessee a half the distance to the goal on the final try. Teams score about 60% of the time from the one yard line, so from a percentage play, I think going for two there gives you better odds than going to overtime. Plus, you can still try the onside kick if you don't get it and go for the win with a field goal.

I know what Butch was thinking -- my offense has been dominant all day and there's no way a tired A&M defense will stop us. That may well have been true since Tennessee only got to run four plays in overtime so we really don't know what would have happened if they'd gotten to run more. Butch had to also be thinking there's no way that my senior quarterback is going to make as bad of a decision in the passing game as Josh Dobbs did on the first play in the second overtime -- but I still think the percentages favor going for two there.

Finally, how about Alvin Kamera? He's the first FBS player in twenty years to go for over 120 yards rushing and 150 yards receiving in the same game against an FBS opponent. He also set an all time Tennessee record for all purpose yards with over 300. How much money did he make himself on Saturday? 

2. Charlie Strong is done at Texas. 

You know things are bad when your head coach, who is considered a defensive specialist, takes over the defense for a game and you still give up 672 yards of total offense to the opponent.
Goodbye, Charlie.

The Texas offense is not awful, but with this defense I see the Longhorns going 4-8 this year.

So now the only real question is this, will Tom Herman take the job?
And if he won't, who the hell does Texas try and hire? Surely they wouldn't make a run at Art Briles, would they? If Texas were willing to take this risk, I have zero doubt that Briles has Texas in the playoff within three years, maybe sooner. But I don't think the Longhorns would do it.
If Herman says no -- and Chip Kelly's not coming -- I'd love to see who the next hire at Texas is.

3. Mark Helfrich is done at Oregon.

And here's the truth of the matter -- someone needs to get Chip Kelly in a room and deploy the Clay Travis dump truck full of cash theory. Chip Kelly is without a doubt one of the top five coaches in college football. But he's got himself all hung up in an NFL mess where Colin Kaepernick and Blaine Gabbert are his only options at quarterback.
What does he need to prove now in the NFL?
He should pull a Pete Carroll and come back to college, win a couple of national titles, and then choose his next NFL destination when he has tons of suitors. Then he can join Jimmy Johnson, Barry Switzer, and Pete Carroll as the only guys to win national titles in college football and Super Bowls in the NFL.
Sometimes I wish I were an AD in college because I would just say, "Fuck it, I'm paying whatever it takes to get a top coach here."
You've got teams obsessing over whirlpools, swimming pool waterfalls, and juice bars when the most important thing by far, BY FAR, is the head coach.

Why wouldn't someone -- Texas, LSU, or Oregon -- just offer Chip $10 million a year and have a rich booster pay half of the salary. Hell, if I were a billionaire like T. Boone Pickens I would personally pay $20 million a year to a top coach to guarantee my team won a national championship. If it's worth that much to me, isn't it worth that much to those guys too?   

4. Losing to Navy was the best thing that could have happened to Tom Herman. 
If his Houston Cougars stay undefeated all year then he's unable to start negotiating with teams and hit the ground recruiting until January.
Now that Houston's lost he can focus all his attention on where he'll be coaching next year. And given the fact that Big 12 expansion looks wobbly, he's going to make an absolute ton of money. Herman might just be the most pursued non-FBS coach in college football history.
Congrats to Navy on this win, their first over a top ten team since 1984. Ever since I had the good fortune to spend a couple of days with the cadets at West Point, I absolutely love the guys and girls in the military academies.
They're the best our country has to offer -- tough, smart, hard working, the very definition of #dbap.
We have a bunch of Outkick readers and viewers at both Army and Navy, salute to y'all and I look forward to seeing your game in Baltimore this fall.  

5. SEC commissioner Greg Sankey has a tremendous test of his leadership now that Florida refused to play LSU this past weekend. 
I like Sankey a great deal. He's smart, forward thinking and just a good guy in general. I suspect just about all of you would like him if you met him as well. Over and above liking him personally, I consider him to be a friend.  
But this is the toughest test of his new leadership of the SEC.
Florida rebuffed all of LSU's attempts to play this weekend -- the Bayou Bengals were willing to play in Gainesville on Saturday, Sunday or Monday and they were willing to play in Baton Rouge in front of no crowd on Saturday, Sunday or Monday as well. Put simply, the Gators didn't want to play LSU because their quarterback is hurt and their defensive line was in shambles. LSU was favored to win this game, and I think the Tigers would have just shown up and run the ball down Florida's throat, even without Leonard Fournette healthy to play.  
So the Gators used the hurricane as an excuse to get healthy.
They did this because they knew that the vast majority of media would be afraid to call them out on it. Luckily for you guys, I'm not afraid to piss people off. When everyone else is afraid to tell the truth, I'll just flat out say it -- Florida used a hurricane to its own competitive advantage.
(Amazingly the Gators also sent teams on the road to play in South Carolina and in Mississippi despite saying their football team couldn't travel. The Gator women's volleyball team even traveled to South Carolina! They drove from the storm to the storm!)

If the Gators never have to play LSU then if Florida can beat Missouri, South Carolina, Arkansas and Georgia -- four teams they may well be favored to beat -- they would win the SEC at 6-1 if Tennessee loses to Alabama next weekend. (That is, unless Tennessee decides it's too hot to play and figures they'll just see Alabama in Atlanta. Why rematch if you don't have to?)
Sankey absolutely, positively, has to ensure that LSU plays Florida.
This is the first and biggest test of his conference leadership.
If 6-1 Florida somehow advances to Atlanta or 6-1 LSU doesn't go to Atlanta despite having beaten Texas A&M and Alabama head-to-head, he will have failed that test and I don't believe that most SEC fans will ever forget this.   

Is it unfortunate that this situation has arisen? Undoubtedly.
But he has to make this game happen.
Period.
6. Florida's refusal to play the game looked even worse when Notre Dame, North Carolina State, Virginia Tech, and North Carolina all played in deluges.
While it was sunny and 85 in Gainesville -- where winds never got above 45 miles an hour and just over an inch of rain fell on Friday during the storm -- these ACC teams slogged it out in the vestiges of Hurricane Matthew.
So props to the ACC for not allowing its teams to take advantage of the hurricane for competitive purposes. 

Many of you probably didn't even realize it happened, but Notre Dame fell to 2-4 on the season.
Raising an intriguing question -- to hell with contending for the playoff, is Notre Dame even going to make a bowl game this year? And if they don't, how safe is Brian Kelly's job?
After seven years with the Irish, Brian Kelly will have finished ranked inside the top 20, just twice, once in his miracle year of 2012 when Alabama humiliated Notre Dame in the title game and again last year.
In seven years he's finished ranked in the top ten just once.
Those stats even surprised me when I looked them up, but they probably don't surprise Notre Dame fans. I think it's fair to call Brian Kelly the most overrated coach in college football.

7. Michigan beat Rutgers in a way that should be impossible in college football. 
Michigan had 600 yards of offense and Rutgers had 39 total yards, including just two first downs.
The end result? The Wolverines won 78-0.
78-0! 
I bet Michigan -27.5 on this game and gave it to you guys on Wednesday.
This is the easiest gambling win of my life, the Wolverines covered by 50.
By the way, hate to brag, but our gambling picks went 6-1 yesterday, if Arkansas could have pulled off a late back door cover we would have had our first perfect day in Outkick history.
Halfway through the college football season we're back to rolling.

#shootersshoot

8. How's the playoff picture look right now?

It's pretty clear, honestly: The SEC, the Big Ten, the ACC, and the Pac 12 champ, if it's Washington, will all be there. 

This is going to be an incredibly easy call for the committee.
I'd be stunned if Ohio State or Michigan isn't in the playoff, I'd also be stunned if Alabama, Tennessee, or Texas A&M weren't in the playoff and I'd be stunned if the winner of the ACC -- or 11-1 Louisville if Clemson loses to FSU and then gets upset in the ACC title game -- weren't the representative from the ACC.  And, honestly, I'd be very surprised if 12-1 Washington, yes, even if the Huskies lose a game, wasn't included as well. 
The only real mess I could see in the SEC is if Alabama or Texas A&M finished undefeated and then lost to 10-2 Tennessee in the SEC title game. Would 11-2 SEC champ Tennessee get left behind for a 12-1 Alabama or Texas A&M team they'd just beaten? That's a great debate.
Or how about if Ohio State beats Michigan, but then loses to a two loss Big Ten west team? You'd have an 11-2 Big Ten West Champ, an 11-1 Michigan and a 12-1 Ohio State.
Who goes?
This is why I think conference title games are overrated. You almost always know who the best team in a conference is before you play the title game. Personally, I'd eliminate conference title games and make the playoff eight teams. Take the five major conference champs and have three wild card teams.  

9. Auburn may end up 8-4 after all. 

The Tigers dominated Mississippi State in a game that most of you weren't paying attention to at all. (I was, see gambling's good for the game!)

I think Auburn beats Arkansas, Vanderbilt, and Alabama A&M to get to seven wins. Can they beat Ole Miss or Georgia on the road? Probably not Ole Miss, but certainly Auburn could beat Georgia. 

At 7-5 Gus's return is a bit tenuous but he's probably back unless Auburn feels like they have a great replacement for him. But at 8-4 Malzahn's definitely back. 

Meanwhile Dan Mullen has to be wishing he'd left Starkville when Dak Prescott did.   
The Bulldogs are not a good football team and their schedule down the stretch is pretty brutal -- at BYU, at Kentucky, Samford, Texas A&M, at Alabama, Arkansas, and at Ole Miss.
It's possible the Bulldogs fall all the way to 3-9 this year. And a bowl game is probably a pipe dream at this point.

10. Florida State got a big win over Miami, but the Hurricanes are much improved in year one under Mark Richt.
That missed extra point was a brutal way to lose.

The big question for Florida State fans is this -- will Jimbo leave for LSU?
There are an awful lot of people at LSU that are pretty optimistic Jimbo will jump.
If that happens, and who knows if it will, who would FSU hire?
There just aren't many good, proven coaches available out there. I honestly have no idea what FSU would do.  
11. SEC rankings:

1. Alabama
2. Texas A&M
3. Tennessee
4. Ole Miss
5. Florida 
6. Auburn 
7. LSU
8. Arkansas
9. Georgia 
10. Kentucky
11. Mississippi State
12. South Carolina
13. Vanderbilt
14. Missouri
---