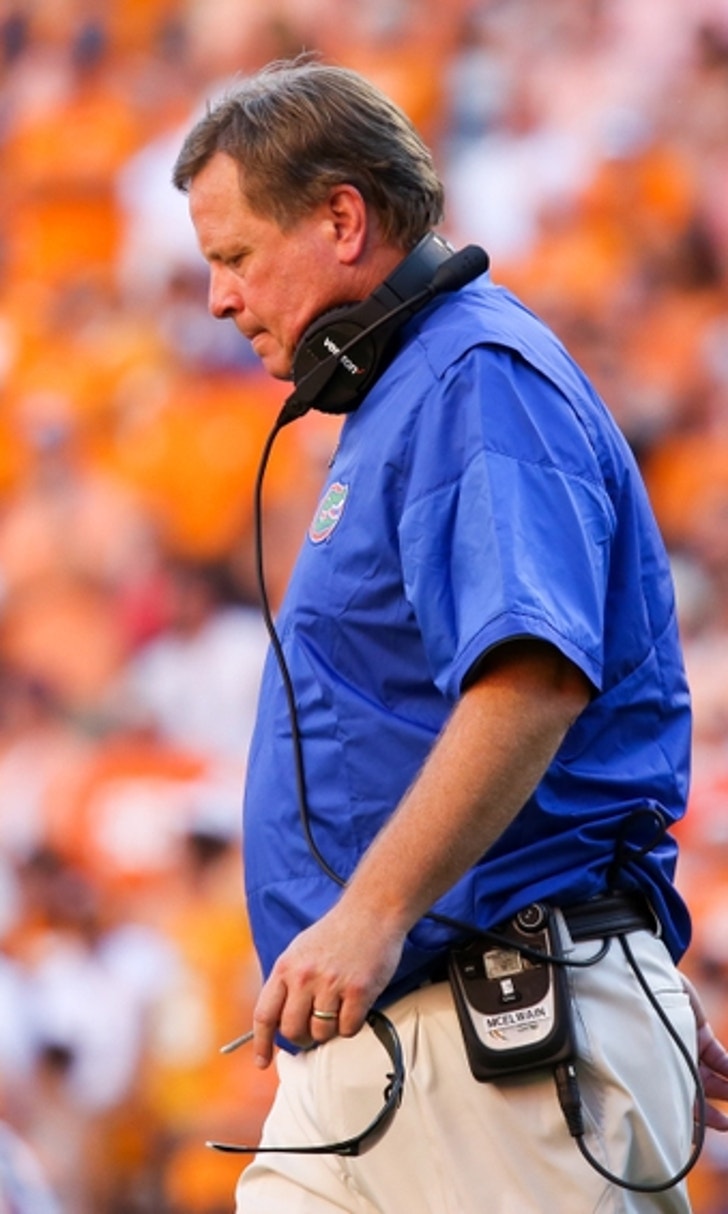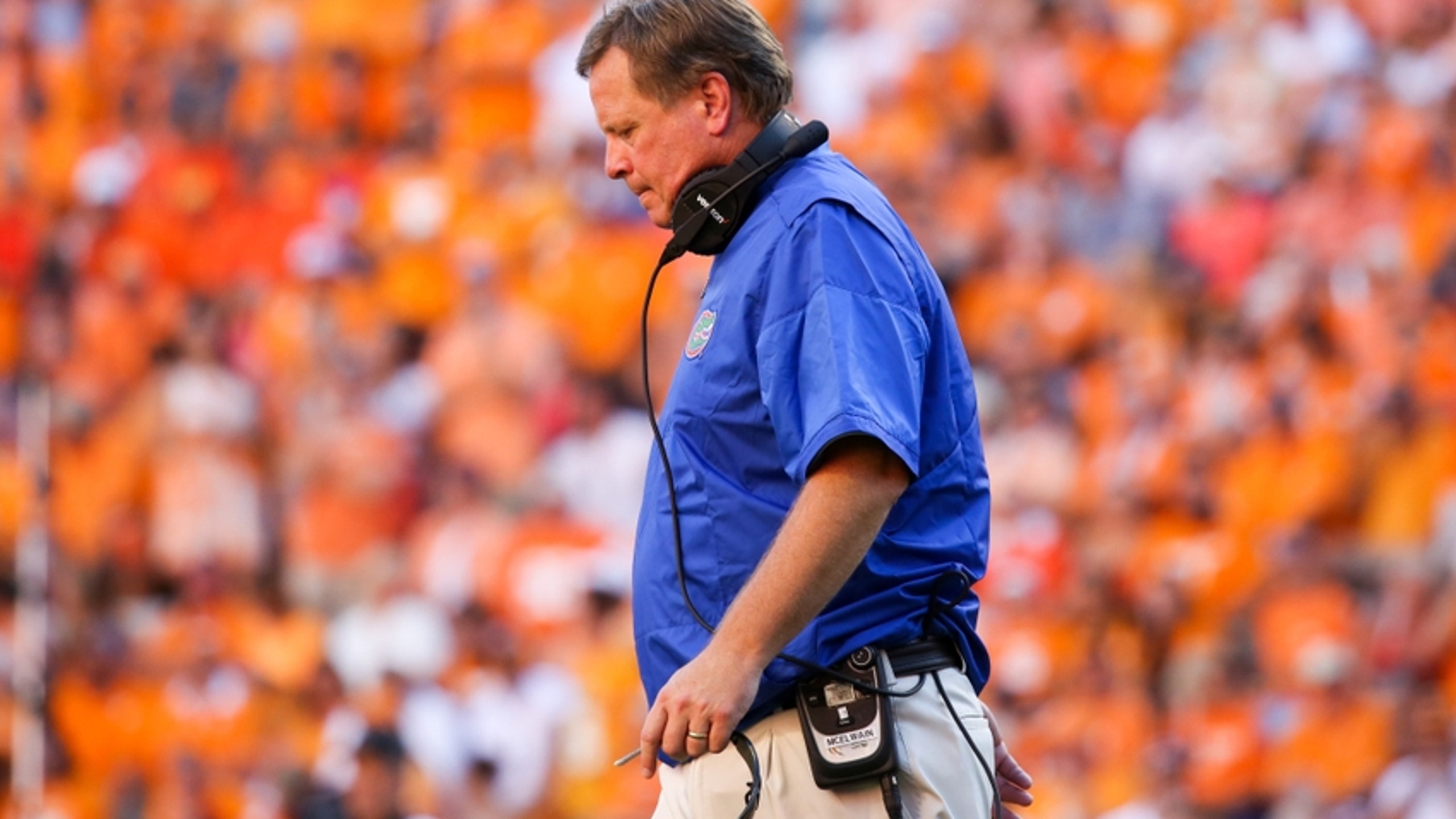 Starting 11: Down the Playoff Stretch We Come
BY foxsports • November 20, 2016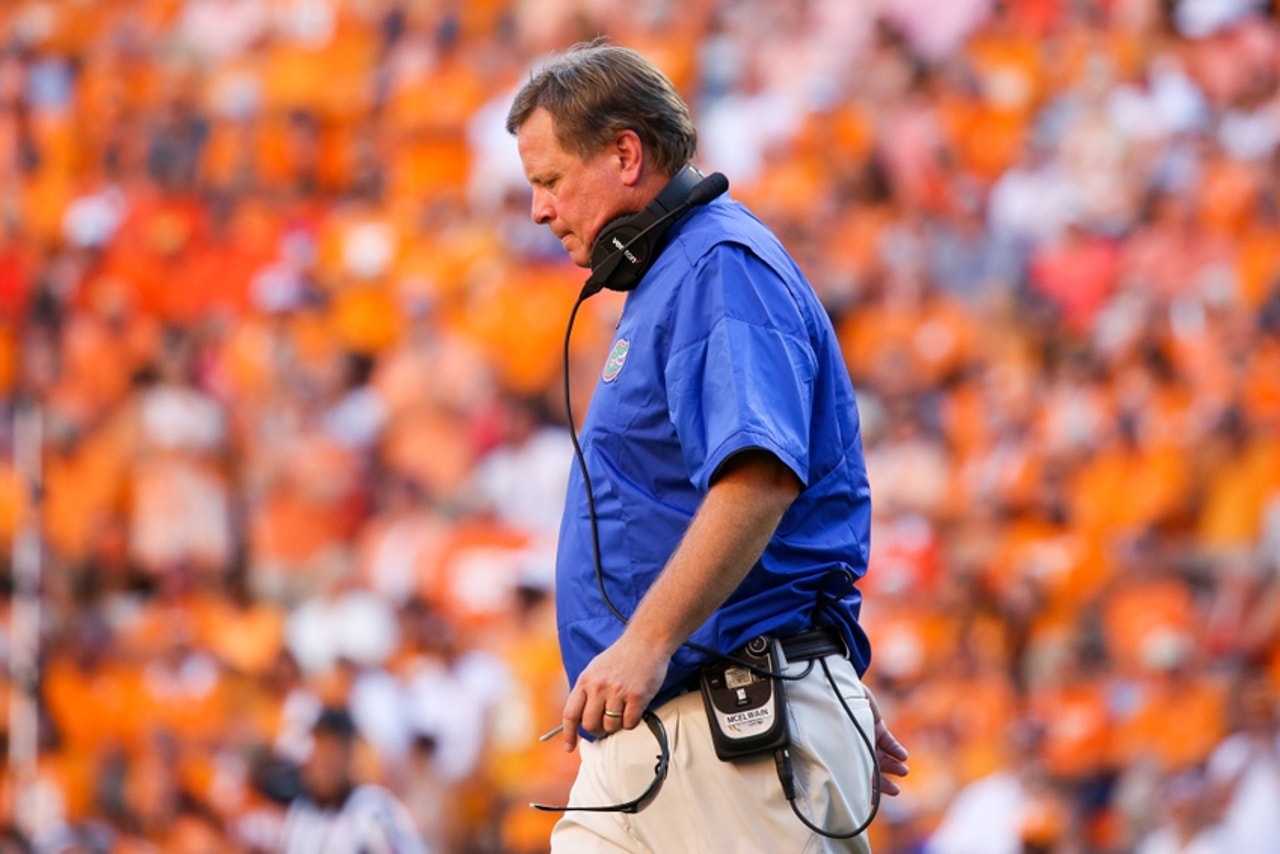 Okay, let's dive right in and make sense of the playoff picture. 
1. Alabama is in the playoff.
Sure, the Tide could lose to Auburn and Florida in back-to-back weekends, but the world could also end tomorrow.
At worst the Tide splits these two games. (And Alabama is actually going to win both games),
One wild card at play, would 10-2 Florida make the playoff?
That is, if the Gators beat LSU, Florida State, and Alabama in three straight weeks, would 10-2 SEC champion Florida be left on the playoff curb?
That's a fascinating question that I haven't even heard anyone discuss. My inclination is the Gators wouldn't make the playoff then -- clearly 12-1 Alabama would be in the playoff though, and potentially still be the overall number one seed -- but the Gators could have a pretty strong case depending on whatever else happens.
If that happened you could end up with two teams, Alabama and Ohio State, in the playoff and the two teams that actually won the conference, Florida and Wisconsin/Penn State, both left out of the playoff?
Yep. 
If that were to happen it would just strengthen my argument that league title games are worthless.   
2. Clemson is definitely in the playoff unless they lose to South Carolina or the ACC coastal champ.
If Clemson loses either of these games then the ACC would not get a team in the playoff.
So if you're an Oklahoma fan or you want two teams from the Big Ten in the playoff then you need to be rooting like crazy for Clemson to lose to either South Carolina or Virginia Tech/North Carolina in the ACC title game. 
3. What happens in the Big Ten?
Here's the biggest playoff mess out there right now. 
There are still four Big Ten teams with playoff heartbeats -- Ohio State, Michigan, Penn State and Wisconsin. 
So what happens?
If Michigan goes 12-1 and wins the title the Wolverines are in and no other Big Ten team is in the playoff. 
If Penn State loses to Michigan State and Ohio State goes 12-1 then no other Big Ten team is in the playoff. 
Now come the complex potential outcomes.
If Penn State beats Michigan State and then beats Wisconsin in the Big Ten title game to go 11-2 and win the conference, who gets the Big Ten's playoff bid, 11-2 Penn State, 11-1 Ohio State, or both teams? The easiest solution for the committee would be if Clemson loses or the Pac 12 title winner has a worse resume than 11-2 Penn State. 
But what if Clemson wins out and Washington wins out? Then I think you only get one Big Ten team in the playoff. 
So you'd have to pick between 11-2 Big Ten champ Penn State and 11-1 Ohio State. What do you do here? Do you reward the most deserving team, Penn State, or the best team, Ohio State? Personally, I think Penn State with the division and the conference title and the head-to-head win should make the playoff before Ohio State if only one team got in. I understand this is a tough decision -- and I think Ohio State is better than Penn State -- but doesn't the game between the two teams have to matter?
If 11-2 Wisconsin beats Penn State to win the Big Ten title then I think it's relatively easy to put 11-1 Ohio State, which beat Wisconsin head-to-head, into the playoff over Wisconsin.
The only way I see 11-2 Wisconsin able to make the playoff -- absent Clemson losing or a Pac 12 champ like 10-3 Washington State -- is if Wisconsin beats Michigan in the Big Ten title game. Then I think Wisconsin would be the Big Ten's only playoff representative.   
Again, I reiterate my point, the Big Ten title game may not matter at all here.  
4. Would 12-1 Washington, 11-2 Colorado or 10-3 USC be in the playoff?
I think 12-1 Washington would definitely be in the playoff and I think 11-2 Colorado or 10-3 USC would both have pretty strong cases if they win the Pac 12.
10-3 Washington State is more problematic. 
But getting 11-2 Colorado or 10-3 USC in the playoff would depend on what happens in the Big Ten and what happens with Clemson.
If you're a Pac 12 fan you want Michigan to win the Big Ten at 12-1 and for Clemon to lose. Then your champ is pretty much guaranteed a spot in the playoff.   
5. What about Oklahoma or Oklahoma State in the Big 12?
You need both chaos and clear cut winners in the SEC and the Big Ten. 
So what's the Big 12's path to the playoff?
Alabama wins the SEC title, 12-1 Michigan wins the Big Ten, a 10-3 Washington State wins the Pac 12 title and Clemson loses to either South Carolina or the ACC title game to Virginia Tech or North Carolina. 
Then your definite playoff teams are Alabama and Michigan, seeded one and two, and you'd have two spots left.
So who gets those final two spots? 
Then you could end up with 10-2 Oklahoma or 10-2 Oklahoma State, as the outright Big 12 champs, in the playoff mix against 10-3 Pac 12 champ Washington State, 11-2 Clemson, 10-2 Louisville, 10-3 ACC champ Virginia Tech or North Carolina, 10-2 Washinngton, 10-2 Ohio State and 10-2 Penn State.
And what a mess this would be.
The problem here is how would you take Oklahoma over 10-2 Ohio State that beat them head-to-head? But how could you take Ohio State over 10-2 Penn State that beat them head-to-head?
This would rapidly devolve into a mess.  
Plus, would the committee treat Oklahoma State as an 11-1 team because the refs botched the ending of the Central Michigan game? Remember, Oklahoma State should have won that game. 
My guess here is that your playoff would end up being:
1. Alabama
2. Michigan
3. Oklahoma/Oklahoma State
4. 10-3 Pac 12 champ Washington State
But I'm really not even sure about this. Could 10-3 North Carolina or Virginia Tech actually end up with the final playoff spot in this scenario? Sure.
Pray for the committee if this happens. 
6. So what do you think the final playoff rankings look like in two weeks when it's officially set?
1. Alabama
2. Ohio State
3. Clemson
4. Washington
5. Penn State/Wisconsin Big Ten champ
6. Oklahoma Big 12 champ
Yep, I think the committee will leave out the Big Ten champ, either Penn State or Wisconsin, in favor of Ohio State. That will be an incredibly controversial decision, especially if the Big Ten champ is Penn State, who will have beaten Ohio State head-to-head.  
7. LSU dodged a bullet by collapsing against Florida.
This is what the next three years would have looked like with Ed Orgeron in charge. 
In two games against decent opponents under Coach O. the Tiger offense failed to score against Alabama and scored ten points against Florida. Meaning the LSU offense hasn't looked that much different than it did against Wisconsin and Auburn. Indeed, much of the argument that LSU's offense was revitalized was simply a function of LSU performing well against bad defenses.
If Les Miles had been coaching against Florida and the results were the exact same then LSU fans would demand his firing after this game.
So who will LSU hire now?
Assuming Tom Herman is going to Texas, the available options are pretty slim. LSU will make a run at Jimbo Fisher, but if he says no, who's out there? I think you have to try and get Bobby Petrino next. But if Petrino says no as well, then you're left without a candidate that makes a ton of sense. Mike Gundy? Larry Fedora? Do you really feel like Gundy or Fedora are that much better than Les Miles? Are Gundy or Fedora really going to beat Nick Saban?
So here are two additional options that I would consider if I were LSU's AD:
First, go hire Lane Kiffin. 
I think Kiffin would win at a high level at LSU and you could keep Coach O. then since the two have a good relationship. Plus, Lane's an offensive coach so you finally get the offense fixed. Go back and look at Lane's head coaching tenure now. He went 7-6, 4-4 in the SEC with Tennessee in one year and he went 28-15 at USC with drastic scholarship restrictions, including 10-2 in his second season. 
That's a college head coaching record of 35-21, for a 62% winning percentage. 
Putting that into perspective, Les Miles was 28-21 at Oklahoma State when LSU hired him back in 2004.
Right now Mike Gundy has won 67% of his games at Oklahoma State and Fedora has won 64% of his games in his coaching career. Are either of these guys really much better than Kiffin, who is over a decade younger than both? 
Plus, can you imagine Jeauxy Swampwater on the prowl in Baton Rouge?
So I'd seriously consider hiring Lane if I was LSU. 
Second, could you hire Ed Orgeron for relatively minimal cost and go pay Art Briles head coaching money to be your offensive coordinator? That way Coach O. is effectively a figurehead, but Art Briles fixes your offense. 
If Briles does well for a couple of years as offensive coordinator then you could eventually name him head coach, but that way you dodge the complaints that would arise over hiring him as head coach directly.
I think both of these are pretty decent options for LSU.  
8. Charlie Strong is gone, so who does Texas hire?
It has to be Tom Herman, right?
The one positive of Strong losing to Kansas is that it eliminates all defense of Charlie Strong deserving a fourth year with the Longhorns. 
9. If Tennessee beats Vandy then the Vols would likely head to the Sugar Bowl for the first time since 1991.
Really.
Arguably, based on the way their rush defense has played, Butch Jones dodged a huge bullet by not having to get their ass kicked by Alabama for a second time this year. That loss would have knocked the Vols to 9-4 and sent them to the Citrus Bowl. 
But a 9-3 Tennessee team probably goes to New Orleans to play in the Sugar Bowl. 
How would that happen? The Sugar Bowl is obligated to take the highest ranked SEC team that doesn't make the playoff. Alabama would make the playoff, presumably beating Auburn in the Iron Bowl and Florida in the SEC title game. (The Gators might also lose to Florida State this coming week.) If LSU beats Texas A&M that could, amazingly, leave Tennessee as the only team in the SEC with only three losses.
The only wrinkle here might be if Texas A&M beats LSU to also finish 9-3. Could the Aggies, currently six spots behind the Vols in the playoff rankings, end up ranked above Tennessee if they beat LSU on Thursday? Maybe. But would the committee really view a win over 6-5, unranked in the top 25 LSU, as a win befitting a substantial rankings bump?
That's hard to foresee happening. 
Given that Tennessee presently has a six spot rankings lead on Texas A&M, it's likely the Vols would keep it even if both teams win their final games. 
Of course this also presumes that Tennessee beats Vanderbilt.
The most Butch Jones result possible would be Tennessee losing to Vanderbilt to finish 8-4.
There is a scenario, amazingly, where Alabama finishes 13-0 and every other "top" SEC team has at least four losses in the regular season. Texas A&M, Tennessee, Auburn, Florida, Arkansas, and Georgia could all finish 8-4 and LSU could finish 7-4.
That's a whole lot of unhappy SEC fan bases. 
In this scenario I think Auburn would go to the Sugar Bowl at 8-4, making the Tigers the SEC's worst Sugar Bowl team of all time.      
10. The SEC East and the SEC West aren't that much different this year.
Mediocre SEC West fans always revel in arguing that the SEC West is so much better than the SEC East. Well, this year that isn't the case if you remove Alabama from the equation. The Tide has clearly been dominant over everyone else in the conference, regardless of division. 
But look at the SEC East vs. SEC West games this year that the east has won.
Georgia beat Auburn, Florida beat LSU, Vandy beat Ole Miss, and Kentucky beat Mississippi State to leave four teams even at 1-1 in cross-division games. (One cross-division game remains, with Missouri hosting Arkansas on Friday. Take the over!)
Only two SEC East teams have lost both games against the SEC West this year, Tennessee and South Carolina. Tennessee lost to Texas A&M on the road in double overtime. (Alabama crushed Tennessee, but, again, Bama crushed everyone). South Carolina is the only other SEC East team to lose both of its games against the SEC West, losing by 13 at Mississippi State and by 11 against Texas A&M.  
The point's pretty clear, the SEC West wasn't much better than the SEC East when it comes to on-field results this year. 
11. SEC power rankings
Outside of Alabama all of these teams are going to end up with at least three losses each. And all of our top half teams have bad losses in conference this year. Florida lost to Arkansas, A&M lost to Mississippi State, Auburn lost to Georgia, Tennessee lost to South Carolina, Georgia lost to Vandy, and LSU has lost to everyone decent they've played all year.
So here are our rankings:  
1. Alabama (11-0, 7-0 in SEC))
2. Florida (8-2, 6-2 in SEC)
3. Texas A&M (8-3, 4-3 in SEC)
4. Auburn (8-3, 5-2 in SEC)
5. Tennessee (8-3, 4-3 in SEC)
6. LSU (6-4, 4-3 in SEC)
7. Georgia (7-4, 4-4 in SEC)
8. Arkansas (7-4, 3-4 in SEC)
9. Kentucky (6-5, 4-4 in SEC)
10. South Carolina (6-5, 3-5 in SEC)
11. Ole Miss (5-6, 2-5 in SEC)
12. Mississippi State (4-7, 2-5 in SEC) 
13. Vandy (5-6, 2-5 in SEC) 
14. Missouri (3-8, 1-6 in SEC)
---