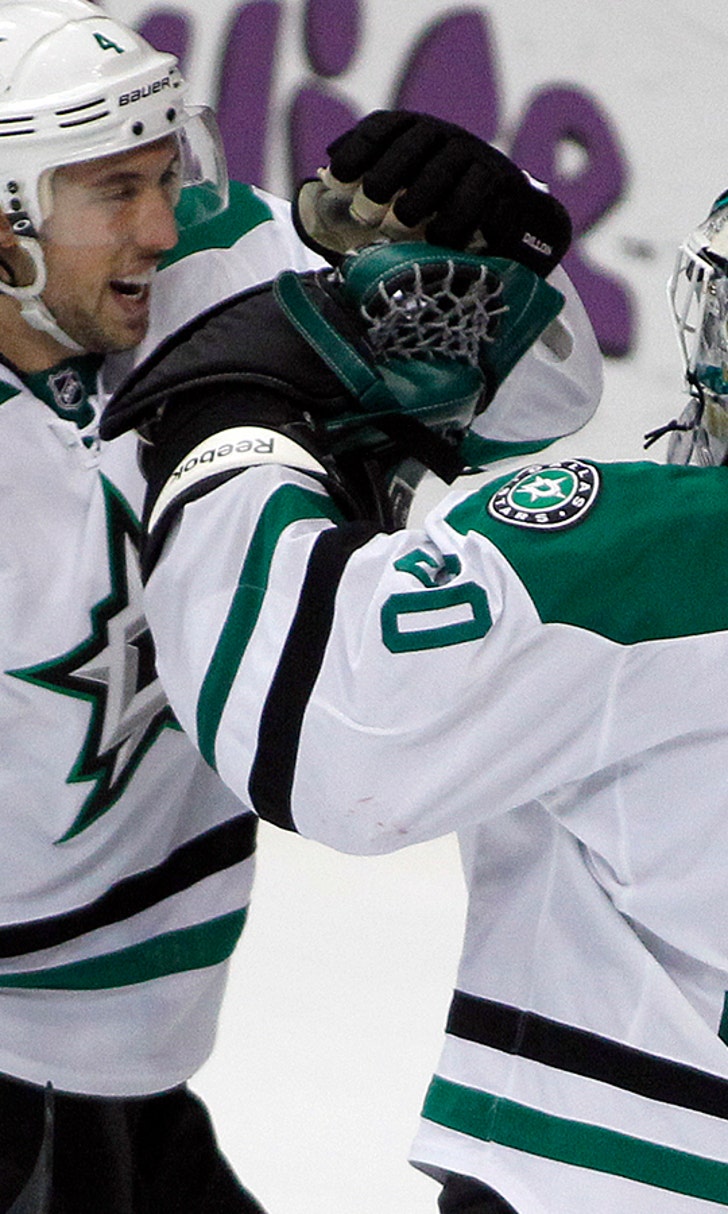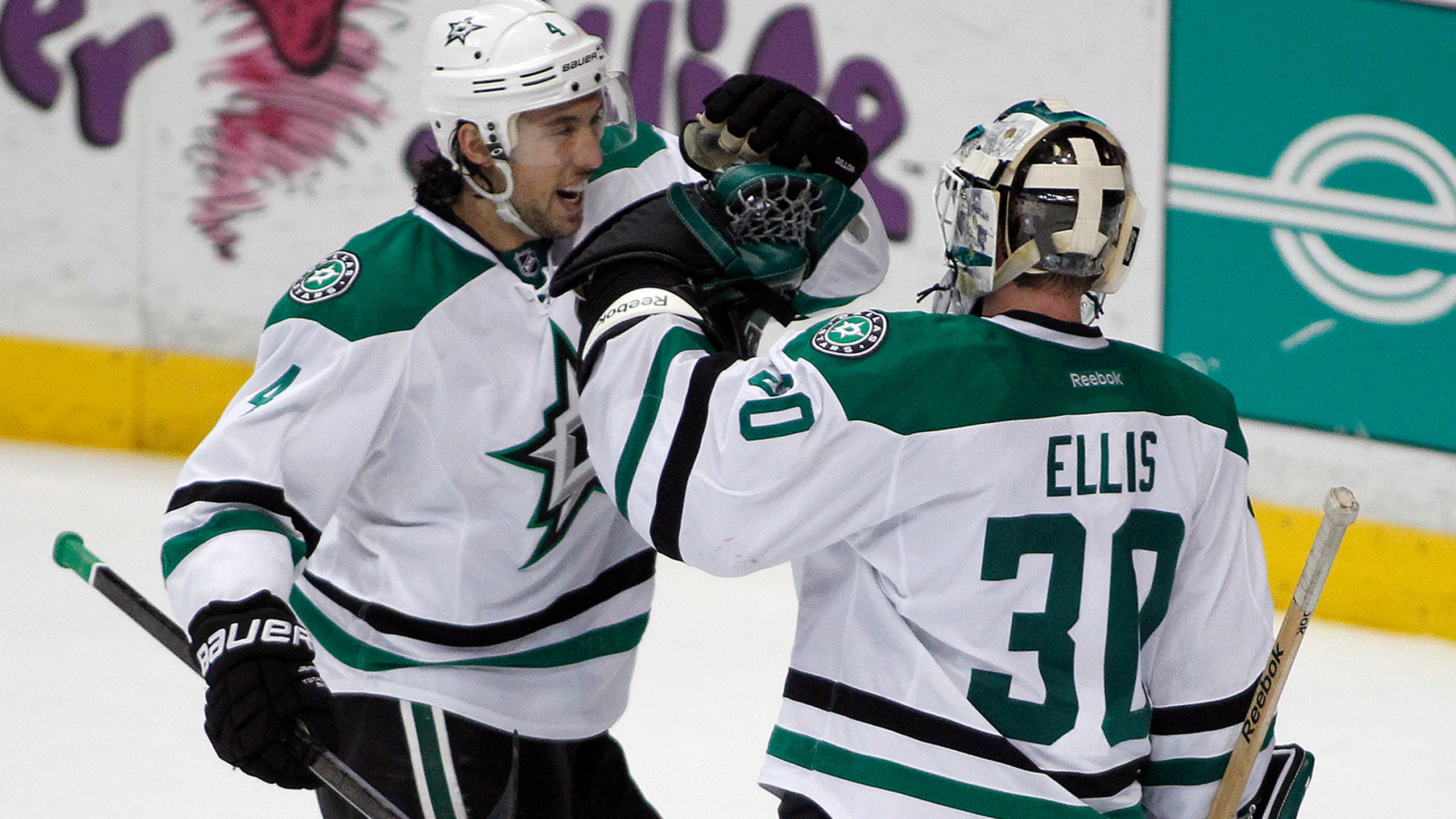 Stars kick off road trip with solid win in Anaheim
BY foxsports • February 2, 2014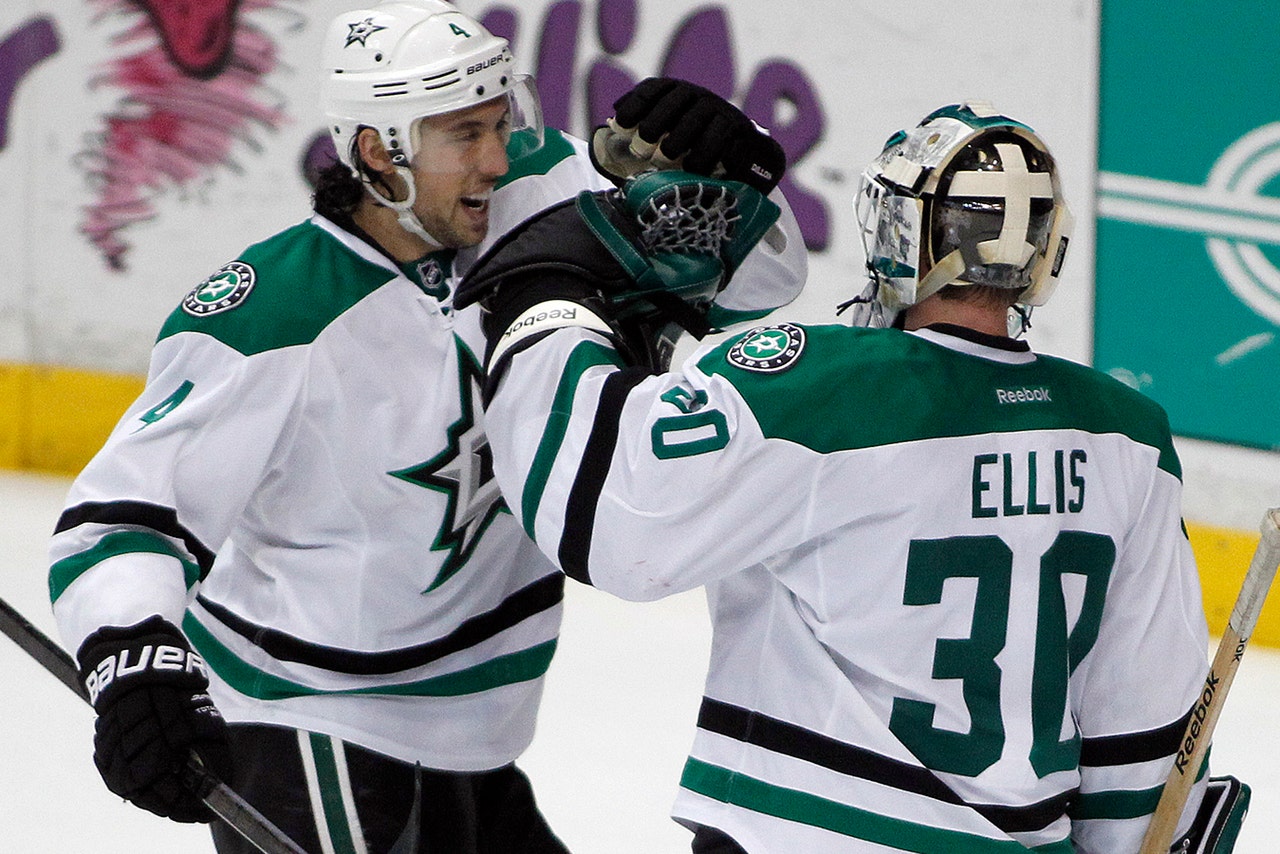 The Dallas Stars kicked off their three-game road trip out west in solid fashion with a 2-0 blanking of the Anaheim Ducks at Honda Center on Saturday night, the first time Bruce Boudreau's Ducks have been shut out this entire season.
Dallas got a second-period goal from defenseman Trevor Daley, who tapped in a rebound after Stars center Cody Eakin, who missed most of the first period after taking a puck to the face, saw his initial effort denied by Ducks goaltender Jonas Hiller.
The goal from "Dales" would stand up as the game-winner but it was far from the only positive for Dallas. Backup goaltender Dan Ellis was strong in net for the Stars, turning away all 26 shots he faced, including denying a rebound on Corey Perry late in the final period to preserve Dallas' slim 1-0 lead.
Stars captain Jamie Benn made it 2-0 with an empty-net goal late, but the first thing Dallas head coach Lindy Ruff was asked about by the leering press after this one was Ellis' strong showing between the pipes.
"Yeah, well he did a nice job against them the last time he played them. Like I said this morning, he (Kari Lehtonen) is feeling tired and he's been playing a lot of hockey, so it was time to get him (Ellis) in," Ruff said. "By the looks of things, we may have to play him more. He gave us a rock solid game. We only had a couple of big breakdowns and he was there for us."
And this was a game where the Stars could have won by more than two goals as they had close-calls from Benn, who hit a crossbar, and from rookie Alex Chiasson, who also drew iron, and had those efforts gone in, they would have really broken the game open.
But besides Ellis' strong showing in lieu of a tired Lehtonen, the other big story from the win was the return of Eakin in the second period after the gritty center took a puck to the face early in the game. And too his credit, No. 20 looked no worse for wear as he was doing what he does best, making life tough for the other team's best player and top line.
"Yeah, he did a great job. He did a heck of a job on the first goal. We missed him. We really mixed things up. I think it actually created a couple of lines that went pretty good for us when he was out," Ruff said. "I think guys picked it up in his absence."
However, the biggest positive to come from this victory was the fact that the Stars got the lead in the second period and held it the rest of the way to come up with a huge two points on the road. Protecting leads has been an issue for this team throughout the season, so to see them do so against a high-quality foe like the Ducks was especially big for their veteran head coach.
"It was great to see us go through a third period where it's 1-0. You've got to protect the lead. You've got to try to play still," Ruff said. "We had to kill a couple penalties. Killing those penalties gave us a little bit of momentum. I thought we blocked a couple shots, did a good job on a couple of the entries, so it was good to see."
Dallas returns to the ice on Tuesday night at Phoenix, the first part of a back-to-back that will see them finish the road trip on Wednesday in San Jose.
The Stars return home to host those same Coyotes on Saturday in their final game before the start of the NHL Olympic break.
---